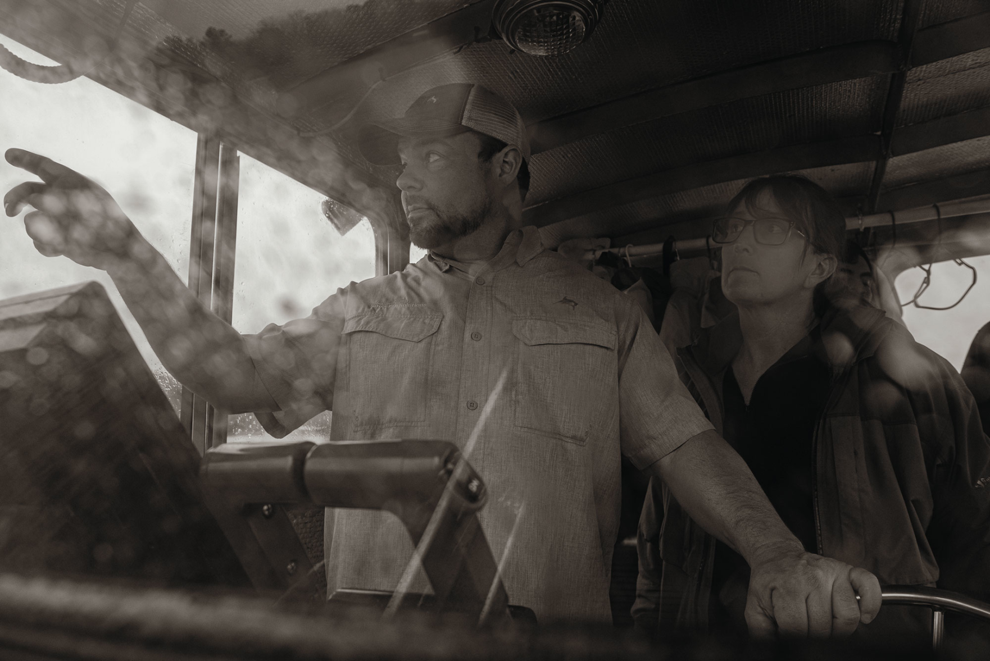 For several years, invasive carp have destroyed local tourism and potentially changed lake ecology in the Twin Lakes region, which straddles Western Kentucky and Middle Tennessee. The area, also known as the Land Between the Lakes region, is named for the parallel Barkley and Kentucky lakes. Now a coalition of fishermen, biologists and conservationists are at war with the fish, turning the lakes into a laboratory and battleground with the hope of restoring balance.
First discovered in the region more than a decade ago, these aquatic invaders are made up of four different non-native carp species — silver, bighead, black and grass carp, brought over from Asia in the 1960s. Colloquially referred to as Asian carp, the fish first piqued the interest of farmers and government and university biologists due to their filter-feeding abilities. Because they eat matter and food particles such as algae, the carp were recognized as an environmentally friendly alternative for cleaning farm ponds without using pesticides.
Thanks to negligence and pervasive flooding, the carp eventually found routes into tributaries and the Mississippi River Basin, a water system that stretches out across more than 30 states. From there, they spread. Facing no natural predators in North American freshwater ecosystems, their populations ballooned, conquering waterways by making up 90 percent of all fish biomass in some sections of the Mississippi River, according to the Great Lakes Fishery Commission.
Since 2012, federal and state agencies have budgeted more than a billion dollars to monitor, control and contain this invasive species. The majority of funding has gone toward mitigating the risk that the carp might someday fully invade the Great Lakes, a fishing source that generates roughly $7 billion each year. Recently, lawmakers have begun funneling money to projects outside the Great Lakes where Asian carp already run rampant.
"The two best tools we have to deal with the carp are barriers and removal or commercial fishing," says Cole Harty, aquatic nuisance species coordinator with the Tennessee Wildlife Resources Agency.
In December, Congress earmarked an additional $25 million to fund Asian carp barrier projects within the Tennessee and Cumberland rivers. This funding came through in the $2.3 trillion mega-bill that combines stimulus relief for COVID-19 and 12 other annual appropriations bills.
The environmental concern is that these fish, if left unchecked, will outcompete smaller native baitfish for food, causing a ripple effect wherein native fish populations like bass, crappie, buffalo and catfish could decline. But silver carp, the Twin Lakes' most prolific Asian carp species, pose a more annoying, even hazardous, problem for fishermen and boaters.
"They're jumping carp," says Darrow Wenom, conservationist and CEO of the nonprofit Silver Fin Solutions. "They get into people's boats, it ruins fishing."
These fish, which can weigh anywhere from 9 to 90 pounds, have an aversion to noise, especially boat motors. When disturbed, they jump as high as 10 feet above the water, creating great frenzies when they're in large numbers.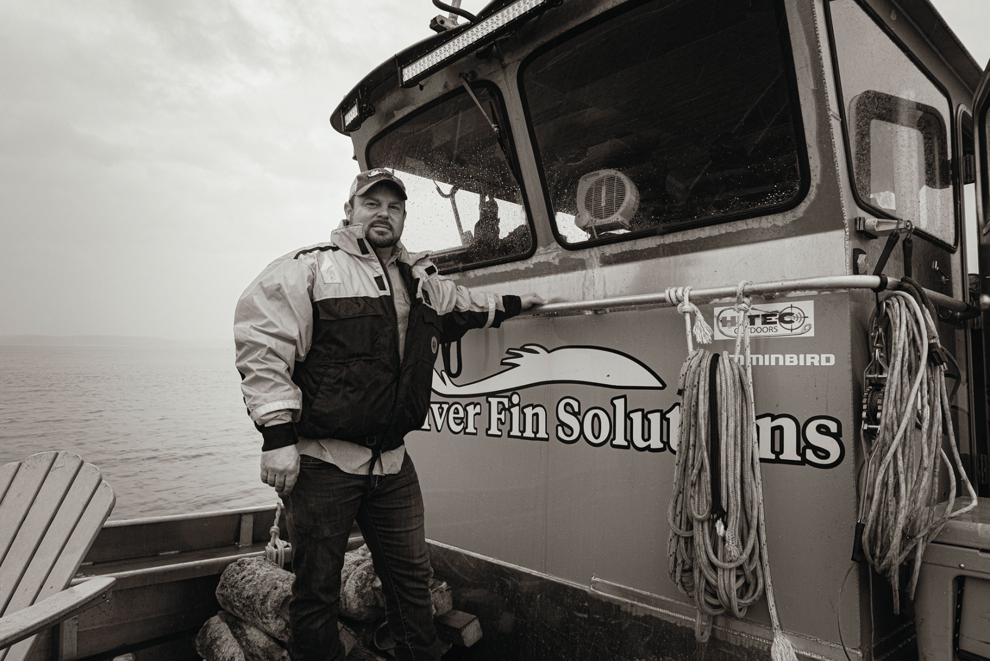 A former commercial fisherman, Wenom has made dealing with Asian carp his life's mission. With a fleet of boats and an arsenal of fishing gear, his company works with commercial fishermen and state fish and wildlife agencies to test fishing methods and uncover ways to improve the saleable market for the invasive fish. Because the dam-controlled lake system is less subject to flooding and drought than rivers, Wenom says the Twin Lakes serve as a more controlled environment for testing carp-fishing methods.
There is still some question about whether Asian carp cause environmental damage to the lakes. Matthew Quinn is the owner of HITEC Outdoors, a Twin Lakes retailer, and founder of Asian Carp Aid, a nonprofit that brings awareness to Asian carp's impact on the Twin Lakes. He maintains that the fish's perceived environmental consequences are overblown. Quinn believes the real threat Asian carp pose is giving the Twin Lakes a negative perception in the minds of tourists and sport fishermen. And financially, that perception is damaging.
"It's really decimated our local economies here," says Quinn, who is also part of Marshall County's Kentucky Lake Economic Development group, which focuses on tourism.
According to Quinn's research, combined recreational fishing in Barkley and Kentucky lakes has seen a sharp decline since 2018. The area has lost most of its nationally known sportfishing tournaments, a direct loss of more than $5 million. Smaller tournaments registering through the U.S. Fish and Wildlife Service also declined from a total of 182 tournaments in 2018 to 26 in 2020, no doubt worsened but not altogether explained by the pandemic.
Ron Brooks is a retired fisheries director for the Kentucky Department of Fish and Wildlife Resources and a volunteer with Wenom's nonprofit. Like Quinn, he admits that while carp are economically damaging to the region, more direct scientific proof of environmental damage is needed. "Baitfish populations in lakes always go up and down over time," says Brooks. "Right now, they are down in Kentucky and Barkley [lakes]. Whether or not these carp are part of what is causing that can't be fully measured yet."
According to Brooks, the coalition aims to eventually harvest a total of 15 to 20 million pounds of Asian carp per year from the lakes. That's at least twice their 2019 harvest.
While assessing the environmental damage done to the lakes by carp will take more time, one 2019 study finds a direct link between the establishment of Asian carp and a decline in native sportfish in the Upper Mississippi River System.
That concern is what drove Mary Stallins, a Twin Lakes commercial fisher, to switch from catfish to Asian carp in 2019. With her midsize fishing operation, she says she brings in roughly 50,000 pounds of carp per month.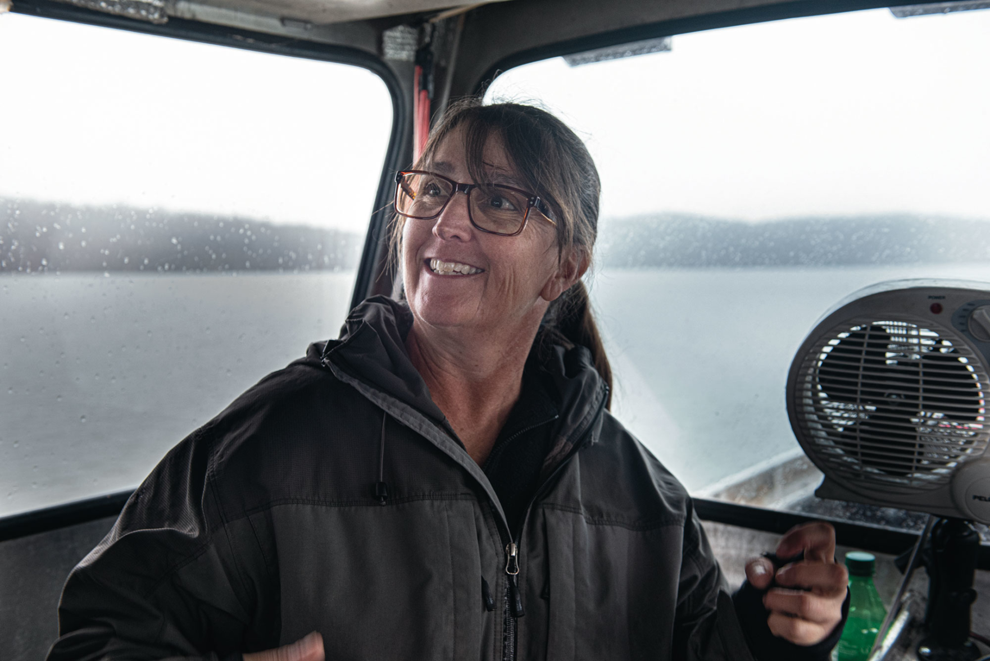 "If you run these [Asian carp], you're gonna get hit everyday," says Stallins, one of at least 28 commercial carp fishers registered in Kentucky.
Like Wenom and Brooks, Stallins says the primary bottleneck for commercial carp fishing is finding a consistent whole-fish market that pays a fair rate. At present, carp don't fetch as high a price as other commercially fished species like catfish and buffalo. That's why Kentucky and Tennessee fish and wildlife agencies offer subsidies for invasive carp.
"Ideally, the markets for carp will develop, and if they take off, we will no longer need to provide a subsidy," says TWRA's Harty, admitting the government cannot pay the subsidy forever. According to Harty, there are a total of three wholesale carp buyers and 17 commercial fishermen registered within the Tennessee program. This year, they will deploy an additional $600,000 to subsidize commercial fishermen.
While the carp's pervasive bone structure means less meat per fish, it has high omega-3 fatty acid content and a taste remarkably similar to that of catfish, according to Wenom, Stallins and others who regularly eat it. For federal taxpayers and the hurting Twin Lakes, changing the foreign fish's perception to Americans remains a primary hope for finding some semblance of peace.