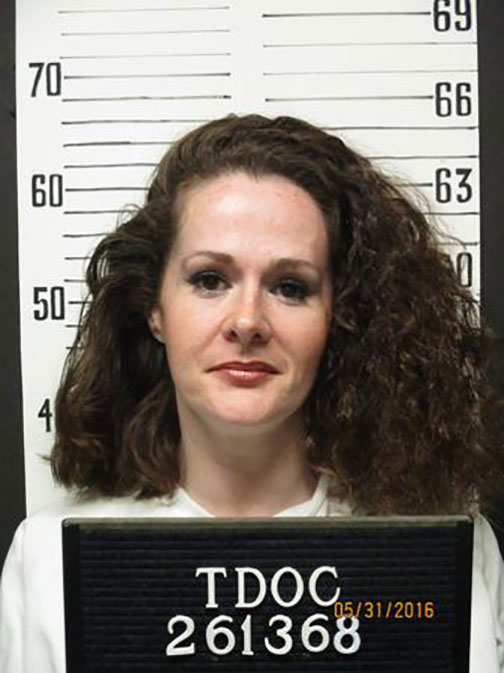 The rhythm of regular executions in Tennessee was interrupted in 2020 by the coronavirus pandemic, halting the resurgence of the state's death penalty — which saw seven men put to death in less than two years. After Nick Sutton was executed in February of last year, four executions scheduled throughout the rest of the year were called off due to the pandemic, either by the Tennessee Supreme Court or Gov. Bill Lee. But the process of moving the condemned closer to the death chamber did not stop completely. 
On Aug. 27, Tennessee Attorney General Herbert Slatery's office asked the state Supreme Court to set an execution date for Christa Pike, the only woman on Tennessee's death row. Her attorneys were granted a series of extensions by the court, giving them more time to respond with their argument as to why Pike shouldn't be scheduled for death. Initially, Pike's attorneys asked for more time because one of them was also representing someone facing execution on federal death row amid the execution spree carried out by then-President Donald Trump's Department of Justice. The state did not oppose the extensions, the last of which was granted on March 5. But on Monday, Pike's attorneys filed their arguments against setting an execution date. The filing clears the way for the court to decide on the matter, and if it schedules a date for Pike, Tennessee will be set to execute a woman for the first time in roughly 200 years. Only 17 women have been executed — by state governments or the federal government — since the beginning of the death penalty's so-called modern era in 1976. 
Tennessee came within months of executing a woman a little more than a decade ago. Gaile Owens had been sentenced to death for hiring a hitman to murder her brutally abusive husband. But in 2010, with Owens' Sept. 28 execution date approaching, prominent Nashvillians and supporters around the country rallied behind her, calling for her life to be spared. In July 2010, then-Gov. Phil Bredesen commuted her sentence. She was released on parole a little more than a year later. Owens died in 2019 at age 67.
Pike was sentenced to death in 1996 for the murder of Colleen Slemmer while the two were attending a youth job-training program in Knoxville. Pike was 18 at the time and had reportedly come to believe that the 19-year-old Slemmer was trying to steal her boyfriend, then-17-year-old Tadaryl Shipp. The killing was horrific. Shipp, Pike and a third teen named Shadolla Peterson lured Slemmer to a secluded, wooded area. There, according to court documents, they tortured Slemmer, slashing her with a box cutter, cutting her with a meat cleaver and eventually beating her over the head with chunks of asphalt after she tried to run away. Pike, court documents say, kept a piece of Slemmer's skull, which police later found in her jacket pocket. The murder was — and has continued to be over the years — the object of the particular sort of grim fascination reserved for killings carried out by women. In addition, Pike and Shipp were said to have dabbled in satanism, and Slemmer's body was found with a pentagram carved into her chest. 
Pike, who is 45 now, was 19 when she was convicted — making her one of the youngest women ever sentenced to death. In the 25 years since her conviction, she's made headlines on more than one occasion. In 2004, she was convicted of attempted first-degree murder for trying to strangle another incarcerated woman, Patricia Jones, and nearly succeeding. In 2012, authorities announced that they'd arrested two men — one of them a former prison guard — for their role in an escape plan they'd been plotting with Pike. 
But Pike's attorneys say that the young woman who committed her heinous crime was, like so many of the people on Tennessee's death row, the product of abuse and mental illness. 
"Before her arrest at age eighteen, Pike had a horrific childhood," Pike's attorneys write in the filing. "Before she was even born, she suffered brain damage. Then, from the time she was a small child, she endured abuse, neglect, multiple violent rapes, and suffered from severe mental illness."
Pike's mother, they write, was an alcoholic who drank heavily with Pike in her womb. Later, a series of her mother's romantic partners abused the young girl physically and sexually, they write. She was raped at least twice, the filing says, including once in her preteen years. Years later, she was diagnosed with bipolar disorder and post-traumatic stress disorder. 
The filing also emphasizes Pike's youth at the time of the murder and the arbitrary nature of her sentence when compared to the others who participated in the killing. Had she been just slightly younger, Pike would have been ineligible for the death penalty, just like her boyfriend. 
"Mr. Shipp was 17 years old at the time of Ms. Slemmer's death," her attorneys write. "Christa Pike was 18. That is the difference between a death sentence and parole eligibility in 2028. That difference cannot be equated with increased maturity or brain development."
If Pike's history of abuse and mental illness make her similar to the vast majority of people on death row, her attorneys argue that the court should give particular consideration to the ways she is unique. 
"The Attorney General asks this Court to direct the Tennessee Department of Correction to commit an extraordinary act," they write. "TDOC personnel would be required to execute a severely mentally ill, braindamaged, and traumatized child who became the teenager who committed a terrible crime. Christa would be the first woman Tennessee executes in over 200 years, the first teenaged offender Tennessee executes in the modern era, and the only teenaged female offender to be executed in the United States since the death penalty was found to be unconstitutional in 1972."