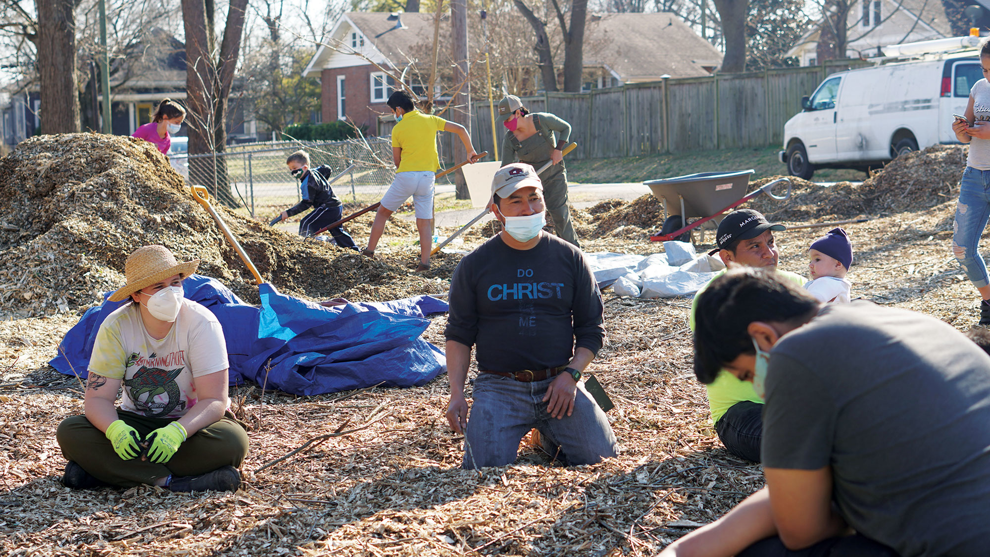 When members of the labor-organizing nonprofit Workers' Dignity came together to discuss why it's so difficult to organize and demand better working conditions in Tennessee, one answer stood out above the rest: Your food and shelter are strongly tied to your job, making it difficult to organize for more rights in the workplace. 
This prompted some members to find a way to achieve some measure of food sovereignty — the right to define their own food and agricultural systems. According to national hunger-relief organization Feeding America, 1 in 7 Tennesseans struggles with hunger, and food security is even worse for children — 1 in 6. Plus, food insecurity has been exacerbated by the pandemic. The desire for food sovereignty among working-class Nashvillians led Jack Willey, founder of Workers' Dignity, to the idea of creating a community garden on a patch of land in the Woodbine neighborhood. 
Willey says he reached out to District 16 Councilmember Ginny Welsch, who then put him in contact with real estate agent Chris Hulsey, who owns land on Peachtree Street in the neighborhood. Hulsey and Woodbine neighbors formed a coordinating team to make decisions about the garden. In March, Husley told the Scene that he saw the garden as an opportunity to bring people together and meet more of the Woodbine neighbors. 
While the project was not an official program of Workers' Dignity, members of the group were involved, including co-director Cecilia Prado. Many of Workers' Dignity's members are natives of Mexico, El Salvador, Honduras and Guatemala. Nashville is home to a small but significant Q'eqchi' community — Maya people who suffered traumatic experiences as a result of being displaced from Northern Guatemala due to colonization and imperialism. 
"They lived in tropical forests that have completely been displaced by mining and hydroelectric companies, which was the case for some of our members," says Prado. "A hydroelectric company came and destroyed their land. That's why they're here." 
The goal was simple: to have a safe space where people from all backgrounds could come together and create a little piece of home — especially people renting their homes, who can't garden where they live. In organizing a community garden, the Woodbine neighbors also wanted to give some power back to the workers. Something as simple as having food sovereignty could make them less dependent on their jobs for food, which in turn would make it easier to demand better rights in the workplace. 
Arnaldo Tun is from Guatemala and has been a member of Workers' Dignity for a year. He first became involved with the organization after a friend suffered an accident and was referred to the group for assistance. Tun says his reason for emigrating from Guatemala was poverty and lack of employment. "If one doesn't have some means to survive economically, life is very difficult," he tells the Scene in Spanish. 
When the idea of a community garden was presented, some neighbors were eager to restore their relationship with the Earth, something that had been so strong back in their home countries.
"I felt very motivated," says Tun. "I was eager to experiment with the different growing methods. It's much different here [in the United States] than in Guatemala."
Another motivator for the garden was access to organic vegetables, which can otherwise be very expensive for people living in poor and working-class areas. Prado says staple foods for people from Latin America — tomatoes, corn, chiles and other produce — are much more expensive in Nashville. "Access to fresh produce is number one [in] just keeping people healthy," says Prado. "This country has made it very clear that they don't want poor people to survive for too long."
Initially, the Woodbine neighbors spent four Sundays in the garden working from 1 to 5 p.m. They cleared and prepped the ground and gathered materials to make garden beds. They also organized a GoFundMe page to purchase soil. However, donations have since been disabled and progress on the garden has stopped due to a difference in vision between the gardeners and Hulsey. 
Prado cites an unbalanced power dynamic between the landowner and gardeners, who are primarily people of color, that has caused tensions to arise. Coordinating team members have removed themselves from the Woodbine project and now seek land on which they can fulfill their vision. 
"We reached a point at which it made more sense to go our separate ways," says Willey. 
According to Prado, Hulsey wanted to charge rent on garden beds. "It's a shame because it all comes down to who owns the land," says Prado. "It's unfortunate, but it's also not surprising. … We'll keep looking for places that actually want a garden that is a community space and is about food justice and not gentrification." Hulsey did not return the Scene's request for further comment. 
Tun says he is still eager to have a plot of land on which to harvest, where he and another member plan to grow tomatoes and chiles. "I hope to continue with the project and keep moving forward, despite setbacks," says Tun.