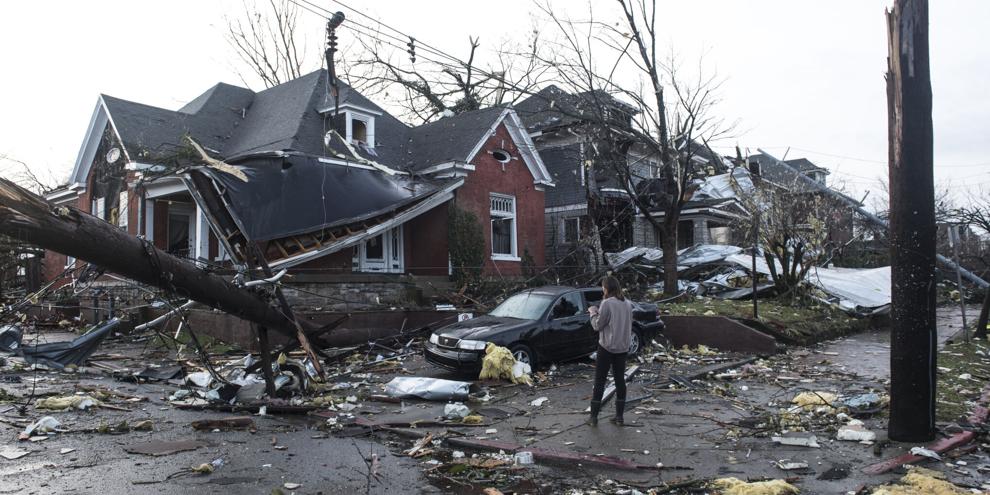 The past 18 months have seen a cascade of disasters, both natural and man-made, and shown how easily a natural calamity can be exacerbated by poor planning and inadequate response. Fires out west and recent hurricane-induced flooding have raised questions about how our country and its infrastructure will hold up against increasingly frequent extreme weather events born of global climate change. And Nashvillians have not needed to watch the national news to confront these questions. 
Since March 2020, the city has endured a deadly tornado, flash flooding, a bombing, an ice storm and more flash flooding, all with the COVID-19 pandemic ebbing and flowing in the background. We can be sure there is more to come, be it from wind or water. And that raises a question: How ready are we?
The Office of Emergency Management, led by District Chief Jay Servais, is the Metro agency tasked with disaster preparedness and response. Servais calls Nashville "one of the most prepared cities in the country," citing a culture of collaboration between different departments where there might otherwise be struggles for influence, power or credit. He says the OEM conducts emergency planning exercises with different Metro departments and emphasizes the Comprehensive Emergency Management Plan, which includes every city agency as well as nonprofits and other partners, outlining roles and plans for cooperation during a crisis. Asked if there is a scary folder somewhere in his office listing various hypothetical disasters his agency might have to respond to, Servais says, basically, yes. 
"We try to have, annually, each department have a scenario-based table-top exercise, where we come together and we talk about, 'What's it going to take to tax our resources?' " Servais says.
Among the areas where the city could improve its disaster preparedness and response, he says, are a plan and ability to shelter displaced people for longer periods of time as well as more effective use of translators. 
Unfortunately, flash flooding is a fairly common occurrence in Middle Tennessee, and after each such event, the OEM — which has a swift-water rescue team — reviews how effective its response was and how it might improve. 
For many Nashvillians, any instance of heavy rain stirs up memories of the historic and devastating 2010 flood, and that catastrophic event was the impetus for a variety of steps that mitigate against disasters today. According to Metro Water Services, the city has purchased more than 400 homes located in flood-risk areas as part of its home buyout program and demolished most of them, creating more than 200 acres of open space. The 2010 flood also led to the creation of a tool called SAFE (Situational Awareness for Flood Events) in partnership with the U.S. Army Corps of Engineers, the National Weather Service and other agencies. Using information from a variety of sources, SAFE helps city officials forecast the severity of flooding events. Metro Water currently has 22 river gauges providing data to SAFE, with 24 additional sensors planned. Both of the city's water plants have also been upgraded with "new electrical power feed systems and emergency power generation facilities that allow them to operate indefinitely without public power supplies," according to the department. 
But some steps forward in terms of disaster preparedness have been walked back in recent years. In 2016, then-Mayor Megan Barry created the Office of Resilience inside the mayor's office in partnership with The Rockefeller Foundation's 100 Resilient Cities. The office, according to an announcement at the time, was meant "to lead city-wide efforts to help Nashville prepare for, withstand, and bounce back from the 'shocks' — catastrophic events like floods, tornadoes, and fires — and 'stresses' — slow-moving disasters like unemployment, affordable housing, and poverty and inequality — that are increasingly part of 21st century life." But after restructuring in the mayor's office by Mayor David Briley, the Office of Resilience was eliminated in 2019.
City officials at the time said the office's work would continue in other ways, but Metro Councilmember Freddie O'Connell — who represents much of the city's downtown core — saw it as a promising vehicle for addressing likely future crises. For instance, the office worked with Metro Water to create an in-depth flood mitigation analysis for every council district. 
Recent disasters — wrought by nature or inflicted by one disturbed man — have highlighted areas where Nashville is vulnerable. Like Servais, O'Connell points to the challenge of sheltering and assisting displaced residents. Beyond that, the tornado — which killed two Nashvillians and could have claimed many more in the city given its terrifying path through residential neighborhoods — highlighted the risk of traditional above-ground power lines. Burying these lines would be a serious undertaking, but would have obvious benefits even if it was done only in the urban core, O'Connell says. The Christmas Day bombing knocked out telecommunications across the region, which O'Connell says underlines the need to consider building redundancies into the city's emergency communications system so it's not disrupted during such an event in the future. 
"The idea of resiliency is not just the capabilities that you need to react to a crisis," O'Connell says. "Sometimes it's doing the strategic work upfront to mitigate the impact of the crisis."