Golf umbrellas, anti-abortion protesters and professional videographers — staff members at Nashville's Planned Parenthood facility on Dr. D.B. Todd Jr. Boulevard say these are increasingly a part of their daily operations. 
"We have four different health centers across the state, and our Nashville health center gets more protesters than all the others combined, and then some," says Julie Edwards, patient advocacy manager for Planned Parenthood of Tennessee and North Mississippi. Edwards says this year, Planned Parenthood has seen a "regular presence" of about twice as many protesters as they saw in 2020. Generally, Edwards says protesters are becoming "a lot more organized and a lot more strategic, and they are pulling together a lot more funding." Some protesters have started to investigate clinic staff too. "They will stalk us on the internet, basically," Edwards says. "They'll find out our names, our emails, where we work, how old we are — they use that to intimidate us." Edwards says they've seen more protesters than ever before as well. 
At the clinic, protesters do not interact directly with patients. Instead, volunteers called patient escorts act as a shield between patients and protesters. Edwards calls them "protectors of a safe environment" and "emotional caretakers." Patient escorts are trained in de-escalation techniques and follow very specific protocols. Most notably, they do not interact with protesters unless they need to tell them to obey the law — among other protections, the Freedom of Access to Clinic Entrances Act of 1994 prohibits protesters from blocking a patient's access to an abortion clinic.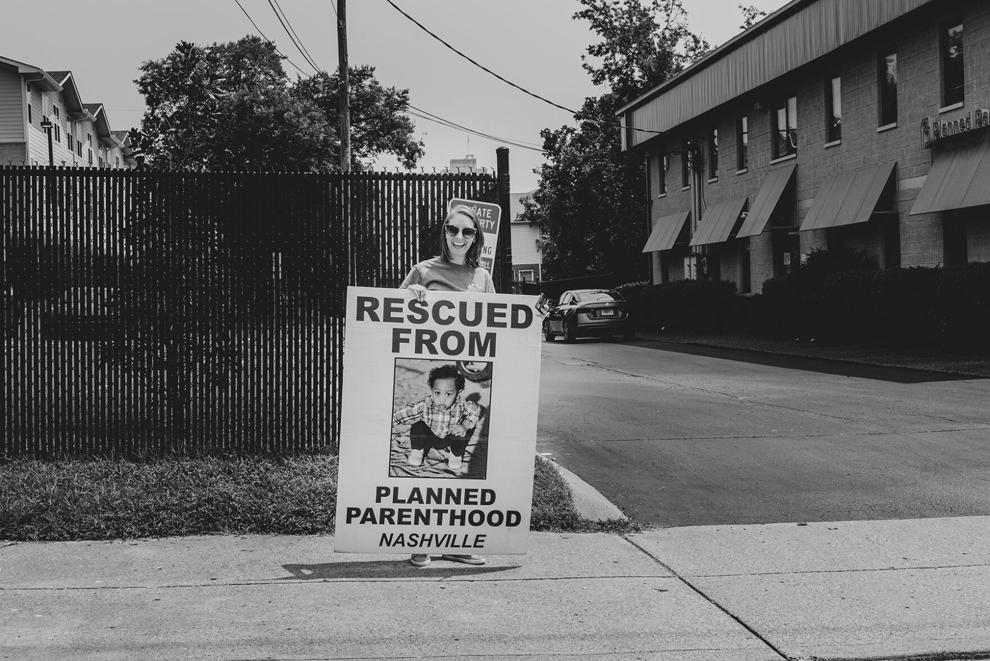 Planned Parenthood typically sees three main groups of protesters, Edwards says: quiet people who sit and pray, more aggressive folks with paid camera crews, and representatives from what are known as crisis pregnancy centers. The more aggressive protesters try to "get our patients on camera so that they can capture evidence of what they would call 'saving' someone for their social media," Edwards says. These protesters create privacy concerns, so patient escorts now carry large golf umbrellas to shield patients as they walk from their car to the clinic.
People from crisis pregnancy centers — nonprofits created in an attempt to dissuade women from getting abortions — are the most consistent protesters at Planned Parenthood. They come to the clinic in vans that contain ultrasound equipment and try to talk patients into receiving their care rather than Planned Parenthood's. Crisis pregnancy centers provide free resources like pregnancy tests and ultrasounds, but they actively discourage abortions. 
Scott Hord, a retired pastor from Smyrna, protests at Nashville's Planned Parenthood location five days a week. He has been performing what he calls "rescues" for more than six years. "God gave me two words in a Starbucks in Smyrna," he says. "Engage abortion." Now Hord runs Operation Saving Life, a nonprofit group that he says has between five and 20 protesters at Planned Parenthood every day that it's open. They also have an ultrasound van. 
Ruth Washburn, an independent protester, is at the clinic when the Scene visits on a Friday in late July. After explaining some of the services OSL and other organizations provide (counseling, baby showers and adoption assistance, among others), she concludes, smiling, that there's "really no reason anyone would get an abortion."
"We're just there to support these women, not to judge or condemn," she says. Through her clear bag, business cards with the words "ABORTION IS MURDER" are visible. The words are in red lettering, dripping with blood. 
While Hord says he trains volunteers to "go in love, humility and truth," he later adds that "not everybody that goes in there needs a hug — some people need to be introduced to truth." 
"Either Planned Parenthood is on the side of truth or we're on the side of truth," Hord says. "But one of us has to be wrong." 
One source who spoke to the Scene on the condition of anonymity says she left a role at a crisis pregnancy center and is now training to become a patient escort. As a volunteer nurse, she was concerned with the misinformation crisis pregnancy centers give to patients, which she calls predatory and manipulative.
"If you have to lie or misconstrue your message to further your agenda, then you don't have anything," she says. "You have nothing. It's not realistic, and it doesn't make sense to me." 
Edwards says protesters have an incomplete idea of Planned Parenthood. "They only see us as abortion providers and not as reproductive health care services," she says. Hord says he knows that Planned Parenthood provides other services, but given his views, he believes people shouldn't go in for any reason. "If you know Planned Parenthood is doing something bad, why would you go there for birth control?" he asks.
Edwards recalls a local mother who pulled up to the clinic with a large Jesus sticker on her van. "You can't call yourself a Christian!" protesters yelled as she walked into the clinic. The woman was at Planned Parenthood to get her daughter a cancer screening. Before she and her daughter left, the woman signed up as a clinic volunteer. "My God tells me to love everyone," she told Edwards. 
Planned Parenthood has infrastructure in place to safeguard the mental health of its volunteers and staff, including mentoring support for newer volunteers. "It takes a special person to do this kind of work," Edwards says. Legally, protesters cannot enter clinic property, including its parking lot. 
"Our number one priority is the safety of our staff and patients, and we always want our patients to feel welcomed," says Planned Parenthood of Tennessee and North Mississippi president and CEO Ashley Coffield in a statement. "Our volunteer patient greeters are amazing, and I'm so grateful for all they do. As for the protestors, these people manufacture drama daily and their presence affects our patient's dignity, privacy and autonomy. Also, can we please stop calling them protestors? They are harassers. They don't just stand there holding a protest sign — they actively block our driveways and go to great lengths to verbally and physically harass our staff and patients. In any other context, this would be considered stalking."