In 1990, Ron Sanford was at the Miss Gay USofA pageant in Louisville, Ky. A Nashville native, Sanford owned a club in Atlanta at the time, but he stayed connected to his hometown. That's why he was shocked when a performer from Nashville he'd never seen before came onstage. 
"And 1,500 people within 30 seconds came to a halt," Sanford remembers. "You could have heard a pin drop." 
The drag queen named Bianca Paige delivered a Shirley MacLaine impression, serving Terms of Endearment, Steel Magnolias and other samplings from the actor's famous roles. 
"That crowd just stood still for seven minutes," says Sanford. "Then it erupted." 
This began a 20-year friendship between Sanford and Mark Middleton, the man behind legendary Nashville drag queen Bianca Paige the Pantomime Rage. On Saturday, the city will honor Her Eminence, who died in 2010, by dedicating a street in her name. Formerly Carney Street, Bianca Paige Way is located behind the gay bar Trax, between Second Avenue South and Ensley Boulevard. Co-sponsored by Music City Prep Clinic and the Bianca Paige Awareness Network, the dedication and celebration will be an all-out street festival with music, food, dancing and, of course, drag.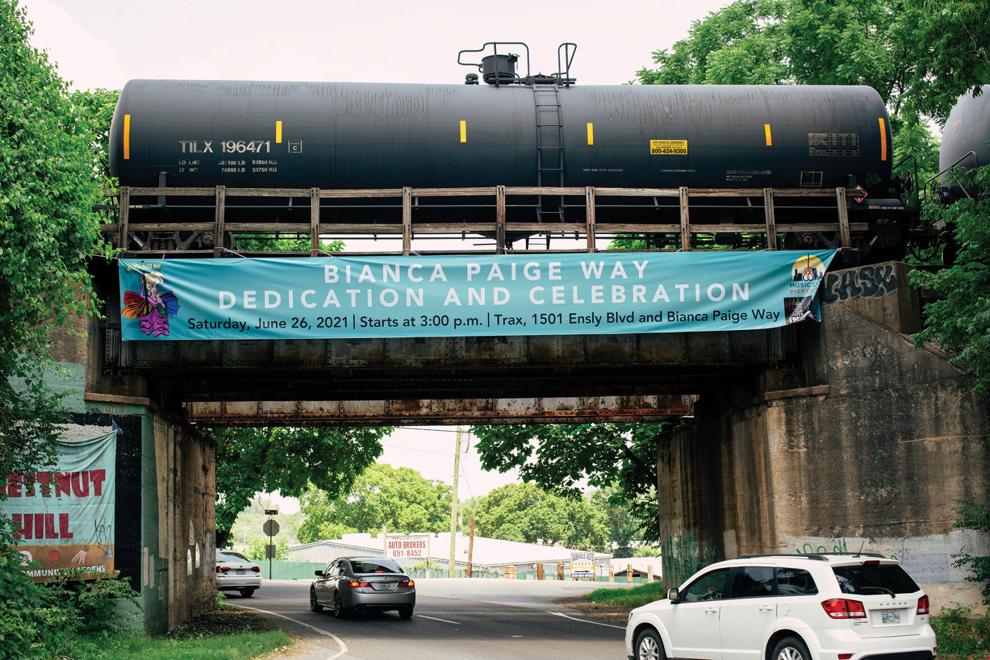 With cat-like eyes and a statuesque figure, Bianca could command a room. Her speciality was lip-synching, and you can find her performing as Melissa Etheridge, Celine Dion, Eartha Kitt and others on YouTube. She also played MC, doing stand-up at Nashville clubs like The Connection and Chute in the '90s, and at Mad Donna's, Trax and other bars in the Aughts. 
"Picture it," she says in one video, gaudy rhinestone earrings dangling down to her shoulders as her voice — coarse as sandpaper — contrasts with her glamorous getup. "Bowling Green, Kentucky. A fag was born." The crowd howls. "Calling Mr. Tail," she continues. "Mr. Cock Tail. Please report to Bianca's throat as soon as possible." 
Offstage, says Sanford, Middleton was "the perfect gentleman — just the perfect person. … Mark and Bianca were totally different. Mark was very much the man, and Bianca was very much the woman. It was an acting job for him." 
But circumstances of the AIDS epidemic soon gave that job a new dimension. Middleton was diagnosed with HIV in the mid-'90s, and he decided he wouldn't avoid the topic. Instead, he took it to the stage. "Mark decided that he was going to be the one — to be the only performer — to use his stage and his persona to get it out there," says Sanford. "He was determined to not only tell kids and people what was going on, but to get tested and to know your status." 
Sanford had been active in the Atlanta chapter of ACT UP, the group that formed in New York City as a response to the AIDS crisis and the government's refusal to address it. "We didn't have any help from anybody," says Sanford, "and people didn't want to touch us. We had one funeral home in Atlanta that let us have this basement so that we could bury our dead. And so we did. We went in there, and I had decorators come in, and we decorated it all up. And it was beautiful and ended up being the prettiest room in the whole place."
Oftentimes, Sanford would be closing down the Nashville club he managed at 5 a.m., and he'd find Middleton outside talking to young people who'd waited for him to take off his makeup and come downstairs. There Middleton would hold what he and Sanford called "church." The young people were often recently diagnosed. Bianca had made them feel seen and understood, and Middleton could talk to them about living with HIV. 
For years, Bianca's last act of the night was a dedication to those the community had lost to AIDS, and Middleton donated the tips Bianca earned to Vanderbilt University Medical Center's Pediatric and Adolescent HIV/AIDS Clinic. Along with hosting charity events and working with other organizations such as Nashville Cares, Middleton donated $1 million to HIV/AIDS treatment and research. Sanford likes to say that he did it one dollar at a time. 
"That's how we put on Pride, was dollar by dollar by dollar," says Sanford. "And that's how we took care of our sick. If we — our own people — would not have come in and done the things that we did, there would have been thousands and thousands more that died." 
Together, Sanford and Middleton founded the Bianca Paige Awareness Network to keep educating the community and destigmatizing the virus. That work continues to this day — but without Middleton. He succumbed to lymphoma in 2010. His memorial service at the Vanderbilt Plaza drew several hundred friends and fans who celebrated his life and impact. 
When asked if Middleton imagined what his legacy would be, Sanford doesn't hesitate. "Do I think that he thought that he would ever have a street named after him? No. He knew he was doing good. … He used to say, 'My talent is God's gift to me. What I do with that talent is my gift to God and my community.' I think he meant that. .... We have to keep the name out there and get people revitalized with it."
With Nashville's long-delayed Pride celebration still three months away, the celebration is right on time. As always, Bianca will provide.