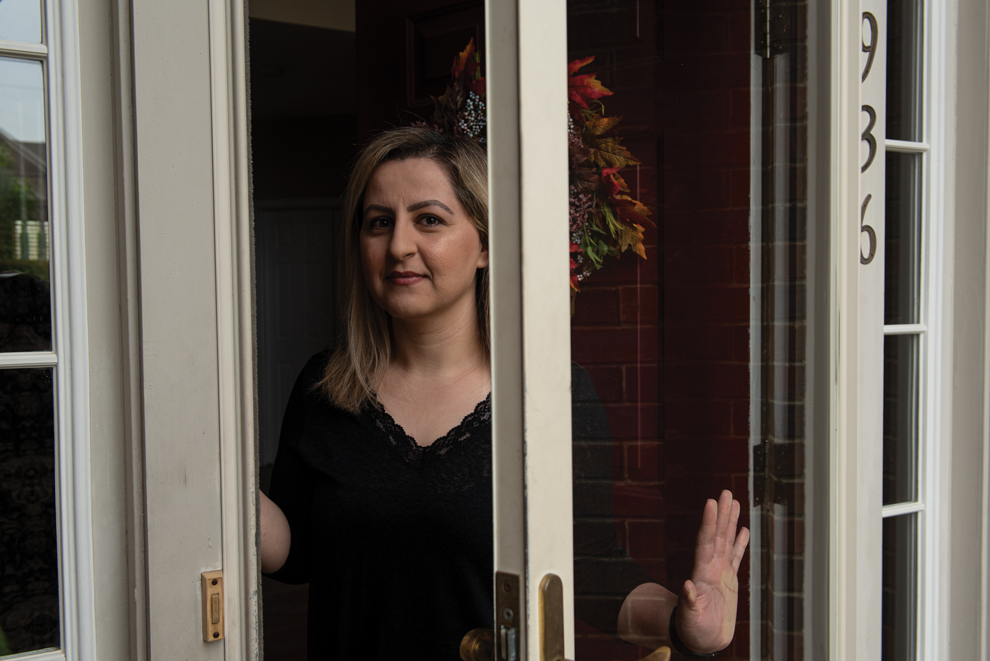 It was Monday, March 9, when Akhink Omer first experienced body aches, fever, chills and coughing. The 31-year-old Nashville nurse would learn more than a week later that her symptoms were the result of COVID-19. 
Omer initially assumed it was a bacterial infection because, at that point, the number of confirmed coronavirus cases in the state was still in the single digits. A round of antibiotics did nothing to ease the symptoms, so on March 12, she called the new state coronavirus hotline to inquire about a test. But at that point she did not meet the criteria for getting a test — she had not recently traveled outside the country or had contact with a known case of the disease, she says. 
By Saturday, March 14, Omer's symptoms had not gone away. She went to her doctor's office, where they told her she still did not meet the criteria for a COVID-19 test. She was given a steroid shot, which helped with her fever for about 10 hours. Other than that brief respite, her fever lasted nearly 10 days. 
Her symptoms persisted, and even worsened. She couldn't walk from her bedroom to the bathroom next door without leaning over the sink exhausted. 
"I couldn't take a deep breath," Omer recalls. "It feels like someone grabbed a hold of your chest. If I could just take one deep breath, I'd feel like that would help me so much, but you can't. The second you try to breathe even a little bit deep, you start coughing uncontrollably, and then you feel like you're choking."
Omer went to an urgent-care clinic seeking chest X-rays. She wasn't tested for COVID-19 because the facility didn't have testing supplies, but the X-rays showed signs of pneumonia. The doctor sent her home with more antibiotics and an inhaler. A few hours later, the urgent-care clinic called to tell her that she needed to go to an emergency room right away: The radiologist had reviewed the X-ray more carefully and determined that the case was more serious than originally suspected. 
Arriving at the Metro General emergency room around 9 p.m., Omer was promptly given fluids, antibiotics, other treatment and, finally, a COVID-19 test. 
"I'd been sick for a week, and it was miserable, but that was the first time that I honestly got a little scared," Omer says. "I'm in the hospital, and they're doing all these things that I've done for patients so many times, and now I'm on the receiving end of it. It's intimidating, and it's very scary."
Two days later, the doctor told her the test came back positive and discussed the possibility of treating her with hydroxychloroquine, a malaria drug touted by President Trump as a possibly effective treatment for the disease. The doctor, Omer says, was honest: They didn't know if the drug would work.
"At that point I just wanted relief," she says. "I would've taken anything."
After she started the hydroxychloroquine regimen, her fever dissipated, though Omer says she's not sure if that was due to the experimental treatment, other drugs she was on or just the natural conclusion of the illness. But her symptoms were not completely gone: Omer still had trouble taking a deep breath. Doctors wanted to keep her at the hospital because of possible heart and liver side effects caused by the hydroxychloroquine. 
On March 23, she finally left the hospital, two full weeks after her first symptom and one week after she checked in. Omer recalls the experience being "very, very isolating." With no visitors allowed and health care workers seeking to limit exposure as much as possible, her main source of entertainment for the week she spent in the hospital were video calls with her large extended family.
"I just pray that everybody has that, because I can see how people could get depressed very easily," she says.
Before Omer left, they tested her for COVID-19 again, and the result came back negative. 
Now she's back home, where she lives with her parents (both in their 50s) and a high school-age brother. Though the Metro Public Health Department gave her a letter telling her and her employer that she could go back to work without any restrictions, Omer is waiting until her cough subsides — and until she's confident she can stay on her feet for a 12-hour shift — before returning to Southern Hills Medical Center for work. At the hospital, she works on the medical floor, so she expects to be treating COVID-19 patients when she returns.
"It's one of the few times you can say, 'I know exactly how you feel,' " Omer says.
As she prepares to go to work treating the disease from which she has just recovered, Omer has two concerns: a huge hospital bill, and the possibility that she could become reinfected. (Though scientists believe reinfection is unlikely, there is little definitive scholarship on the matter.)
Because she splits work between Southern Hills and teaching Belmont nursing students, Omer has to purchase her own private health insurance, which didn't kick in until April 1. That's a little more than a week after she left the hospital, though she applied for coverage before falling ill.
"I'm expecting a very large bill to come my way," she says. "It's unfortunate that you're laying in a hospital bed, but in the back of your mind you are thinking about the bill you're going to get when you leave. … I couldn't even begin to imagine what the total will be."
A previous version of this story misstated which hotline Omer called on March 12.