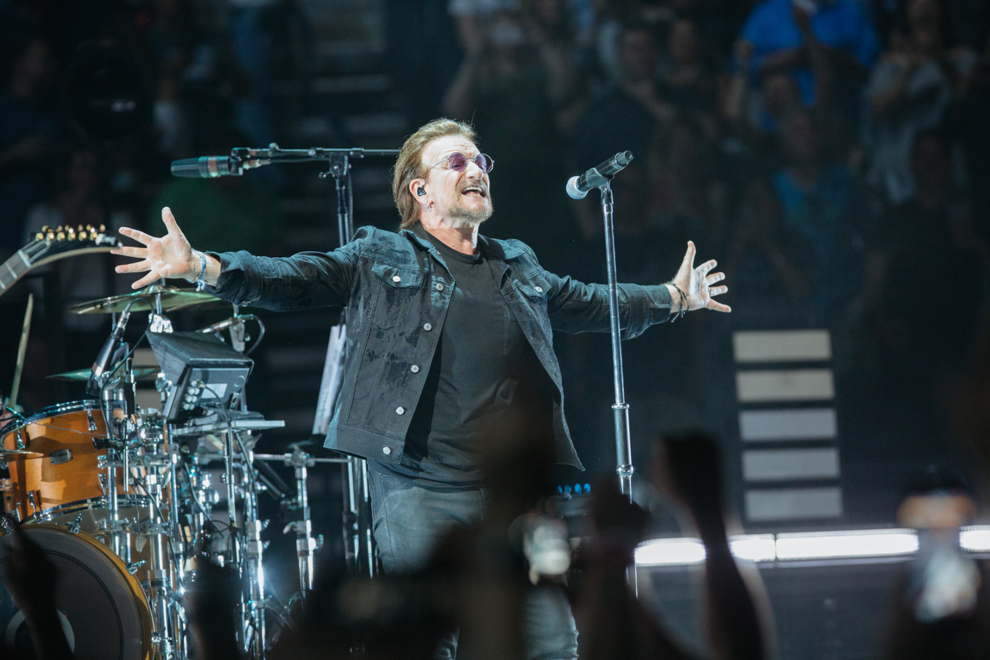 Cutting a couple tracks live to acetate at Third Man Records Sunday evening and popping into Robert's Western World for a rockabilly nightcap are exciting happenings surrounding a band of U2's stature. But the group's debut at Bridgestone Arena on Saturday was plenty noteworthy on its own, as a showcase of a band determined not to rest on its laurels. Naturally, The Spin — along with shout-out-receiving icons the likes of Al Gore, Oprah Winfrey, Emmylou Harris and T Bone Burnett — joined 17,000 or so Nashvillians in welcoming the World's Biggest Band to the house the Preds built.
This was Bono & Co.'s first proper Nashville show since their heroic 2011 Vanderbilt Stadium extravaganza, and first Middle Tennessee stop since triumphing at Bonnaroo last year. That got us thinking we should maybe eat mushrooms before the Bridgestone gig Saturday night. We didn't, but considering the band's visually stunning, beyond-immersive stage production, it wouldn't have been a bad idea. And when we say immersive, we mean that literally.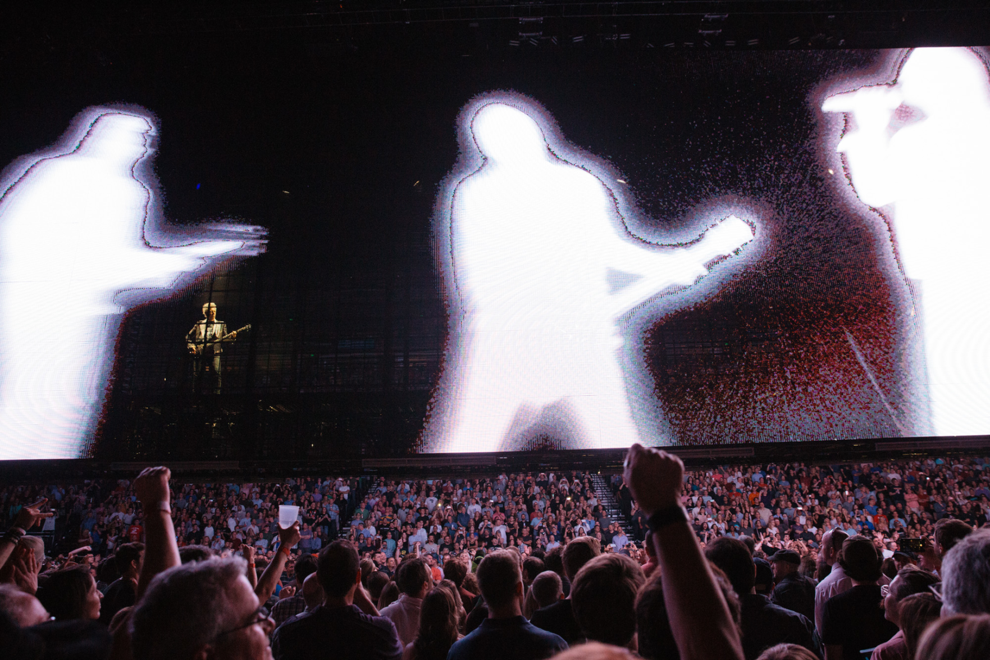 Entering the arena, we were immediately gobsmacked by the elaborate production's centerpiece: a 96-foot-long, transparent, double-sided LED screen sitting above a catwalk connecting two stages at each end of the arena floor. Arena-wide anticipation was at a fever pitch by the time the houselights dimmed and the IMAX-screen-on-steroids ascended toward the rafters and opened up to reveal Bono already perched on an inner catwalk, crooning "Love Is All We Have Left," the meditative, mood-setting opening track (and the first of the show's eight selections) from the band's 14th studio album, last year's Songs of Experience. Soon, the screen swallowed the singer whole and large silhouettes of his no-introductions-needed bandmates The Edge, Adam Clayton and Larry Mullen Jr. — stationed on yet another screen-obscured catwalk — started flashing like streaks of Tennessee summer heat lightning to the throbbing thud of SOE's best rocker, "The Blackout." By the closing chorus, the band was suspended at eye level with the lower bowl, screens off, houselights up, rallying the masses into a delirious roar with the commanding spirit that's marked them as one of the most ambitious (and successful) stadium acts of all time.
When it comes to matching musical themes with jaw-dropping visuals, U2 concerts are the Steven Spielberg films, the James Cameron epics, the Star Wars-sized events of rock. As such, the band's current Experience and Innocence Tour — a sequel of sorts to 2015's similarly staged Innocence and Experience Tour — delivered no shortage of music-meets-tech moments of sound-and-vision spectacle. The most elaborate of those came during "Iris" and "Cedarwood Road" — a pair of songs from 2015's Songs of Innocence, to which SOE is a follow-up. As Bono belted out the latter while walking past an animated depiction of the street he grew up on, we spotted even many casual fans singing along, realizing that, while the internet torched SOI upon its intrusive release — it's the album that appeared unbidden in every Apple user's iTunes library — it seems plenty of said users actually listened to the album.
Despite the backlash against SOI, and mixed reviews received by the musically superior SOE, U2 is doubling the fuck down on this material. Split into two thematic sets on four different stages, the show centered on themes of the innocence the band lost growing up in 1970s Dublin, by watching their mothers die (in the case of Bono and Mullen Jr.), and hearing exploding car bombs (as depicted during a stripped-down take on "Sunday Bloody Sunday"), and the experience they've gained as philanthropists along the path to world domination. Never ones to shut up and sing, Bono and the band still embrace the stage as a bully pulpit for righteous commentary. And, like the car bombs, those moments were heavy.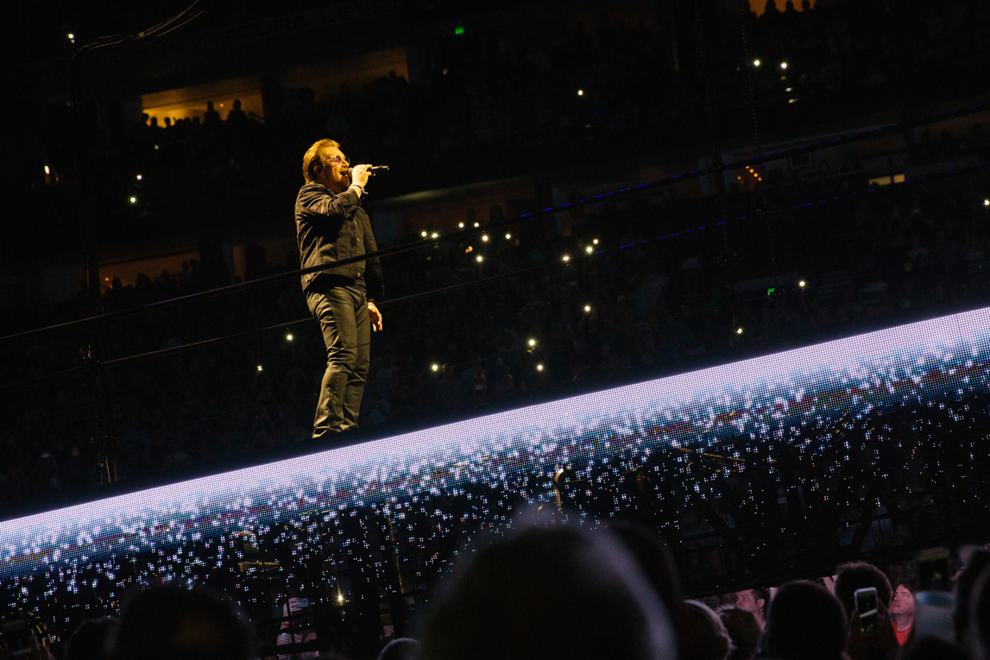 Well-timed for Donald Trump's Nashville visit on Tuesday, a Bono-and-Edge acoustic duet of underplayed Pop single "Staring at the Sun" featured images of tiki-torch-wielding white supremacists marching in Charlottesville, before giving way to grainy images of Martin Luther King Jr. and 1960s civil rights protests at the opening strains of "Pride (In the Name of Love)." "One," punctuated with lighters and cellphone flashlights, carried the message of the band's current #PovertyIsSexist campaign.
When it comes to the personal side of the Experience and Innocence story, perhaps the biggest message U2 is sending is that they refuse to be a nostalgia act, despite some critics calling them that when they took their landmark 1987 LP The Joshua Tree on a global stadium tour of full-album performances last year. Saturday's show — and every stop thus far on this tour — have, for the first time in nearly 30 years, featured no JT songs. A band as big as U2 leaving megahits (like "With or Without You" and "Where the Streets Have no Name," one of the biggest concert anthems in rock history) off the program is asking a lot of its audience, even when said audience has SOI lyrics memorized. It pits the band's legendary staples against its recent work.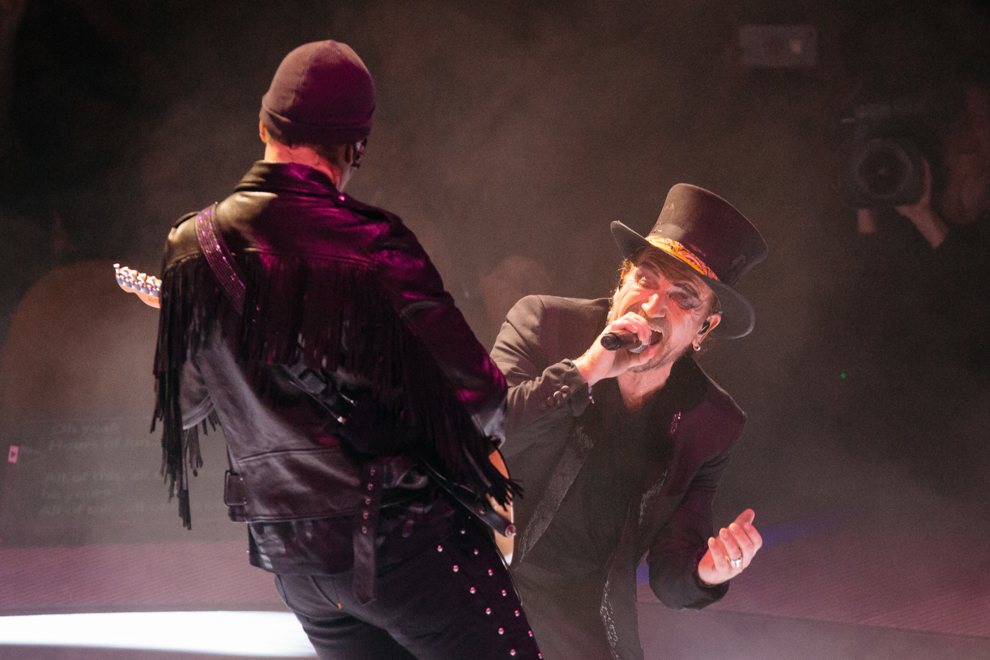 This, in its own way, is classic U2. It's what they did on the similarly visual and high-tech concert-experience-redefining Zoo TV and PopMart tours of the '90s (nodded to on this tour by the return of Bono's devil-as-an-aging-rock-star alter ego MacPhisto). The difference here is that while U2 built those shows around the radically redefined sound of albums like Achtung Baby, Zooropa and Pop, the SOI and SOE songs embody the grand, yearning earnestness and straightforward radio-ready rock of U2's post-Y2K hits like "Beautiful Day," "City of Blinding Lights," "Elevation" and "Vertigo" — which fire up the crowd as much as '80s classics like "Pride" and "I Will Follow." They're also clearly better-recognized by current audiences than deeper Reagan-era singles like "Desire" and "Gloria," which yielded the most hard-charging performances of the night, and the white-whale fan favorite "Acrobat," on which The Edge took the evening's highest-soaring guitar solo.
Though the legacy of the band's determination in the '80s and its innovation in the '90s looms large, U2 believes in these new songs, and sells them well, with flawless, emotional performances. The tunes range from very good ("The Blackout," "Lights of Home"), to bordering on Christian-rock cringe ("Love Is Bigger Than Anything in Its Way," "Get Out of Your Own Way") and clumsily on the nose, like "American Soul," the Kendrick Lamar-featuring rocker Bono belted out while standing in front of a stage-spanning American flag.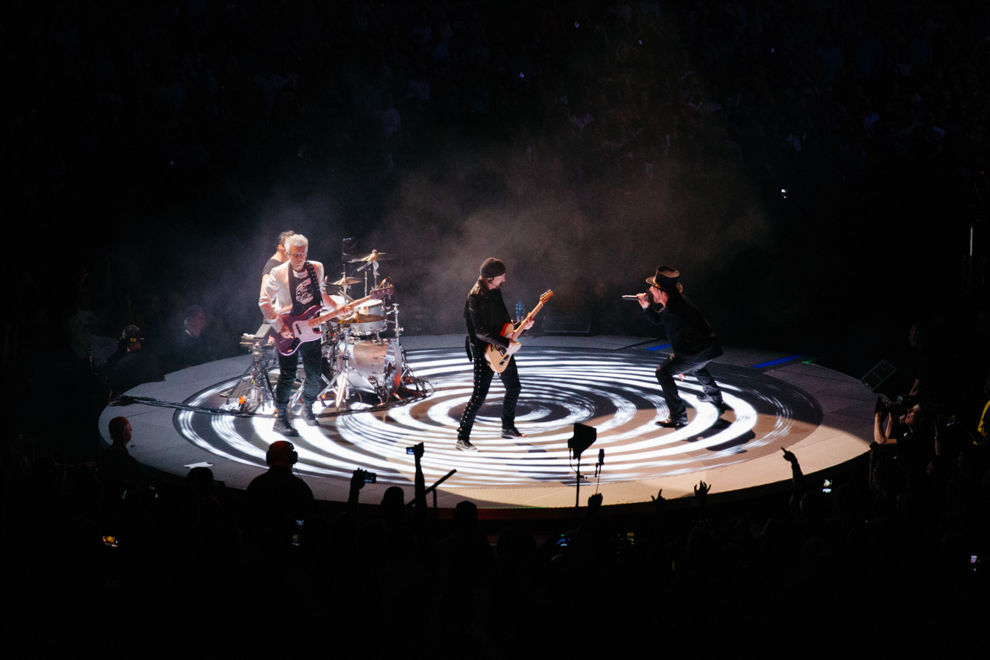 If there's one flaw with this heavily programmatic and unequivocally enthusiastic performance, it's that the new songs dominate the back half of the set, taking spots typically reserved for arena-wreckers like "Streets" and celebratory sing-and-dance-alongs like "Mysterious Ways." This is the set list equivalent of Phil Jackson making Michael Jordan ride the bench in a playoff game — a gutsy move for a band more than a decade removed from its induction into The Rock & Roll Hall of Fame. Is it a sacrifice the band must make to prove its continuing relevance? For those who caught last year's Joshua Tree jaunt, maybe so. For those going to their first U2 concert this year, maybe not.
But what of the band? As they closed their encore with the standout SOE ballad "13 (There Is a Light)," Bono took one last trip down the catwalk to the B stage, where a model of his boyhood home was propped. An oversized lightbulb dangled over the model, and he put his arm around it like an old friend as he sang the chorus: "If there is a light / We can't always see / If there is a world / We can't always be / If there is a dark / Now we shouldn't doubt / And there is a light / Don't let it go out." As he crooned his lullaby of tenacious hope, we couldn't help but wonder: Maybe he's finally found what he's looking for.
See our slideshow for more photos.
In The Spin — the Scene's live review column — staffers and freelance contributors review concerts under a collective byline.
Set List (via setlist.fm)
Love Is All We Have Left
The Blackout
Lights of Home
I Will Follow
Gloria
Beautiful Day
The Ocean
Iris (Hold Me Close)
Cedarwood Road
Sunday Bloody Sunday
Until the End of the World
Hold Me, Thrill Me, Kiss Me, Kill Me
Elevation
Vertigo
Desire
Acrobat
You're the Best Thing About Me
Staring at the Sun
Pride (In the Name of Love)
Get Out of Your Own Way
American Soul
City of Blinding Lights
Encore:
One
Love Is Bigger Than Anything in Its Way
13 (There Is a Light)