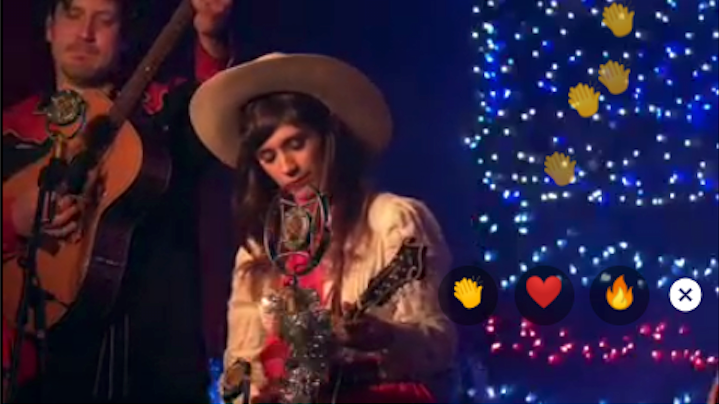 Nashville is the capital of country music, and it's also a musical environment that makes it easy for Americana artists to excavate bits and pieces of country's history. Sunday night, in a performance filmed at Nashville's American Legion Post 82 — itself the site of an active retro-country scene that was hitting its stride before the pandemic changed everything — Americana-country-folk singer-songwriter Sierra Ferrell dug through the history of country music. She made her discoveries sound freshly minted.
Ferrell's 75-minute set was the first installment of a three-night, three-venue run of filmed shows called Pick Your Poison that she designed to show off the different sides of her post-country sensibility. She continues the series May 2 at Dee's Country Cocktail Lounge with a night of calypso songs, and the run ends May 16 at The Basement, where she'll play jazz tunes. Sunday's set featured Ferrell sliding through some old-time country songs she's pulled from the history books, along with a couple of her originals. Ferrell makes a convincing honky-tonker, but her latest music — slated for an album due to be released on a date TBA this year — comes out of the great folkie tradition.
Ferrell, who grew up in Charleston, W. Va., and relocated to Nashville seven years ago, has a shot at being the latest Americana retro-country star. She signed with Rounder Records in 2019, and she is readying a new album with help from producers Gary Paczosa and Stu Hibberd. Paczosa, who has worked with luminaries like Alison Krauss and Dolly Parton, began catching Ferrell's shows at American Legion Post 82 a few years ago, and he helped facilitate her Rounder deal. 
On Sunday night, Ferrell applied her fluid, slightly cracked voice to a series of well-chosen songs, ably backed by bassist Audrey MacAlpine and fiddler Nate Leath. The music seemed gentle, but it was swinging, with Ferrell's acoustic guitar setting the tone. Ferrell has some jazz in her approach, which means she has an easy way with phrasing. Among the standouts was "Before I Met You," a song first recorded in 1953 by Joe "Cannonball" Lewis and revived by Charley Pride in 1966. It worked perfectly — the resignation Ferrell's voice carries never strayed into self-pity.
Similarly, Ferrell & Co. shone on Tom Paxton's "The Last Thing on My Mind," a slice of '60s folk-pop famously covered by Porter Wagoner and Dolly Parton in 1967. The trio was joined by Nashville-born neo-country singer Timbo, who proved himself a credible Porter to Ferrell's Dolly. Ferrell also sang her own "Rosemary," a song from her excellent 2019 album Washington by the Sea. It was a seamless fit with the covers, since it sounds like it could have been written in 1957 or 1967. That was the strength of Ferrell's overview of honky-tonk, as she and her band performed in front of a single mic, deep in the heart of Inglewood.
I could quibble — Ferrell does tend to veer off onto the well-traveled road of pure retro, and she sometimes coasts on her mannerisms. Still, she mostly avoids playing it cute. For Ferrell, plugging into the storied honky-tonk past has given her an ear for great songs. Nashville is a funny place for anyone trying to advance country music, and maybe that's not what she's aiming for. It will be interesting to see if she develops her songwriting in a way that will add to the country lexicon. Meanwhile, enjoy her as a smart folkie who makes living the honky-tonk life sound like something you should consider doing.