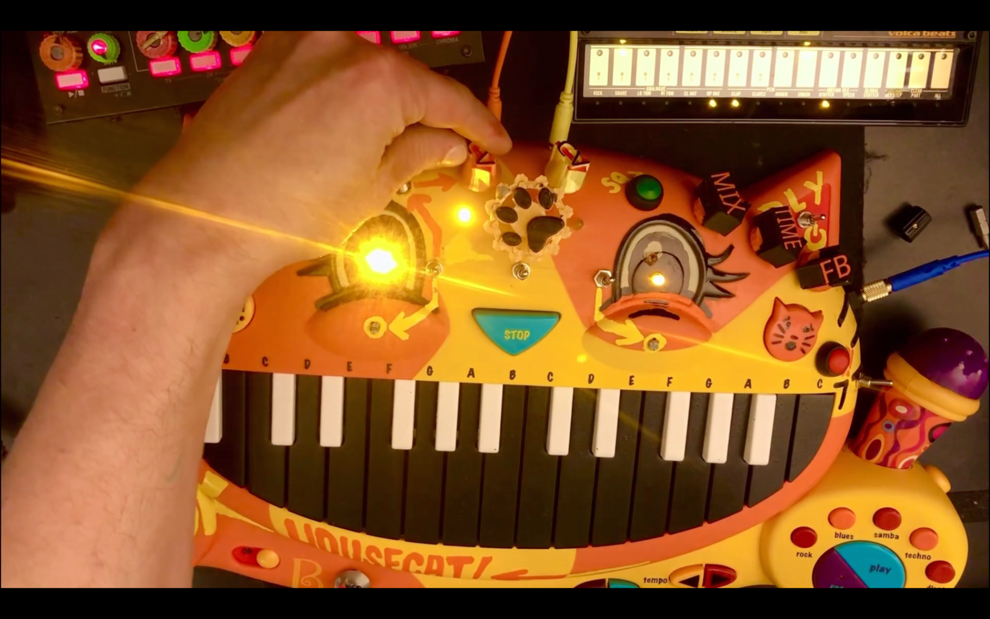 Circuit Benders' Ball — Nashville's biennial summit for noiseniks, synth obsessives and gear-builders and tinkerers of all stripes — took its act online over the weekend. CBB is the brainchild of Tony Youngblood, who founded it in 2010 and curated the first three editions before handing the reins to current organizer (and master of ceremonies) Tyler Blankenship in 2017. But CBB's overarching aim — to break down formalist, academic notions about what is and isn't avant-garde music — has stayed consistent through the years, lending a hand in fostering a fertile, eclectic and exponentially growing crop of outside-the-box music-makers across the South. 
Most of Friday and Saturday's programming — hosted on CBB's Twitch channel — was pretaped, allowing for close-up looks at performers' modified rigs and giving the proceedings the air of an experimental short-film fest. Labrys Light Show's Kari Leigh Ames — whose Far Out Fest we recognized as Best Virtual Festival in 2020's Best of Nashville issue — provided eye-popping, vibe-capturing visual accompaniment for several sets. Artists kicked back and hung out in the chat box while their performances aired, soaking in kind words and gladly answering gear-related questions.
Frenetic, metallic jazz-punk from Nashville two-piece Skin Tension kicked off Friday's audiovisual buffet. Later, the three blindfolded men of Spectrum of Light to Bring in the Horizon 2020 droned deep against a bright-hued backdrop of slow-moving, Magic Eye-like patterns. Chattanooga's Amanda Haswell (alias Slow Blink) followed, matching blanket-warm monophonic piano-and-guitar tape loops up to grainy but evocative Super 8 home movies.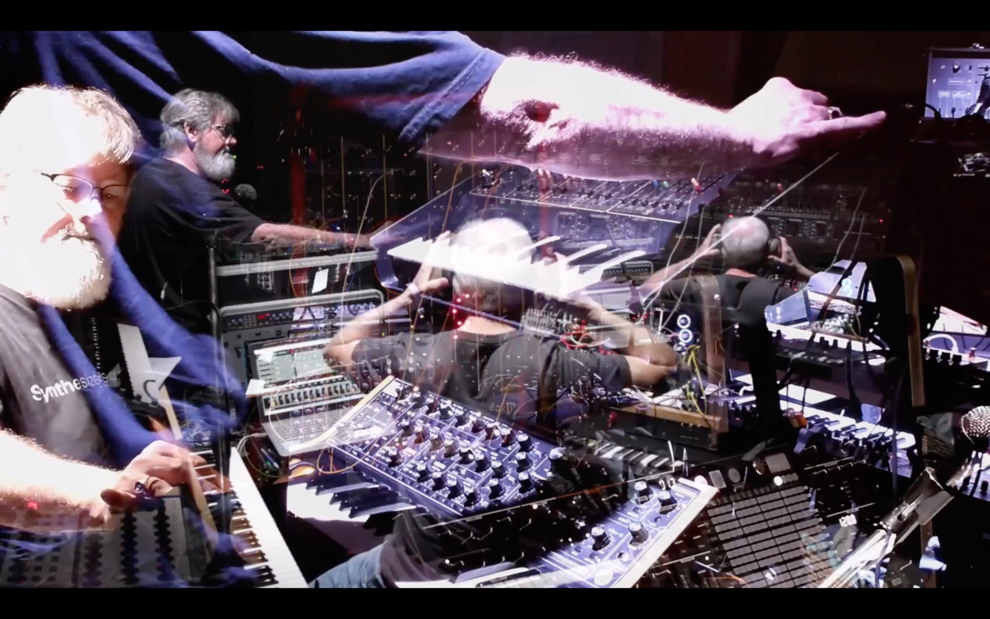 The night's most eclectic performance came courtesy of Birmingham, Ala., duo M.U.A.D. (aka Modular Units of the Analog Domain), returning to CBB after playing in 2017. Silver-haired band members James Carr and O.Z. Hall welcomed viewers into a dimly lit lair packed with a museum-worthy collection of vintage analog synthesizers. They used their gear to make everything from nocturnal Tangerine Dream-scapes to energetic vocoder-powered pop, long-form ambient improv, and even a reinterpretation of a Crosby, Stills, Nash & Young number, "Cost of Freedom." 
Exemplifying circuit bending as an art form were a pair of shadowy out-of-towners: Ereh Saw from Odessa, Ukraine, whose instruments included sound generators made to look (and sound like) electronic cicadas, and Echo Lightwave Unspeakable (aka Jonathan Hodges), a maker extraordinaire out of Pittsburgh who in 2020 went viral with a video in which he ran an electrical current through a hot dog. Here, the masked performer's noisemaking setup was spearheaded by a jury-rigged model train set. "There's eight reed switches under the track that are triggered by a magnet on the tank car," he explained to inquiring minds in the chat box. "They send signals to three banks of eight switches that cause chaos." 
Saturday's sets further proved the point that in adventurous hands, anything can be an instrument. Billy Prosise, alias OK Housecat, showcased pieces from his laboratory of brilliantly colored homemade sequencers and toy keyboards circuit-bent beyond recognition. One of the most eye-catching: the Meowsic, a cat-shaped piano that retails at Target for $26.99 — buy one and you can commission Prosise to modify it. Also spotted: an EBowed zither (played by wkujater, aka Chris Rueger), a pair of remotely controlled Discmans (Anthony T. Marasco and Nick Hwang) and a speaker made out of IKEA packing cardboard and disused earbuds (Belly Full of Stars, aka Kim Rueger).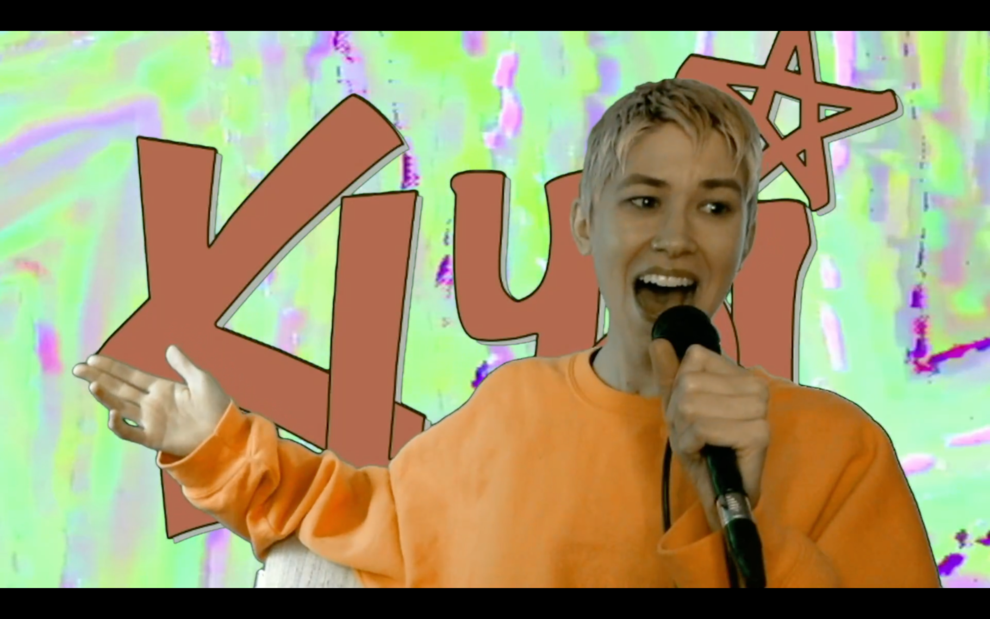 Among the other standouts was Middle Ear, aka Mirina van der Veen, a violinist and composer based in Nanaimo, British Columbia, whose piece "Simulacrum of a Dreamer in the Philosophical Realm" consisted of looped, improvised violin parts intricately stitched together to spooky, cacophonous effect. Dream Chambers' moniker plays on songwriter-producer Jess Chambers' surname but also describes her dreamlike, ethereal and cavernous sound. The coolly dark, soundtrack-worthy minimal techno of Ben Marcantel, alias Sugar Sk*-*lls, contrasted with the work of Klypi, fka Λ°C, or Lambda Celsius, whose emotive electro-pop earworms "Notice Me" and "Get Over You" provided an unexpected jolt of energy and melody before the night drew to a close. (We'll have more on Klypi's new LP Consensual Hits in Thursday's Scene.)
As is the case at most niche music festivals, CBB's audience seemed to consist largely of people who were also performing. The fest gave artists who might find themselves feeling like fish out of water a chance to play for an audience that not only gets it, but is also interested in comparing notes about the technical aspects. At the end of a week filled with cautious optimism about live music's future, the CBB crew thrived in the virtual realm. It was a reminder how far livestreams have come in the past year, and an affirmation of the format's validity going forward — even as in-person shows return. 
The entirety of both days' programming will remain online for the next week. Check it out at twitch.tv/circuitbendersball/videos.