After playing a dozen songs at the Ryman Sunday night, Brandi Carlile grinned and approached the mic. "I put so many songs on this set list, y'all. I hope you don't have anywhere to be."
The crowd at the Mother Church — socially distanced, masked and at about 25 percent capacity — roared as much as a socially distanced, masked and 25-percent-capacity crowd could. Even watching from home, you could feel that everyone in that room needed to be right there. Indeed, they had been selected at random from a group of fully vaccinated fans who entered a ticket lottery. The weight of the moment was not lost on Carlile.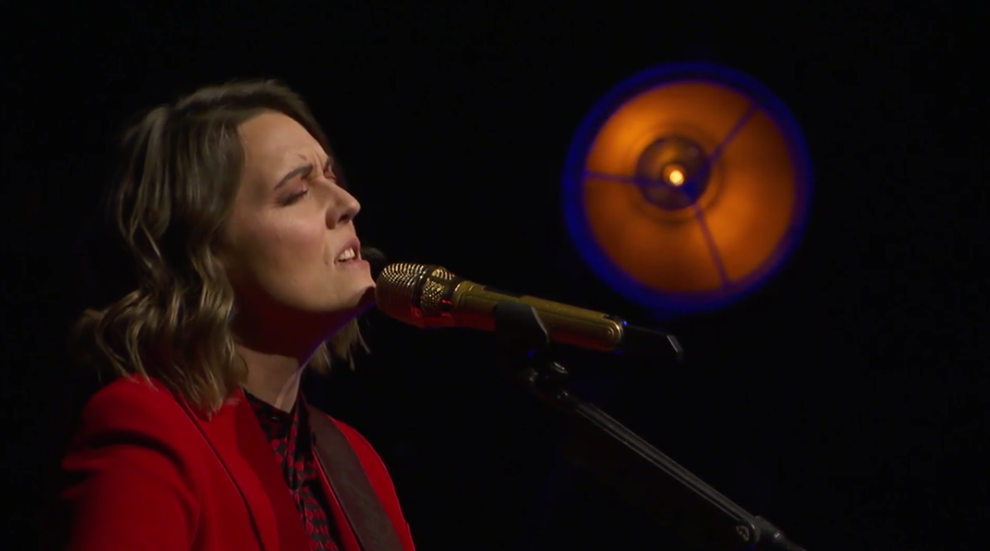 She opened the show with a staggering cover of Leonard Cohen's "Hallelujah," which is a classic for a reason. It can tell you something about loss, love, forgiveness, a higher power or maybe all of the above, depending on who's listening. With just an acoustic guitar, Carlile delivered the soaring choruses like the gospel. As for who or what the song may have been commemorating — well, we could all take our pick.
The night before the concert, five people died in flash floods in the Nashville area. In December, a suicide bomber desecrated one of the most historic blocks in the city. We've survived a tornado, severe wind and ice storms, and some of the worst COVID-19 transmission rates in the world. Carlile made it clear she was here to exorcise the demons that have clung to us for the past 13 months.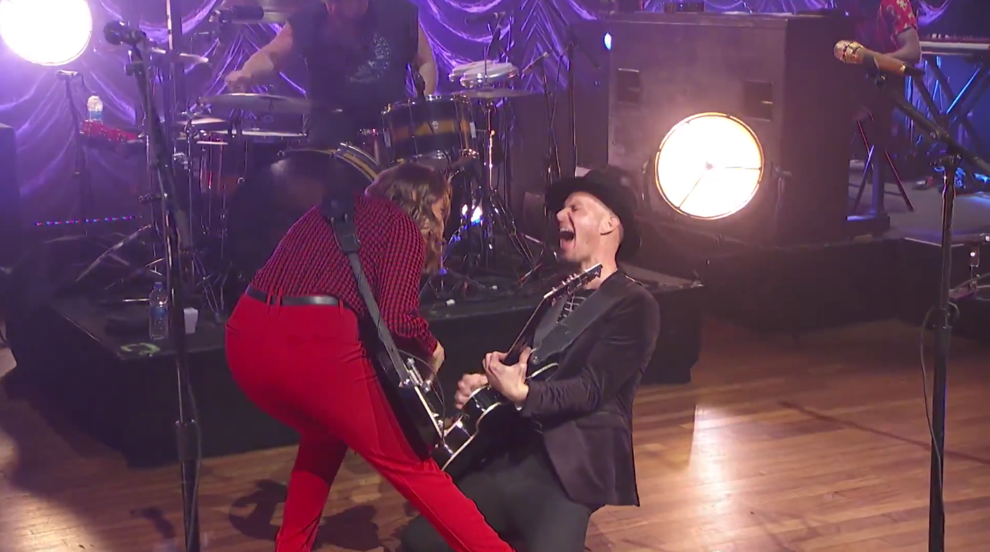 Throughout the evening, Carlile & Co. pulled out old favorites  like "Turpentine," "The Story" and "Cannonball." They stirred up the electric charge of newer songs like "The Mother," "Party of One" and "Fulton County Jane Doe," and reeled off a string of covers including Joni Mitchell's "A Case of You" and a life-affirming performance of Elton John's nearly nine-minute Tumbleweed Connection version of "Madman Across the Water." Carlile channeled the past year of pent-up fear, grief and fragile hope to deliver a performance that no one who watched is likely to forget anytime soon.
As a benefit for Fanny's School of Music (the forthcoming project of instrument and vintage clothing shop Fanny's House of Music), Rissi Palmer's Color Me Country Artist Grant Fund and The Rainey Day Fund, the show was also a celebration of the community that has been challenged and strengthened by these unprecedented times. From the stage, Carlile announced that not only would a portion of all ticket sales be going to the three organizations, but CMT, Fiona Prine and Carlile herself would match the donations. As she hollered: "This is gonna be a shitload of money!"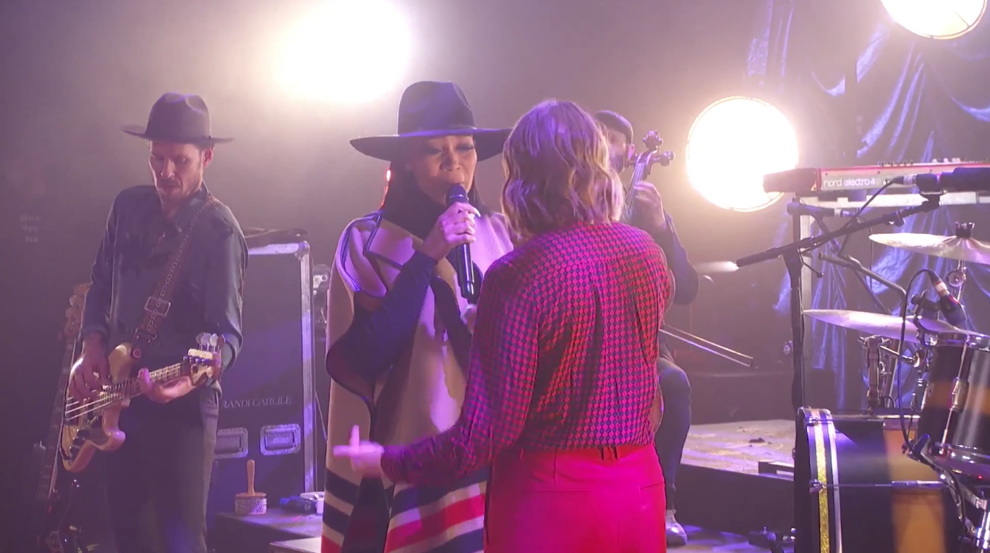 Carlile gave a nod to her Highwomen bandmates with Tanya Tucker's "The Wheels of Laredo," a song she, Natalie Hemby, Maren Morris and Amanda Shires included on their self-titled 2019 album. During Sunday's show, Carlile segued it beautifully into The Highwomen's original "Crowded Table," which was made more stirring and soulful as a duet with none other than Monica. Yes, that's "The Boy Is Mine" Monica. 
"You're gonna be hearing a little bit more from me and Monica," Carlile teased. "We're doing some things together."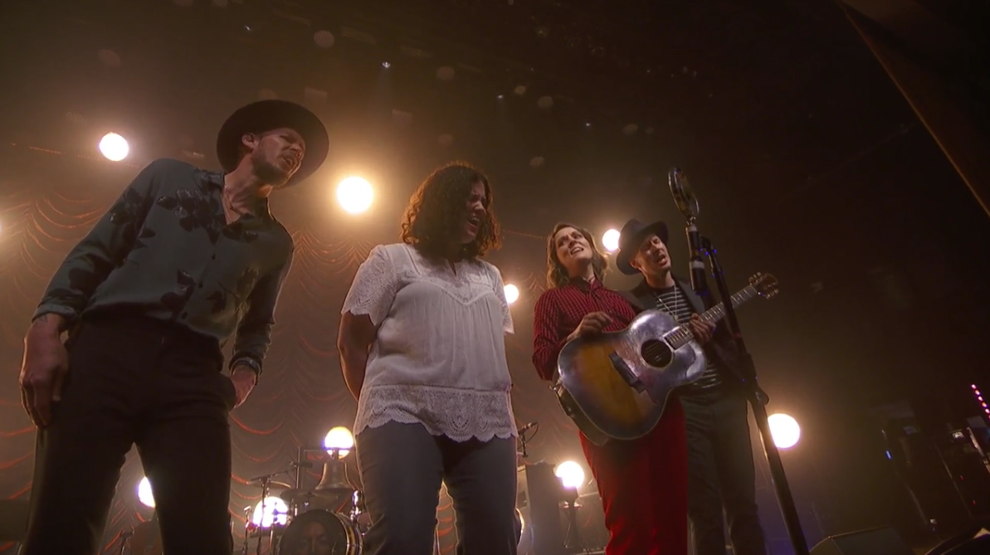 Another special guest appeared for the finale. Lydia Rogers of The Secret Sisters (whose 2020 LP Saturn Return Carlile produced) joined Carlile and her longtime collaborators Tim and Phil Hanseroth for an a capella version of "Amazing Grace." With the harmonies still reverberating in the air, the cameras panned back to give a full view of the stage from the Ryman's balcony, and Carlile could be heard saying, "For everyone in the room, we're shutting down the cameras and …." 
Fade to black. Roll credits. 
What happened next was only for the lucky vaccinated folks in the room. For the rest of us, Carlile's words hung like a cliffhanger for the next season — one that hopefully will be lush with live music, real hugs and our full and complete lives. I cannot fucking wait.