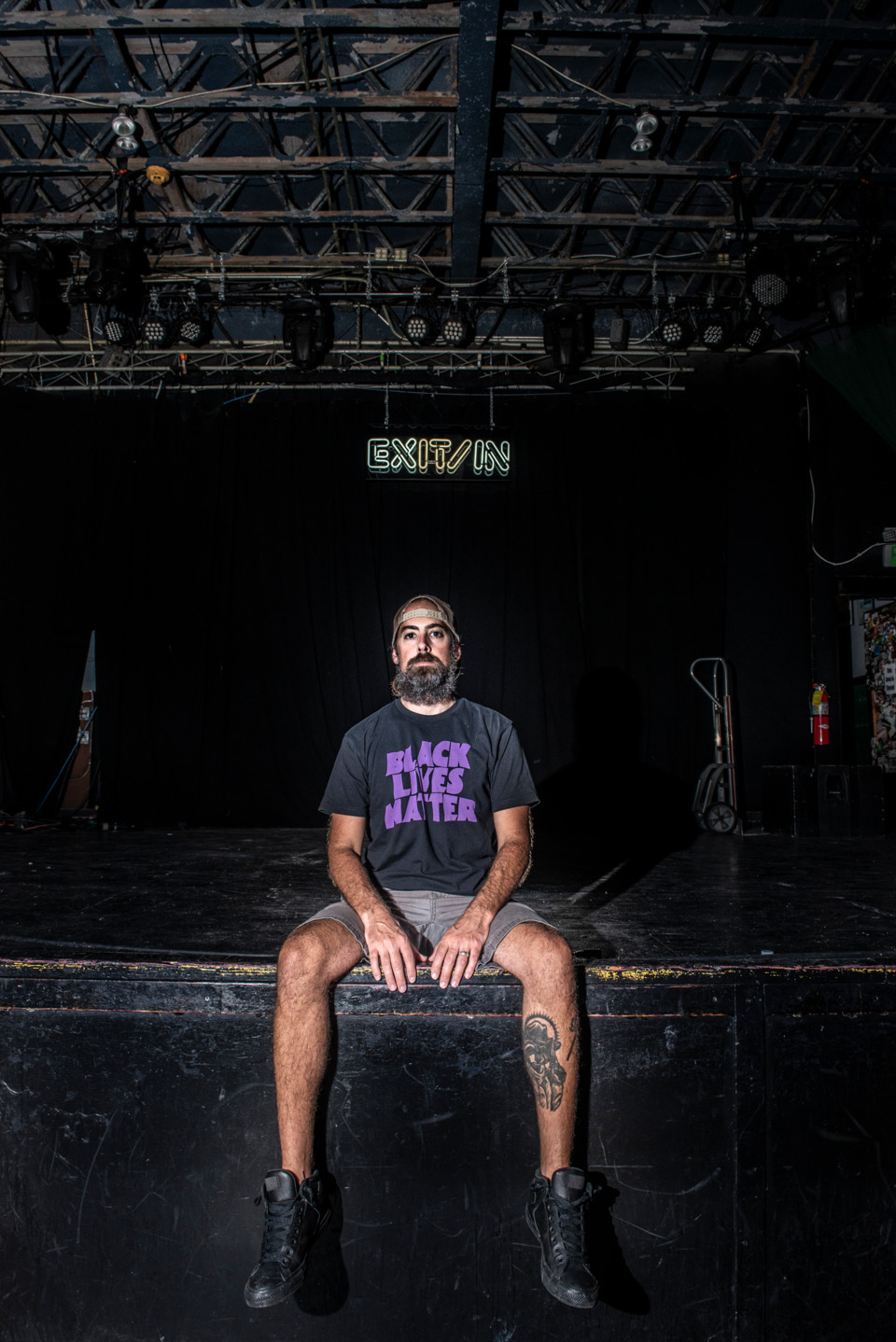 On Thursday, independent music venues that have been mostly closed for more than a year due to COVID-19 will be able to begin the application process for federal Shuttered Venue Operators Grants, intended to keep them from closing for good. Throughout this time, Exit/In owner Chris Cobb has been balancing contributing to the National Independent Venue Association's push for federal aid, leading the local independent venue group Music Venue Alliance Nashville and working on plans to celebrate the venue's 50th anniversary. If that wasn't enough, the property on which the venue and neighboring bar Hurry Back stand was put up for sale in February. Cobb and his wife Telisha Cobb put a plan in motion that would ideally result in them owning the site, through a program established by North Carolina's Grubb Properties called the Live Venue Recovery Fund.
However, word went out late last week that the property was under contract to a different firm: AJ Capital Partners, which is based in Chicago but is relocating its headquarters to Nashville. The company has an array of large projects in Nashville already, including the May Hosiery complex in Wedgewood-Houston and The Graduate Nashville hotel on West End. The Cobbs' Grubb-backed proposal was of equal monetary value to AJ Capital Partners' offer. But Cobb was informed that the Nash and Anthony families, who each had a 50 percent ownership stake in the property, held a grudge against Exit/In after the Save the Rock Block campaign against a proposed hotel adjacent to nearby venue The End. 
The Cobbs have launched a GoFundMe campaign with the intent of making an offer to AJ Capital Partners. With contributions from more than 2,000 donors and signal boosts from a huge range of artists, the campaign has so far raised more than $108,000. The Scene caught up with Chris Cobb this morning.
Your GoFundMe campaign is more than halfway to its current goal of $200,000. Can you speak to what your ultimate goal amount would be — how much you'd need to make a serious offer?
We still have our backing through Grubb Properties' Live Venue Recovery Fund. Everything we raise from this point forward — and everything we contribute personally — will go towards offering AJ more than they're paying. So every penny makes the offer better. We don't have a specific goal in mind. But the better the offer, the more compelling we think it will be.
How confident are you that AJ would consider your offer?
I have no idea! [Laughs] I posed the question, and haven't received a response.
Have you received any communication about the firm's plans for the property?
I don't know exactly what their plans are, because they haven't been clear about that.
In 2019, the Rock Block was at the top of Historic Nashville Inc.'s Nashville Nine list of endangered historic properties. Last summer, the area's cultural contributions were recognized with a historic plaque outside Exit/In. Yesterday, Mayor Cooper made a statement encouraging "the current owner and any future owner" to preserve the venue. 
The recognition is great, but doesn't have any effect on what the owner is legally allowed to do with the property. Has there been any kind of discussion of registering the property as a historic place and what kind of protection that might provide?
Metro Historical Commission, who runs the historic marker program, worked on having Exit/In designated on the National Register of Historic Places for the better part of a year — last year. It got to the point where the process required building owner participation, which was not an option last year. As soon as we own the property, that's first on the list — to pick that registry process back up and dive headfirst into possible protection available. 
It's not exactly common for sellers of a property to be forthcoming about holding a grudge against a tenant and potential purchaser. Were you given any more detail about why Save the Rock Block bothered the soon-to-be former owners so much? 
No, no more detail. There were a lot of people involved in the plans for the Rock Block to be rezoned to [allow buildings up to] 15 stories. When the community pushed back and ultimately succeeded in defeating that rezone attempt — which kept the current zoning in place — I think a lot of people became upset. I believe that is affecting us now. 
You've pledged to donate the proceeds from the current crowdfunding campaign to MVAN and NIVA if you use it to make a pitch to buy the property and it isn't accepted. In what I think most music fans in Nashville would consider the worst-case scenario — if you aren't able to buy the property and Exit/In loses its lease — would you consider attempting to raise additional money for moving Exit/In somewhere else? 
I hope not. Exit/In's been the anchor of Elliston Place and the Rock Block neighborhood for 50 years. I just can't imagine it existing somewhere else. 
Are there additional questions you hope you get answers to soon?
Not really. One thing that crossed my mind when we were discussing Save the Rock Block: People with plans for neighborhoods need to talk to the stakeholders in the neighborhoods before they solidify their plans. Don't buy buildings under the assumption that you're going to be able to double the height that's currently allowed by the zoning. Go talk to the neighbors, go talk to the business owners. It's not hard. Councilmembers love to set up community meetings — it's a big part of what they do. I'm tired of it over and over and over again in our town, where people show up with their plans for how to make things better here. Most of the time, they're from out of town. 
There's a real easy way to avoid all this. All you have to do is talk to the people who make the neighborhood what it is. Get feedback, find out what they think the neighborhood needs. Businesses that have been around for 50 years probably have a good idea of how to improve somewhere.