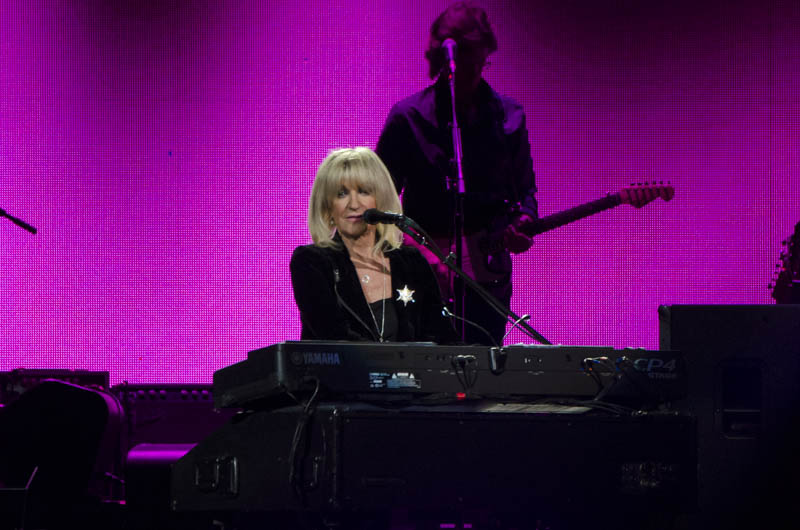 Editor's note: Special thanks to Scene contributing editor Jack Silverman for making the connection and introducing this piece.
Guitarist and songwriter Todd Sharp is a longtime Middle Tennessean who played with Christine McVie and co-wrote her 1984 top 10 hit "Got a Hold on Me." Sharp, who grew up in Cleveland, Ohio, also worked with Hall and Oates, Mick Fleetwood, Bob Welch, Rod Stewart, Delbert McClinton, Carlene Carter and numerous other artists. He also designs and builds his own line of highly regarded boutique amplifiers, Todd Sharp Amplifiers, and runs Nashville Amplifier Service, one of the city's most respected amp repair shops.
Following McVie's death on Wednesday at age 79, Sharp wrote a Facebook post about his experiences with McVie, who was not only a musical collaborator but also a dear friend. He kindly agreed to let us share it.
---
Around 1970, Cleveland, Ohio
Dreams
I'm 14, working at Record Revolution on Coventry Road. Off days I'm at Bill deArango's Guitar Studio, which was a well of guitar enthusiasm and musical activity.
I'm playing in various bands and spending a lot of time with guitar in hand and headphones on — copping records. Fleetwood Mac is definitely in my mix from their first album Peter Green's Fleetwood Mac and onward through their second or third evolution including Christine McVie. Bare Trees got a lot of play at my house — "Spare Me a Little of Your Love" and "Homeward Bound" both got me. That voice and phrasing — Christine McVie from Chicken Shack. I also had her first Christine Perfect solo record. That honey-coated voice. She got me. Those were days of woodshedding, figuring out how to work a guitar and dreaming of getting out of the land of Cleves and onto the bigger stages.
1978 — after two years with Daryl Hall and John Oates I've landed in L.A. and snagged an audition with Bob Welch from Fleetwood Mac. Bob had just released his first solo album — French Kiss. I walked into a rehearsal room at S.I.R. and found Bob with a bass around his neck and Mick Fleetwood sitting behind a drum kit. It was a moment. Here were two musicians that I had been admiring for a long time. It clicked. We got on like we had known each other for years. Mick was managing Bob and helping him get his band together and they hired me on the spot. Dreams.
It seemed that we (Bob) opened every U.S. Fleetwood Mac show over the next few years and I got sort of adopted into the FM family at that point. There was an invitation from Mick to join him in Ghana, Africa, to record his first solo record which I will someday write a book about. Somewhere in there I worked with another FM family artist — Danny Douma, and that is when I first really got to know Christine McVie. We spent a few nights together with Danny and his producer Nick Van Marth, at Village Recorders overdubbing on Danny's Night Eyes record. Fleetwood Mac was recording Tusk in the next room.
Christine was, from my perspective, a very comfortable rock star. She was fun, easy to know and she would often ring Angela and I to come over and have dinner and hang out. We became good friends. Even best friends for a while. I spent the next few years bouncing around L.A. trying to get a band going, writing songs, recording demos and doing any sessions I could get. One night I played Chris a demo I had just recorded. She loved the song and volunteered to come to the studio and sing background vocals on it. Dreams.
Not long after that, Christine asked if I would be interested to help her get a band together and to help her write songs for a solo record she was going to record during a Mac hiatus. So in about 1983 she picked me up, dusted me off and said, "Come on, we're going to write a batch of songs and put a band together and record an album in Europe with producer Russ Titleman." And don't you know I have nearly every record Russ Titleman and Lenny Waronker have produced in my collection. I think I said, "Pinch me." Am I dreaming? Did Christine McVie just invite me to help her write an album and flesh out a band to record it? Dreams.
We spent a few months writing, recruited George Hawkins and Stephen Ferrone to the band and then travelled to Montreux, Switzerland, to record the album. Lindsey Buckingham popped in and added his brilliance to a few of the tracks. Stephen Bruton joined us on guitar for the follow up tour and Billy Burnette lent a hand as well. These people have been my lifelong friends.
I introduced Chris to her husband Eddy Quintela who I had become friends with at Montreux. She took me to England with her where we worked with Steve Winwood, Eric Clapton and Ray Cooper, at the legendary Olympic Studios in London. James Taylor stopped in for an afternoon and we just hung out. Dreams …
The album Christine McVie came out in 1984 and produced the Hot 100 top 10 hit "Got a Hold on Me" and top 40 "Love Will Show Us How." We wrote both songs together.
Christine McVie. You left this place better than you found it for sure. Your music and voice will live on forever. I will never forget the opportunity you offered me and the confidence you instilled in me. I will never forget your beautiful soul, your grace, friendship and generosity. I wish I could have had the chance to tell you that one more time. Perhaps I will one day when we get together to write more songs and laugh again. Today I am heart broken.
Love always, your friend,
Todd