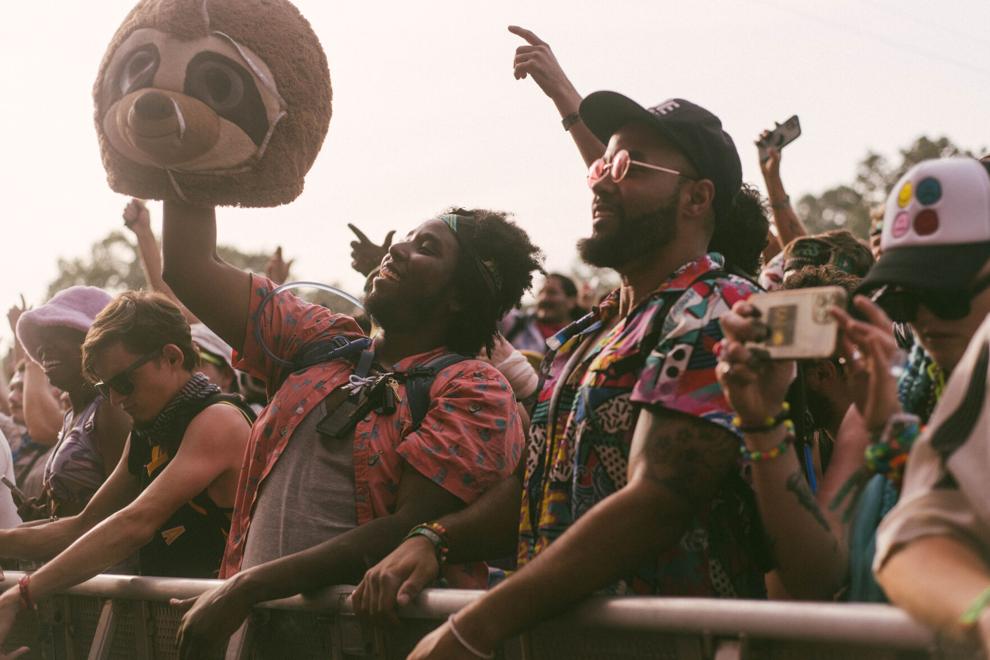 Day 2 of Bonnaroo 2022 dawned oppressively hot, with the added soundtrack of a car alarm at sunrise near the Scene's camp. Later in the morning, a storm rolled through, delaying the opening of Centeroo for a couple of hours. A pile of busted easy-up shelters, spied on a stroll through the GA campground, seemed to be the biggest collateral damage; at least there was a significant drop in the temperature as a reward. Some rumors put attendance at less than 40,000 — if true, it would be a historic low for the fest. However, from the afternoon kickoff through J. Cole's headlining set and on into the late-night dance parties, Centeroo felt filled to a comfortable degree with colorfully dressed Bonnaroovians hollering "Happy 'Roo" to one another.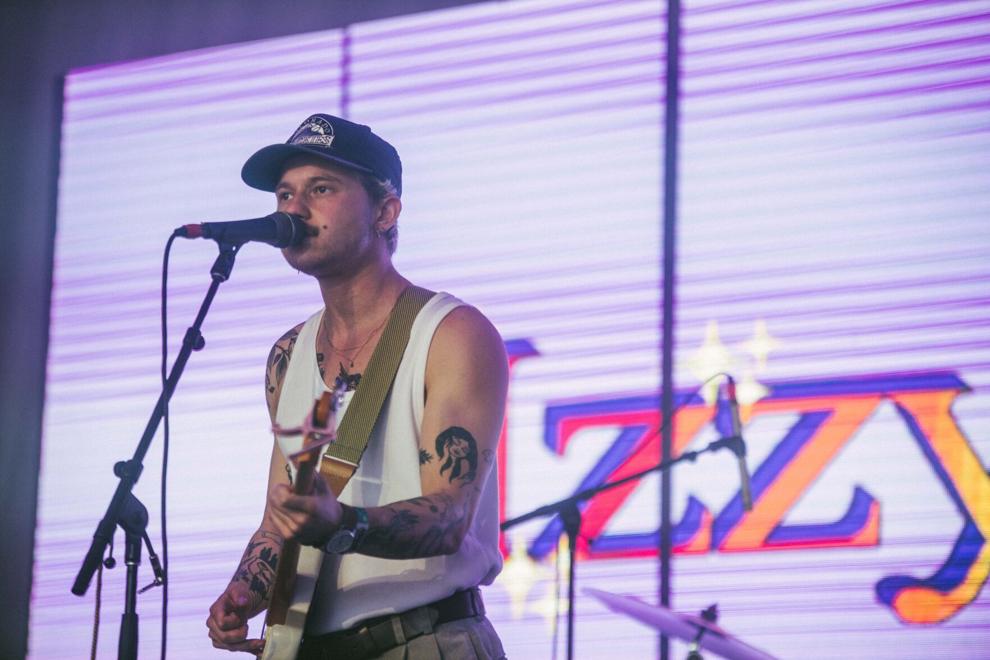 As the afternoon continued, Massachusetts' Izzy Heltai brought a refreshing collection of thoughtful, engaging indie-folk with a rock edge to the Who Stage. In between streams of charismatic stage banter about his life and loved ones, Heltai and his band impressed with songs like "Beauty Queen" and "Day Plan," the titular tune from Heltai's recent buzzed-about EP. The short but sweet set served up a perfect introduction for curious festivalgoers, highlighting the talent that earned Heltai touring support slots for The Mountain Goats and fellow Bonnaroo 2022 performers The Brook and the Bluff.
Meanwhile, over at This Tent, The Regrettes got off to a bit of a late start due to what looked like technical difficulties. This didn't seem to bug the audience, who launched into a sing-along of Biz Markie's "Just a Friend," one of many times the song would get passed around by crowds during the day. The last time The Regrettes' Lydia Night & Co. were at Bonnaroo was in 2018, following their punk-oriented debut Feel Your Feelings, Fool! Friday's set included "Seahorse," a standout from that album, but much of the show drew on the dance-pop of their new LP Further Joy. Some fans have found the changeup jarring, but the songs came across well in the live setting, with Night channeling No Doubt-era Gwen Stefani or Hayley Williams from Paramore's early days.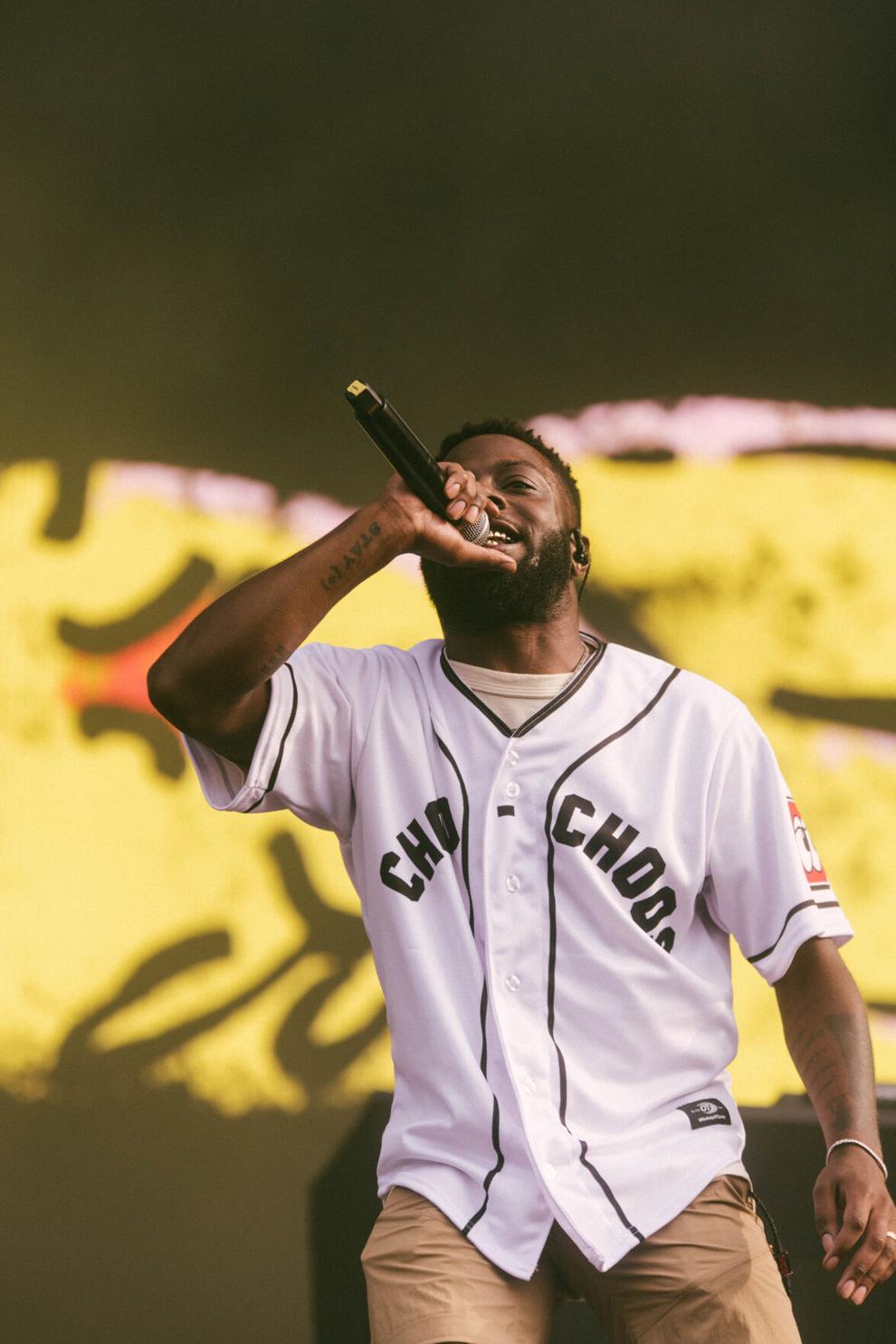 "Make some noise for Sam one time!" shouted Isaiah Rashad, addressing a crowd spread as far as the eye could see in front of Which Stage. The Chattanooga-born rapper and Top Dawg Entertainment signee's DJ got caught in a snarl of delayed and canceled flights, but the aforementioned Sam saved the show by hightailing it to Manchester from North Carolina with the formerly stranded master of beats riding shotgun. Rashad also had a long road to playing the second-biggest stage at Bonnaroo. He overcame addiction, which grew out of self-medicating to cope with depression and anxiety, and which threatened to derail his career. As Rashad was making his comeback, touring behind his long-awaited 2021 LP The House Is Burning, someone published, without his permission, videos of him having sex with other men. 
But the support Rashad has received in the months since has helped propel him forward, and it was awesome to watch him absolutely owning the stage — firing off insightful and athletic bars, sporting a jersey repping his hometown minor-league baseball team the Lookouts. The support continued: Chattanooga Mayor Tim Kelly appeared onstage to give Rashad a key to the city and proclaim June 17 to be Isaiah Rashad Day.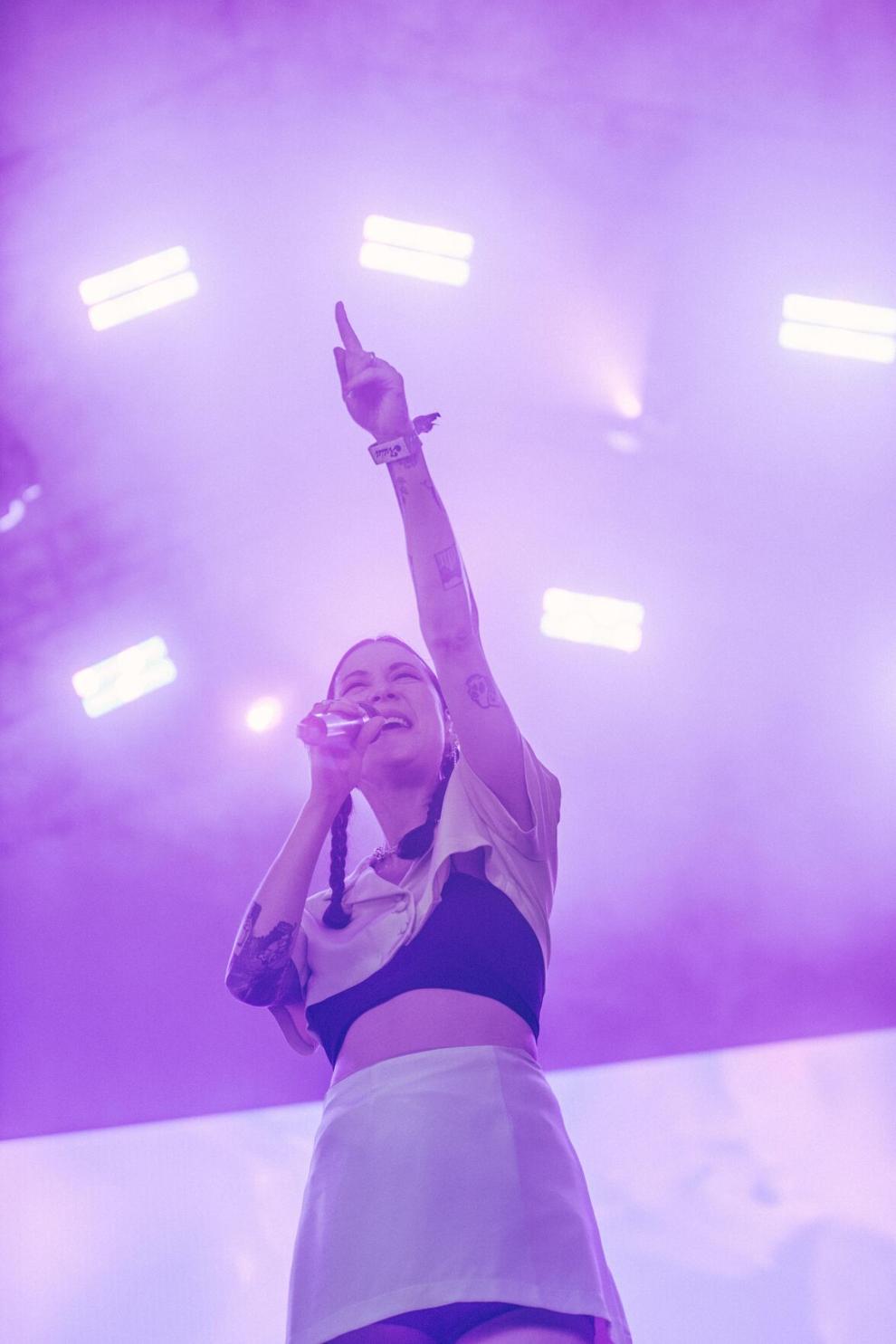 On Japanese Breakfast's 2021 LP Jubilee, frontwoman Michelle Zauner and her cohorts edge ever closer to pop perfection. Nashvillians who have tuned into WNXP in the past year are sure to have bopped along to "Slide Tackle" and its sultry sax (hi there, Adam Schatz). However, while the group's show on Friday didn't drag, it never quite felt like it coalesced. The set didn't seem to land with as much force as when they appeared at Bonnaroo in 2018, following Soft Sounds From Another Planet and playing songs from that album like the pensive-yet-propulsive "Diving Woman."
As the smells of cooking noodles, burning weed and baking sunblock wafted across the field at What Stage, Alison Krauss and Robert Plant settled into "Rich Woman," a supremely groovy 1950s R&B single they recorded with T Bone Burnett for their 2007 collaborative LP Raising Sand. Last year, the pair released the follow-up, also produced by Burnett and titled Raise the Roof, and they were making a stop on the Farm on the subsequent tour. The selection of covers — running the gamut from the Allen Toussaint-penned "Trouble With My Lover" to songs recorded by Plant's old group, a little band you might remember called Led Zeppelin — was a showcase for the duo's finely tuned skill as song interpreters. This material allows Plant and Krauss to show off the most subtle strengths of their voices: her pure and honeyed tone, his leonine grace in the service of tenderness. It also allowed the band, featuring lots of Nashvillians, to show off tastefully. Among others, it was a delight to watch JD McPherson coax an expressive spectrum of growls and warbles from his guitars, Stuart Duncan dig in on his fuzz-pedal-enhanced fiddle, and to see Jay Bellerose work his way around the beat on a drum kit that looked like the Wright Brothers might try to fly it.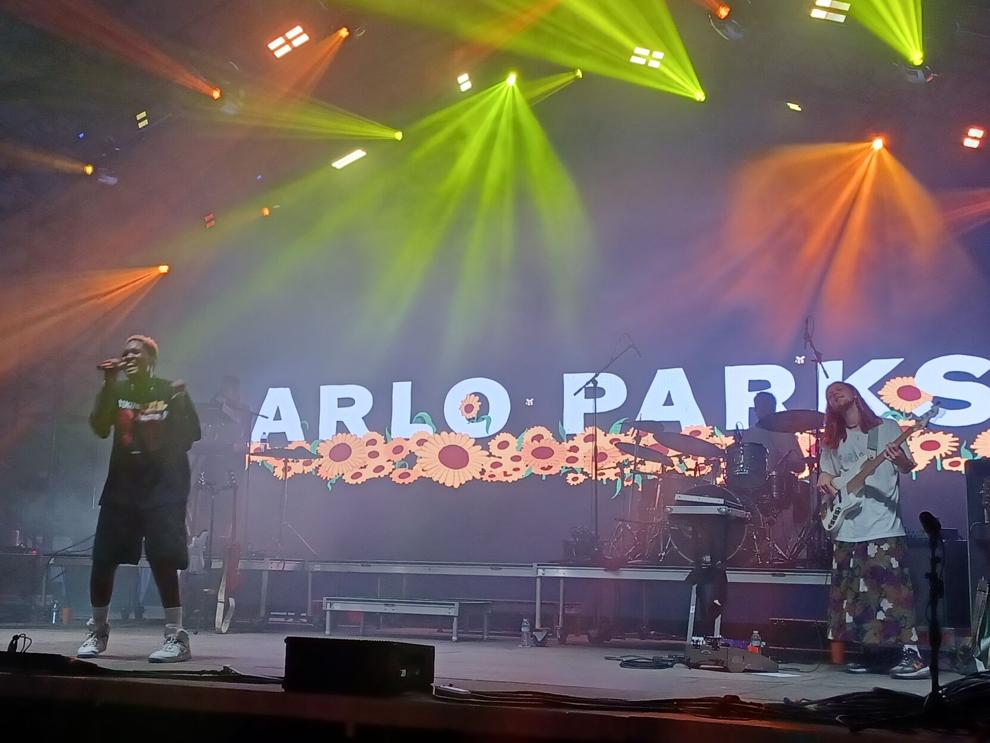 After a brief instrumental interlude snuck into her set, Arlo Parks twirled gracefully at the center of the This Tent stage. The 21-year-old British singer-songwriter and poet is back in the U.S. for more dates supporting her 2021 debut full-length Collapsed in Sunbeams. The record earned her a host of awards as well as two Grammy nominations, and has been lauded for how it's helped blaze paths for Black queer musicians. Her gentle yet powerful voice drew the crowd closer as she illuminated narratives like the fan-favorite "Caroline" and "Bluish," a recent addition to the live set.
You'd be right to call The War on Drugs' five LPs and counting — 2021's I Don't Live Here Anymore is their latest — variations on a theme. In taking their time to make each record count, however, Adam Granduciel and his band of Philly-residing Springsteen obsessives have beaten the odds and consistently found new ways to fascinate with their sound, which falls somewhere stylistically between Don Henley circa "Boys of Summer," The Boss circa "Dancing in the Dark" and the Dead of the same vintage.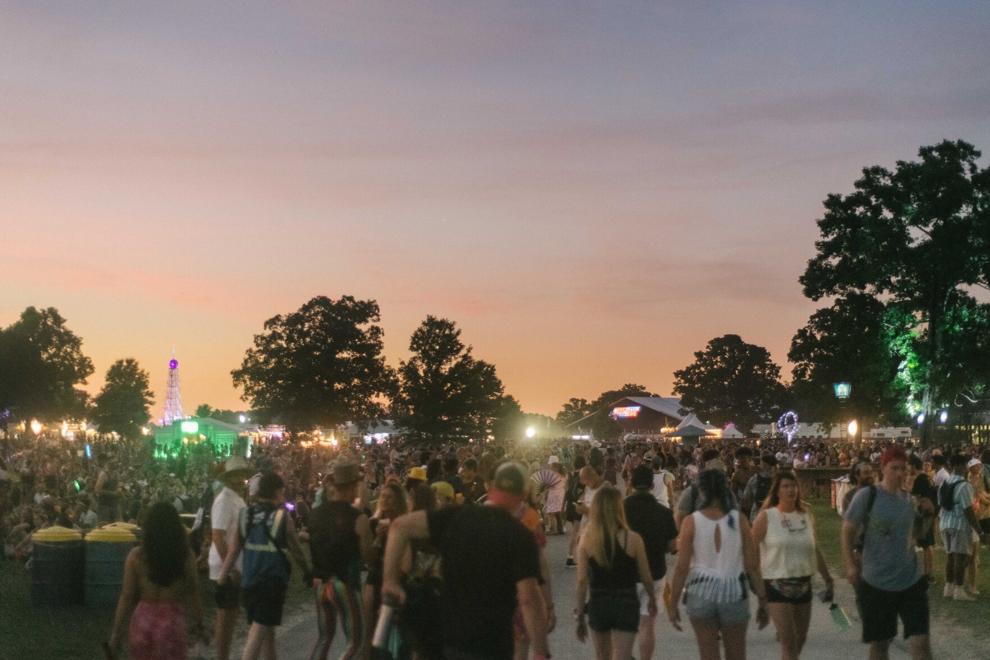 Accordingly, TWOD has fine-tuned the cinematic ambitions of their live show. Taking Which Stage just before dusk for a catalog-spanning, hourlong performance, the band affirmed their status as current greats and future legends, with "An Ocean Between the Waves" — the gripping centerpiece of 2014's pivotal Lost in the Dream — driving that point home. Timed flawlessly with a gorgeous early-summer sunset as its backdrop, it was the set's emotional peak, and likely the highlight of the day for a certain contingent of rock lovers.
A little later, Sven Gamsky, better known as Still Woozy, bopped to the stage at This Tent as his band played the bouncy "Window." The psych-rock- and R&B-influenced indie-pop songsmith and his bandmates were full of energy and high spirits for the final show of the current leg of their tour following last year's If This Isn't Nice, I Don't Know What Is. Sprinkled among tunes from the record were widely loved earlier singles like "Lucy" and "Goodie Bag," delivered while Gamsky jumped around and shook his hips.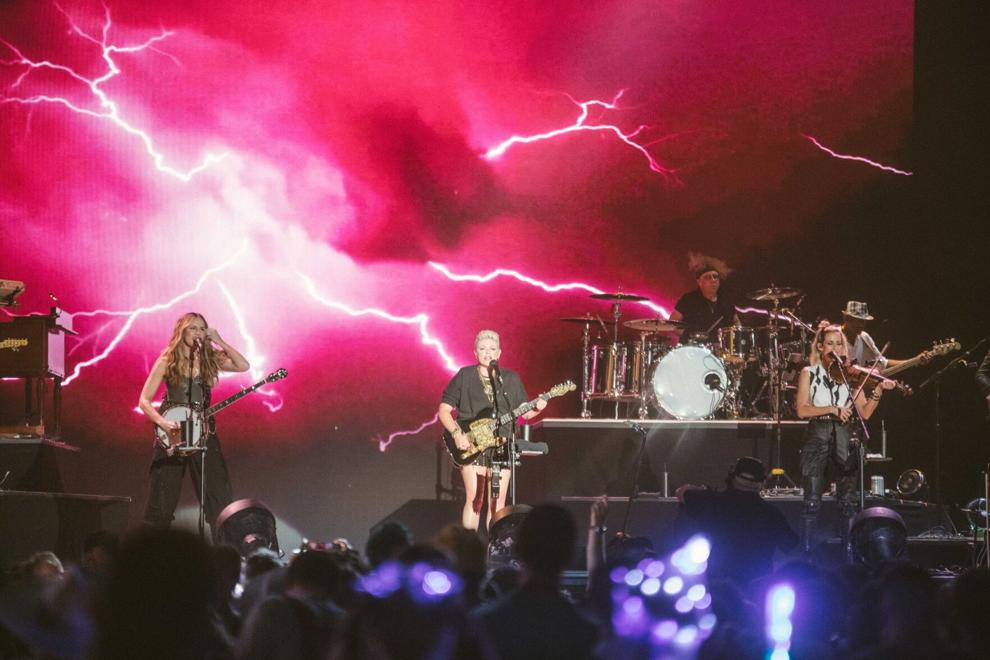 Five years have gone by since The Chicks have gone out on tour, but the trio's ferocious Friday night set at What Stage proved that their edge, energy and talent have never been stronger. Natalie Maines, Martie Maguire and Emily Strayer's Bonnaroo debut included a sizable chunk of songs from their 2020 comeback album Gaslighter, including the biting "Tights on My Boat" and "Sleep at Night." 
Before they began their powerful protest anthem "March, March," the stage went dark as a list of mass shootings that have occurred in the U.S. — beginning with the May 24 shooting at an elementary school in Uvalde, Texas, the list was chilling in its length — scrolled on the massive LED screens. Near the end of the song, the screens showed the names of Black Americans who've died violently, including Breonna Taylor, shot by police in her home in 2020, to Emmett Till, tortured and lynched in 1955. During a lighter moment later in the set, the screens showed cartoon-like imagery of Ted Cruz and Vladimir Putin floating in a colorful lagoon before getting devoured by a mysterious sea monster, which drew a wave of cheers and laughter from the crowd. 
There were plenty of joyful sing-alongs to be had, too, spurred on by Chicks classics like "Cowboy Take Me Away," "Ready to Run" and "Wide Open Spaces." The jubilant, high-energy set wrapped with a one-two punch of the defiant "Not Ready to Make Nice" and the beloved best-friends' revenge story "Goodbye Earl," uniting thousands of fans in a final cathartic chant before the trio took a well-deserved bow.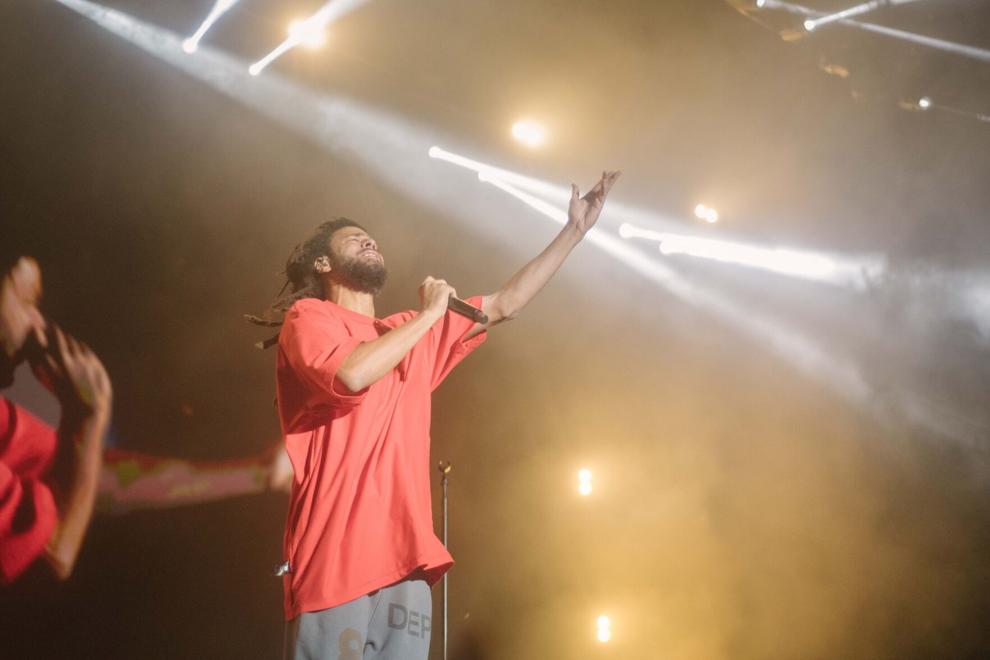 "I've been playing basketball, I didn't even know if I could still rap," J. Cole said with a laugh, pacing across What Stage as his massive band tuned up for the homestretch of their headline set. There are all kinds of reasons that Cole didn't have to be at Bonnaroo: He has the whole Dreamville collective and label to run, he's got the aforementioned contract with the Canadian Elite Basketball League, and he headlined the second iteration of his own hometown Dreamville Festival in Raleigh, N.C., earlier this year. 
But none of that kept Cole from delivering a powerhouse performance that had something for every kind of fan who might have been on the Farm on Friday. He came roaring out of the gate with "95.south," a warning shot from his 2021 album The Off-Season aimed at anyone who would criticize his business acumen. Later, he pulled out deep cuts for the heads; one of the set highlights was "Too Deep for the Intro" from his Friday Night Lights mixtape. He showcased his verbal agility with rapid-fire bars, and he crooned along with a recording of Miguel for a little taste of "Power Trip." 
Part of what's intriguing about Cole is that he's a Southern rapper who doesn't lean into that identity all that heavily — the influence of classic Dirty South storytelling in his work is important, but rarely the first thing you think about when you hear his music. The songs that showcase all of Cole's strengths simultaneously, and which got the most enthusiastic crowd response Friday, were from his breakthrough 2014 album 2014 Forest Hills Drive: the earnest "Love Yourz," a verse-and-chorus sample of the vulnerable "Wet Dreamz," and the resolute "No Role Modelz," with which he sent the crowd off into the night.
Those in search of something harder than bowls and beers swarmed to That Tent for King Gizzard and the Lizard Wizard's victory lap — a quantum leap from 2015, when the Scene's D. Patrick Rodgers urged the crew to take a flier on a crew of Australian longhairs playing at the ungodly hour of 3 p.m. That was not one, or two, but nine albums ago. In that time, King Gizzard (real name: Stu MacKenzie) has ascended the ladder of psych acclaim at a breakneck pace — and his ensemble's manic, standing-room-only set on Friday made it seem that they're just cracking their knuckles.
King Gizz appeared delighted to be back, and responded in kind to the crowd's exuberance. The group plowed across their trippy soundscapes, punctuated with MacKenzie's fuzzed-out, echoing yelps. Among the standouts: "The Dripping Tap" from the group's latest, Omnium Gatherum. A few hours before the show, the band tweeted that we'll get three more albums this year, and their energetic performance gave no reason to expect they'll do anything less.
Meanwhile, folks inclined for a chilled-out house music experience headed for Disclosure at The Other. Those seeking a gateway to house music's body-and-mind-moving magic would do well to start with Settle, the 2013 release from the duo of English brothers Guy and Howie Lawrence. Devoid of gimmicky excesses, the brothers' work lends rarely heard warmth to a sound too often characterized as cold and distant, and their return visit to Bonnaroo, which they last played in 2014, was worth staying up for. The bass lines were intense and relentless, but felt attuned to the human heart. 
The siblings also thrived as hype men, resolved to keep the momentum from flagging as they sailed blithely past their posted 75-minute runtime. "Bonnaroo — it's got to be the best festival in America, right?" the Lawrences asked before they launched their final song. "We want to see maximum energy from you guys right now! Every single thing you've got left in the tank, give it to us! Let's go fucking crazy! Let's dance!"
There was just the tiniest bit left in said tank when Denzel Curry took the stage at That Tent at 1:45 a.m. But even the MC and singer's first couple of songs were enough to leave a strong impression. What's striking about Curry is the clarity of his rapping. Though he's capable of spitting fast bars, he can also slow it down and allow the crowd to really hear and process what he's saying. It helps that his vocals weren't buried in the mix by the beats. This being his second Bonnaroo, Curry reminisced about his 2018 experience at the fest — when he met T-Pain, who appeared on Curry's latest album Melt My Eyez See Your Future. Curry continued holding court, but it was time to get back to camp and get some shuteye.
The Spin: Bonnaroo Day 2, 6/17/2022
With Isaiah Rashad, Japanese Breakfast, J. Cole and more