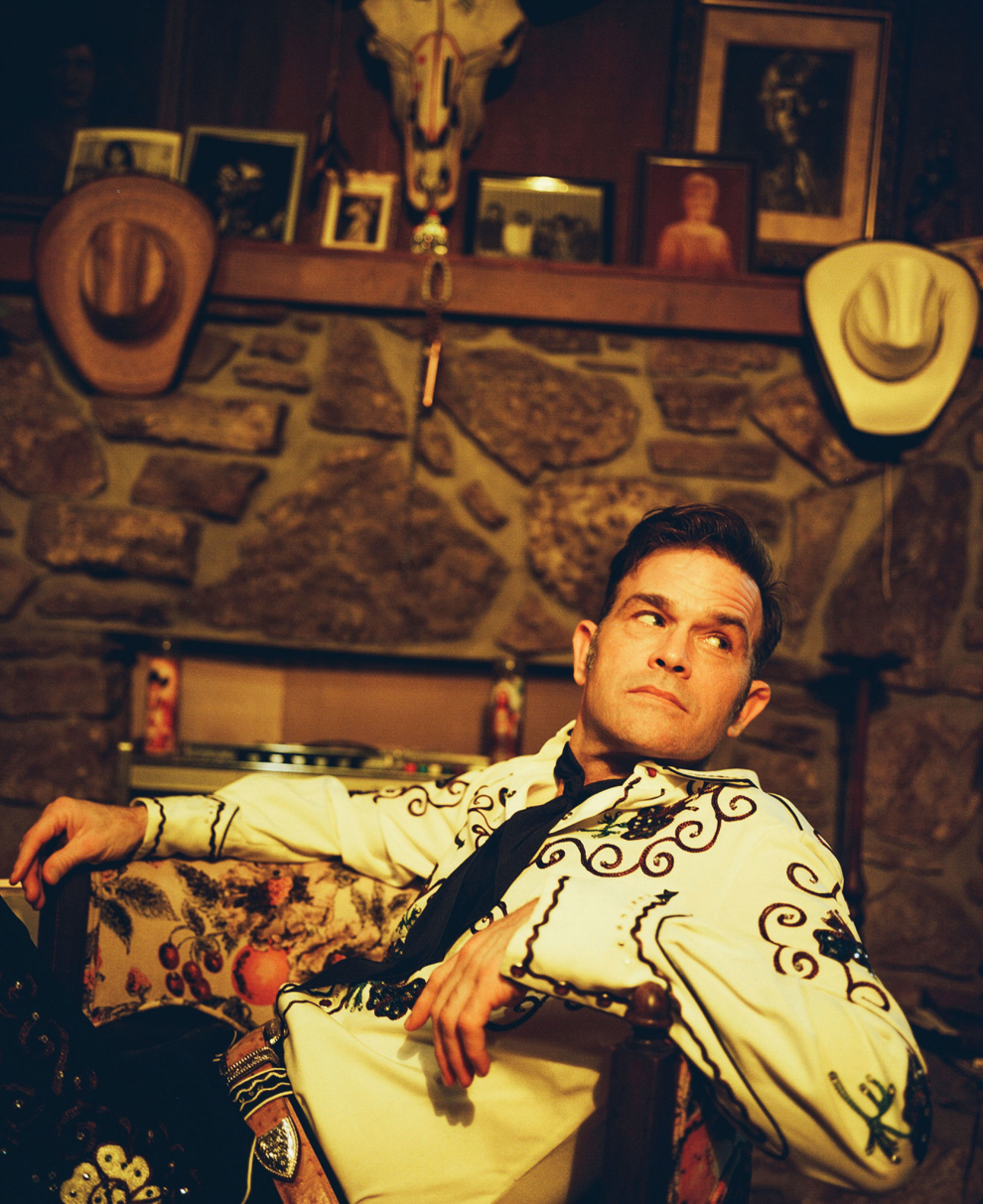 Waylon Payne has had plenty of dreams during his 48 years, but two have rested firmly atop his list for most of that time. The first was to introduce his mother, country singer-songwriter Sammi Smith, on the Grand Ole Opry, which he achieved shortly before she died in 2005. The other was to have an album of his own pressed to vinyl.
As for that second one, Payne made good on his dream this month. While on the phone with the Scene, he's holding the just-arrived test pressing of his new album Blue Eyes, the Harlot, the Queer, the Pusher & Me, out Friday via the label arm of Carnival Music, which also publishes his songs. He's calling from his home in Nashville, where he's stayed "locked behind a door" with his beloved Chihuahua, Petey, since the COVID-19 pandemic began in March. Payne, whose presence even over the phone is warm and generous, couldn't hide his excitement.
"I knew I'd officially be part of the tribe of rock 'n' roll the day I had my own album," says Payne. "I grew up in the '70s, and albums were very special. Albums were like life's blood. … It's truly a special experience."
While Blue Eyes marks his first solo release since his 2004 album The Drifter, Payne has been a major presence in Nashville in the intervening years, co-writing with acclaimed country artists like Lee Ann Womack, Ashley Monroe and Wade Bowen. Some of those years he spent working as an actor (you saw him as Jerry Lee Lewis in Walk the Line), and many of them he also spent mired in an addiction to methamphetamine, an experience he recounts — along with his journey to sobriety — in raw, often gut-wrenching detail over the course of Blue Eyes' 12 tracks.
Blue Eyes has been released gradually over the course of the summer, with a three-song "act" coming every month or so. (The fourth part will be released alongside the full LP.) While a tiered release could be written off as marketing strategy, Payne says it reinforces the narrative quality of the album, which more or less chronicles his journey from someone in the throes of substance abuse to a sober man with the clarifying wisdom of hindsight.
"Even though they're really personal songs, it seems with each [act's] release the part of my life that it dealt with gets put on its shelf," he says. "It's been incredibly freeing. It's been beautiful, actually."
Blue Eyes opens with "Sins of the Father," a deceptively rowdy song that introduces the shortcomings of Payne's father, late Willie Nelson guitarist Jody Payne, as precursors to Waylon's own. As the younger Payne sings: "First it was beer / Then it was whiskey / Then it was coke and speed." The track playfully interpolates the theme song from The Jeffersons before revealing a world of hurt — "Mama's been cryin' in the kitchen / Daddy's done left in the truck" — that the younger Payne is ready to move past.
Over the course of the album, Payne dives deeper into familial dysfunction ("What a High Horse"), hits rock bottom and takes responsibility ("Dangerous Criminal"), charts redemption ("After the Storm," "Back From the Grave") and says goodbye to figures from his addict past ("Shiver," "Old Blue Eyes"). He also offers his own striking version of "All the Trouble," a Grammy-nominated single for Lee Ann Womack that the pair wrote together. And while it's easy to focus on Payne's remarkable lyrics, his gorgeous singing voice — which resembles that of his mother as well as Bobbie Gentry and Kris Kristofferson, among others — anchors these stories in an emotional experience that is nothing short of breathtaking.
Payne also wrote a series of essays to accompany each song, detailing the full stories behind the lyrics and paying homage to the real-life characters who inspired them. Penning the essays was cathartic for Payne, but his real goal in writing them was to ensure that listeners got the stories straight: Many of them deal with real-life friends who were invaluable to Payne's finding sobriety.
"They loved me back to health," he says. "They really did. They just loved me and didn't give up on me. My buddy Edward [Johnson] helped me reprogram my life. He helped me stand up and taught me the importance of being a man." Space was made for a little tribute: Johnson's son Lake is the child heard speaking at the very beginning of "Sins of the Father."
Payne's prose is as moving as his lyrics. In an essay about standout closing track "Old Blue Eyes," he writes of his late onetime friend and drug dealer Tyler: "We all were running from something and on a quest that to this day I still don't know the meaning of. But for a while, we all leaned on each other and got through life together." 
"Old Blue Eyes" is romantic — "too romantic," jokes Payne, who is an out gay man — but only in the tenderness of its goodbye to an old friend and an old life. "Tonight, old Blue Eyes just may try to reach the moon," he sings, and Tyler's memory fades into swelling, countrypolitan strings and Payne's agile, aching vocal.
"That song was such a special memory to me," Payne says. "I wrote that on the night Tyler died. He's where the title for the album came from too. … I kind of have crushes on all the strong men in my life. That's what draws me to them. Then I learn so many lessons from them."
Frank Liddell and Eric Masse co-produced Blue Eyes, and tracked the LP at Zac Brown's Southern Ground Nashville, which was put on the market in April. Payne recorded in the very room where his mother, while pregnant with him, recorded Kris Kristofferson's "Help Me Make It Through the Night." At the time, the building was Monument Studios. 
The full-circle nature of that experience is not lost on Payne. Nor is the ever-present realization that, with hard work and the help of some dedicated and loving friends, he has found a second chance at making his dream come true. 
"It's pretty nice to be solid, and finally have this story told."