In the introduction to The Shindellas' debut album Hits That Stick Like Grits, released in September, an ominous beat builds a head of steam with booming bass and a whistling G-funk synth line. In short order, the trio stakes its claim, singing: "Why nobody singing like the rent is due? / Why nobody standing up and speaking truth? / Someone's gotta do it / So we're paving the way / And we got a whole lot to say." As the beat gives way to some classical-style piano on the way into the next song, appropriately titled "Money," a whispering voice asks "Who hungry?"
Fans have been eagerly waiting for Hits That Stick Like Grits since the group teased the record in 2019. Across its 14 tracks, The Shindellas — Tamara "Tam" Chauniece, Stacy Johnson and Kasi Jones — do indeed sing like the rent is way past due. The trio is a true vocal powerhouse, and they eschew the idea of a lead singer in favor of trading verses and singing in glorious three-part harmony.
The Shindellas project was originally the brainchild of locals Chuck Harmony and Claude Kelly, both successful songwriters and producers as well as bandmates in the duo Louis York and co-founders of the label and recording space Weirdo Workshop. Harmony and Kelly had a vision of a modern take on the "girl group." They found Johnson first, and then auditioned singers for the remaining two slots, which Chauniece and Jones would eventually fill.
"I wanted to be a part of something bigger than myself," Johnson tells the Scene. All three members are speaking on the phone during a short break from rehearsing holiday material. "The messaging, the opportunity for the messaging, and the representation of three women coming together for something — that's so beautiful to me."
Each member brings a uniquely stacked résumé to the table. Johnson began singing at age 15, honing her skills at Chicago's JoyArt Music, a family-owned operation that provided opportunities for her and her classmates to learn how to write songs. She soon started doing voice-over work for brands and radio stations, and eventually moved to Los Angeles in pursuit of music.
Chauniece, meanwhile, grew up in a musical family in Wharton, Texas, singing in church and traveling the country in her early teens to perform at church and gospel events. After graduating college, she made the top 20 on The Voice in 2013. She eventually gained a following on now-defunct social network Vine; later, she moved over to Instagram, where she shared cover videos.
Jones, who grew up outside Seattle, describes herself as a "a really shy kid" who read a lot and watched movie musicals with her grandmother. She'd later find herself studying at L.A.'s famed American Musical Dramatic Academy, after which she sang in a jazz show at the theme park Tokyo DisneySea. Both the common threads and the differences in their backgrounds had an effect on how they worked together.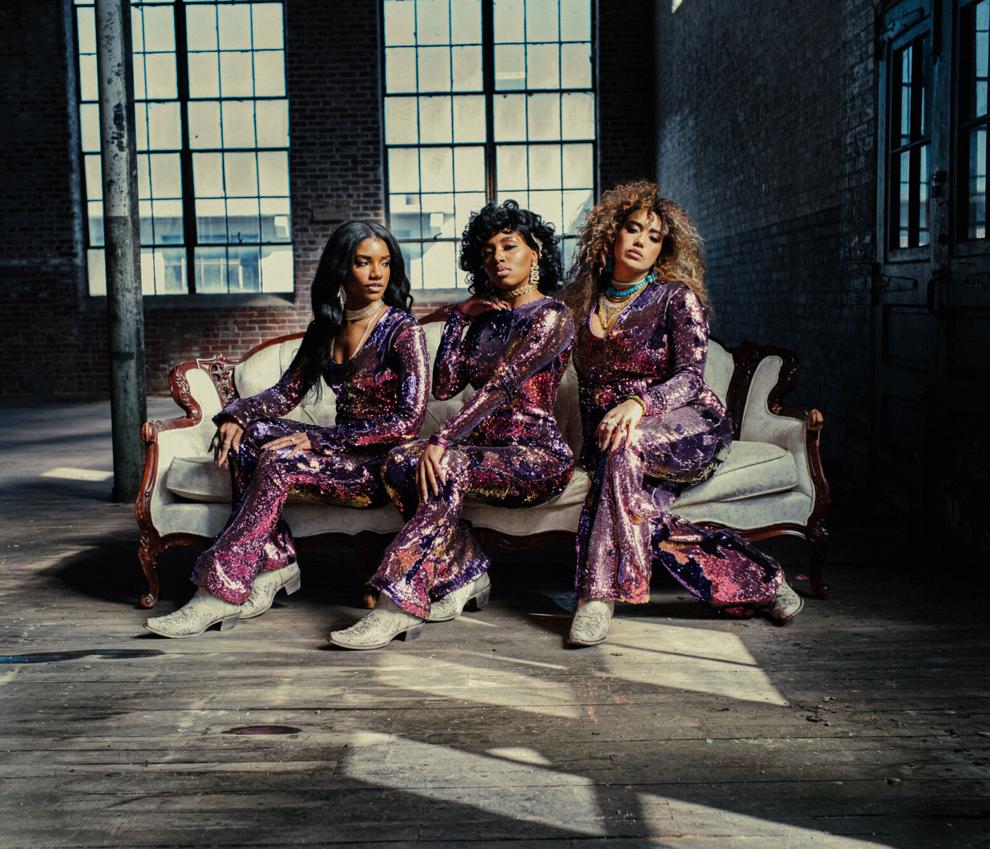 "We sat down at a table, we had a bottle of red wine and we were like, 'Look, this is what I've always liked,' " Jones says of one of the trio's early meetings. "We talked about our real dreams, our real hopes and our apprehensions about joining a group. We talked about our fears. And we talked about being the women that we needed to see as little girls and what it meant to be a part of a group that has no lead singer."
"Once I met Kasi and Stacy, I was just like, 'Yeah, this is kind of a no-brainer here,' " Chauniece adds. "It just made so much sense, and our personalities mesh so well — everything from our [astrological] signs to little quirky mannerisms. … Yeah, I think it's a kindred thing. It's divine."
The term "girl group" can mean a lot of different things. As applied to The Shindellas, does it mean the soulful, poppy doo-wop of The Supremes? The hip-hop-influenced Top 40 of Destiny's Child? The bold, R&B pop-rock of En Vogue? It's all that and so much more. Discussing their individual influences, The Shindellas cite Anita Baker, Led Zeppelin, The Beatles, Bob Marley, Mavis Staples, CeCe Winans, Fleetwood Mac and Aretha Franklin, among a long, eclectic list of other artists.
"People always say, 'Good throwback to the '60s,' because when you see three Black women singing in harmony, you're like, 'The Supremes!' " Jones says. "People often think of Blackness as a monolith. And think of like, one or two things when they think of Black people. And I think on this album, you hear the diversity in that culture. There's unique culture within Black culture. And that's why we're making 'new American soul music.' "
The trio, alongside collaborators Harmony and Kelly, channeled those influences into an album that somehow manages to feel tight and kaleidoscopic at the same time. "Money," for example, begins with an arrangement that recalls both James Brown and Honky Château-era Elton John, before building up to a Wall of Sound pop fantasia. Standout slow jam "Volcano Love" is a descendent of the smoldering R&B ballads of the '90s, à la Mariah Carey or Toni Braxton. And "Fear Has No Place," which the trio wrote together in response to the uncertainty wrought by 2020, opens with a creeping, staccato instrumental before revealing a midtempo anthem with elements of reggae and a healthy dose of hip-hop and R&B queen Mary J. Blige.
At the end of our conversation, the trio explains the word "shindo," a term that comes up more than once during the interview. It's a word they came up with themselves to describe, as Jones puts it, "that feeling when there's chills up your spine, when something just hits and inspires you." Or put another way, that feeling you get when someone sings with everything they've got — "like the rent is due."
"When we were trying to come up with a name," Jones adds, "It was like, 'Who would be the ladies who bring the shindos? The Shindellas.' "