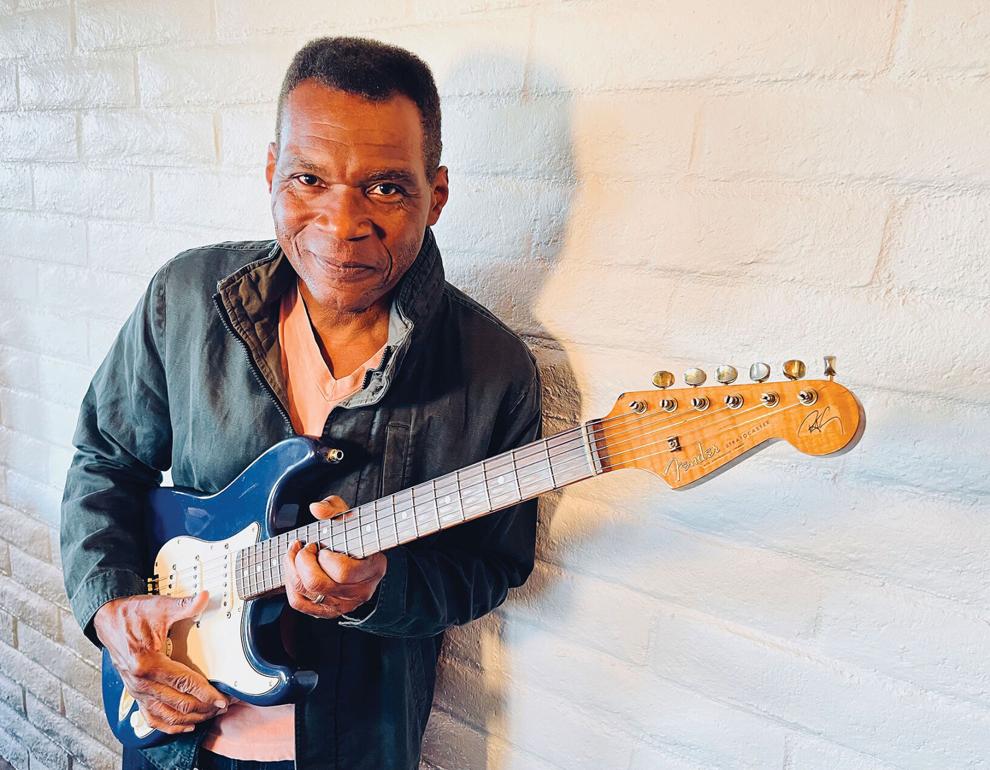 Guitarist, vocalist, songwriter and bandleader Robert Cray is a hero to any blues and soul fan who grew up too late to witness the blues revolutions in the Delta or Chicago, or to experience the greatness of independent labels like Duke, Stax and Hi unfold in real time. Cray, who just turned 69 and whose band will be appearing Tuesday at the Schermerhorn, was fortunate enough to see heroes like Muddy Waters, Freddie King and Albert Collins in concert in his youth. Buddy Guy admonished those who came after him to keep the blues flame burning, and Cray has responded faithfully.
He possesses a rich voice whose versatility and sophistication compare favorably to late greats like Bobby "Blue" Bland and Sam Cooke. He uses it to interpret a wide array of songs by others and to deliver his originals, which measure up to classics throughout the blues and soul canons. Georgia-born Cray may be even better known for the superb, inventive yet disciplined electric guitar chops that he began to unleash in the mid-1970s, when he formed the first incarnation of The Robert Cray Band in the Pacific Northwest. Their early studio albums, starting with 1980's Who's Been Talkin', were well-crafted and served as a fine showcase for Cray & Co.'s ability to navigate different idioms. Among the standouts on Who's Been Talkin' are equally excellent versions of blues legend Willie Dixon's "Too Many Cooks" and soul maestro O.V. Wright's "I'm Gonna Forget About You," alongside original songs that blend the two traditions like "That's What I'll Do."
The records weren't big hits, but Cray was developing a reputation as a formidable, charismatic live performer, carving out space for himself in both blues and soul — something you can hear for yourself on Standing My Own Ground, a live set recorded in 1980 that was just released in June. The aforementioned Albert Collins and his fellow Texas blues ace Johnny Copeland tapped Cray to join them on the 1985 collaborative LP Showdown! He more than held his own with his elders on cuts like their amped-up version of "She's Into Something," made famous by Muddy Waters.
The album won the Grammy for Best Traditional Blues Recording. Then signed to Mercury Records, Cray became a mainstream star with his 1986 LP Strong Persuader, which was highly rated by critics, hit No. 24 on the all-genre Billboard 200 sales chart and won the Grammy for Best Contemporary Blues Recording. The single "Smoking Gun," one of the rare blues tunes to crack the top 30 on the pop charts, became his signature song.
Cray developed personal and professional relationships with players who were his contemporaries, like Stevie Ray Vaughan — whose final concert before his death in a 1990 helicopter crash included a jam with Cray — and established stars like Eric Clapton, who sought Cray out well before his crossover success. He got an invitation from Keith Richards to join the band for the 1987 Chuck Berry documentary and concert film Hail! Hail! Rock 'n' Roll, and to perform with Tina Turner in the concert filmed and broadcast as a TV special to promote her album Break Every Rule.
Through the 1990s and beyond, Cray made magnificent contributions to LPs by John Lee Hooker and B.B. King, all while touring often and making his own records that skillfully maintain an ideal balance between staying contemporary and honoring the past. In addition to his five Grammys, he was inducted into the Blues Hall of Fame in 2011 and received a Lifetime Achievement Award from the Americana Music Association in 2017. As Waters, Guy and Collins helped keep the traditions alive and laid a path for Cray to follow, he has returned the favor for younger generations of artists like Shemekia Copeland, Eric Gales, Christone "Kingfish" Ingram and Gary Clark Jr.
Cray has remained devoted to his craft and kept a high standard for his recordings. Three recent and excellent releases are exemplary of Cray's partnership with producer Steve Jordan, which dates back more than two decades. There's 2014's In My Soul, 2017's Robert Cray & Hi Rhythm — which paired him with the current incarnation of the legendary Memphis label's house band — and 2020's That's What I Heard, which includes guest appearances from Ray Parker Jr. and Journey's Steve Perry. Cray is in absolute peak form on That's What I Heard, which calls for his voice at its most soulful on The Sensational Nightingales' gospel anthem "Burying Ground" and features one of his finest recorded guitar solos on "Hot." Whether he's taking on a Curtis Mayfield song or a vintage Bobby "Blue" Bland number, Cray's voice hasn't lost any edge, range or authority.
The man doesn't suffer fools, either. In 2021, Clapton released an infamous collaboration with Van Morrison, in which the two compared the pandemic lockdown to slavery. Clapton also made a big show of refusing to play venues with vaccination requirements and posed for a photo with Texas Gov. Greg Abbott, who had recently signed legislation restricting access to abortion and limiting voting rights in his state. Cray had been slated to open on the tour Clapton was soon to undertake, but he cut ties and booked his own tour instead.
As performers age, some become less interesting to watch. The creative fire that burns in most artists at the start of their career dies down, and it can be challenging to find the fuel of inspiration to keep it going. Cray has kept his blaze bright for more than four decades, and it shows no signs of dimming.