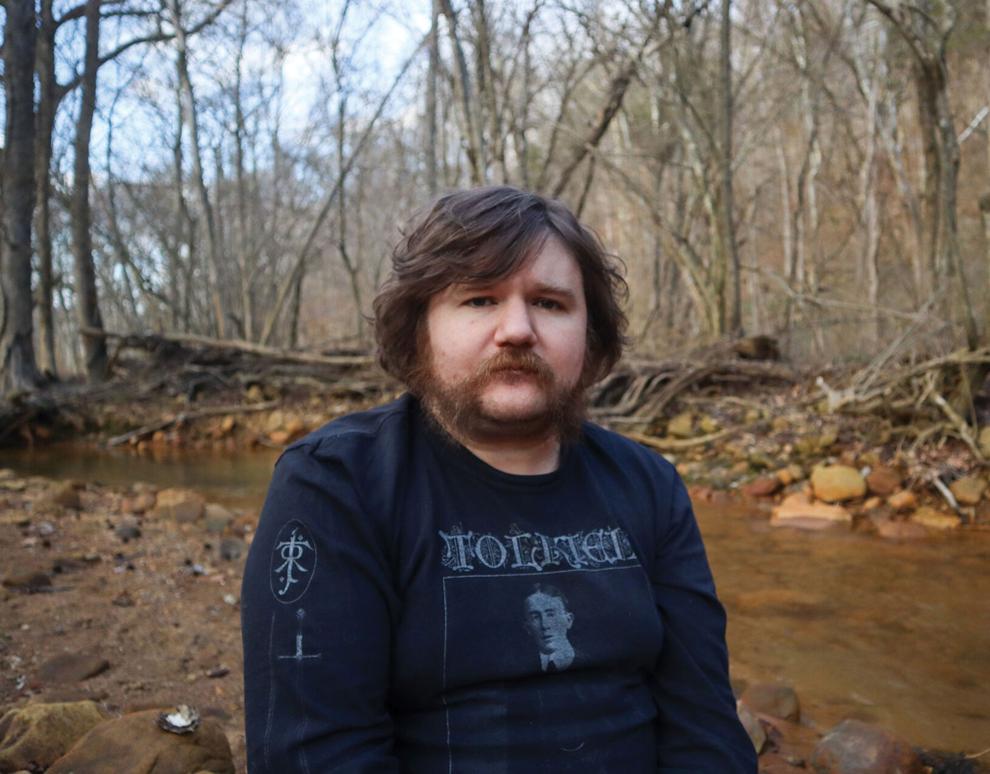 Even more than most musicians, guitarist and prolific record-maker Joseph Allred has a personal relationship to time. Allred, who travels to Nashville this week from the small town of Crawford, Tenn., to play a solo show at West Nashville performance space Random Sample, has created a musical universe that runs parallel to the space that pop and rock occupy. Allred's intricate — and deeply emotional — guitar pieces draw from traditions that include hymns, Piedmont blues and rock. You can hear a nature-based mysticism in their work on recent albums like Regeneration of Time and The Rambles & Rags of Shiloh, both released in 2022. Allred is also a singer, harmonium player and banjoist whose aesthetic is both sophisticated and based in the subjective time of rural life.
"My sense of time out here is kind of weird," Allred tells the Scene via phone from Crawford, which lies in Middle Tennessee, about 30 miles northeast of Cookeville and 30 miles southwest of Jamestown. "We're on country time. Part of the reason I'm able to focus on music as much as I do is that I'm able to live in this old house that my great-grandparents built. It's still standing for the time being, but I'm about to have some renovations done on it, I think."
For a musician who exists outside the pop arena, the setup makes perfect sense. Allred has released 14 albums, cassettes and EPs since 2019 alone, and each carries a stream of traditions that are reimagined in the flow of a prodigious guitar technique. On The Rambles & Rags of Shiloh, "Blues for Terry Turtle" — a tribute to the late co-founder of experimental rock group Buck Gooter — depicts a dreamscape that lacks the tension that standard blues tunes often display. Another track from the album, "The Emerald City," employs a 6/8 rhythm that buzzes with 16th notes designed to jostle the underlying pulse. 
It's a remarkable run of work that stretches back to 2013's Mandorla Valley, and shows no sign of abating. In a switch for a composer who has usually favored the sound of acoustic guitars, a forthcoming LP, What Strange Flowers Grow in the Shade, is made up almost entirely of electric guitar sounds. Nashville percussionist Chris Davis, who plays with The Cherry Blossoms and promotes shows via arts nonprofit FMRL, also plays on the album. 
"There's not a single note of acoustic guitar on there," Allred says about the new album, whose release date hasn't been announced yet. "But there's a lot of layered electric guitars. I was building these little orchestrations and trying to find an interesting sound or way of expression on it. I like the cleaner, more bell-like, ethereal sounds the electric guitar can make." 
Allred was born in 1983 in Jamestown, and moved to Crawford as a teenager. Playing initially in metal bands, the future acoustic-music exponent worked on the family farm. "I worked on the chicken houses quite a bit," they say, "and [did] some occasional construction and renovation to the chicken houses, and did things that needed to be done." 
After a six-year stint studying theology and philosophy at Boston College, they returned to Crawford in September 2022. "I just ended up kind of piddling around, I guess, before finally realizing that academia wasn't exactly a world I wanted to be in," Allred says. "I wasn't doing very well emotionally, and it was taking a toll on my physical health, so I decided to give that up for the time being."
On albums like Regeneration of Timeand 2019's sprawling Hoddmímis Holt, their music mutes the noise of a culture that's often out of touch with the sense of repose you'll find in Crawford, which sits along the west fork of the Obee River. Compared to similar work by fellow guitarists Daniel Bachman and William Tyler, Hoddmímis Holtand Allred's 2022 cover of Low's "Laser Beam"  come across as efforts to come to grips with the corrosive effects of mass culture. 
"I think I find myself at odds with a whole lot that goes on around me in the music community," Allred says. "It is hard to have some kind of integrity in a society that doesn't value depth of subtlety. It's not like I think Cardi B shouldn't exist, and it's not like I have anything against her personally. But I wish I had a choice as to whether I had heard her sing 'W.A.P.' or something." 
Indeed, the somewhat circumscribed tradition of solo guitar that started with John Fahey — and which stretches back to include pieces like Skip James' 1931 recording of "I'm So Glad" — might seem to preclude efforts to sidestep the world of pop. That's why Allred, who has played shows in Nashville for years, is always welcome in town. The show at Random Sample was organized by local synth-pop artist Brigid Oxhorn, who will play a set under the sobriquet Munnie Waters. In a world where time is a precious commodity, the work of individualists fights against the transience that can wear you down.