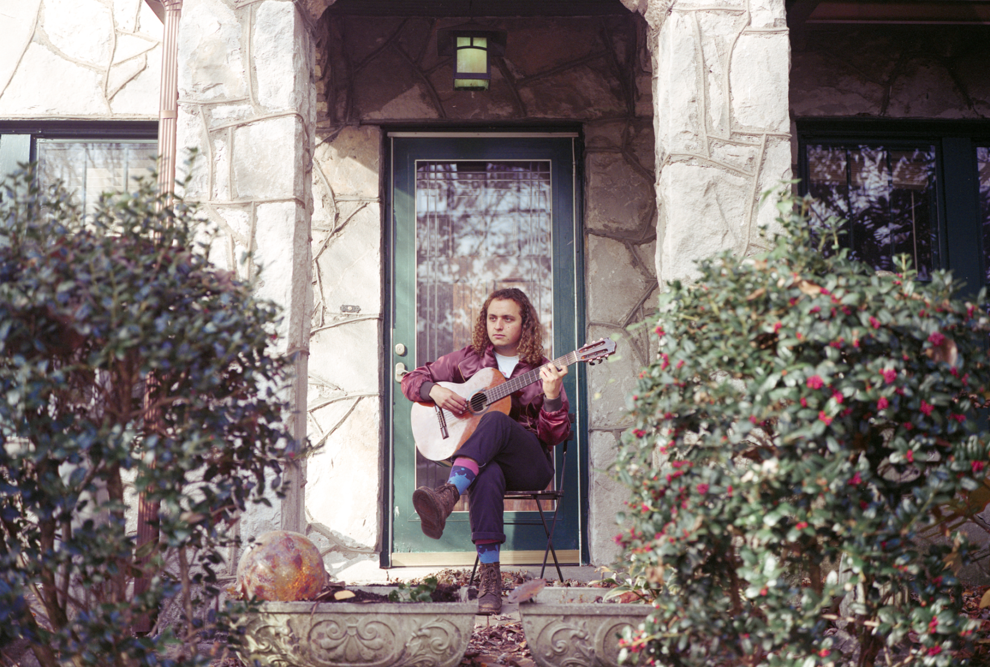 "I feel weird saying this while I'm promoting my own music," Josh Halper tells the Scene in a phone interview, "but I don't really consider myself a songwriter."
Hearing Halper say this after listening to Alrightnik, the excellent solo debut from the 26-year-old freelance guitar player (and reluctant songwriter), brings to mind Dana Carvey's soft-spoken Garth in Wayne's World remarking sheepishly "I like to play" after ripping a tremendous drum solo. Alrightnik, out digitally and on cassette Dec. 4 via Philly's Dear Life Records, is not an in-your-face album — he isn't making a bid to open for Queen or Alice Cooper. But it's expertly written and played.
For a Nashville native son like Halper, it's as simple as this: You grow up in Music City, you play. Especially when your dad is a hardcore Deadhead who's been to more than 250 shows and your mom is an old-school scenester who frequented the Rock Block before it earned its nickname and used to write for Billboard. Says the younger Halper: "She went to Exit/In every night in the '70s — she's a badass." 
The youngest of two boys, Halper picked up guitar at age 5. He's an alum of Belmont's School of Music and the University School of Nashville before that, and his college years coincided with the early-2010s explosion of local garage rock centered around brothers Jamin and Jake Orrall's Infinity Cat label. A frequent showgoer himself, Halper was at one point juggling three bands — chamber-folk ensemble Honey Locust, fuzz-pop combo Big Surr and Stone Roses-indebted psych rockers Western Medication — with session work for country artists. He built a rep as a skilled player and positive presence, and was affectionately nicknamed "Sweetbaby Josh" by elders in the scene.
In Western Medication, co-founders Justin Landis and Devin Mason wrote the tunes, while Halper helped arrange them. He describes his role in the group as "introducing sonic ideas, making the songs a little more dynamic." Western Meds called it quits following their second LP Taste in 2018, but not before giving Sweetbaby Josh his touring-musician sea legs. Crisscrossing the continent opening for Diarrhea Planet in 2016 "was the most fun I've ever had on a tour," he says. "I used to live with [DP's] Emmett Miller and all those guys. I look up to them so much."
Between gigs, tours and sessions, Halper began to write and woodshed a solo set of his own, putting himself out there to open any show, any genre, any time. Says Halper, "I love heavy music, love punk shit, but what comes most naturally when I'm sitting down to write — which usually takes months — is either fingerstyle nylon-stringed guitar, or Randy Newman rip-off songs."
On Alrightnik, you'll hear both. Halper begins the proceedings with a cover of Newman's "Dayton, Ohio — 1903," before moving on to his originals. There's a fluid mix of wordless solo-guitar meditations and "singing songs" like "Who Knows," an ambling ode to youthful indiscretion. There's also "Whale in a Field," which has been in Halper's repertoire since 2012 and borrows its bluesy chords and parlor piano from his hero Newman's 1995 hit (and Toy Story soundtrack staple) "You've Got a Friend in Me."
Alrightnik features no less than a dozen musicians across its nine eclectic tracks, but the self-produced collection never feels cluttered or rushed. Untethered by percussion, the instrumental "Desperation Waltz" verges on chamber music, while "Prelude in B Minor" is simultaneously pastoral and jazzy. The striking "Reflection," with its elliptical guitar figures, cymbal washes and resonant pedal steel, nods to a quintessentially Nashville influence: fellow USN grad William Tyler. 
Halper's mother Pat painted a tranquil still-life of a lone bicycle next to a tree, against green grass and blue skies, which adorns the cover. The aforementioned cast of locals backing up Halper includes members of Heinous Orca, Oginalii and Jeremy Ivey's band The Extraterrestrials. Alrightnik comes across as a heartfelt, homespun time capsule of one musician's unique experiences orbiting the parallel universes of punk and Americana.
"As Nashville natives, we're so inundated with country music that a lot of us growing up are like 'No way, we don't listen to that.' But we all come around to it eventually. All the different aspects of my journey, my upbringing, have turned me into a consumer of all kinds of music. And I try to show that with my music, while also making something cohesive."