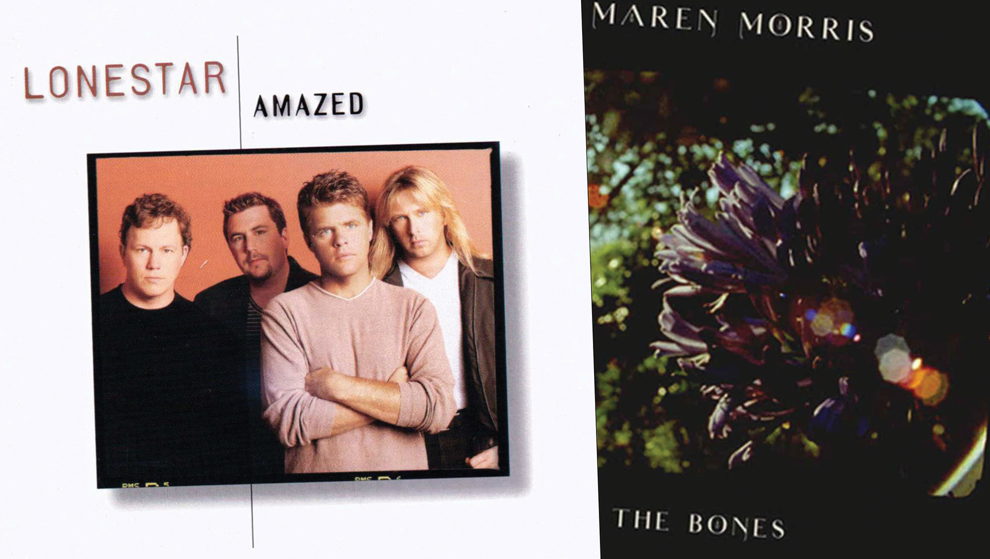 2020 marked the fourth consecutive year in which a single that had a strong showing on Billboard's weekly Hot Country Songs chart also appeared in the top 10 of the trade magazine's all-genre Year-End Hot 100 Songs chart. Maren Morris' "The Bones," which had a 19-week run in the No. 1 spot on Hot Country Songs, came in at No. 9 on the Hot 100 wrap-up in 2020. In 2019, Lil Nas X's "Old Town Road" was a record-setting hit on the Hot 100, and climbed to No. 19 on Hot Country Songs before its controversial removal from the chart. Florida Georgia Line and Bebe Rexha's chart-topping single "Meant to Be" and Sam Hunt's smash "Body Like a Back Road" both set records for their number of weeks at No. 1 on Hot Country Songs. They were also in the top 10 of the year-end Hot 100 Songs for 2018 and 2017, respectively. 
This is evidence of a significant crossover between the worlds of country and pop in recent years. But if you were thinking that's an entirely new thing, you'd be wrong. Over the past two decades, a handful of powerhouse country singles have also done very well in pop chart rankings — see Florida Georgia Line's "Cruise," Carrie Underwood's "Before He Cheats" or Faith Hill's "Breathe." Though "Breathe" came in at No. 1 on the Year-End Hot 100 Songs chart in 2000, another single made history that year, and its story gives us a look at a possible future for the intersection of pop and country.
Released in March 1999, Lonestar's rock-tinged country ballad "Amazed"  hit No. 1 on Hot Country Songs that July. It continued a long, slow climb, ending 2000 at No. 8 on the Year-End Hot 100. The song did something else special as well: For the first two weeks of March 2000, it was also the No. 1 song on the weekly Hot 100. Though "Breathe" came close a few weeks later, it never quite achieved that feat. "Amazed" was the first country song to take the top spot on the pop chart since Dolly Parton and Kenny Rogers' "Islands in the Stream" in 1983. "Amazed" earned Lonestar — as well as songwriters Chris Lindsey, Aimee Mayo and Marv Green — a variety of other accolades, including the Academy of Country Music's awards for Single Record of the Year and Song of the Year and a Grammy nomination for Best Country Performance by a Duo or Group With Vocal.
The walls around the country genre seem evermore flimsy these days. Thanks in part to streaming, "Old Town Road" became the most-certified song in RIAA history earlier this month, racking up 14 million sales. Morris' "The Bones," winner of two CMA Awards and nominated for a Grammy, topped four different Billboard charts and peaked at No. 12 on the weekly Hot 100. "The Middle," her 2018 dance-pop collaboration with producers Zedd and Grey, peaked at No. 5 on the weekly Hot 100 Songs and was nominated for three Grammys. 
There are some interesting similarities between the conditions we're seeing now and what things were like around the turn of the millennium. "Amazed" co-writer Chris Lindsey hosts a songwriting podcast called Pitch List, and he recently spoke with Dann Huff, who produced Lonestar's hit recording of the song. Huff discusses the state of the bustling country industry at the time.
"We could fail 70 percent of the time, as long as we were hitting it 30 percent of the time — it was like baseball," Huff says on the podcast. He worked with Lonestar at a time when he was just getting established as a producer. "We were just lucky enough to have not turned ['Amazed'] down like so many other acts did — I'm sure most of them have hit themselves in the head several times. ... All of a sudden, I became a producer that was sought-after because of 'my brilliance' on that. The 'brilliance' was basically that I didn't say no to a very good song." 
A Nashville native, Huff worked as a guitarist on sessions with groundbreaking producers like Quincy Jones, Arif Mardin and Mutt Lange. Thus he played on "very good songs" for artists including Michael Jackson, Whitney Houston and Whitesnake. 
"Just like me, Lonestar was new to Nashville, and they were looking for a hit," Lindsey says, responding to Huff. The band came to Music City from Texas. "I had a nontraditional point of view of songwriting, and that sort of freshened things up." 
Even when the marketplace is ripe and the talent is present, the magic that allows a song to achieve universal praise is tough to put your finger on. To gain a deeper understanding of how this works today, I reached out to Rachel Whitney, Spotify's head of editorial for Nashville. 
"One of the unwritten rules of both country and pop music is 'never get in the way of a hit, no matter where it's coming from,' " Whitney tells the Scene by phone. "In country music, crossover hit singles are growing, and streaming is playing a major role." 
MRC Data/Nielsen Music research shows that country listenership on streaming platforms grew at an astonishing rate in the early weeks of the pandemic, with an increase of more than 20 percent from March to May. By the end of 2020, country music's share of the total number of songs streamed worldwide had jumped about half a percentage point over the 2019 figure. Streaming has been a huge driver of revenue at the upper echelons of the music industry for several years, and streams are counted in Billboard's charting system. As country music is reestablishing itself on the pop chart, it's hard to overstate the importance of streaming for country artists. The recent spate of country songs placing in the top 10 of the Year-End Hot 100 Songs suggests that country music's rising popularity on streaming could cement a bridge between country and pop for years to come. 
Whitney is also quick to note that country music's relationship with pop has always been "like a swinging pendulum." In the late 1950s and early '60s, country's traditional blues- and folk-driven sounds were being overtaken by rock 'n' roll, a defining sound in pop at the time. This led country producers to establish the Nashville Sound, a cosmopolitan update of country that featured strings and other lush elements more common in pop. "Country needed to compete in the commercial market," says Whitney. 
For many country fans, radio is still king. But as the marketplace shifts toward streaming, the radio-oriented power structure in country has been disrupted by streaming. This scenario reduces the influence of gatekeepers like radio programmers — who have proven to frequently uphold racist and sexist policies — allowing a broader diversity of sounds and styles to filter in.
Morgan Wallen and Gabby Barrett are two rising country stars who bring pop-trap, funk-aided R&B and power ballads — all styles that are drawn into contemporary mainstream pop — into their mix. They both had big country hits with respectable performance on pop charts in 2020. Both appeared further down in 2020's Year-End Hot 100 Songs, but could easily rise to the top by the end of 2021. 
According to Whitney, at least some parts of the country world are "always aiming to reflect what is most popular." Discussing "Amazed" with one of its co-writers proves Whitney's point. Along with Marv Green, Lindsey worked on "Amazed" with his now-wife Aimee Mayo, who published her memoir Talking to the Sky in late 2020. 
"Once it became a hit, everybody wanted another 'Amazed,' " Mayo tells the Scene. "Because we wrote about how much we loved each other with honest energy that you can feel, it became one of those songs where the stars align. When you add that vocal part where [Lonestar's Richie McDonald] goes up an octave in the bridge? That's magical. Thankfully, my husband and I didn't mind writing love songs back and forth to each other in the year that followed!"
Intriguingly, there's reason to believe that the future evolution of the pop-country relationship won't be just about country taking cues from mainstream pop. Whitney notes that Sturgill Simpson, Tyler Childers, The Highwomen and Margo Price — artists who "push the edge" of country audiences' expectations — are surging onto more playlists, regardless of genre.
In discussing the potential for the expansion of the country-pop crossover, Mayo offers a note of advice for future artists hoping to achieve Lonestar-level popularity.
"Country songs that stick around for a long time tell great stories about things that everybody goes through. It's not enough to talk about being in a pickup truck on a dirt road in a small town on a Friday night. You can write that song a thousand times. … Songs, like 'Amazed,' that talk about honest truth, are the ones that resonate — regardless of the chart — forever."