Way back in the 1980s, the idea that large-scale pop could be intelligent animated a lot of New Wave music. In the United States during that era, a group as talented as The dB's had trouble breaking through, despite their immense skill — or maybe it was because of that skill. The dB's and other sophisticated pop bands made music that fell to one side of mass acceptance.
In England, the London band Squeeze took up the mantle of the British Invasion, which had begun two decades earlier, and released some tunes that hit the charts. Like The Beatles and The Kinks in the 1960s, Squeeze in the early '80s represented an idea of English cool to North American fans who also believed that pop might still be able, at that late date, to change the world.
Squeeze is still recording and playing, nearly 50 years after singers and songwriters Chris Difford and Glenn Tilbrook put the band together in 1974. They've broken up and reformed several times since their commercial heyday of 1981 — you might recall "Tempted," which made it to No. 49 on Billboard's Hot 100 chart that year. "Tempted" is perhaps their best-known song on this side of the pond, though 1987's "Hourglass" was their highest-charting single in the United States, thanks to exposure on MTV. The band played a version of power pop, but Squeeze had an even lighter touch than The dB's themselves.
Squeeze starts off their latest tour at the Ryman on Aug. 1, which will give fans a chance to see a world-class band in action. The group has gone through many personnel changes since they first split in 1982, with the current band featuring Nashville bassist Owen Biddle among other superb players. Tilbrook's post-Paul McCartney vocal chops remain in place, and the latest version of the group promises to breathe new life into their classics.
Speaking via Zoom from London, where they're getting ready for the tour, Difford and Tilbrook talk to me about their early music with a rightful sense of pride. Still, as Lou Reed used to sing, those were different times.
"We're not in those days now," Tilbrook says, referring to the long-gone New Wave era. "It's really on a song-by-song basis. Some of them we've reimagined, I think, as an alternative way they could have been — as something that's more interesting for this lineup to play."
Indeed, Difford and Tilbrook's catalog is even deeper than that of Peter Holsapple and Chris Stamey, of the aforementioned dB's. No piece on Squeeze could fail to mention the influence of John Lennon and Paul McCartney, of course. For Difford, who has been the lyricist in his songwriting partnership with Tilbrook since they began collaborating, the '60s and '70s were an inspirational time for a budding songwriter.
"I think there were so many writers around when I was growing up to sort of latch onto," Difford says. "Much more than now — for me, anyway. You know, from Lou Reed to Donovan — there's always something to be found in people like that."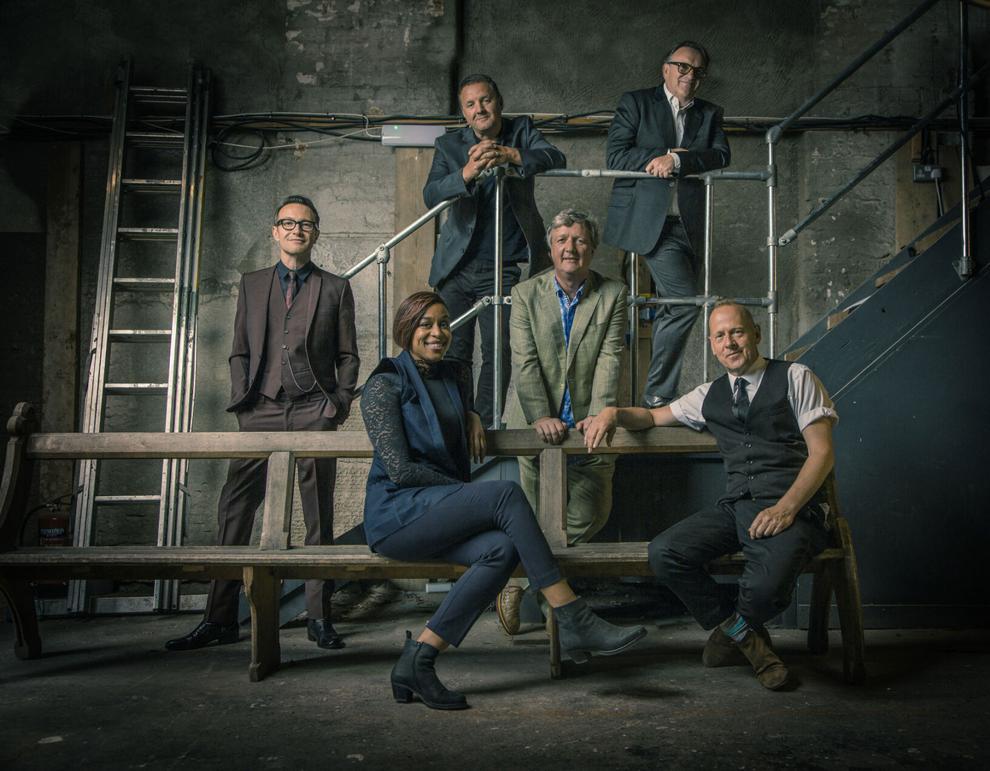 Setting aside much-loved and well-performing singles like "Pulling Mussels (From the Shell)" and "Up the Junction," the early Squeeze albums are packed with songs that have become standards, even if most of them weren't hits. "Black Coffee in Bed," a track from their 1982 album Sweets From a Stranger, remains a fan favorite. Meanwhile, another 1982 track, "Annie Get Your Gun," may be the apotheosis of their early work. The song seems to be about an actress, or maybe a pop star, who has "gone electric" — and a bit mad. Interestingly, it's one of the original band's most synthetic, non-rock-band tracks, as Tilbrook tells me.
"Basically, it was a Fairlight [synthesizer] and [producer] Alan Tarney who played on that record," Tilbrook says. "He stuck to the demo pretty closely, actually." Tilbrook says the backing track was completed by the time he and Difford arrived at the studio to sing on it, without the rest of the band. It went quickly, as Difford recalls: "I think we were in the pub by 12."
Squeeze's releases from the late '70s and early '80s help define the New Wave era. Still, their work later in the '80s has its moments. For example, the track "Some Americans," from 1987's Babylon and On, betrays some of the production excesses of its time. For all that, it attempts to understand the American character, as they sing, "Some Americans are burger people / Some Americans say no to war." It borders on cheap satire, like a late-period Kinks song, but that's part of its charm.
The band's most recent full-length, 2017's The Knowledge, is the work of artists who feel their age but remain believers in the healing powers of pop. That record's "Patchouli" is a beautiful meditation on Difford and Tilbrook's adolescence in the early '70s, with chord changes that call up a pop vocabulary that derives from the British Invasion. If you're of a certain age, or if you still hope pop might change the world, you might feel a little bit lost when the song is over.