Once a month, reporter and resident historian J.R. Lind will pick an area in the city to examine while accompanied by a photographer. With his column Walk a Mile, he'll walk a one-mile stretch of that area, exploring the neighborhood's history and character, its developments, its current homes and businesses, and what makes it a unique part of Nashville. If you have a suggestion for a future Walk a Mile, email editor@nashvillescene.com.
---
The Route: From Rose Park, south on Ninth Avenue, crossing Edgehill Avenue and continuing as Ninth becomes Hillside Avenue. Right on Summit Avenue and then right on 12th Avenue back to the park.
Cranes: 0
Abandoned scooters: 3
---
Less than a mile from downtown, a triptych of hills rises as Eighth Avenue scoots south. There's St. Cloud Hill, home of Fort Negley; Kirkpatrick Hill, topped by the reservoir; and there's Curry Hill in Rose Park.
Southern Davidson County is marked by a strong ridge of hills, and these three are the avant-garde, thus accounting for their strategic import during the Civil War's Battle of Nashville. Fort Negley is the remaining testament to that martial significance. These days, these tors serve a more relaxing purpose, offering awe-inspiring panoramic views of the city, unblocked as they are by higher summits and with the expanse toward downtown proper cut low by the Cumberland River and its tributaries.
Curry Hill is probably the least-known of the trio, as it doesn't have the advantage of being topped by a major civic structure. (There was, however, a Union Army fort — Fort Morton — there between 1862 and 1867.) But its peak is the most easily accessible. There's convenient parking, so reaching the top doesn't require a hike like St. Cloud does, and it certainly isn't considered a national security site like Kirkpatrick, which is surrounded by menacing fences and CCTV cameras. On a clear day you can see forever — or at least to the Tennessee State Capitol — particularly in winter, when the lush oaks are denuded of their foliage.
Descending the hill and leaving the stunning views behind, Ninth Avenue cuts a neat line between Rose Park Magnet School and a pleasant if vacant lot dotted with oaks. Were it spring, these oaks would offer acres of shade, but as it is they are scraggled by winter.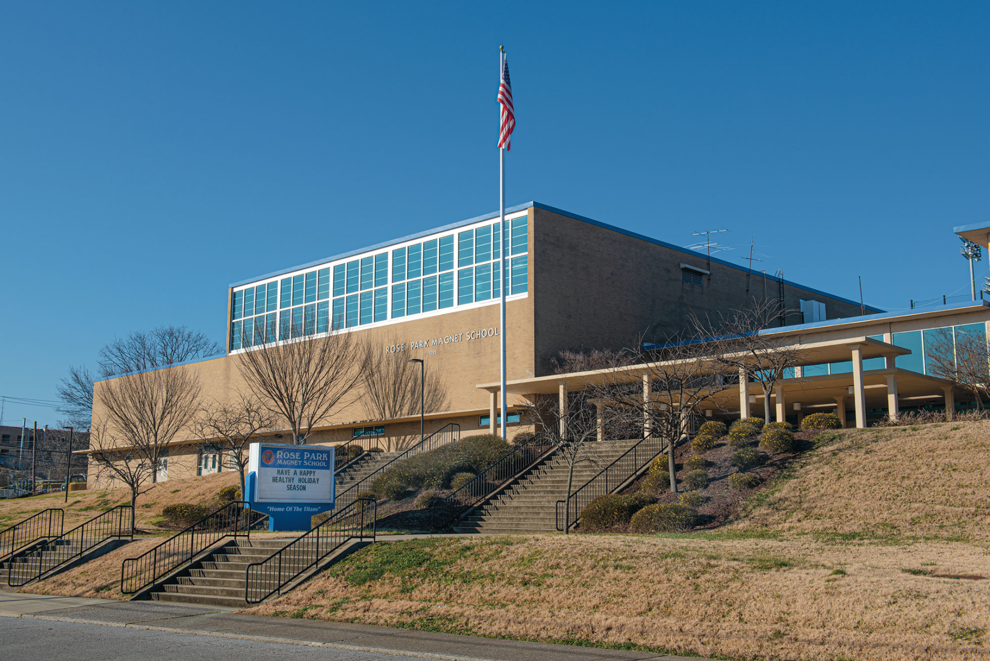 The Rose of Rose Park is the Rev. E.S. Rose, who pastored Greater Bethel A.M.E. Church on nearby South Street from 1928 to 1944. Rose Park Magnet opened in 1963, in the midst of Nashville's prolonged and convoluted grade-per-year school integration. The school's vintage is clear from its architecture, with all the lines and mirror-image windows one expects from a midcentury academic building. It's also quite large and addresses Ninth Avenue directly, unburdened by a front parking lot — the kind of school a neighborhood should be proud of. There are no students within, of course, which is good because the noise from some kind of public works project on Ninth and Edgehill is cracking the otherwise silent morning stillness. Hammering also echoes from construction in the park proper.
Ninth Avenue becomes Hillside Avenue when it crosses Edgehill. There's no mystery as to how the roads in this neighborhood came by their names, as Hillside climbs steadily up the side of the aforementioned Kirkpatrick Hill. Hillside serves as an interesting line of demarcation: On the east side there are squat but charmingly cottage-like apartments of the style common to the mid- to late 1960s, with wood siding painted in muted earth tones. On the west side? Hillside Flats, a metal-and-glass complex of the type that's been the attestation of gentrification throughout the city generally — and in nearby 12South specifically — in the past decade or so.
One wonders how long the suddenly anachronistic complex across the street will remain.
There's a series of these complexes as Hillside goes south, scattered about — rather than crammed — in a fashion similar to the way some European cities are laid out. With the big hill muffling the traffic noise and the rolling, tree-covered terrain of Reservoir Park nearby, the walk on Hillside Avenue is almost like a stroll through an English village, albeit with a looming, 144-year-old, bazillion-gallon water tank nearby.
Construction on the Eighth Avenue Reservoir began in 1887 and was completed two years later. The limestone used to build the 33-foot-high walls was cut from what is now Rose Park. Those impressive walls enclose two 25.5-million-gallon tanks separated by a weir. The tops of the walls are castellated, and on the edge of the giant tanks sits a charming gatehouse, the inland version of a lighthouse keeper's cottage. It's a beautiful structure, and every now and then Metro Water offers tours. When those resume post-COVID, they are highly recommended.
The care in construction and concern for aesthetics that was once de rigueur for taxpayer-funded projects is clear, even now. But the big reservoir wasn't perfect.
Nov. 5, 1912, was Election Day. Woodrow Wilson would go on to easily defeat two former presidents — William Howard Taft and Teddy Roosevelt. But at 10 minutes after midnight, no one in this neighborhood was thinking about that. In the darkness of the wee hours, the southeast quadrant of the reservoir broke away, sending 25.5 million gallons of water rushing down Kirkpatrick Hill, reaching as far as the fairgrounds, more than three-quarters of a mile away. Later, folks would say they saw a stream of water creeping through a crack the day before, but paid it no mind. Despite this almost inconceivable amount of water rushing through the darkened streets, no one was killed, though the city did pay out $100,000 for damages — more than $2.5 million in today's dollars.
Engineers disagreed on what caused the breach. Some said the clay beneath the reservoir gave way, causing the wall to slip and eventually break. Others said a leak from the reservoir eroded away the clay. In any event, the crack was repaired — and is still apparent today — and the reservoir has served its purpose well for the subsequent century-plus.
The woodsy Reservoir Park seems almost tailor-made for second-unit footage from a sword-and-sorcery movie. It's easy to imagine Brave Sir Knight riding into the trees, the crows' cawing serving as entrance music. It's a fine park, crisscrossed by walking trails with occasional shelters and picnic tables and playgrounds.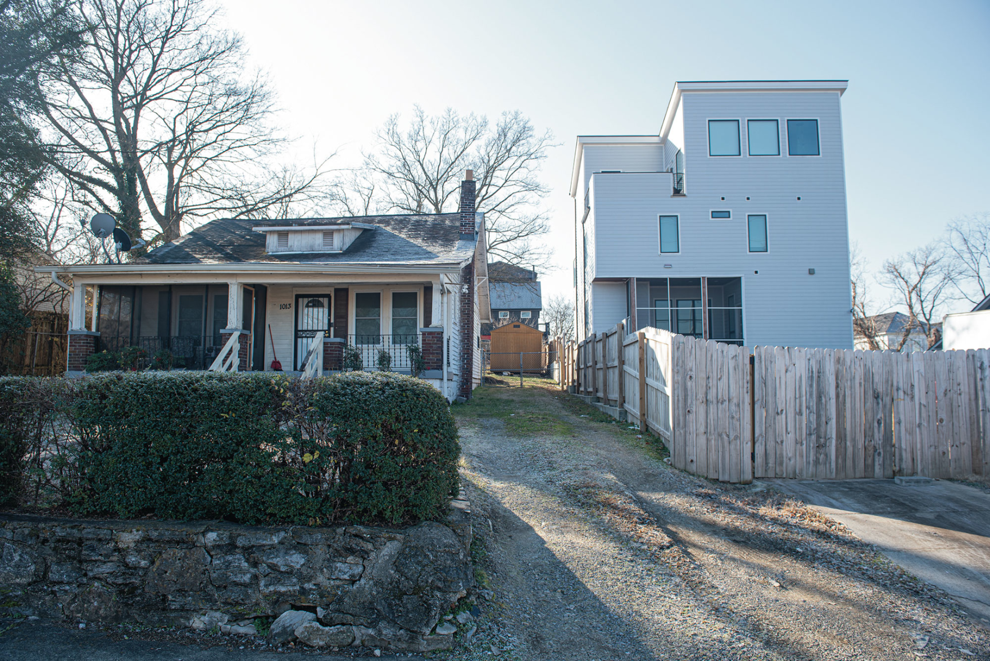 The stretch of Summit Avenue just west of Reservoir Park is a microcosm of the neighborhood. On the south, there are new homes — perhaps too wide to truly be what we call tall-and-skinnies, but in the same oeuvre — next to small run-of-the-mill ranches next to older Craftsman-style homes. On the north side of the street: Edgehill Apartments, a public housing complex in the midst of a yearslong transformation, along with its sister complex Gernert Studio Apartments.
Traffic speeds by on 12th Avenue, past Progressive Baptist Church and the Midtown Hills Police Precinct, past the Edgehill Branch library with its opaque domed skylight and past those famous polar bears at the corner of 12th and Edgehill. The two snowball-throwing mammals have become the neighborhood's mascots. One of them is currently wearing a Black Lives Matter face mask.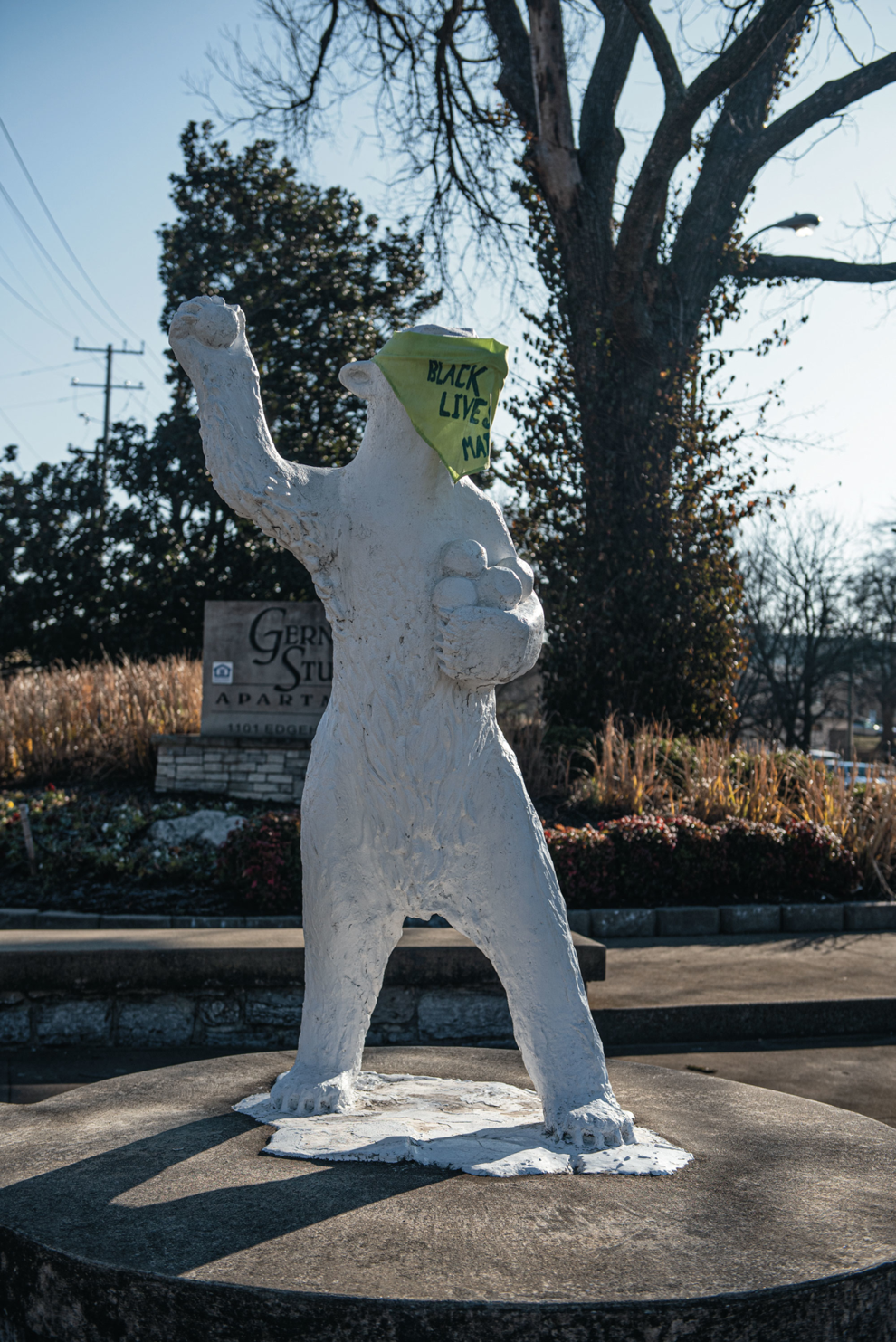 Nothing about Edgehill screams "home of Arctic apex predators," but it's an enduring symbol nonetheless. There were once many such bears, crafted by a local figurine manufacturer for Polar Bear Frozen Custard Shops. The Rev. Zema Hill bought some and put them in front of his home and funeral parlor. (Jolly polar bears at a funeral home is a bit of an incongruity, isn't it?) Eventually the Metro Development and Housing Agency bought the pair that's become the most famous, and now their silhouette features on neighborhood signage.
The starting point on the north end of Rose Park was relatively quiet and peaceful, but the climb back up Curry Hill from the south is walking into a beehive of activity as workers finish up a long-running revitalization project in the park. The project includes a new track and a quite pleasing baseball stadium, which serves as Belmont University's home field. With a brick exterior and a slight curve, it evokes — intentionally or not — the reservoir. The view from home plate and the bleachers stretches all the way back to downtown. Were Nashville a Single A minor-league city, this would be the perfect place for the team to play, a quaint little Cracker Jack box in a peaceful park. So shoehorned in is the field that netting extends over the teachers' parking lot at Rose Magnet, protecting our public servants' cars from dinger-induced roof dents.
Rose Park's jogging path squeezes behind the stadium's fence and back to the top of Curry Hill and its too-long-ignored vistas.