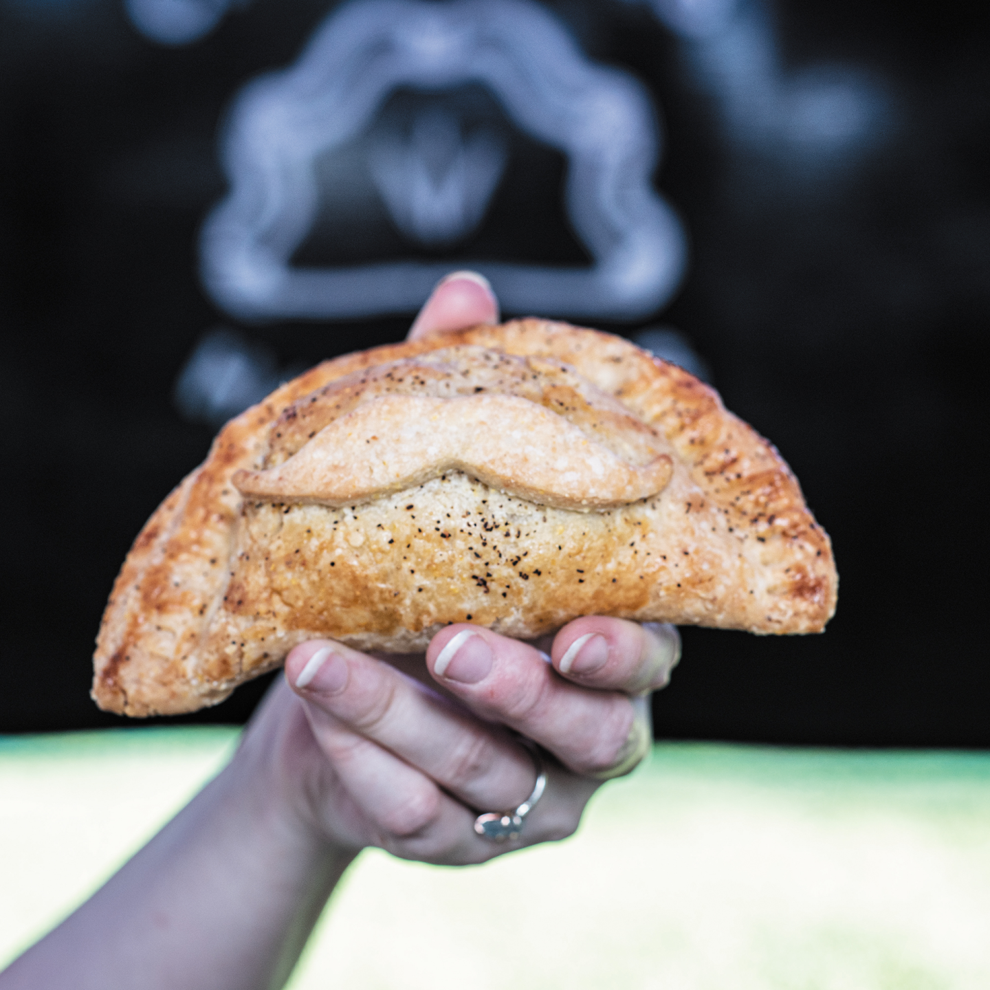 Something's burning. And suddenly Cait Guszkowski darts across the kitchen. 
"I forgot I was browning butter!" she exclaims while lifting a large pot off a hot plate. She looks into the pool of overdone butter and lets out a flustered laugh. "That's quite a smell. Sorry, guys."
Guszkowski and her fiancé and business partner Chris Gonzales run Caity Pies, the popular Nashville pie company that sets up shop three days a week at the 12South, Hip Donelson and Richland Park farmers markets and fills the pastry cases at Dino's, District Coffee and Porter Road Butcher, among others.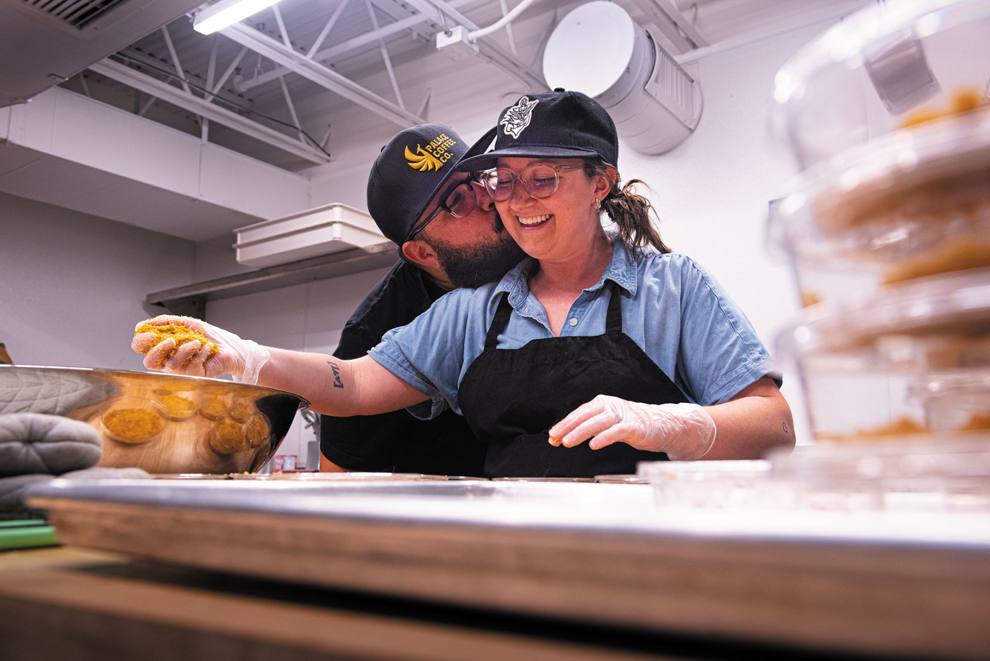 One month ago, the duo moved Caity Pies into a new space in the Citizen Kitchens incubator in East Nashville (in the basement of Fresh Hospitality's soon-to-open Hunter's Station food hall), and they're still establishing their routine and flow at the new workspace. But Guszkowski doesn't miss a beat. She rinses out her pot, grabs a new mound of butter and gets back to work, re-browning the butter to make graham-cracker crusts for her key-lime icebox pies, while explaining to me how Caity Pies was born, sort of on a whim, in 2017.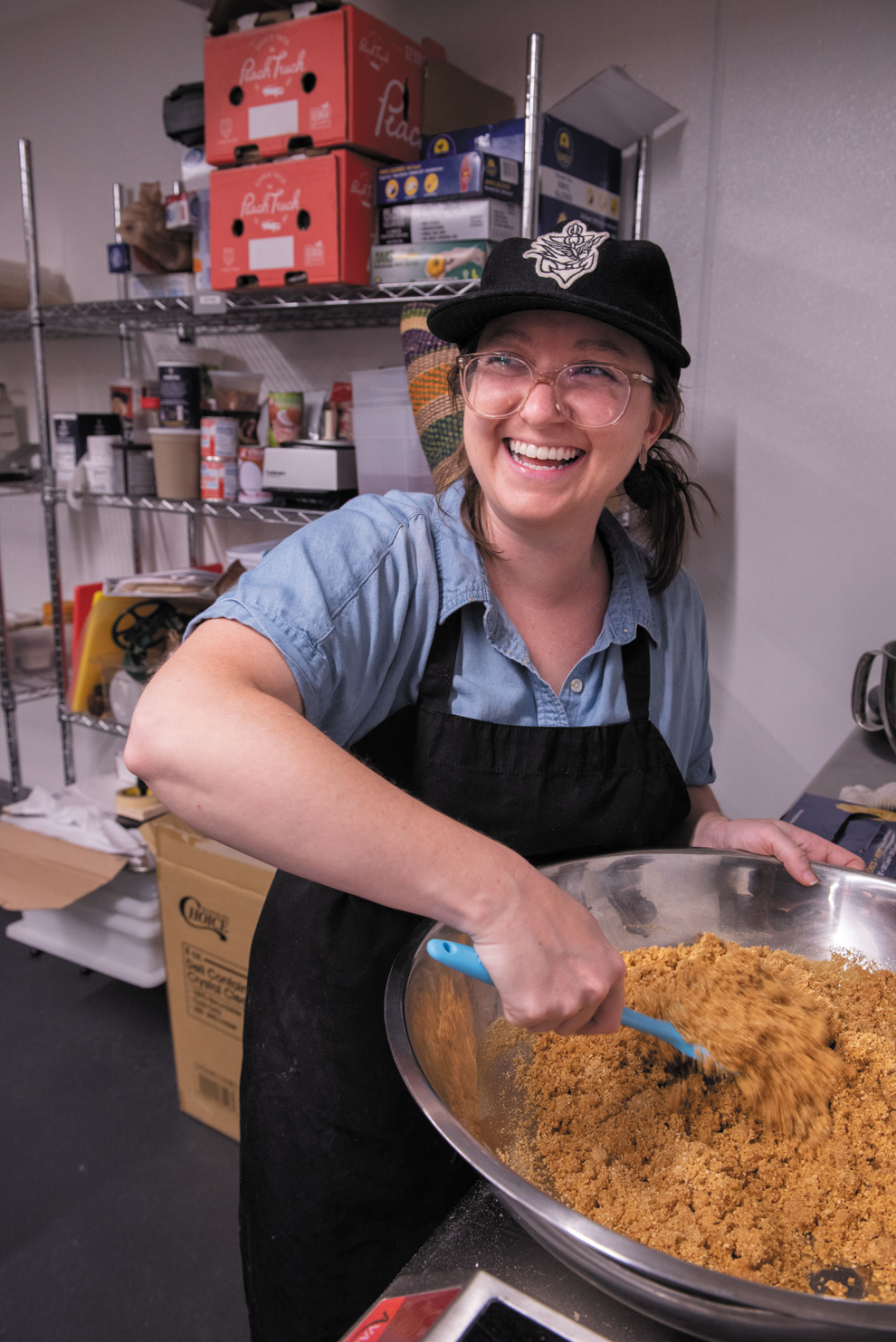 "I moved [to Nashville] not knowing a single person and started making pies in my apartment and giving them to people," Guszkowski says, this time keeping a watchful eye on her butter. "By the time I met Chris, I had lived here for five or six months and was starting to be known as the Pie Lady. He joked around about starting a little pie cart and selling pies to bars and things. ... About a year later, I quit my job to do this full time." 
Guszkowski developed recipes and baked, and Gonzalez helped build up the wholesale side of the business, keeping up with billing and pie deliveries. They secured coveted spots at the summer and winter installments of Porter Flea Market and offered holiday orders. It didn't take long for people to fall in love — not just with the delicious handmade pies in seasonally inspired flavors like cherry, strawberry-rhubarb, peanut butter, bourbon-glazed apple, and spicy tomato, but also with Guszkowski's refreshing attitude toward food.
You see, Guszkowski is kind of a badass. Her full-size pie crusts are decorated with things like Lizzo lyrics and quotes from the popular true-crime podcast My Favorite Murder. And she doesn't mince words on the sandwich board she displays at farmers markets: "NO WEIGHT/FOOD SHAMING," "NO DIET TALK" and "LOVE YOURSELF & EAT PIE."
Caity Pies may have started as a way for Guszkowski to connect with people in a new city, but it has since grown into something much more personal and powerful.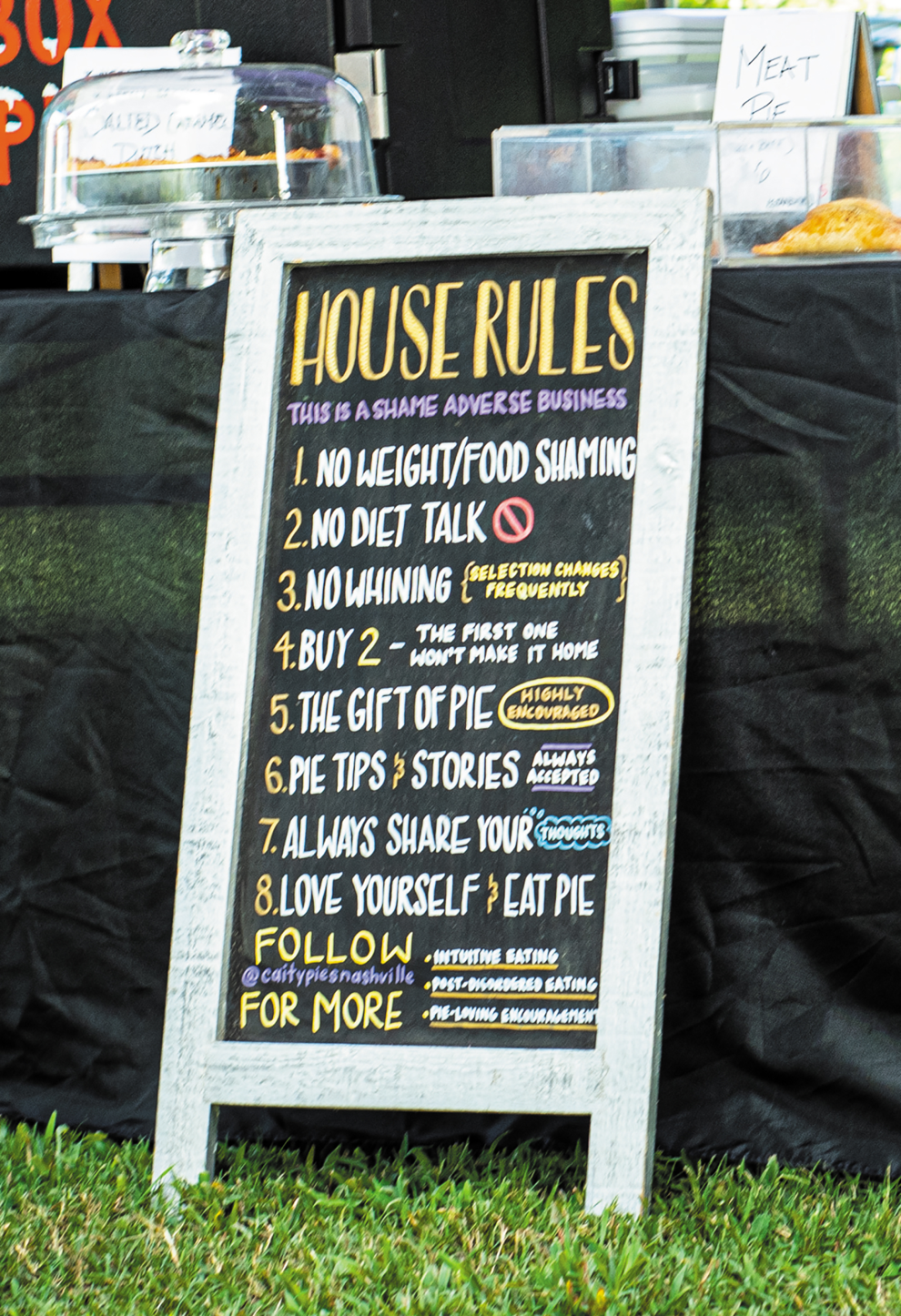 "Like most women in our culture, there were a lot of eating issues in our family," she says. "I didn't really realize that that's what my business was about until I was doing it, and I was selling pies to people and realizing that so many other women — mothers and daughters and grandmothers — were always saying to each other, 'Oh, I couldn't. I don't want to be bad today.' 
"I did Weight Watchers with my mom, I worked for Weight Watchers, I started to get a degree in nutrition — and then was like, 'I can't be a nutritionist,' " she continues while scooping creamy, pale-green globs of key-lime pie filling into awaiting pie shells. "I can't be the person who everybody thinks is taking away their food. I want to be on the opposite side."
It's true that our society has a very complicated relationship with food, dieting and body image. In 2017, market-research firm Marketdata LLC concluded that the weight-loss industry was worth $66 billion — "BILLION" WITH A B! — as millions of Americans continue to buy diet pills, shakes, prepared meals and subscription services.
Guszskowki hopes that when you buy a Caity Pie, you are allowing yourself a moment of unapologetic, guilt-free satisfaction. You are giving yourself permission to enjoy food, shamelessly and without excuses, and for no reason other than it tastes damn good.
"That's what it's all about," Guszskowki says. "I'm reaching the point where I've come to terms with what diet culture has done to people, and I want to keep fighting for people to love themselves. I try to keep an open dialogue, but also not allow for negative talk to come in and be associated with food — because we don't deserve to make ourselves smaller, [to] not enjoy things because God forbid a woman be over a size 8."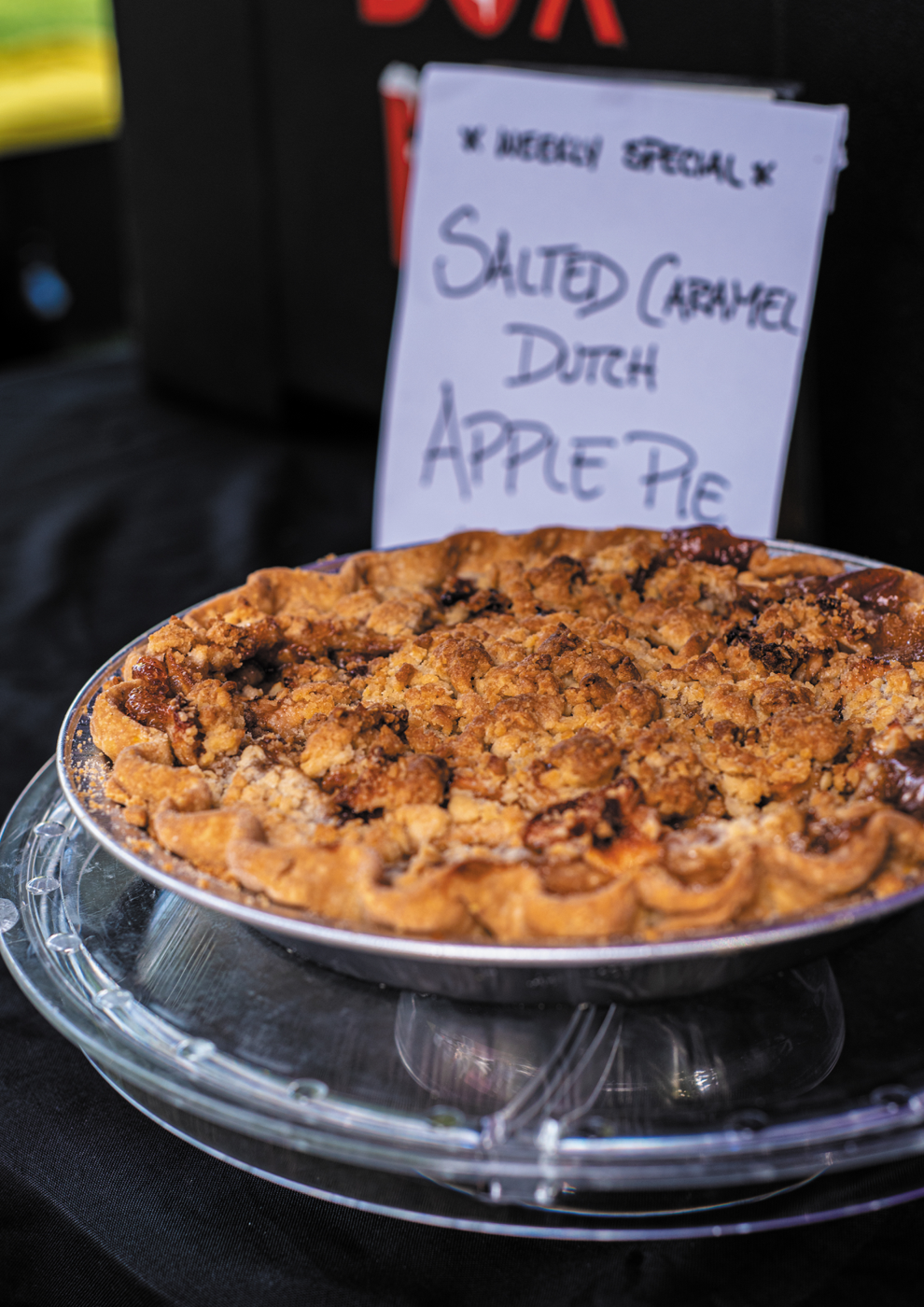 With that in mind, Guszkowski goes all in with her ingredients. Fillings are full of sugar, cream and butter. And the secret to the crust? Lard. Specifically, Porter Road Butcher lard.
"I make a butter-lard crust, and I add a little cornmeal to it because I like the texture, and I think in some ways it represents Chris' Tex-Mex heritage," Guszkowski says. "People love it. It blows my mind. It's not a family recipe or anything, it's just experimentation."
Caity Pies will soon expand the menu to include more savory options, too. When the construction on Hunter's Station is done, Gonzales says he's going to bring in a meat smoker so he can create pies and dishes that pay homage to the barbecue he ate while growing up in Amarillo, Texas. The ultimate goal is to own a diner where they can sell slices of pie and plates of barbecue to an evening and late-night crowd.
But for now, they just want to make the world happier with pie. 
"We're not professionals — we're like grandma-style," says Guszkowski. "We just do things by eyeballing and by taste and by feel. It's never gonna be perfect, it's always a little bit rustic in that it's handmade. And if it's not making you happy, and you're just doing it because of a trend or whatever, don't eat it."
But trust me, it will make you happy. Fuck your diet — eat the pie.