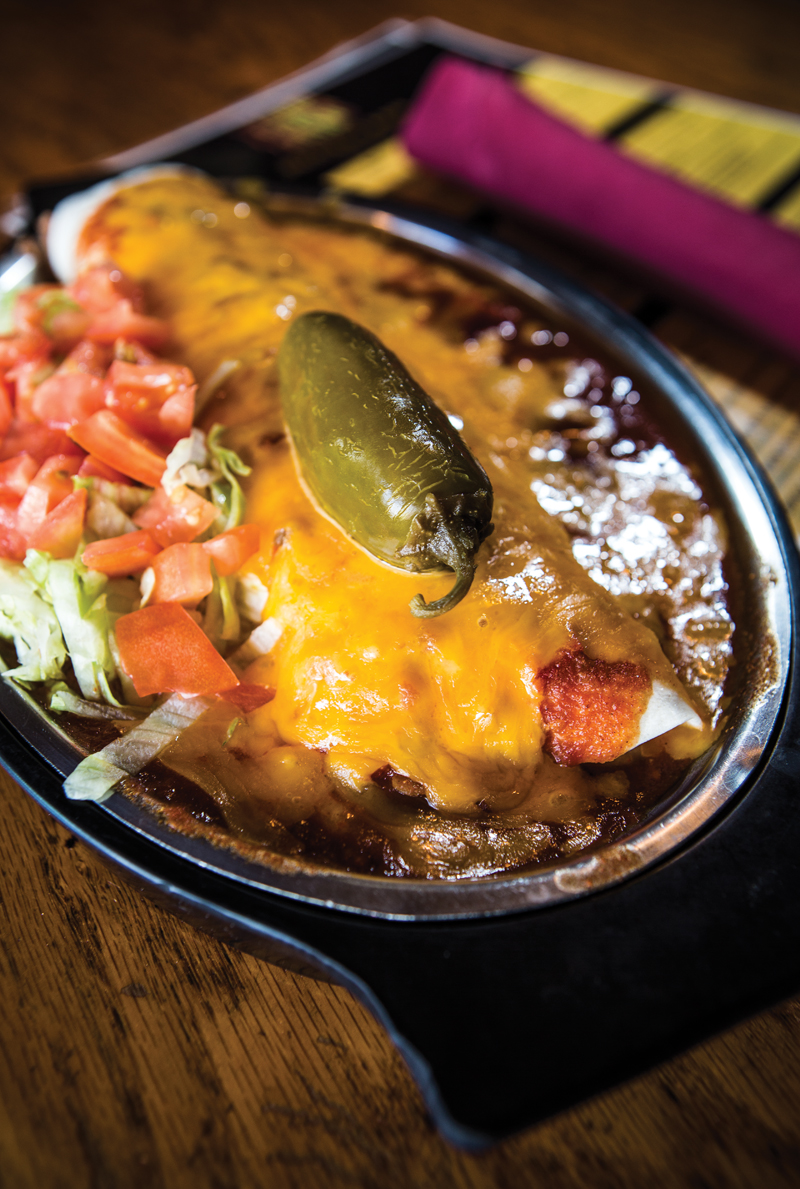 In an Elliston Place saloon flooded with afternoon sun, you can get what may be the best deal in town for eight bucks and a quarter: a trip back in time.
Your instrument of time travel, thick as a Louisville slugger and swimming in gooey orange cheese, arrives on a foot-long metal oval with a pillowy scoop of sour cream. Diced tomatoes and shredded lettuce lie heaped on one side; on the other, a fat jalapeño lolls in a lagoon of puréed tomato. You cut into the bulging flour tortilla, raise a forkful of cheese and refried beans, and take in the whole gloriously sloppy bite.
And just like that, there you are — in 1985, at the hub of a club scene newly secure in its swagger.
Downstairs, in the long-vanished game room, you'll sidle past Vanderbilt kids blowing off steam or study with a fistful of quarters. Upstairs, in the now-shuttered lounge, you'll find members of the Scorchers or The Royal Court of China or Walk the West holding court, joined by whatever bands just wrapped up their gigs at the Exit/In or what is now The End. This is the first hurrah of the city's rock scene, which no one at the time knows will be a short-lived warm-up for the 2000s boom years.
Yet even in days of coke and hope and furtive blow jobs, musicians need cheap eats. And then as now, nothing fits the bill quite like a Gold Rush bean roll.
For more than 40 years, The Gold Rush has been an anchor of the Elliston Place district known as the Rock Block. It's not the kind of bar that draws paratrooping travel writers or souvenir-hunting tourists. It's the kind of bar that locals keep like a secret — unpretentious, steeped in memory, impervious to trends. And its emblematic dish, in kind, is a fist-thick bean burrito that's as simple, filling and satisfying as it is resolutely unhip. As long as there are struggling songwriters, strippers, Rock Block nightcrawlers, and law and nursing students looking for a place to smoke and drink the night away, the Gold Rush bean roll will serve as a combination hangover antidote and care package of discount sustenance.
Why, you ask, am I reading about Kwik Sak-sounding fare — a burrito the size of a bean-filled tube sock — in a 41-year-old hooch hangout, when there are brand-new boutiques to be sampled, and artisanal this and reclaimed-barnwood that to be noted and notched on the civic acquisition scale? We'll get to 'em, most certainly. But don't you ever just crave something you can't get exactly the same anywhere else, even if it's nothing fancy? A Rotier's patty melt, an Elliston Place Soda Shop shake, candied yams from Swett's — something whose ability to evoke time, place and longevity is inseparable from its smell and taste?
Those items are harder to come by all the time in Nashville, a city that's ruthlessly unsentimental when the past butts up against money. Business has been tough lately on this stretch of Elliston, thanks to months of construction and parking woes. And so, on a day when the stultifying heat made a sidewalk shoe mine out of liquefied gum, I entered The Gold Rush for the first time since the last time the Scorchers had a reunion show, when J.R. Lind and I helped pass the wait for "Broken Whiskey Glass" with — well, guess. The joke is, our reaction that night was exactly what general manager Frank Hall is accustomed to hearing from folks who haven't visited the joint in a long time.
"Everybody always says, 'Hey, that was really good' — you know, like they're surprised about it!" exclaims Hall, exhaling vapor from an e-cig and downing it in his shirt pocket like a low-grade magic trick. (I did flinch, no joke.) The former Serendipity Singer came to Nashville from Minneapolis at the behest of owner Joe Davis, who came aboard in 2002. The easiest decision he made, Hall says — besides exchanging the 10-below weather back home for Music City's 55 degrees— was keeping the bean roll on the menu.
The bean roll has changed slightly over the years. In its earliest incarnation, according to Gold Rush cook and mainstay Buster Depue, who's been rolling 'em throughout his 28 years of employment, the roll came two to an order, in much smaller size than the girthy single serving of today. Over the decades, it has evolved in much the same fashion as the scattered-smothered-and-covered fare at Waffle House: one basic product available in multiple variations.
A buck extra gets you the Beef Bean Roll ($9.25) with a not-exactly-mysterious added ingredient. Two bucks brings the BBQ Pork Bean Roll ($10.25), with its porcine payload augmented with onions. Fifty cents more, and you're upgraded from coach to the self-explanatory Grilled Steak and Bean Roll ($10.75) or its vegetarian cousin, the Rice & Bean Roll, with its Spanish rice and Flashdance dunk of queso. I tried the Spicy Chicken Bean Roll ($9.25) — essentially the bean roll I'd had the last time, with the addition of shredded chicken giving off a little Louisiana Gold-like heat.
But that is not a criticism. It still had the virtues of the bean roll I remembered: the puddled cheese and gently spicy red sauce; the deftly seasoned refried beans that weren't overloaded with salt or smacking of old grease, as so many do; the proportion of roll to cheese-and-sauce to salad, which made sure every bite got some of each. Above all, it had the quality I recalled most fondly: the satisfaction of not paying a whole lot, and coming away not only full but better fed than I'd expected.
I also downed a basket of eight Gold Rush Wings ($9.75) — first-rate jumbo hot wings cooked to a ruddy crisp and a pop to the bite, lightly sauced so that my $3 shirtfront was never in danger. I'd been tipped to those by Scene music editor Adam Gold, who considers The Gold Rush without hesitation the best bar in town. It's still a musicians' hangout of considerable repute — a place where minority owner Don Brumit makes everyone feel welcome, and where you might find Foo Fighters drummer Taylor Hawkins, members of Bully and Old Crow Medicine Show, or even an Allman Brother. (Hall can't remember which one was in recently. "The one with liver damage" doesn't help much.)
But it's a much calmer place than the Wild West zone of its 1980s and '90s notoriety, when deals not of the record variety were seen transacted upstairs and the legendarily scurrilous bathroom graffiti formed a social history of who did whom (and with what caliber equipment). Depue, chilling at a front table in a blue apron and a ball cap pulled on backward, still recalls the first night he served as closing manager. A fight started upstairs, plunged downstairs and swept out the door — which seemed OK, he remembers, until the combatants came crashing back through the front window. He called then-proprietor Keith Johse in a panic. Johse, blasé, gave him the number of All Night Glass and went back to bed.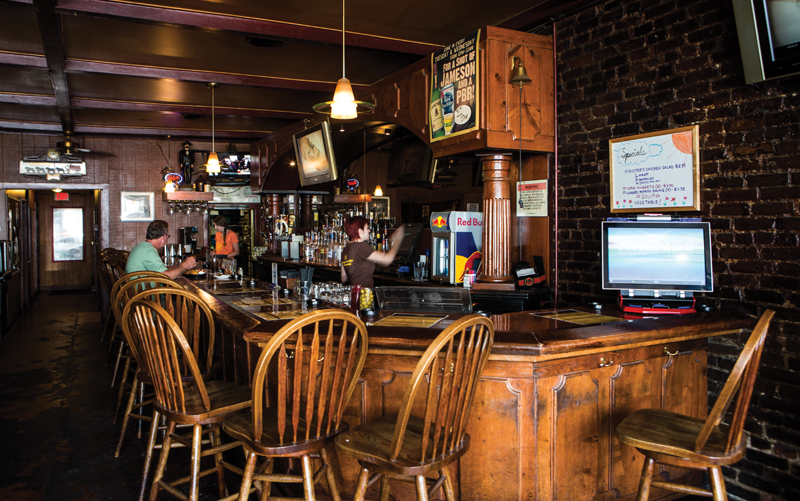 For all those crazy times, Gold Rush regulars have sweeter memories framed by those mahogany walls, which Depue says hide the numbered doors of the hotel-slash-boarding house "of some sort" the space used to be. Sarah Brown, passing through that afternoon, greets Depue with a bear hug. The local writer first entered the bar many years ago at her mother's suggestion — on her 12th birthday. She recalls years spent parsing the illicit conversations of grown-ups in the front lobby, doing her MLK Latin homework while Depue slipped her baskets of chicken tenders. She heard the midnight bells at nearby West End United Methodist chime her 21st birthday — somewhat troubling news to the Gold Rush's manager, as she'd been working there a while.
"The people here know each other, love each other, and care about each other," Brown says. "This is Cheers for me."
Today you can get brunch at The Gold Rush, with a $4 bloody Mary bar and eggs Benedict. It's said to be as (surprisingly, sorry) good as the rest I've tried. But that's not what brought one homesick customer in that day with a cooler full of dry ice, gathering six bean rolls for a ride back to Michigan. (The plot for the Smokey and the Bandit reboot just wrote itself.) It's not what's kept Cassie Turner, self-described Gold Rush "furniture," coming back since she was a teenager.
"I've been eating bean rolls for 30 years," Turner says in an all-night DJ's smoky voice — the same voice that convinced Joan Jett to shoot pool with her in the next room. Trends come and go, and oftentimes in the fickle restaurant industry, today's gimmicky 15-dollar app is tomorrow's foreclosure notice. The humble Gold Rush bean roll proves that sometimes cheap and easy can be a beautiful thing.
Email arts@nashvillescene.com