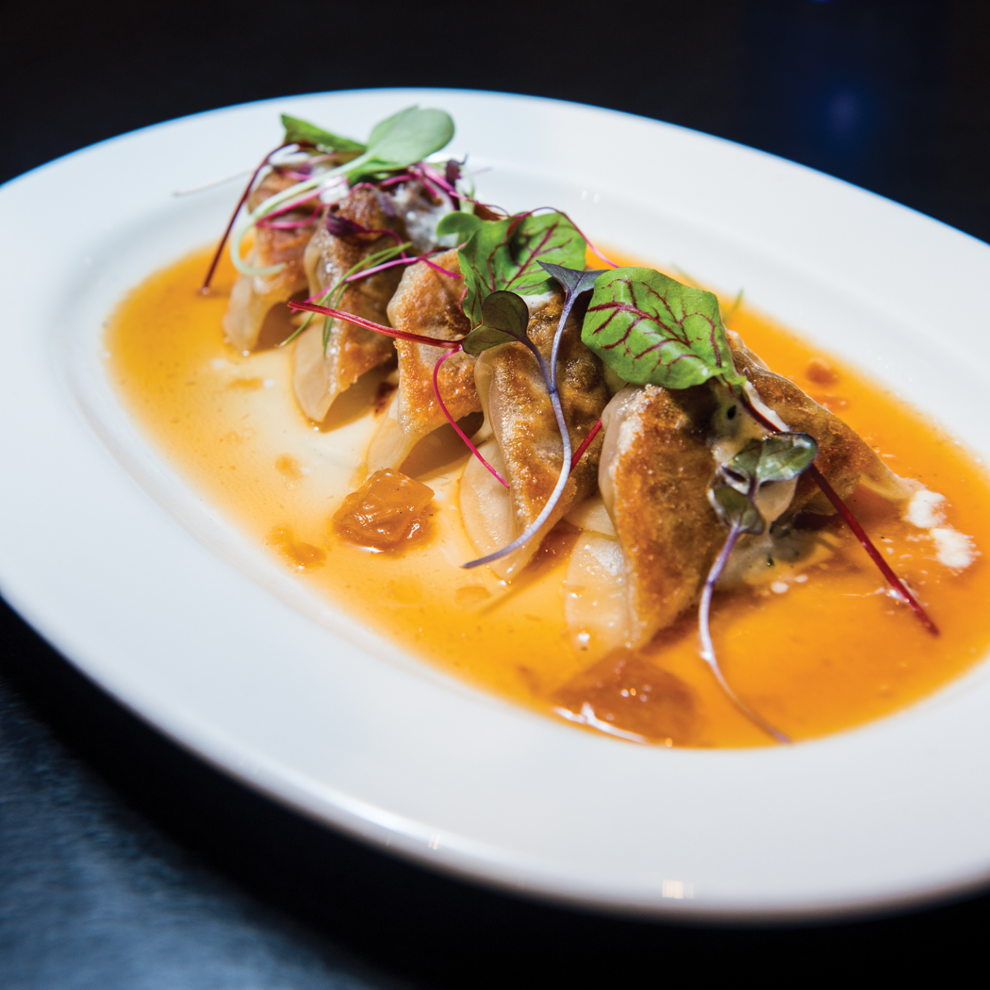 Sunda New Asian is very New Nashville. And that's not a bad thing. The project of celebrity restaurateur Billy Dec, and a sister spot to Dec's original Sunda in Chicago, the new Sunda presides over the Gulch in the street-level space in the Icon tower formerly held by Mexican chain Cantina Laredo. While Cantina Laredo was exciting when it opened in 2009 — just as the Gulch was beginning to become a dining and nightlife destination — its memory pales in comparison to the sleek edifice that is Sunda.
The interior is swanky, with mirrored columns, a bar clad in stone tile, and a giant, intricately carved wooden disc on the wall. In one corner, a gilded Buddhist sculpture stands serenely in an alcove not far from two pop-art paintings of women wearing bright-red lipstick. The decor could probably be seen as slightly kitschy, but since the food delivers genuine excellence, the whole package is endearing.
The menu, under the direction of executive chef Mike Morales, features a variety of categories, including starters, salads, dim sum, noodles and rice, entrées, "Sunda Classics," sushi and more. After sampling a sizable chunk of the menu on a couple visits, I can honestly say nothing I ate was less than outstanding.
While the term "New Asian" is vague, the server on our first visit described the food as "Southeast Asian fusion." Dec is Filipino on his mother's side, and he has cited his mom's cooking as a source of inspiration. (On the first Tuesday of each month, Sunda hosts a Kamayan Feast, with an array of Filipino dishes served family-style.)
Normally the word "fusion" strikes fear in the hearts of experienced diners, but Sunda pulls off the concept with panache. A good example is the garlic crab noodles. The dish starts with longevity noodles (long wheat noodles that symbolize a wish for a long life) and fresh crab, scallions and fried garlic. Sounds good, but what's really distinctive is that it's all tossed in garlic butter. It's rich and glorious. I don't typically think of butter as a Southeast Asian ingredient, but it pops up quite a bit in Sunda's menu. And it reflects what seems to be a theme at the restaurant: taking traditional dishes and pushing them over the top with some kind of creamy sensation, e.g. melted buttery goodness.
I think I could eat those noodles every day of a very long life and never tire of them.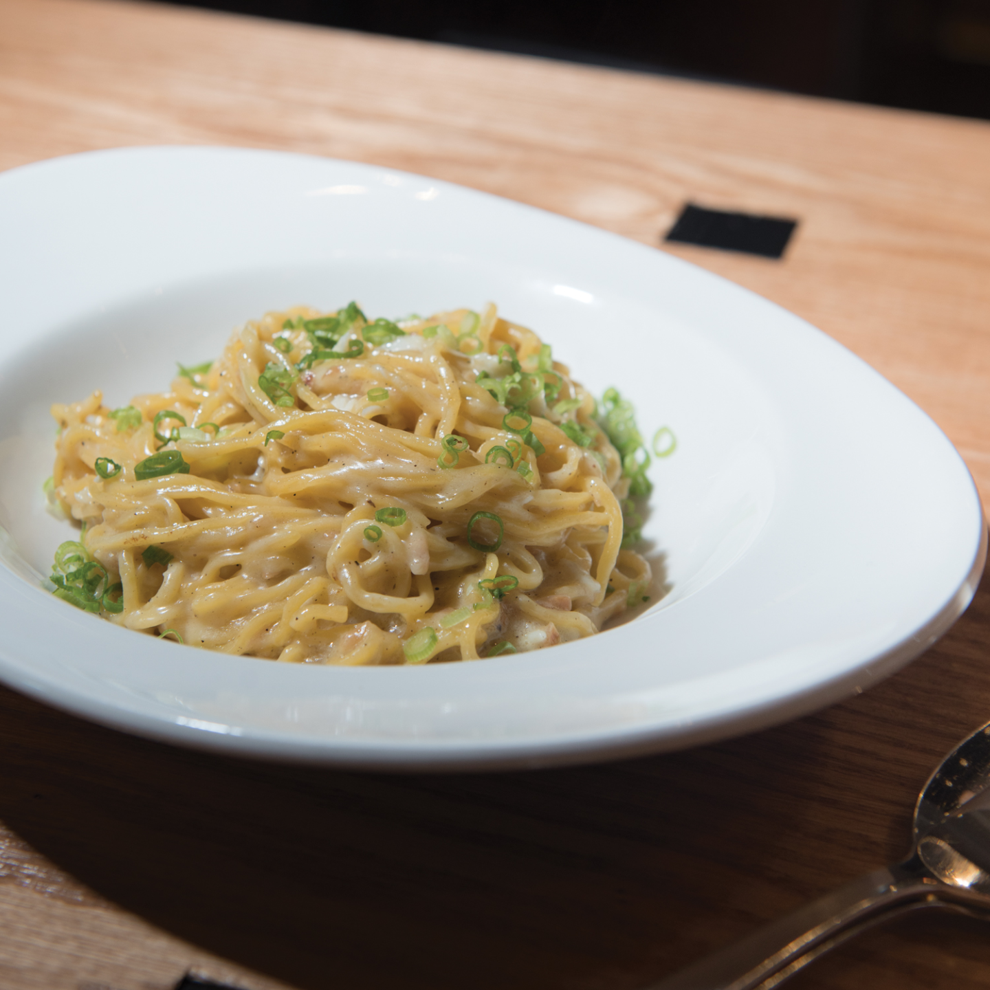 Another example of a novel but highly successful take on tradition is Sunda's Signature Crispy Rice; the dish I sampled was the spicy tuna version. The base of each of four nuggets is an oval of pan-fried sushi rice, glazed with soy sauce. That seems heretical to what I know of the rules of sushi rice. But topped with a complementary oval of rich maguro (tuna) bathed in rayu (chili oil) with chives and jalapeño, it's an exquisite blast on the palate.
When it comes to the dim sum portion of the menu, I'm partial to the oxtail pot stickers. I love the popular dumpling that we Westerners call pot stickers, but I've never before had ones filled with the rich braised beef that an oxtail yields. With a jus that features caramelized onions and a side of white wasabi sauce (an echo of the traditional horseradish sauce that is ubiquitous with beef in the West), it's a very delightful plate to share.
And that reminds me: On every visit I made, the servers stressed that Sunda's entire menu is designed for sharing, and the dishes arrive at the table whenever they're ready, instead of being rigidly timed. It's an increasingly common approach, and a more modern way to dine with friends. I like it.
Much of Sunda's menu could be described as small plates, but a stunning (sharable) entrée is the crispy pata. It's a variation on a Filipino classic: a pork shank braised in moist heat confit-style, then fried for a shockingly crispy exterior. It's a pork lover's delight, and served dramatically, with the shank bone standing vertically and the succulent meat arranged around it for plucking and dipping in two sauces — a sprightly garlic vinaigrette, and a gravy that gets extra depth from … foie gras. It's a memorable dish, and while you could conceivably eat the whole thing yourself, it's better to share it with a couple of carnivore friends.
Now to speak of desserts. As one of my dining companions recalled, there was a time when dessert was an afterthought at most Nashville restaurants, rarely made in house, and usually treated like an obligatory check-padder. That's emphatically not the case at Sunda. The coconut cheesecake has a depth of flavor far beyond standard dessert fare. The filling is a rich coconut mousse with a graham-cracker crust that tastes buttery and fresh, and is enhanced with coconut caramel and berries. Another dessert, given the whimsical name "Ridiculous," is an elevated take on fried ice cream. The center is chilly vanilla ice cream; the deep-fried exterior, instead of being a standard pastry coating, is made of delicate ginger-carrot cake. Caramel sauce and glazed walnuts complete the delicious package.
Sunda has a respectable wine list and a slate of intriguing cocktails that I haven't yet gotten to try. The restaurant definitely has a nightlife vibe on weekends, which brings me to my only quibble: When we visited at 8 on a Saturday night, the music was deafening. We could barely hear our waiter. I know blasting high-energy music is standard practice in restaurants cultivating a lounge-y, party vibe, but as diners we struggled to communicate our order over the clamor. Luckily, the volume dropped as the evening wore on, and noise wasn't a problem during visits on Sunday and Wednesday nights. 
As a nod to inclusion, Sunda has separate gluten-free and vegan menus. Another thing gratifying to note: On my visits, I realized that the restaurant crowd, including both staff and customers, was a lot more diverse than is typical in Nashville's fine-dining scene, which remains disproportionately white. Let's hope that bodes well for the future of dining in Nashville.
Owner Billy Dec, it's worth noting, is something of a celebrity in his own right. In addition to having founded multiple restaurants and nightclubs over the years, he's a TV personality. (Did you see him making Fourth of July jello shots with Megyn Kelly last month on Today?) He's also an actor — his most recent credits include Empire and Criminal Minds, and he played himself in the Entourage movie. He even has his own movie production company. (He's also a friend of Obama, having served on that White House's Commission on Asian Americans and Pacific Islanders.)
If all that activity seems like a potential distraction from the business of running a restaurant, the evidence from Sunda Nashville, at least, indicates otherwise. The quality of the food goes far beyond what we used to expect along that stretch of the Gulch, and the service is also very good.
I'm pretty sure that Old Nashville (pre-"It City") wouldn't have attracted a splashy, high-quality restaurant like Sunda. 
Score one for New Nashville.