That first sip can be weird.
Not everyone knows what to do when oversized gelatinous tapioca pearls first swirl around inside their mouths. Chew them like a gummy bear? Swallow them like a pill? It's such a perplexing experience that both YouTube and Instagram are filled with videos capturing people's reactions as they pop their first boba bubble.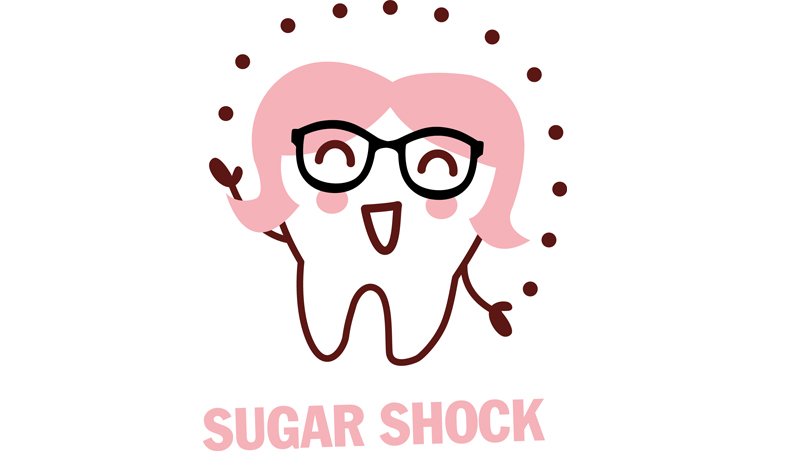 Some bubble-tea first-timers fall in love instantly. When Hillary Clinton tried the drink, the former secretary of state (then a campaigning presidential candidate) happily exclaimed, "I've never had chewy tea before!" before taking another sip. She said it was delicious. But others haven't been wooed so easily. 
When my husband took his first sip, he looked as though someone were waving a rotten fish in his face. His lips puckered, his nose wrinkled. "It offends my textural palate!" he later exclaimed when I pressed for explanation. Another unsuspecting friend admitted to loving the taste of the drink — a fruity wintermelon base — but was so turned off by the texture that she gingerly picked each boba from her mouth after sipping, placing the pearls on the lid.
"What a waste," I thought to myself as I fought the urge to pour her discarded pearls into my own cup. I love bubble tea. I love biting into each orb and squishing its rubbery, gummy center between my molars, releasing the delicate and sweet brown-sugar flavor upon my tongue. It's as satisfying as crunching a rogue tomato seed between your teeth.
The drink was invented in Taiwan in the '80s, either by a woman in Tainan or a man in Taichung, depending on which story you believe. And the good news for others who, like me, can't get enough boba, or as it's also known, pearl milk tea, pearl shake or tapioca tea: Nashville is currently experiencing a bit of a bubble tea boom. Three new bubble tea shops have opened across the city over the past 15 months or so, echoing the drink's growing popularity across the world. 
Instead of competing with one another to offer the best version of the same thing, the three shops — Royal Boba in West Nashville, Bubble Love in the Nashville Farmers Market, and WIN Bubble Tea in South Nashville — all offer their own unique takes. That's the beauty of bubble tea: It's highly customizable, so you can make it fit your personal taste. Want something fruity and refreshing? You can get a frothy and ice-cold juice-based tea sans milk. Don't love the chewy texture of tapioca? Fill your cup with popping boba, juice-filled balls that burst when you bite them. You can experiment with the level of sweetness and the flavor of tea — if you don't like your first sip, try it again. There's a bubble tea for you. Here are three great places to check out in your search for the perfect cup of boba.
---
Royal Boba
265 White Bridge Pike No. 101, facebook.com/RoyalBobaNashville
Royal Boba opened its doors in January 2018, and its menu is the most customizable of this group of bubble tea newbies. Bubble tea is usually made with shelf-stable powders — powdered cream, powdered flavorings — but Royal Boba makes its drinks with your choice of fresh whole, soy or almond milk, options you won't find at most other boba shops. The sweetness level is adjustable on a scale of 0 to 3, and the shop also offers an assortment of toppings. Are the oversized black tapioca pearls not your jam? Try basil seeds, tiny black seeds that form a gelatinous coating in liquid, or assorted fruit jelly, brightly colored cubes that taste like those syrupy fruit-cocktail cups from grade-school lunch. (Mmm, I loved those cups.)
Beyond the fixed menu, Royal Boba also offers a specialty drink every month — March's Coconut Sago Mango was like a drinkable dessert. The base was made of frozen mango blended until smooth and poured over creamy coconut sago, a pudding mixture of tiny tapioca-like pearls cooked in coconut milk. It was decadent and unlike any drink I've had at other boba shops. For something more traditional, try the Tiger Brown Sugar. It's the classic boba version with black tea and milk, but sweetened with brown sugar instead of cane sugar, giving it a deeper, more caramelized sweetness. 
---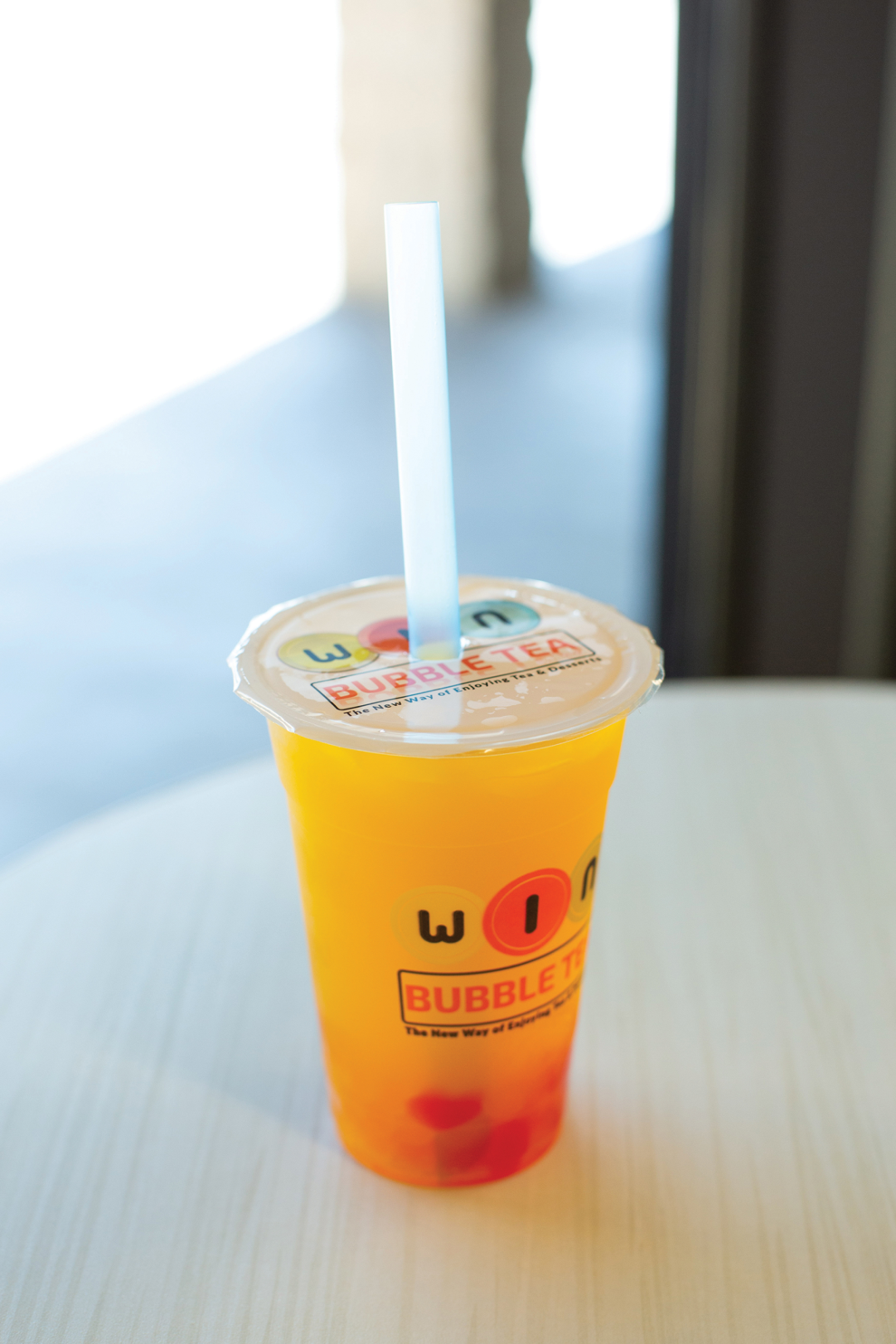 WIN Bubble Tea Shop
3929 Nolensville Pike, winbubbletea.com
Tony Nguyen's WIN Bubble Tea Shop originally opened in Plaza Mariachi's food court, but just last month it relocated to a new space across the shopping center's parking lot. At WIN, most bubble teas are made with a Hawaiian jasmine tea base, giving the drinks a delicate floral flavor. And the flavor selection is something to behold — milk tea is available in taro, mocha, honeydew, wintermelon and more, while fruit tea comes in rose, lychee, mango, pineapple and strawberry, just to name a few. WIN also serves its bubble tea in slush form, in flavors like taro, Thai tea, and passionfruit. There are 24 flavors total.
Like Royal Boba, WIN also offers several topping options, but they serve them up DIY style — while they get to work on making your tea base, you fill the bottom of your cup with your own mixture of boba, popping boba or a variety of jellies. (The strawberry hearts are a little medicinal-tasting, but they're super cute.)
---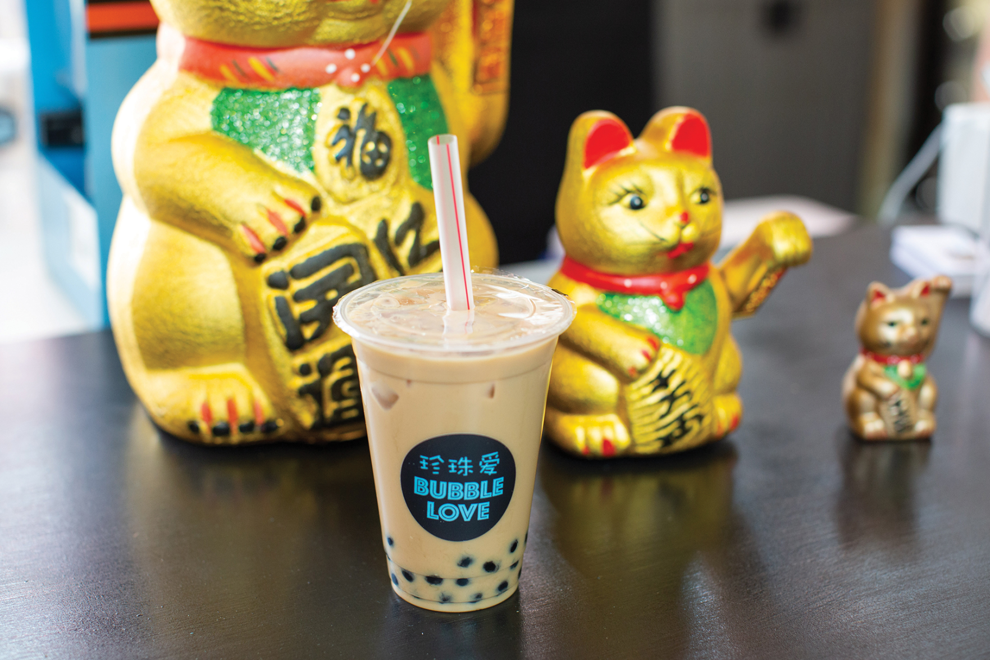 Bubble Love
900 Rosa Parks Blvd., bubblelovenashville.com
Anna Fields opened Bubble Love at the Nashville Farmers' Market in the summer of 2018 after living in Southeast China for nearly 10 years — she knows bubble tea. And with Bubble Love she's aimed to perfect the traditional version of the drink. The Caramel Latte Milk Tea I had on a warm spring afternoon was sublime — a bit sweet but still refreshing, and each boba was perfectly chewy, a bit more firm than the other versions, just the way I like it. If you're new to bubble tea, start at Bubble Love. There are no extra toppings and no extravagant flavor combinations to distract you — it's a small but serviceable menu of traditional flavors including classic milk, chocolate milk, taro milk, pomegranate, kumquat and lychee. It's the perfect introduction to the classic drink.