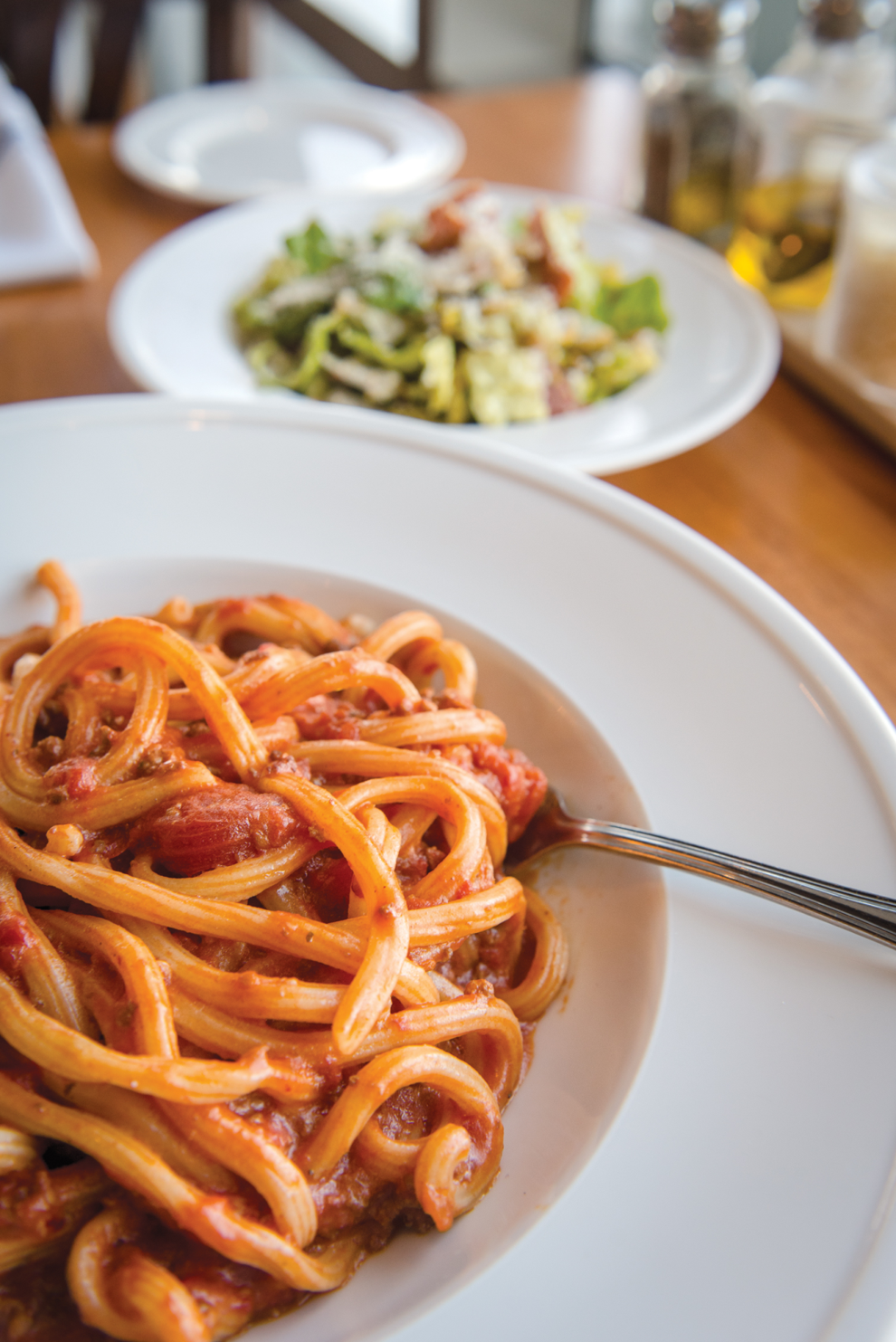 Everyone's had that crush: somebody laid-back, attractive and fun, but not necessarily your go-to guy for consistency. Sometimes he's completely charming; other times he shows up late, wearing sweatpants and smelling like weed. When he's good, he's very good. When he's bad, he's a mess. And sometimes he makes you feel fat. That's my relationship with Pastaria. I love a lot about it, but it's getting hard to ignore the problems. The food is good — at times great — but the service can be slow, confused and inconsistent. And the time has come for us to talk.
Let's start with the white bean hummus: an earthy Italian dip packed with pecorino, basil and walnuts. Garganelli pasta is deep-fried to create "chips" reminiscent of a hefty pork rind, and dunking the crunchy corkscrew chips into the creamy dip is a playful, unique way to start a meal. (Unfortunately, this dish is no longer on the menu.) To wash that down, I ordered a martini — or rather, a "filthy-dirty vodka martini." It was salty, so that was good ... but it was also sweet. I tasted it three times before Googling whether a dirty martini should ever conceivably have vermouth in it. It should not. Now, I didn't send it back, and that's on me. But I've seen so many dipshits terrorize waiters and ultimately be wrong that I don't correct people unless I'm completely certain that I'm right. But the Old Fashioned I got on a return trip was solid, so somebody somewhere knows something.
The crispy risotto balls are proof of that. Made with mozzarella and grana padano, they're heavy but crowd-pleasing — a friend of mine said, "These are amazeballs!" Naturally, I murdered her for being a complete tool, but it's still evidence that they're a hit. The heaviness of the small plates, though, is an issue. Sure, you can split a salad, but when a group goes out for pasta, one lighter, more shareable app might be better. But the salads are fantastic. Like Elaine Benes, I love a big salad, and Pastaria's sour-salty chopped version is full of crunchy, hearty things — chickpeas, green olives, pistachios, pepperoni — and topped with a red wine vinaigrette. The minestrone was also fresh and tasty, bursting with tomato flavor and a cheesy aroma. But it was missing the cranberry beans, making it more of a tomato soup than a minestrone. By definition, minestrone doesn't have to have beans, but if they're listed on the menu, it probably should. 
It's little things like that that tell you something's off — restaurants are like serial killers in that way. I'm loathe to use the word "potential" about a place owned by Gerard Craft, a chef who has several successful restaurants and a friggin' James Beard Foundation Award (not just a nomination — he won), but here we are. The original Pastaria in St. Louis thrives in a competitive Italian-American market, and it's easy to see that the recipes aren't the problem. It's the execution that keeps making me wonder: "Who is in charge here?
To illustrate, I present The Chicken Panini Incident. The sandwich was well-balanced with juicy dark meat, a sweet tomato-mustard sauce and crispy, acidic giardiniera. It was going to be my new go-to lunch until I discovered that half of one side had been charred completely black and placed face-down in the to-go box. The weirdest part? Only half of one slice of bread was burned, which seems to indicate the two halves came from different sandwiches. "WHO THE HELL CARES?!" you might ask, and I'd be inclined to agree in some cases. But here I think it's proof of some real back-of-the-house nonsense. I've had to wait 30 extra minutes on an order, and my poor Postmates delivery driver once had to wait an extra hour. Five months in, a restaurant has two choices: Figure out your to-go game, or get rid of it.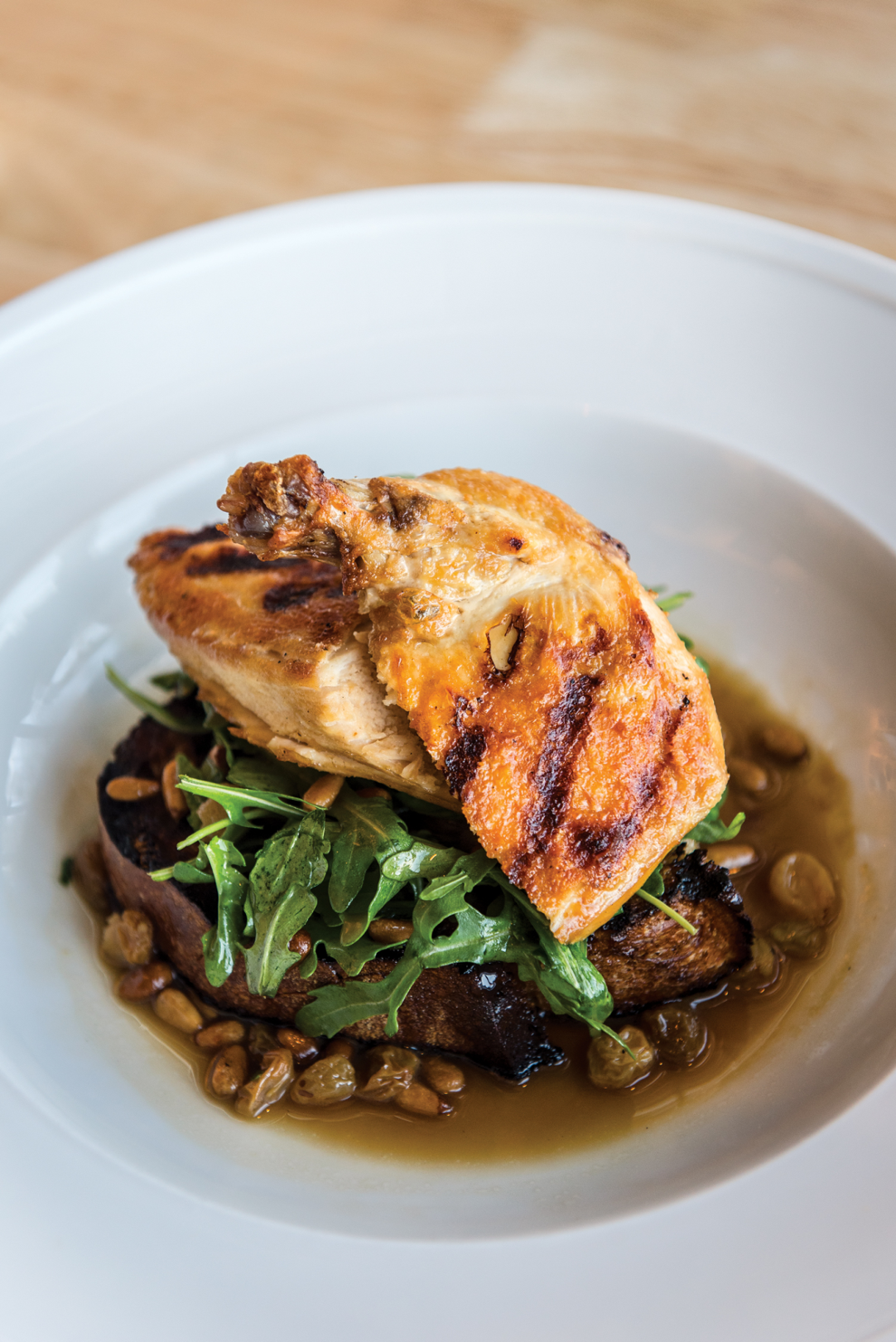 After that, I decided our next supper would be our last — and then those tricky bastards went all Vanessa Williams on me and saved the best for last. The chicken entrée was outstanding: grilled breast served on thick, crusty bread to soak up all the savory juices. Topped with arugula, pine nuts and pickled golden raisins, it was hearty, robust and worth going back for. Pastaria's pomodoro was also superb: tangy, salty and slightly sweet. It's a dish you taste and say, "This is good," and then, "No, seriously — this is good." And then you shove a forkful into your friend's mouth, and they agree. The cacio e pepe was rich and delicious, with ridged noodles trapping all the creamy, peppery cheese sauce. The "Italian Ramen" was fun and satisfying: spaghettini, soft-cooked egg, chicken, basil and an umami-filled Parmesan broth that seeped into every noodle. I also loved the spicy bucatini all' Amatriciana with red onions, chili and guanciale (cured pork cheek). But the bucatini with lamb ragu blew them all away. 
Bucatini is that spaghetti noodle with a hole down the middle, and it just begs to be slurped. With tender Porter Road Butcher lamb and a piquant sauce, that dish stands up to anything at Rolf and Daughters. The only negative? The fact that I had to order it as a replacement for ravioli that came with an unappetizing, scorched brown butter sauce. This time I was confident enough to be that jerk, and I'm glad I was. Our server (shout-out to Justin!) got the bucatini to us in record time and took both dishes off our check. But really, that first plate should never have left the kitchen. As always, dessert smoothed things over. The pretzel gelato was salty, sweet and decadent — easily the best frozen thing I've tasted since Jeni's Gooey Butter Cake ice cream — and the Olive and Sinclair chocolate was rich, dark and almost bitter, in a delightful way.
And that's the bottom line: The food is good. Like, earnestly, bring-you-back good. They use local ingredients, you'll almost always have leftovers, and kids like the food and the space, which is no small thing. Families love Pastaria, and I get it. It's incredible to be able to get high-end pasta in a casual atmosphere, even if you know you might get a glass of wine when you order a Moscow mule (which also happened). I believe in Craft's cuisine, and when I go to St. Louis, I'll happily visit one of his restaurants with high hopes. But with so many restaurants opening in Nashville, you have to come cleaner than this.
The good news for Pastaria? I still can't quit you.
Email arts@nashvillescene.com