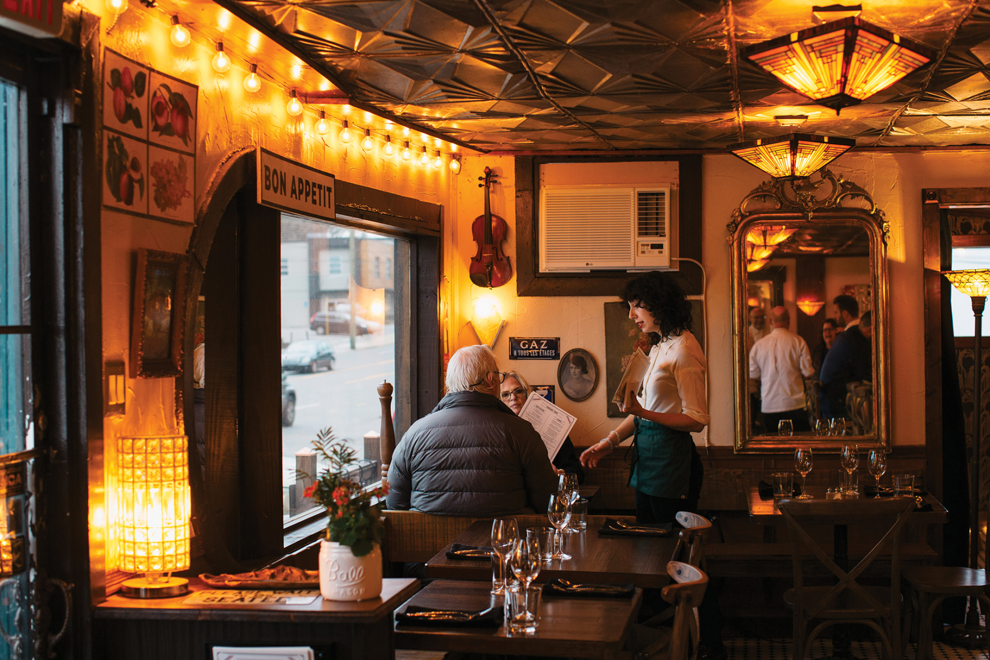 A small sign at the new bistro Once Upon a Time in France says it all: "Restaurant Familial. Cuisine Traditionelle Françoise."
Once Upon a Time in France represents something truly delightful for Nashville: A French bistro owned by a French family, serving traditional French bistro cuisine. It's the project of owner-manager Melvil Arnt, a young Frenchman who came to Nashville to work in the music business, but eventually noticed a bistro-sized hole in our city's dining scene. (Let's face it: Nashville's restaurant options are expanding explosively, but there's still plenty of room for improvement.) Arnt recruited his French chef father, Laurent Champonnois, to join him as a partner in the business, and Arnt's mother Valérie Le Rhun also signed onto the bistro's hospitality team.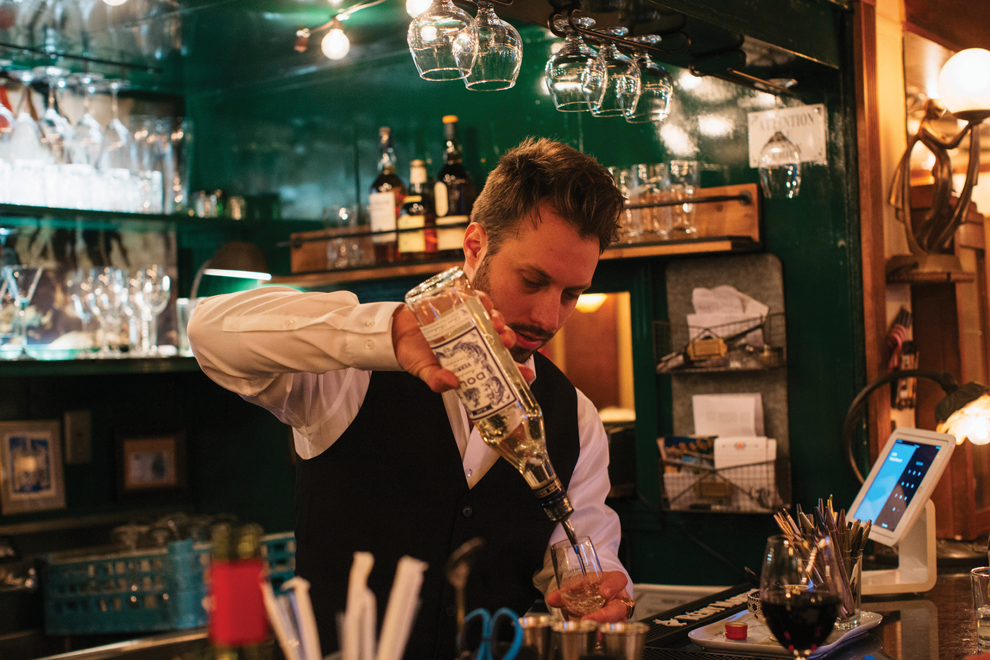 In a spectacular visual achievement, the family took an extremely humble space (the former Steak & Pizza at 1102 Gallatin Ave. in East Nashville) and transformed it into a gorgeous evocation of a 1920s bistro in France. The dining room now features a black-and-white checkerboard floor and warm-hued stained-glass light fixtures; a small marble-topped bar takes center stage. Various mementos adorn the walls, suggesting items turned up at a particularly charming thrift market in France. A tiny side room where patrons sip drinks and wait to be seated is full-blown art deco, with gilt-patterned wallpaper and brass lamps. All the rooms are united by tin ceiling tiles pressed in a deco design. The whole effect is flat-out adorable.
The warmth of the decor is matched by the satisfying nature of the cuisine, which can best be described as French-style comfort food. The menu is small but gem-like, with a half-dozen hors d'oeuvres and a similar number of entrées.
Any bistro dinner, in my opinion, should start with the French onion soup. You shouldn't miss Chef Laurent's version, which he calls "La Soupe à l'Oignon de mon Père" ("my father's onion soup"). It's a family recipe in which the flavors of the broth are made even richer with the addition of port wine and an egg yolk. Piping hot and topped with a blanket of melted cheese, it's the ideal winter warmer. 
Another less familiar appetizer is equally hearty: parmentier de canard. It's sort of a French version of shepherd's pie, with duck instead of lamb. It's served in a shallow baking dish in which a base of savory pulled duck is topped with creamy potatoes au gratin. It's outstanding. (And it makes one feel grateful to Monsieur Antoine-Augustin Parmentier, the 18th-century food sage who popularized the potato in France.)
On the entrée side: Steak frites, or steak-and-fries, is a French bistro classic, and certainly has been available in Nashville before, but this version includes an extra dollop of Gallic cuisine: Your steak is topped with your choice of classic French sauces, including anchovy butter, roquefort sauce and sauce au poivre vert (green peppercorn sauce). The steak is sizable at 350 grams — that's more than 12 ounces — and is accompanied by a heaping haystack of crispy, thin-cut fries.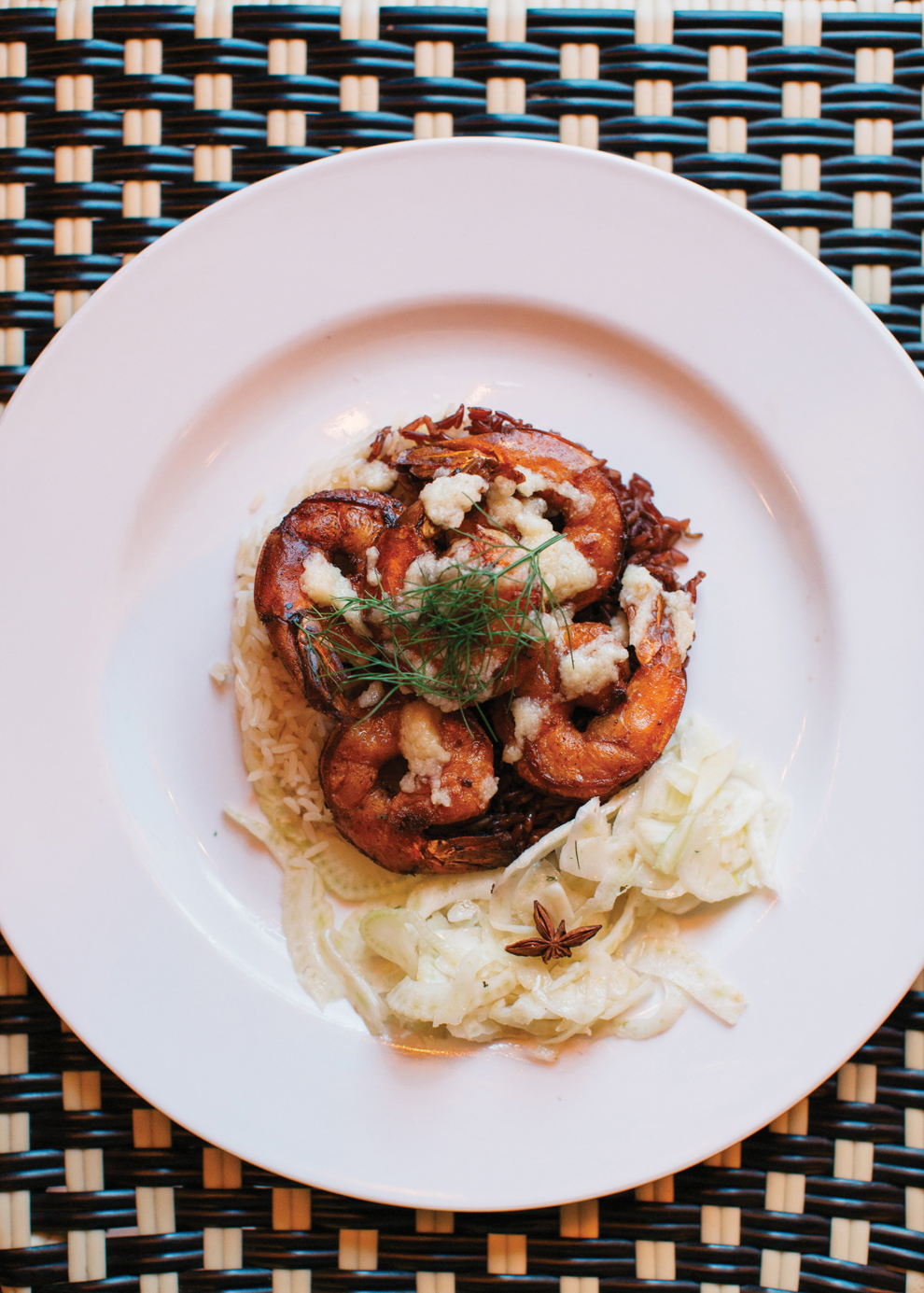 If you're more inclined toward veggies than boeuf, there's Le Régal Provençal, a vegetarian dish where minature squares of buckwheat pasta are topped by one of France's most famous rustic specialties: ratatouille, a melange of vegetables including zucchini, eggplant and tomato, and in this case, adorned with a couple of delectable spears of fried asparagus. Laurent imports the tender pasta from the French Alpine region, where they are famous. Though I'm a meat eater, I found the entrée plenty filling, and you can also request a vegan version, served with rice instead of pasta.
Perhaps the prettiest dish is crevettes à la Marseillaise, featuring succulent shrimp flambéed in pastis (an anise-flavored spirit), served on a bed of both white rice and red rice from the Camargue region of France. It tastes as delicious as it looks.
Newly added to the menu is another satisfying entrée, poulet à la crème: a moist chicken leg, deboned and stuffed with fresh tarragon, served with rice and a killer cream sauce, studded with exquisite locally sourced mushrooms. Again, it's comfort food — shades of an American weeknight casserole, but gloriously assembled in a much more sophisticated way. (Laurent decorates the end of each chicken leg with a classic paper crown, a defiantly old-fashioned touch.)
It's a splendid menu, and here's the kicker: The most expensive item is the steak, at a mere 20 bucks. That's not exactly a giveaway, but it's far less than what Nashvillians are used to paying for a good steak.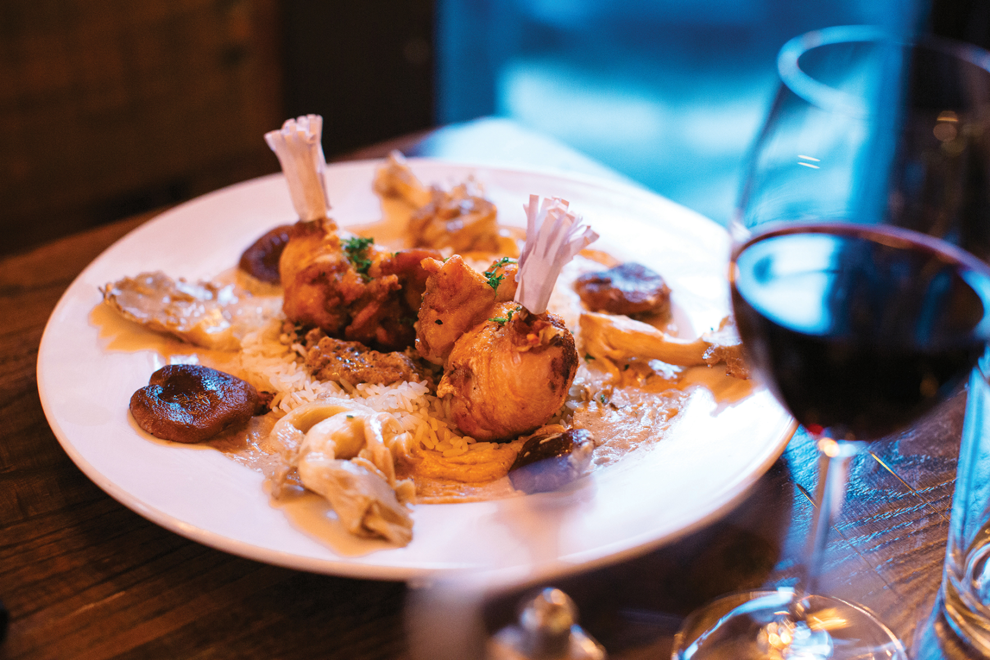 You may find yourself splashing out a bit more for a cocktail or a glass of wine. Once Upon a Time in France, not surprisingly, has a great selection of French wines from various regions, plus cocktails and a hearty list of European beers (including Kronenbourg 1664, described as "the French Budweiser"). It's unlike any other drinks list in town, and a very welcome amenity. And again, the prices are reasonable, starting at $5 for a glass of the house red. Even the bottles of wine don't seem to be marked up excessively, though if you want to splurge you can ask to see the separate reserve list.
Once Upon a Time in France is a marvelous place to hang out and recharge, and if there's any caveat, it's that the joint is always jumping — meaning it can be hard to get in. The restaurant doesn't take reservations, and there's only a small waiting room available. But don't give up. Cruise by at off hours and check out the line. Also, since the business just opened in December, it's possible the crowds may ease up eventually.
A golden hour is right at 4:30 p.m., when the restaurant opens. You may feel like an old fogy eating so early, but it's worth it to be swept away on a cozy culinary visit to France.