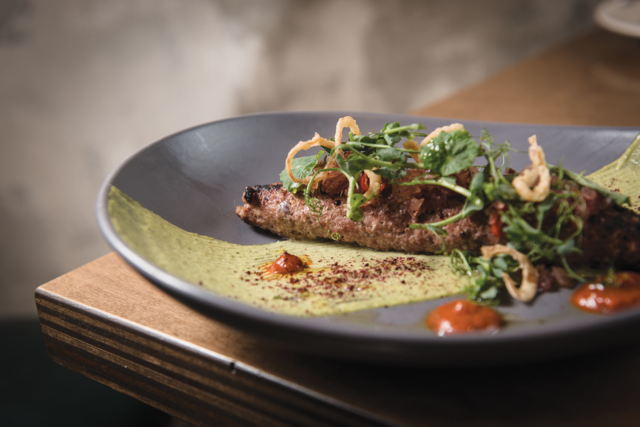 Lamb keftaPhoto: Eric England
As Nashville's champagne-supernova explosion of new restaurants continues (apologies to Noel Gallagher — and it's really more of a prosecco supernova), it seems many promising new food-and-drink businesses veer away from traditional dining orbits like Hillsboro Village and West End, landing in less obvious locations. There's currently a new triangle of fine-dining spots to be found in East Nashville neighborhoods west of Gallatin Avenue. This trio of new restaurants includes chef Philip Krajeck's excellent Folk, the creative Iberian oasis Peninsula, and now Lyra, which calls its cuisine "modern Middle Eastern," combining "flavors rich in history with elevated plating and an effortlessly modern feel."
However you describe it, Lyra is superb.
The restaurant's location, a former grocery store on West Eastland Avenue, actually dates back a few years in Nashville's dining boom. The space formerly held Holland House, a pioneering restaurant and cocktail haven that opened in 2010 and had a seven-year run before closing last year. (Holland House's sister restaurant, the popular burger juggernaut Pharmacy, continues to operate around the corner.)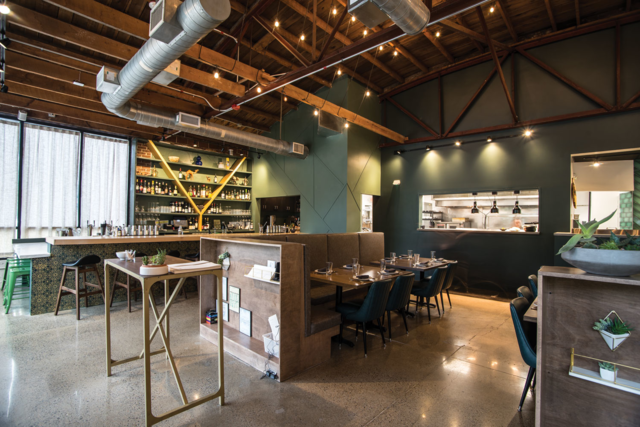 LyraPhoto: Eric England
The Lyra team — headed by two restaurant veterans, chef Hrant Arakelian and his wife Elizabeth Endicott — completely transformed the space. Holland House was cocktail-centric, with a large bar dominating the center of the room, surrounded by seating built on various levels for a convivial, conspiratorial speakeasy feel. Lyra also has a convivial vibe, but the room feels fresh and open. The bar has been moved to one side; the seating is all on one level; and the expanded open kitchen reveals an emerald-tile nook with a brick oven where a chef constantly works to replenish the supply of fresh, hot pita bread.
The restaurant is a labor of love, 10 years in the making, for owners Arakelian and Endicott. Arakelian, who grew up in Nashville, is of Armenian descent — a major inspiration for the food. Initial reports indicated Lyra would be a Lebanese restaurant, but Arakelian says he decided he wanted the freedom to draw flavors and methods from across the Middle East region. His lengthy résumé includes serving as sous chef at Deb Paquette's much-loved former restaurant Zola, as well as stints at Rumours East and at Paquette's downtown spot, Etch. Endicott's credits include working at F. Scott's in Green Hills for a decade, and at Lyra, she serves as beverage director and manager. (She also pitches in on the desserts — more on that later.)
The aforementioned wood-fired oven, cranking out fresh bread before customers' eyes, is key, because the classic combo of pita and hummus holds a central place on the menu (which changes based on seasonal ingredients but is anchored by some basics). Hummus is currently offered with a choice of two sets of toppings: chili-roasted turnips and candied onions, or lamb merguez and sweet pepper puree.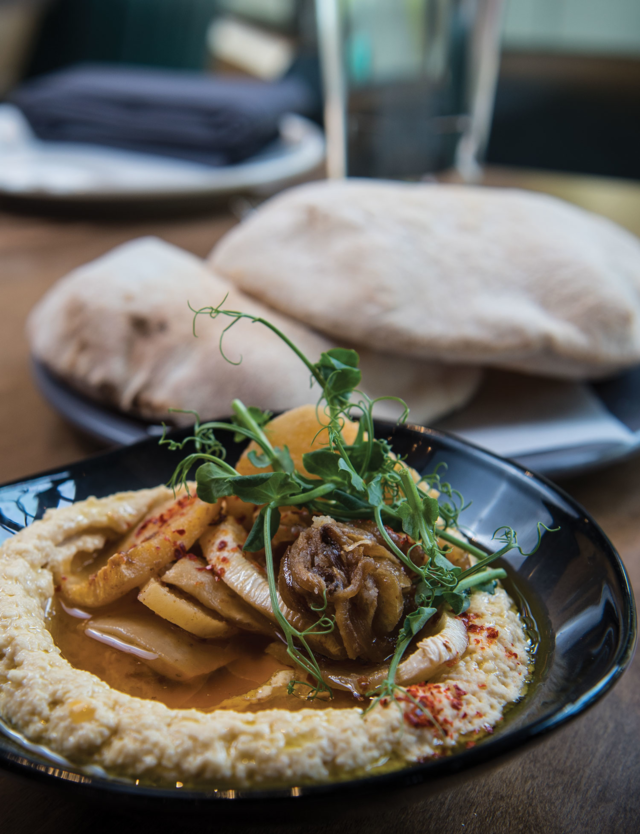 Hummus and pitaPhoto: Eric England
Both versions are great, with rich flavors complementing the smooth, nutty hummus. (If you prefer your hummus plain, you can also order it without toppings, just a swirl of aleppo pepper oil.) Warm pita makes the perfect scooping utensil for the hummus.
As is typical for new restaurants these days, the menu's backbone is a list of shareable smallish plates, all under $20, with a couple larger entrées listed near the bottom of  the menu.
On my visits, I found the smaller plates so appealing that I didn't dabble much in entrées, but I couldn't resist the resplendent date-glazed half-rack of lamb, with Omani sour rice, pickled currants and spiced pistachios. The individual chops plucked from the rack were outstanding, moist and perfectly cooked, but I also loved the rice. It's the opposite of a typical bland rice base, with a multitude of flavors from the currants, nuts and spices — and the rice texture has a wonderful crunch.
I'd order it again in a heartbeat, but as I said, the smaller plates keep calling to me. On the vegetable side, I was knocked out by the carrot kibbeh. It starts with bright, fresh carrots chopped finely and formed into a disk atop a well of sauce, featuring date-marinated cashews and fermented jalapeño. Ringing the plate are individual stalks of romaine lettuce, which you can use to scoop up the flavorful veggies.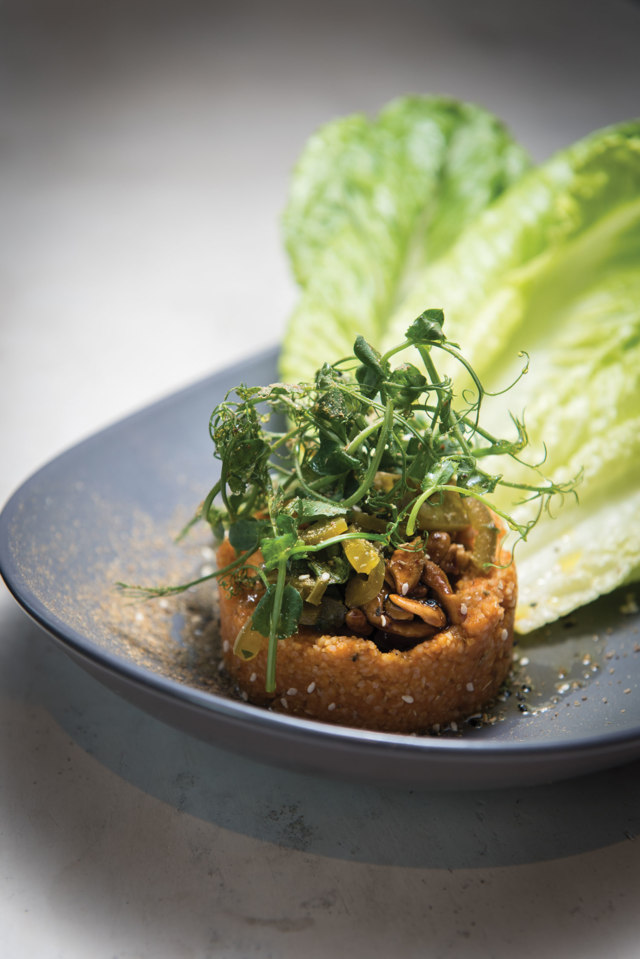 Carrot kibbehPhoto: Eric England
Lamb kefta is another winner. Ground lamb is spiced and formed into sausage shapes, served with a delicious relish of pickled watermelon rind. The beautiful plate is splashed with colorful mint tahini and topped with crispy fried shallots.
The only item on the menu that I didn't fully enjoy was the baba ghanoush, served "in its own skin." Baba ganoush, of course, is a classic eggplant dip or spread. This version served the spiced and roasted eggplant dip inside a scooped-out half-eggplant. On our visit it was topped with a yogurt-based sauce and a large heap of onions, both of which overpowered the flavor of the eggplant. But it came with a lovely example of Kurdish samoon, an oval of freshly baked bread that can be torn into smaller pieces for dipping or split open and stuffed.
Lyra's food is complemented by a small but judiciously chosen wine list and a slate of interesting cocktails, whimsically named after pop-culture heroes (on the happy hour list) and villains (on the regular cocktail menu). The Bellatrix, for example (named after Harry Potter's freaky-lady nemesis), features sparkling cava from Spain spiked with apricot and cinnamon-fig bitters. The list also provides the extra diversion of a trivia game — diners can vie to see who knows all the pop-culture references.
If you're game to order dessert, the menu offers a deceptively simple ice cream sandwich that you must try. Created by Endicott, it features a generous hunk of pistachio ice cream between two rich sesame-tahini cookies. I'd like to bring in a cooler to take home four or five.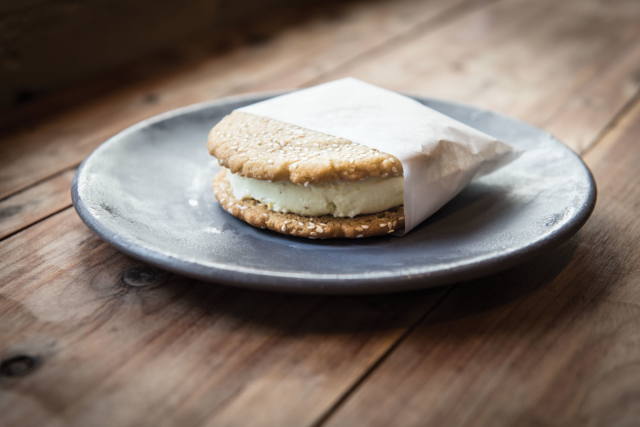 Pistachio ice cream between two sesame-tahini cookiesPhoto: Eric England
Whether you indulge in dessert or not, you may find yourself reluctant to leave the lovely dining room. It always seems to be a happening spot, attracting a variety of folks. I visited on a Tuesday night, and the joint seemed full of young women from the East Nashville scene. (Endicott says the vegetable-rich menu seems to appeal to a female demographic. I'd say the wine and cocktails are an attraction, too.) 
Because I'm a curious diner, I eavesdropped on two women at the next table. They were pondering whether they should head to Honky-Tonk Tuesday at American Legion Post 82 or drop in at another East Nashville bar. One mentioned changing into her "dressy overalls." Is that a thing? (Apparently, because I spotted another soigné diner crossing the room in overalls and heels, tossing her asymmetrical bob of platinum-white hair.)
Later, visiting on a Saturday, I noted that the crowd skewed slightly older, including couples who seemed likely to have traveled from the West Side. Endicott says Lyra has proven popular with her former customers from F. Scott's and also a wide swath of Nashvillians with Middle Eastern roots.
Lyra, I should note, is pronounced LYE-ra, and its name comes from astronomy — a grouping of stars shaped like a lyre. And Lyra is the kind of thoughtfully created restaurant that should appeal to a constellation of food-loving folks.