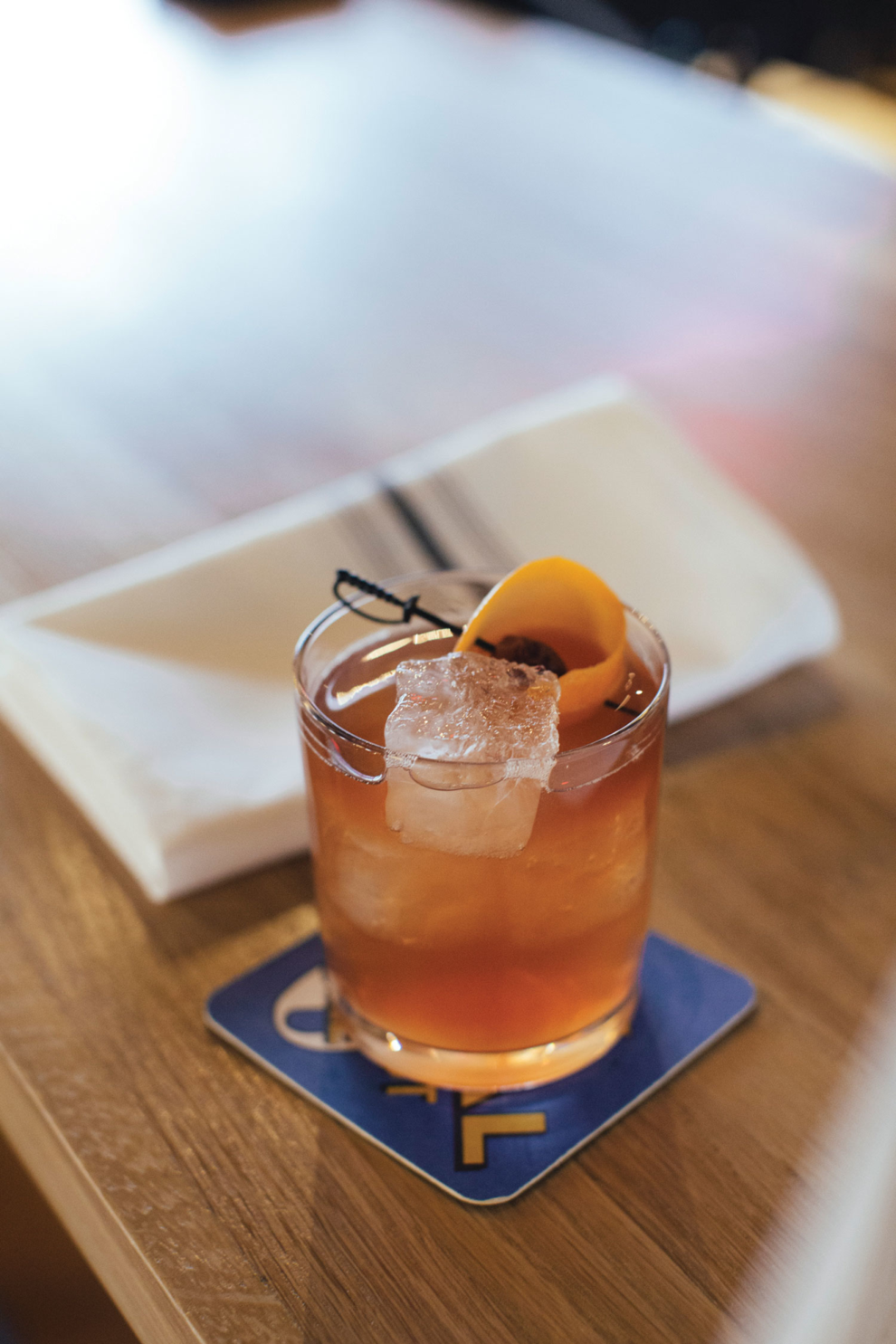 What's usually the best meal you eat all year? A lot of people say Christmas Eve dinner, or a nice meal out. True lunatics say Easter. All are wrong. The best meal of the year is the one you eat in your kitchen at midnight on Thanksgiving. The dishes are done. You're wearing your soft pants. You're finally, blessedly, alone in your own house. You pour yourself a cold beer, heat up some leftovers and finally relax.
It's a feeling as much as a taste, and if it exists in a restaurant, it's at Kuchnia & Keller. I never had an Eastern European grandmother, but if I had, I feel like she would've been my kind of broad. She'd drink people under the table while putting impeccable food on top of it. She'd want you to sit and talk a while. Most of all, she'd want you to eat something! You're just skin and bones! With her, you would be taken care of. And that's a magical thing. 
That's how I feel at Germantown restaurant Kuchnia & Keller — the name being the Polish word for "kitchen" plus the German word for "cellar" — when the würzfleisch arrives at the table. Whey-poached chicken is mixed with pan gravy, citrus and Emmenthaler cheese, which you smear on sturdy sourdough. The dish is salty, savory and pull-apart cheesy, and the lemon cuts through the rich gravy and tender meat. It is supremely satisfying. Plus "würzfleisch" (pronounced "vertz-fleisch") is just fun to say, like "Mufasa" or "Roman Josi." Is she the prettiest girl at the dance? Probably not, but she's sure as hell the one you take home.
To wash it down, you have 47 choices, and that's just the beer. It would be overwhelming were the servers not all actual spirit guides. I wanted something light with my schnitzel, an off-menu item that was like a funky, upscale Chick-fil-A sandwich. An aside: "Off-menu" (Friday and Saturday) should not be confused with "late-night," which happens nightly after 10 p.m. and includes a murderers' row of house-made hot dogs. My favorites were the stoner-friendly Hawaiian (pineapple, pork belly, tomato sauce, cheese), and the rotating guest dog, which on a recent night was a hot dog featuring giardiniera, salt and vinegar chips, courtesy of Tony Galzin of Nicky's Coal Fired. They are all good, and I say that with confidence because I ordered them all at once via Postmates. I regret NOTHING.
But that beer: Our server suggested New Belgium's French Oak Barrel-Aged Saison. I don't typically like drinks with that many descriptors, but I was hooked by the tart, earthy sour. When I couldn't find it at Red Spirits & Wine, I knew it was special. When I could only find five bottles at New Belgium's brewery in Asheville, N.C., I knew it was epic. The servers also introduced me to my new favorite pink thing (Scarpetta Brut Rosé) and cocktail: the Wisconsin Old Fashioned. Chef-owner Aaron Clemins grew up in Milwaukee, and apparently this is A Thing there: brandy, cherry, orange and lemon-lime cordial. It sounds like something filthy I would've made in high school using items stolen from my parents' liquor cabinet, but it's actually smooth, lightly sweet and insanely refreshing. That's the kind of stuff on tap at Kuchnia & Keller.
Would you expect anything less? Not if you ate Clemins' food during his 10-year tenure as sous chef to Tandy Wilson at City House. Opening a restaurant the year after your chef finally brings home a James Beard Award, as Wilson did in 2016, is a double-edged sword, especially when that chef is an investor. Everyone is watching you, which is great, but also terrifying — so you better open clean. If Clemins broke a sweat while doing it, no one saw it happen.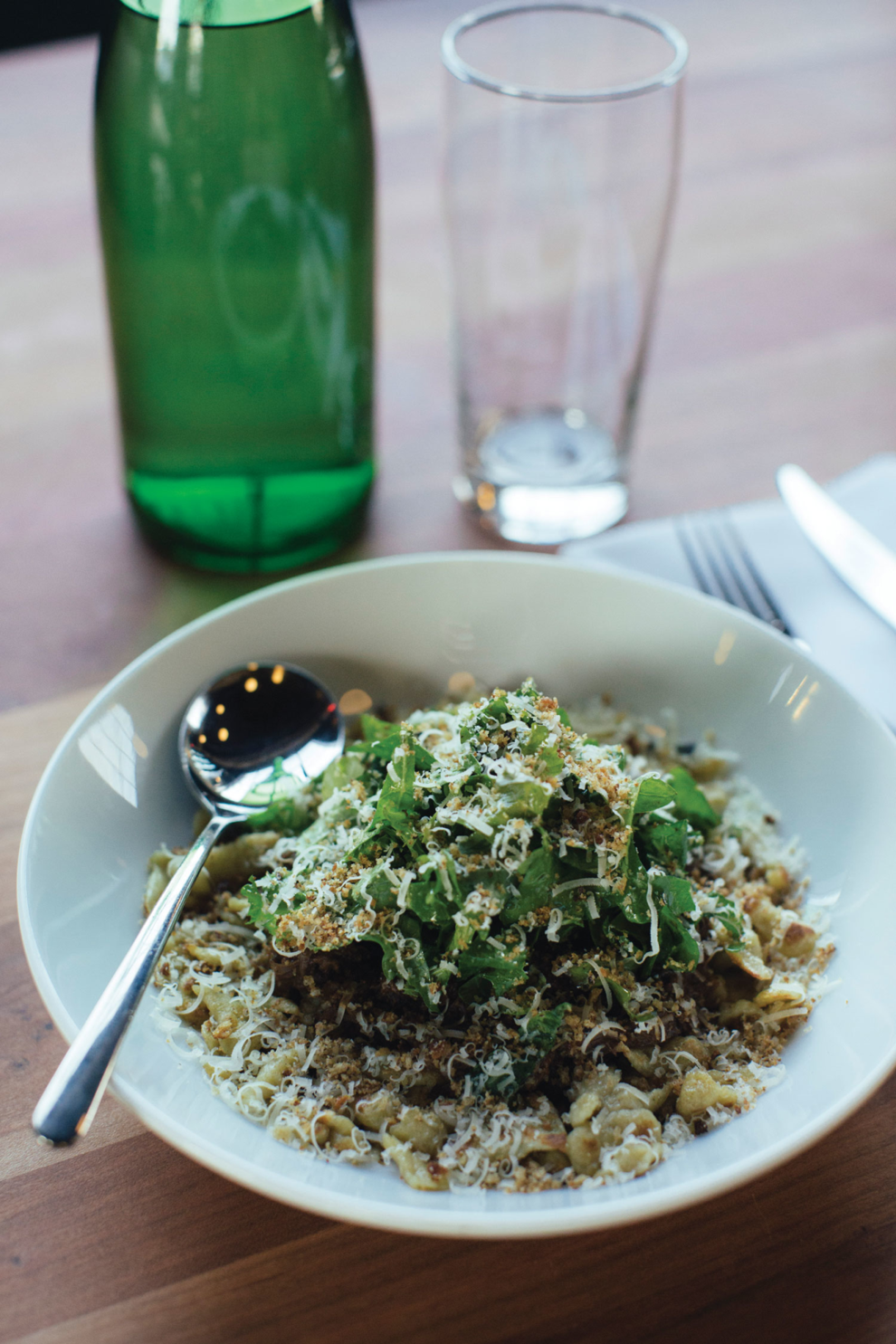 From day one, things ran seamlessly. The beef goulash with rye spätzle, kale and anchovy was exactly what I wanted it to be: meaty, creamy and something like what a fancy Viking might eat. The cabbage paprikash — cauliflower, rice, labneh, tomato — tasted like a cheesy Hungarian enchilada. Then there was the roast pork leg. Seared, sliced and topped with tomato, paprika and pecorino, it's served with butter beans, which mimic the silky pork fat, and mustard greens, which give it a punch. Cooking quality pork is an art, and this dish was sensational as much for what wasn't on the plate as for what was. It's the kind of dish every chef wants to cook.
Restraint: It's not a sexy skill. Most chefs would prefer to be "disruptive" or whatever word Silicon Valley app-makers are removing vowels from these days. But great chefs know that editing matters, especially when your cuisine may be carb- and fat-heavy. City House walks that line, and Kuchnia largely does the same.
There were a few missteps on my visits. The obatzda, Bavarian cheese spread, was sharp and creamy, but the rye was too thick, so it seemed dry, even with a slaw garnish. The ricotta kluski (think big ol' fluffy gnocchi) with mushrooms and brandy was pillowy but didn't taste like much. The beefsteak was flavorful, seasoned with Worcestershire and served with crunchy potatoes. But at $35, it's the most expensive thing on the menu, and not anywhere near the most delicious. 
That disappointment was short-lived. The braunschweiger, a parboiled sausage, was as rich as pâté and set off perfectly by spicy Dijon. The mackerel with tomato and garlic was light and smoky, with hints of pickled onion and garlic mayo. Even the Brussels sprouts, the world's most overplayed vegetable, tasted fresh with cider vinegar, fish sauce and grilled-onion crema. My favorite was the "tinned" smoked whitefish with dill gremolata. It comes with a chicken-fat-fried potato pancake so crisp it could pass muster at Waffle House. That's not a surprise: Clemins credits his first cooking job at O'Charley's with teaching him how to work hard, clean and fast. 
The sense that the people cooking for you are just regular folks is palpable at Kuchnia & Keller, even though you know they're anything but regular. Case in point: overhearing the chefs talking about sourcing stuff from Bucksnort, Tenn. (If you spent your youth riding up and down I-40, you've fished at Bucksnort, stopped there to eat bologna sandwiches, or heard the story of the escaped convicts who were apprehended there after stopping to eat that very same bologna sandwich. They were from Alabama, bless their hearts, and not long on cleverness.) Little tidbits like that, overheard while sitting at the chef's counter, make the meal for me. It reminds me of City House.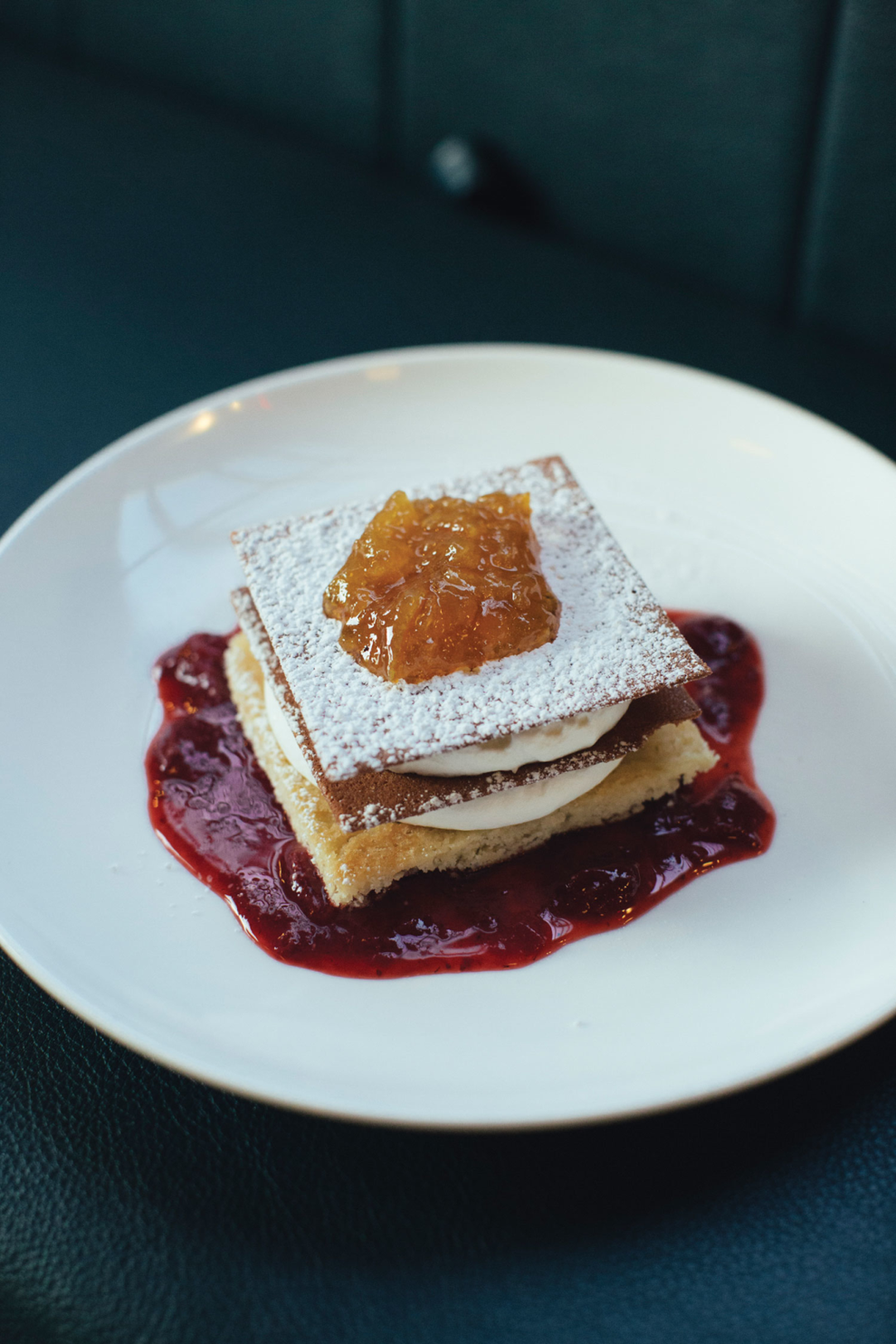 It's inevitable the two will be compared, and Kuchnia will come out on top sometimes. Personally, I find its relaxed, sleek beer hall a better fit than City House's stark, industrial space, and it's got an absurd six seating areas to choose from. I like the chef's counter or the community table, oddly enough, as the latter is typically my personal hell. I could spend some serious time at Kuchnia & Keller, and have. But the menu is heavy, and even though they rotate in lighter dishes, it may be a once-in-a-while option. That's sad, because I could eat their Meyer lemon Napoleonka every day: tuile cookies, cardamom cream, lemon marmalade, shortbread and homemade blueberry jam. Can you eat a lighter meal there? Sure. But you won't, and that may do them a disservice in the long run. 
Who am I kidding? The average American eats 3,500 calories a day, and most of them are from McDonald's. (That fact seems true, even though it's technically not.) So I'll see you at Kuchnia & Keller for a cold one soon. Perhaps in my soft pants.