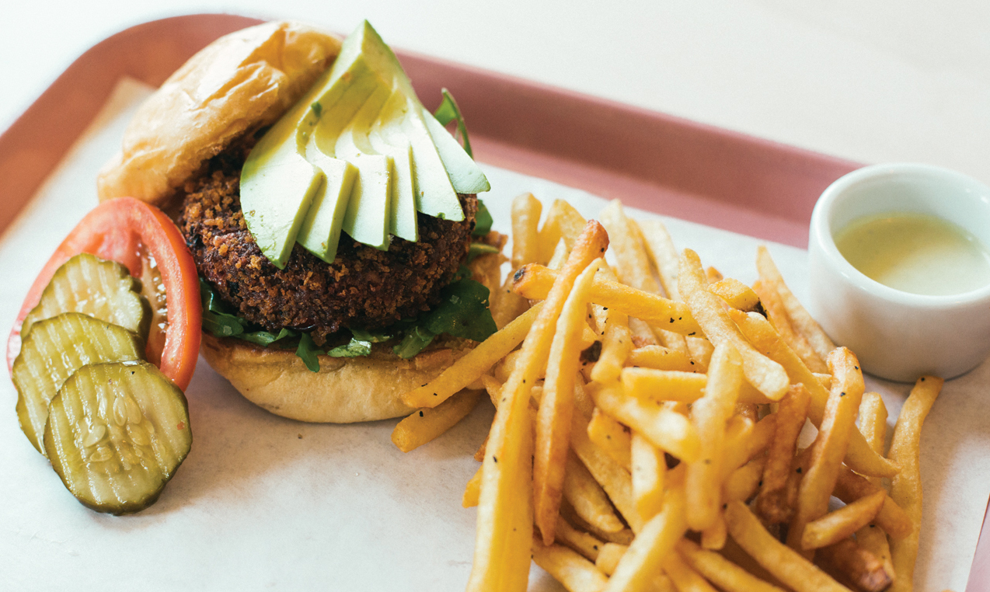 When it comes to dining at quick-casual restaurants, you're often left with a choice: Go somewhere overindulgent, where even the salads are packed with as many calories as a bacon-wrapped cheeseburger, or head somewhere "healthy," like a juice bar that considers spiralized zucchini a form of pasta.
There is little in the way of middle ground — restaurants have long been forced to brand themselves as either health-conscious or calorically overwhelming, and if an eatery dares to mix the two, it often involves the embarrassing "skinny" menu, wherein you can forgo the four-cheese pasta served in a carved-out loaf of French bread for a 200-calorie head of lettuce filled with diced jicama and dried dates.
But at Lulu in Germantown, you can have your (gluten-free) cake and eat it too. Opened by former Burger Up and Frothy Monkey owner Miranda Pontes, Lulu offers a menu that will please the health nut, the junk-food junkie and every eater in between.
Several grain bowls and salads sit on one side of the menu, bulked up with colorful, vitamin-rich ingredients like golden beets, red cabbage, edamame and sweet potato, while comforting, cheese-covered sandwiches fill the menu's other column. The 405 sandwich, for example, is an extreme BLT topped with eggs and white cheddar, and the Double Double burger has not one but two beef patties. While the bowls come with your recommended daily serving of vegetables, the sandwiches come with fries.
And let's talk about those fries, because they're the reason I immediately regretted my order on my first visit to Lulu earlier this summer. On an especially hot day — the kind where walking outside for more than five minutes leaves you as drenched as if you'd just climbed out of a hot tub while wearing your clothes — the Good Thing bowl with brown rice, edamame and fresh veggies (including radish, spinach and carrot) sounded like the perfect meal. It would be hefty enough to get me through the rest of the day, but not so heavy that I'd fall into a nap-craving haze the instant I returned to work. It was delicious! Colorful, flavorful and filling, with a tangy ginger dressing. But as it turns out, it's hard to accept soybeans and spinach as a suitable meal when Lulu's fries are sitting at the same table, staring at you from your date's plate. 
Thin, golden and crispy, just like the fries at your favorite fast-food joint, Lulu's fries are cooked in peanut oil and tossed with a generous pinch of black pepper — they feel more sophisticated than the starchy, one-note grease wands that you dip into your free Wendy's Frosty after a Preds win. Next to Lulu's fries, no grain bowl in the world stands a chance. So after enjoying just a couple fries, I returned within a week to get more, along with a veggie burger.
Lulu's veggie patty is plentiful, and it doesn't fall apart like so many others do. Veggie-patty amateurs often include whole beans or large pieces of vegetable in their patty mixture — as though black beans need to be seen to be believed — but anyone who's ended up with a wad of veggie mush in their lap knows that large chunks repel one another. The oft-ignored key to a good veggie burger is a fine grind, and Lulu has nailed it, wisely adding a bit of texture by encrusting the patty with a thin coating of crispy panko crumbs.
The veggie burger is topped with fat slices of avocado (they really do not skimp on the avocado), spicy arugula, a thick slice of tomato and two small slices of sweet pickle, and it's served with a light green-goddess dressing, similar in flavor to ranch, on the side. It's simple, but expertly prepared. I wouldn't change a thing.
A newer menu item, the arepas, weren't so carefully considered. Though tasty, their plating was confusing and messy — two dense corn cakes are cut in half and placed on their edges next to a bowl of guajillo chicken or black beans, a pile of shredded cheese, half an avocado and slices of vibrant watermelon radish.
"How do I eat it?" asked my perplexed dining companion. But with the server long gone, she dug in without guidance, attempting to build her own little sandwiches with the halves of arepa on the plate. Since the arepas were already sliced widthwise, little surface area was left when slicing crosswise — certainly not enough room to hold a pile of stewed chicken, cheese and avocado — so after much of the filling ended up on her hands, she abandoned that plan and instead piled each bite onto her fork.
"It's good, but I wouldn't order it again," she said.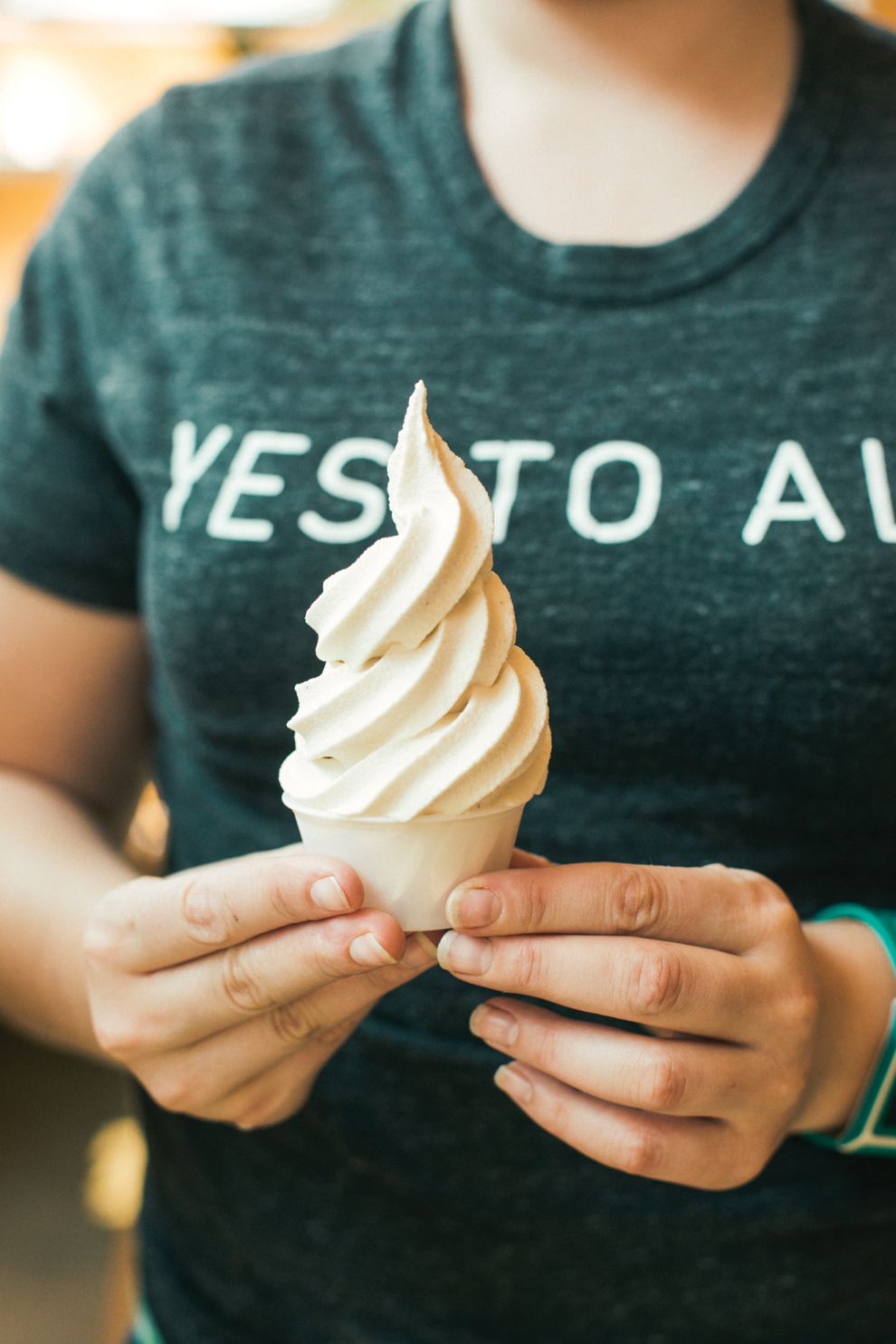 The lemon icebox pie we ordered to split after lunch was disappointing, too. The filling was far too sweet, with the sugar overpowering the lemon flavor almost completely, but thankfully that problem doesn't plague Lulu's other baked goods. The gluten-free double chocolate cookie was rich with chocolate flavor and a texture that was far superior to typical sandy-textured gluten-free goods. The (not gluten-free) chocolate chip cookie, with just a touch of cinnamon, was even better, boasting that highly coveted crispy edge and chewy center. If you want to be a true dessert genius, order two cookies and slather Lulu's free self-serve soft-serve ice cream between them.
Oh, did I not mention the totally free, all-you-can-eat ice cream yet? Lulu's soft-serve machine runs all day every day, with a rotating menu of dairy-free ice cream flavors that includes matcha, espresso, cinnamon-honey and strawberry. Grab some before your food comes, take some on your way out the door, or hell, order a shot of espresso at the bar and throw together a little DIY affogato. 
That's the beauty of Lulu — it may give you the option to obey whatever diet restrictions you're trying to adhere to ... but why would you?