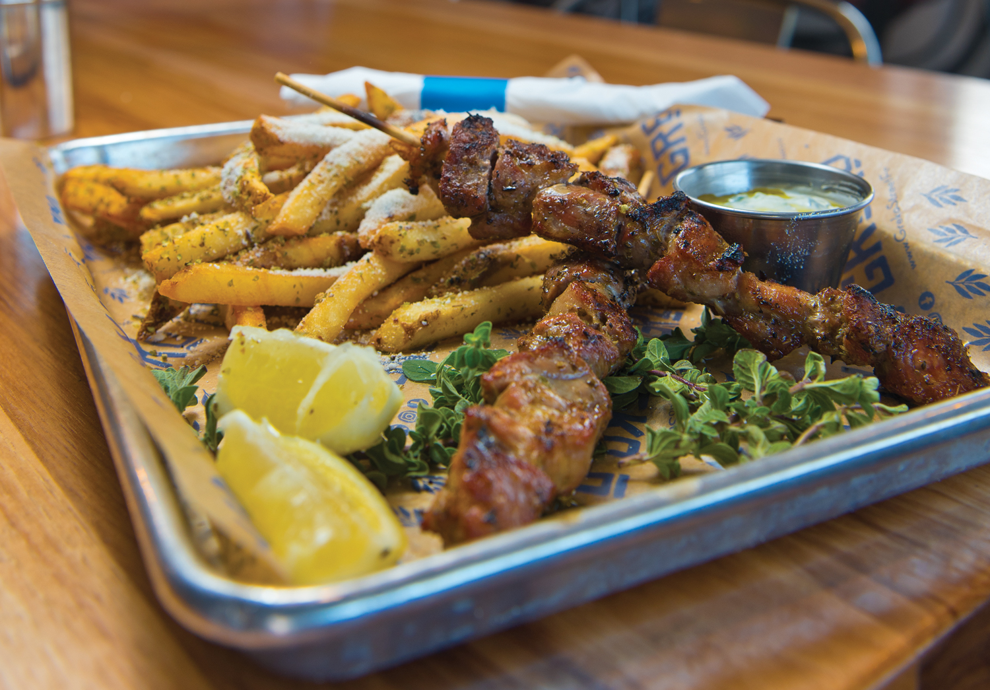 Does Nashville really need a Greek-street-food-inspired place? It depends. Do you like chunks of tender, grilled octopus on a stick, or bits of charred lamb on top of your salad? If so, keep reading. If not, what's wrong with you?
Greko Greek Street Food seems to have filled a niche I didn't realize needed filling, and I'm willing to bet I'm not alone. 
Let's start with the octopus. A few spots around town have dabbled with octopus in the past couple years — notably City House, which occasionally serves a Zen-simple version that will amaze you — but most restaurants avoid it for one glaringly obvious reason: If you overcook octopus, you might as well be serving vulcanized rubber. Greko's version is tender and served with a strong Greek olive oil, herbs and lemon. I'm willing to bet that most people who think octopus … eww (likely because of the skin texture) could be won over by these little chunks of goodness. It's a statement dish to an American food culture that seems to prefer chicken over everything else.
The beef and pork souvlaki are the traditional meat skewers that most diners will recognize, with one important distinction — they're thinner. Meat-on-a-stick fans, particularly here in Nashville, will be used to getting bigger chunks on their skewers. But my impression is that smaller is better. The Greko team uses a made-to-order approach, and the smaller pieces cook more evenly. Marinated in oregano and lemon, the pork version was slightly better, but I'd happily take either.
These are the versions that Greko owners Bill and Tony Darsinos gorged on in a research trip to their ancestral home in Athens last year. The cousins are restaurant industry veterans who grew up working in the family's local Gondola House Pizzeria (Tony runs Gondola in Hermitage now, while Bill owns Southside Grill, near Lenox Village) and have wanted to open a place that focuses on Greek food.
Overall, the menu has dishes that are steeped in traditionalism, and some that are inspired takes on Greek flavors. The horiatiki, or village salad, is a classic version you're accustomed to: tomatoes, green onions, kalamata olives and a big block of fresh feta. The roka salad is arugula and romaine washed over with a honey-balsamic vinaigrette, topped with walnuts, raisins and mizithra cheese, and surrounded by thick slices of heirloom tomato. You can choose any of the main proteins to top it, but if you don't take advantage of the charred Korinthian lamb, you're missing out. It might be my favorite thing on the menu.
The pitas are made in house, and it shows — they're among the freshest I've tasted in the city. That's a big commitment from a relatively small place, as doing pita right requires a few stages and about 72 hours. Greko wraps the pitas around lamb, pork, chicken, beef or vegetables, with tomato, red onion and yogurt or tzatziki sauce. These sandwiches are big, filling meals, served with some of the better french fries you'll find, but there's one change the Greko team could make that would take them from good to great: In three different versions of the pita sandwiches I tried, the kitchen shaved the red onions ultra fine, and in my experience, that can result in a slightly off, almost sulphur-y taste. But that's easily fixable.
On the large-format side, Greko offers a half-chicken drizzled with a house-made honey-lemon sauce (good) or a Korinthian Lamb with drippings (better), both of them served on top of fries. Even when the lamb cuts were fatty, the meat itself was medium to medium-rare and perfect. A couple of different Greek wines are available, as is a local craft beer, though I wanted at least one more beer option, especially something crisp to pair up against that lamb.
Greko has done a lot right. The restaurant has a huge back patio with outdoor seating that seems particularly perfect during pleasant fall days, and I like the fact that the menu is not a sprawl. The Darsinos hired veteran chef Sal Avila as a consultant to kickstart the menu and kitchen for the first few months, and it has paid off with a level of execution that is high for a fast-casual restaurant. 
The cousins have also been backed by Fresh Hospitality, a restaurant group that is always looking for a new concept they can spin out to multiple locations and markets. Is Greko their next Vui's or Biscuit Love? That remains to be seen. But if the establishment's first few months are any indication, the Greko team has a solid, crowd-pleasing concept with fare that goes well beyond the typical casual restaurant. That seems like success worth repeating.