How long do you wait to review a restaurant during a pandemic? It's a dilemma no one's faced in 100 years, and honestly? Food writing was not big business during the 1918 influenza outbreak.
Food criticism predates that, of course. The French kicked things off in the 1800s with Almanach des Gourmands. By 1900, Michelin had slipped into the game with its dining guide — still a savage ploy to goad people into wearing out their tires. But when did food criticism pop up here in Nashville?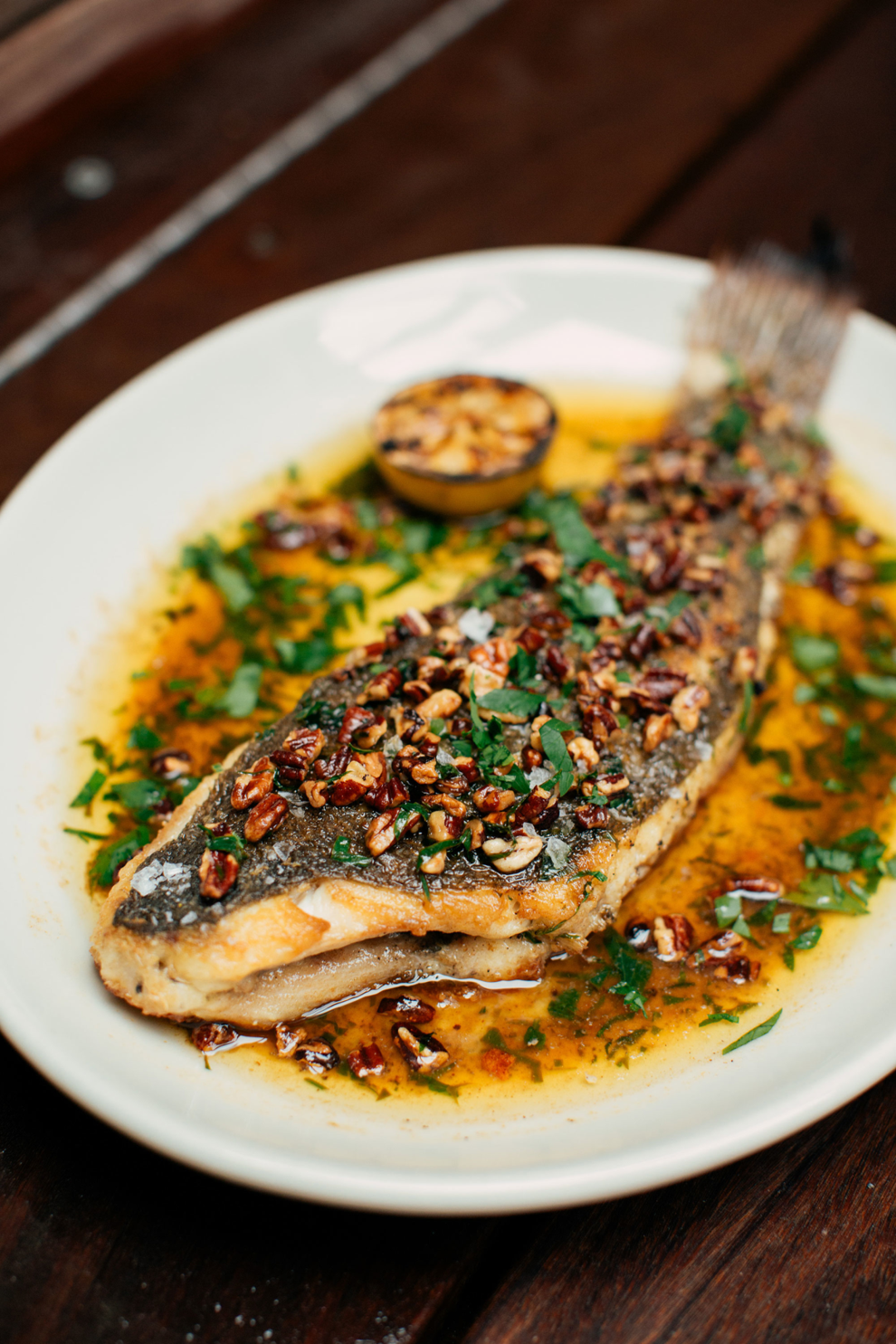 Near as I can tell, about 160 years ago. The first reference I found to a local restaurant in The Tennessean archives was from 1845 — back when the daily newspaper was known as the Republican Banner — and it was just a bulletin for the Nashville Eating House. The first opinion came 12 years later in a one-line recommendation for any establishment owned by Sam Riddleburger. And Sam Riddleburger deserves a detour. Topping out at 543 pounds, Riddleburger was the fattest man in Tennessee, and proud of it. He nearly suffocated with corpulency, which only proved to his diners that he was uniquely fit to feed them. And what did he feed them? Fish and oysters. Which brings us back to why we're here: The Optimist.
So when it came time to get back into reviews, we started easy. Having dined at The Optimist Atlanta, I felt certain that chef Ford Fry's seafood spot in Germantown would deliver. Just one question: Could they deliver during a pandemic? In short, hell yes. From the fresh fish to the flawless cocktails to the moody, plush vibe, The Optimist is a breath of fresh air. Let's all enjoy it. Needless to say, the pandemic still rages on, and even with all the proper social distancing protocols in place, some diners won't be comfortable eating in a restaurant. Good news: The Optimist offers carryout as well.
Eat It Raw
Unsurprisingly, a bountiful raw bar is the cornerstone of The Optimist's dark-and-dreamy downstairs dining room. It's one of four distinct dining spaces within the reclaimed warehouse that is The Optimist. Up front, there's a cocktail lounge outfitted with brass fixtures and slick marble, and out back there's an open-air patio. Head upstairs for an airier dining room with a luxe oval bar.
Starting with the raw bar, everything is meticulous and accessible. For example, oysters are listed thusly: THUNDERCAP / M / PEI 3.00 shallow cup, mild salinity, sweet, clean finish. The flavor notes are key, of course, but so is the "S/M/L" size designation. I am not a big-oyster person, and unless you're going to shrink that sucker up in a broiler à la Rockefeller, I don't want your big, sloppy mouthful of bivalve. At The Optimist, I get what I want: briny, crisp oysters with a name that sounds like something a WWE wrestler would name his McMansion.
For the seafood-tower treatment, there's The Opportunist: six oysters, six shrimp, ceviche, smoked fish dip and tuna poke for $52. But I recommend opting for the $16 yellowfin tuna carpaccio. The setup changes, but ours was stellar: piquant giardiniera, creamy sauce gribiche (think deviled eggs but French) and gaufrette potatoes, which are basically waffle-fry potato chips. Finished with tiny pickled mushrooms, the tuna was beefy yet delicate, and teeming with umami — the perfect way to wake up your palate.
Bottoms Up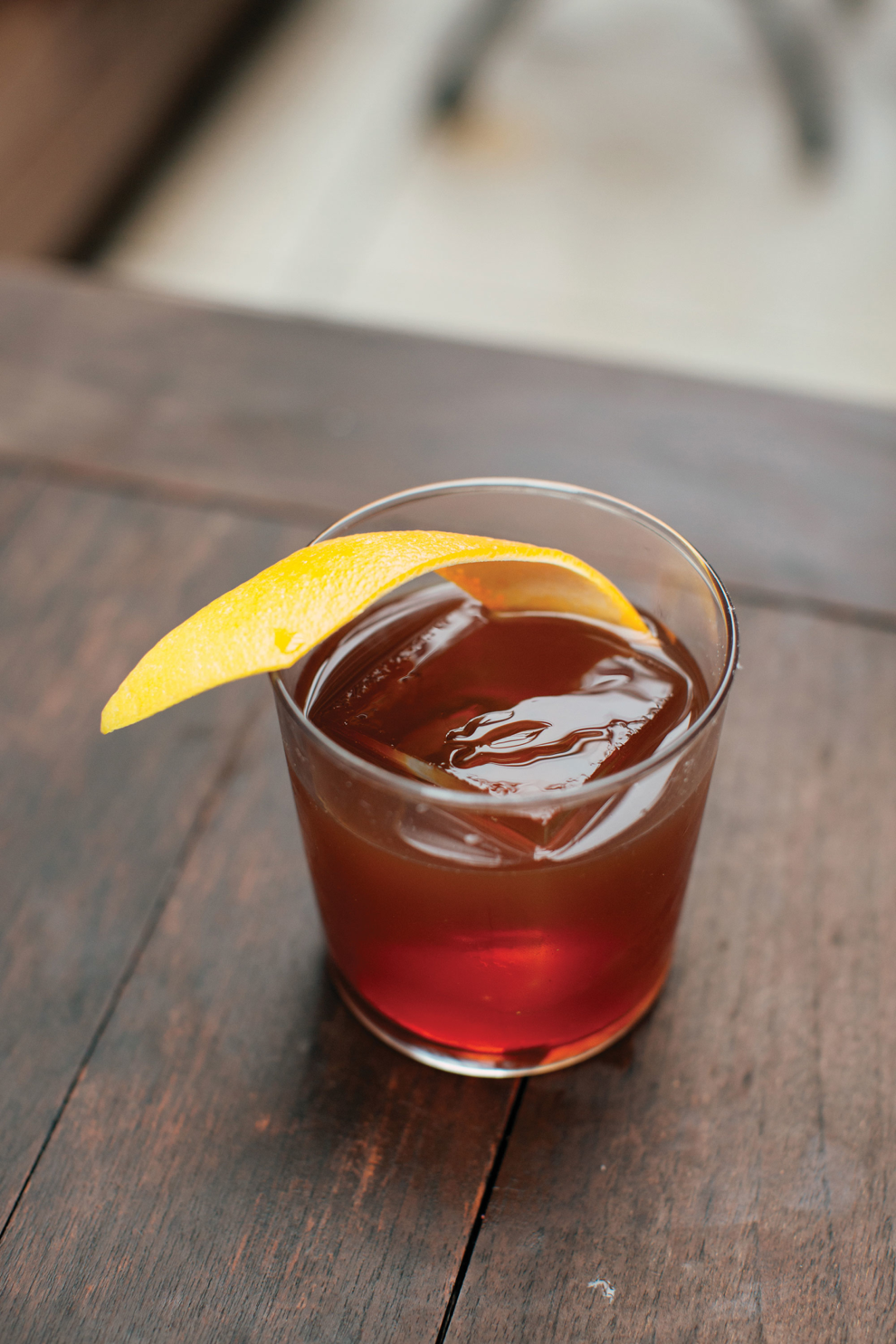 With guidance from current beverage director Kenneth Vanhooser, The Optimist can take ingredients that sound simple — vodka, lemon, club soda — and with the deft addition of spicy ginger and sweet hibiscus, make a drink that lives up to a name like The Pleasure Cruise. For something darker, try The East Germantown: a mix of Tennessee corn and rye whiskies, Rinomato aperitivo and chicory that hits every bitter, buttery note.
The wine menu at The Optimist is also user-friendly. Upon hearing I wanted a crisp white, our server Ernest suggested the 2017 Weszeli Langenlois Grüner Veltliner. That's a friggin' mouthful, but when I clocked the descriptors "sage," "pear blossom" and "fresh" on the menu, I knew we were in my wheelhouse. Could I pick out those notes blindfolded? Not a chance. But by having those notes (and Ernest's support), we found a wine that was accessible yet sophisticated, and just what I wanted.
"Small" Plates
First off, the name of this category is a lie. The giant bowl of mussels and frites I'm about to drool over while describing is anything but small, but it's listed as a starter, so here we are. As with all good mussel dishes, it's all about the broth, and this one is made with ham hock, charred greens and hot-sauce aioli. It is as rich, porky, bitter and spicy as it sounds, and if your mouth doesn't water at that combination, you are not a Southerner.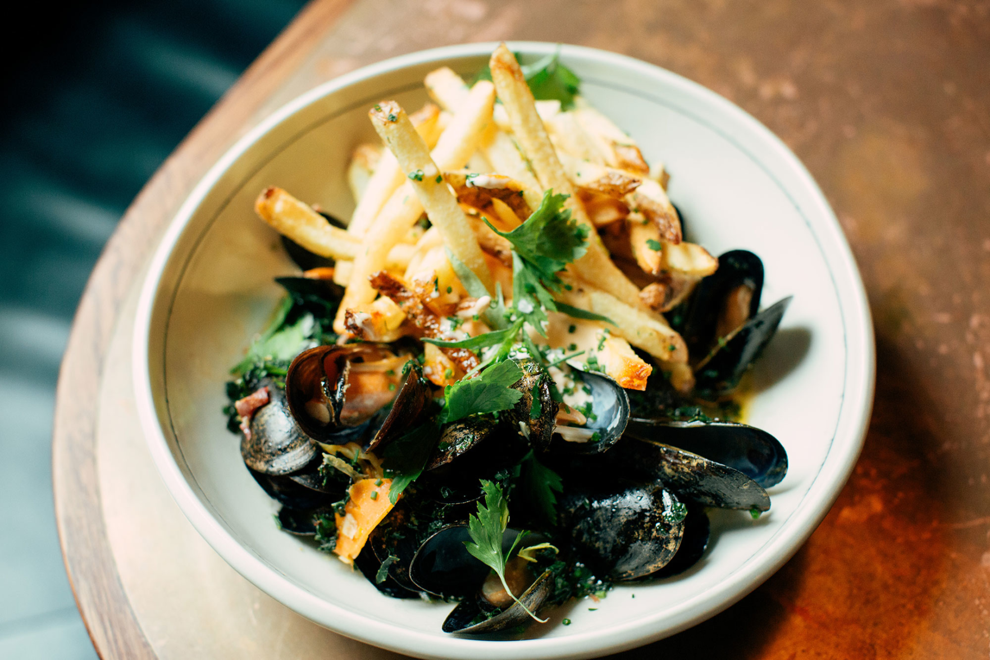 The smoked fish chowder with Old Bay crackers is also an umami-laced standout, as is the classic shrimp à la plancha. The latter comes drizzled with scampi butter, a side of "sopping toast" and shells that have — blessedly! — been peeled enough that you won't turn your tablecloth into an imitation Pollock. Tip: Order the shrimp with the mussels for peak cross-soppabililty.
The Main Event
Main courses at The Optimist are an embarrassment of riches. There's old-school halibut en papillote; monkfish-crab-and-everything-else cioppino; fancified chicken and dumplings! I doubt any are duds, but I will enthusiastically vouch for a few.
The scallops are seared hard on one side and raw on the other, so they're buttery and crunchy — an ideal texture for topping the creamy, paella-style clams, sausage and Calasparra rice underneath. But real talk: If you're at The Optimist and you don't order whole fish, you're doing it wrong. The roasted flounder is a foregone conclusion. Served fall-off-the-bones succulent and crusted with pecan meunière, the fish is bright with lemon and parsley but also rich and nutty (pecans, brown butter). The whole thing is just satisfying, especially with a side of secretly stunning green beans, which are infused with bacon, mustard and thyme.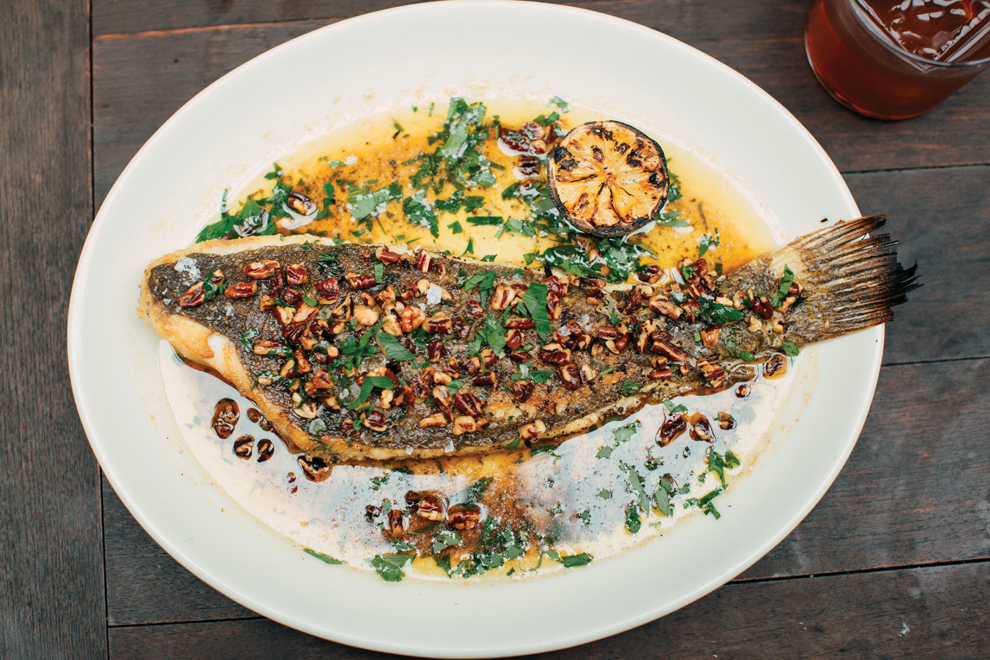 Happy Endings
On the subject of satisfaction, I give you my new favorite pairing: Cardmaro and pudding cake. The former is a wine-based aperitif that has the after-dinner sweetness of sherry but the funkiness of amaro. (It's made with artichoke-ish stuff and aged in oak.) The gentle bitterness, the round sweetness — it is delightful and delicious, and I'm livid it took me 37 years to find it.
Then there's the apple pudding cake. Like my whole-fish rule, another hard-and-fast one is that if any mix of "cake" and "pudding" is on the menu, you order it. Double that if the toppings are toffee sauce and vanilla-rum anglaise, which is a liquor-laced custard that oozes all up in your puddin'. It is a hot, boozy mess in the greatest way. (And just to be clear, when I say "double that," I mean double your order. I ended up getting an extra to-go because I did not enjoy sharing the first one.)
The Bottom Line
The Optimist is good. Very good. It's not 100 percent perfect, and there will come a time, perhaps not long from now, where the world will even out and we critics will go back to pointing out room for improvement, nitpicking or even poking fun. What we need now is good vibes and great food. The Optimist has brought us both by the boatload.