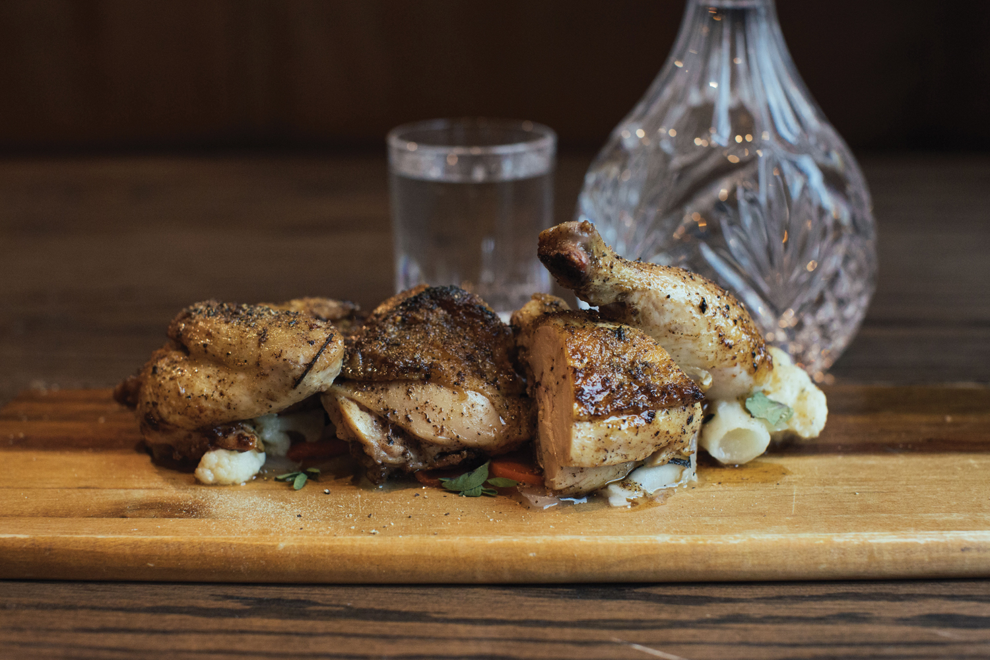 In the South, we are taught that some flavors go together. Buttermilk and cornbread. Mayo and tomato. Pork and peas. When paired, these foods are greater than the sum of their parts. But other things, as we learn through experience, do not work together: Kool-Aid and pickles; aspic and anything; the contents of what I've lovingly come to refer to as diabeetus fruit salad (any kind of fruity salad featuring marshmallows, Cool Whip or canned pie filling). 
My favorite of the old-school flavor combinations exists in the funeral sandwich. Whether you know these as "ham rolls" or "ham delights," you know them: Swiss cheese, ham, yellow mustard, butter, chopped onions, poppy seeds and rolls. They are salty, gooey and — if made with the right amount of butter — slippery little gut-bombs that are as delicious as they are bad for you. They are ubiquitous at Southern tables, but I'd never seen them in the wild until I visited Black Rabbit. 
This version has a twist, as do most things at Black Rabbit, which regularly changes its menu. The sweet, buttery rolls are housemade, which allows them to avoid the Sophie's Choice of all funeral-sandwich makers: Sister Schubert's rolls or King's Hawaiian rolls? Black Rabbit's are light but firm. The onions are sliced, not chopped, so they give you the Krystal-burger effect with extra bite. The meat at the center is sliced rabbit terrine, which some Instagram users have delightfully dubbed "rabbit Spam," and it gives the rolls a flavor and funk the conventional version doesn't have. Even so, the soul of the dish remains the same.
I wasn't expecting that jolt of nostalgia at a speakeasy one block from Printers Alley. Velvet couches, mood lighting, cabaret shows — these things automatically ping the gimmick radar. But Black Rabbit — run by the same team behind downtown restaurant The Farm House, led by chef-owner Trey Cioccia — is doing something unique, delicious and real here. It's farm to table to Wonderland and back again.
Take the rabbit dogs: Gamy, juicy meat is expertly stuffed into casings and topped with mustard, sweet/hot relish and chili. The chili is made from leftover bits of rabbit and pork and seasoned with a fermented dried vegetable powder that's basically a made-from-scratch ranch dressing packet. It's all cooked down to a meaty, mahogany-colored gravy. These people are making their own spice blends for chili dogs, God bless 'em, and it's what the world needs now.
Fancy comfort food. That's a phrase I use a lot these days. Urban Cowboy Public House, Kuchnia & Keller, Gray & Dudley — all of these places bank on diners wanting a tweaked, dressed-up version of childhood favorites. It's a smart play for two reasons: 1. Anyone who doesn't want a bit of escapism is either crazy, stupid or awful, and 2. it gives everyone a culinary reference point to start from. A girl from L.A. and a good ol' boy from Livingston, Tenn., are both going to know "chili dog" and "taco," and they're probably both going to order them.
That applies even to Black Rabbit's arreglados (Costa Rican sliders), which are made with meatloaf. BR uses masa to bind the meat rather than breadcrumbs, and that's a cool twist. But here's where I might lose you: I hate meatloaf. I hate it so much. Like, as much as I hate the band Rush or mosquitos or Salt Life bumper stickers. If you have good meat, why not make meatballs, a superior food? I'll illustrate my point using the 1988 film Twins. Meatballs are the character played by Arnold Schwarzenegger: simple, firm, meaty, golden brown all over. Meatloaf is Danny Devito's character: sad, soft and somehow wet all over. That said, Black Rabbit's meatloaf is different. It's spicy, tangy and just fatty enough that it can be griddled to create a crust, though mine could've been seared harder. It comes on a puff pastry that's delicate enough to melt in your mouth but sturdy enough to hold things together. That pastry makes meatloaf good again — something that hasn't happened since Bat Out of Hell.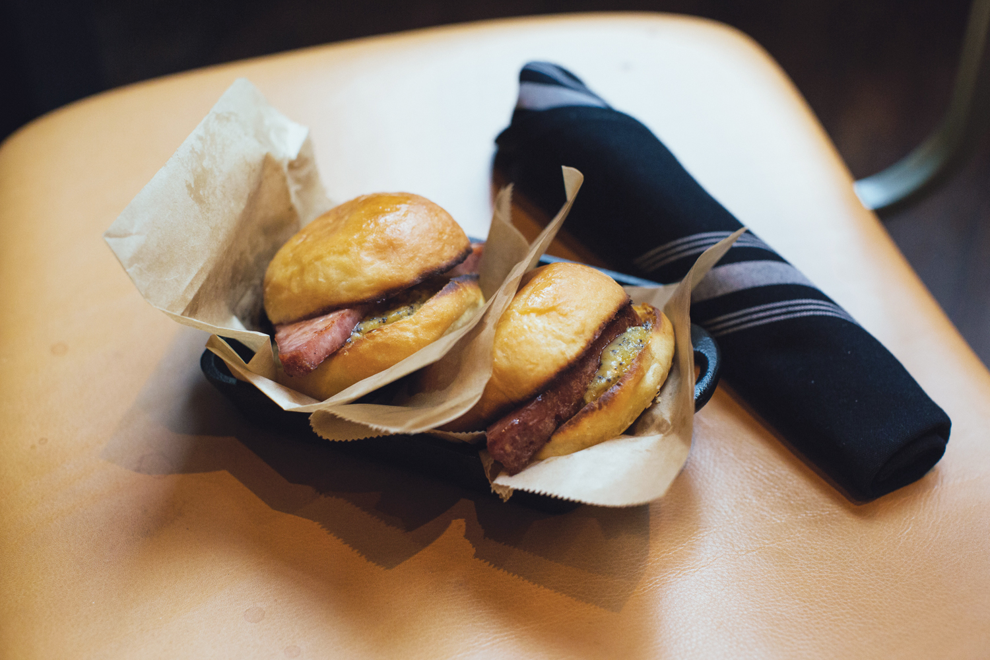 All the baked goods at Black Rabbit knocked me out. I am not a bread person — give me salt and fat, not yeast — so I expected Black Rabbit's charcuterie would be the big winner since it's the specialty at sister restaurant The Farm House. The ham was sublime, of course, and the porchetta was luscious with a tart dill dressing, but the baking is worth the trip on its own. If you sit at the five-seat bar that faces the hearth (and you should), you'll see chefs making mini blue-corn tortillas for potato-and-farmers-cheese tacos, a vegetarian bite as filling as any hunk of pork. You'll see labna being topped with that magic veggie powder and plated with spicy cheese straws your grandma might actually like. You'll see black-and-white macarons — the only dessert on the menu — being topped with powdered-sugar bunnies, and you'll taste them and know what macarons are supposed to be: tiny, crisp and airy whoopie pies; not brightly colored concrete pucks. They even make the filling using leftover bar fruit in keeping with their no-waste ethos. Suck on that, Portland! 
It's easy to slide into the evening (and eventually off a barstool) at Black Rabbit. The $5 happy-hour Old Fashioneds are made with Ezra Brooks, demerara sugar, cherry bitters and orange. Even with the "cheap stuff," they are citrusy, smooth and addictive. I had varying degrees of success with other drinks. The sour-by-design Josephine — vodka, strawberry-plum pickle, thyme, strawberry cider — was too sour for me, and I'm the kind of person who drinks pickle juice as a nightcap. But the Audrey Hepburn — made with vodka, ginger beer, pinot noir and rosemary — was a fizzy cranberry-colored delight. 
Lest you fill up on small plates, go in with a game plan. Order the roasted mushrooms with egg yolk, Dijon and Asiago first, so your palate can detect all the smoky umami notes before it gets lit up by pork fat. Skip the six-month ham on cauliflower. The meat melts in your mouth, but the salty bagna cauda does little to set it off. Pass on the andouille escabeche. Cold pickled sausage and hot potatoes are better apart than together, no matter how many Spaniards tell me different.
Order the half-chicken. These birds get more TLC in two days than you or I will have in a lifetime: They're brined for 24 hours, sous vide, crisped in the oven and finished again with magic veggie powder. That mix of techniques keeps the meat juicy and seasons it down to the bone. Served simply with tart pickled carrots and onions, it's a succulent, finger-lickin' pile of joy.
Finish your fowl parade with chicken-fried rillettes. Rillettes are basically pâté gone wild: Pork is salted, cooked in fat, shredded, cooled and made smearable. Black Rabbit fries the patty like chicken, so it has those all-important golden crusty bits. (Note to all trifling Yankees: You can't just fry something and call it "chicken-fried"!) The browned bits crumble into the tangy buttermilk and luscious lima beans below, giving it a cornbread-dipped-in-buttermilk effect. 
If that's a flavor combination you don't know, Black Rabbit will be happy to introduce you. If it's one you don't think you'd like, well, I'm sure you can find something more suited to your tastes back where you belong: above the Mason-Dixon line.