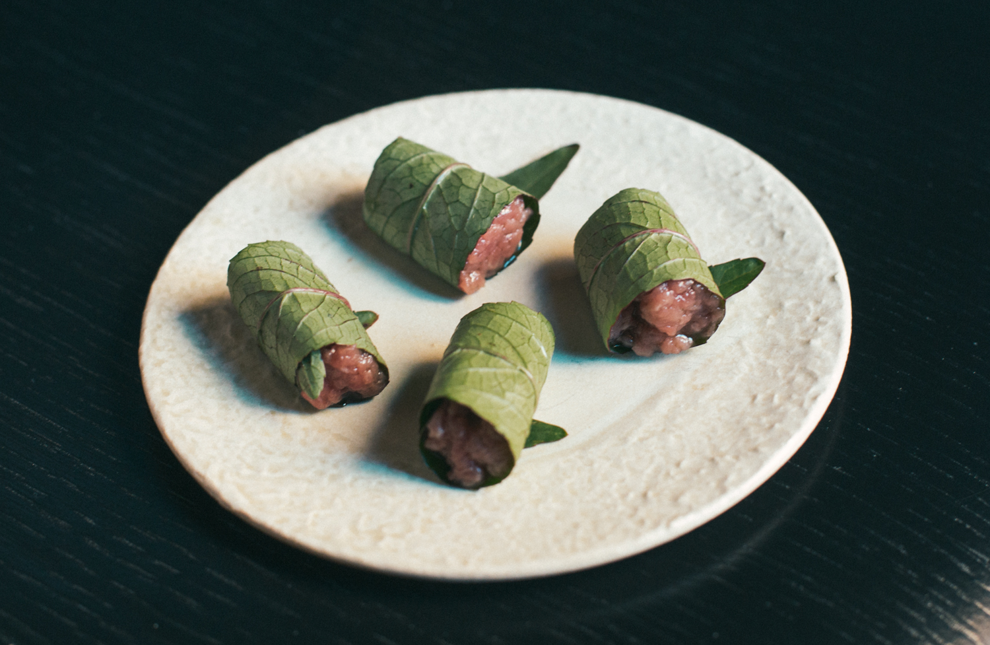 What makes a restaurant essential?
Not just good. Not even great. Essential — "extremely important and necessary," if you want to be textbook about it.
It has to have great food, to be sure. It helps to have a memorable space, as well — someplace that has visual interest, but can also feel intimate. Good service and a commitment to a great dining experience have to be there too. But the restaurant must have a personality of its own, an ethos that permeates the staff and the guests, something that's transmittable when you enter. 
In that sense, Bastion is certainly the most essential restaurant to open in Nashville in the past couple of years. 
Walk through the giant doors into the old machine shop of the Houston Station building and you'll find yourself in a roomy neighborhood joint, a space ordered by the long bar and soaring ceilings. Sure, there's a creepy Easter Bunny waving through a doorway inexplicably located 20 feet off the ground, but if you avert your eyes, it won't feel too Donnie Darko. If you're stopping at the bar before heading into the dining room, grab a beer or a cocktail, but if your only plan is to hang out — and maybe enjoy a little Galaga on the vintage tabletop machine across from the bar — for God's sake, order the nachos.
A friend calls these the "platonic ideal" of the species, and I've got no reason to quibble: Layered over the chips come pulled pork, cheese, radishes, olives and pickled onions. It's literally the only thing to eat on the bar menu; after hitting a homer the first time out, there's no reason to keep swinging.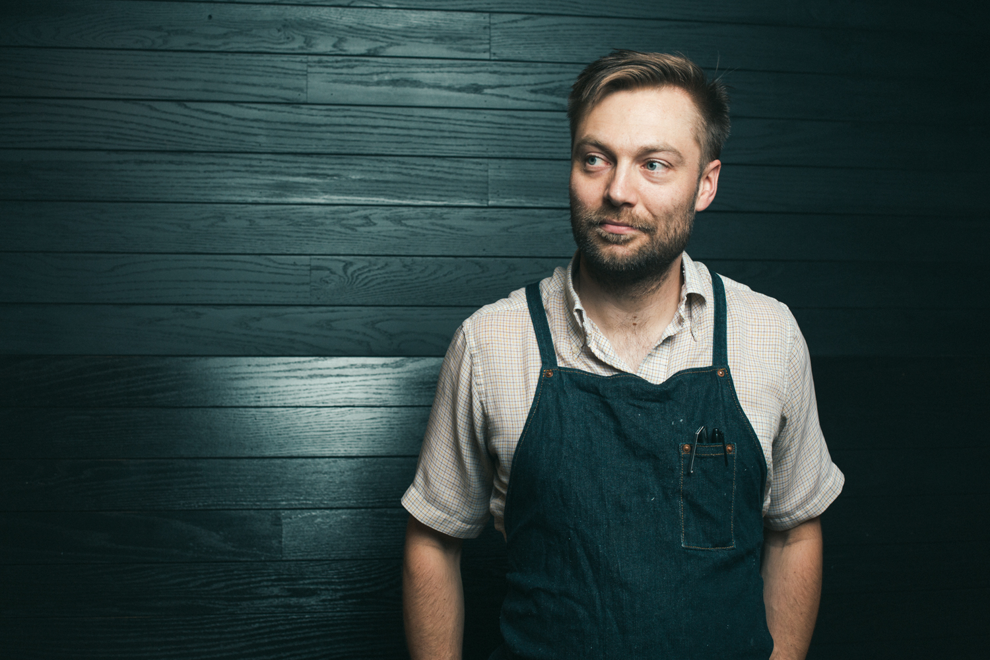 If, however, you've bought a ticket for chef Josh Habiger's nightly food show — the restaurant uses a ticketing system developed by one of his former employers, Chicago's Alinea, to limit late cancellations in the small 24-seat dining room — don't linger at the bar too long; save your appetite for what's on the other side.
There are two ways to try Bastion, and neither is wrong.
First, there's an à la carte chef's bar that most diners will turn into a five-course tasting menu. From an options grid, you'll choose from three items on five different tiers, which roughly translate as salad, starter, vegetable, protein and dessert. Think of it as the most delicious Bingo card you could play. My dinner companion and I dutifully chose options that didn't overlap. I picked fresh oysters with a verbena granita (a cool little kick in the palate to begin), while she chose greens augmented by a pistachio cream that never tasted the same in each bite. Then the fun really began.
Habiger's right-hand man, Patrick Carroll, devised a lamb tartare wrapped in a hibiscus leaf that might have been the best thing I've tasted in years. Is it a classic raw meat dish, or a cleverly disguised piece of alt-sushi? I had it twice and still can't make up my mind, as the mix of flavors and textures, which draws from both forms, is still teasing me. 
But that's the joy of this menu: Scallops, seared halfway and left rare on top, are accompanied by a delicate foam punctuated with tiny bits of Carolina Reaper pepper that are hot enough to remind you that the cayenne you're used to is just a plaything; matsutake mushrooms are layered on slivers of cauliflower to create a white-on-white bowl of earthiness; something innocuously titled "mushroom + squash" appears in a dark dashi broth punctuated by pinecone; a chunk of short rib comes topped with peanuts astride sweet potatoes dusted in charred, dehydrated and then grated green onions; and sunchoke ice cream (yes, that's right) complements a foie gras caramel (yes, that's right, too) and shaved bits of a shortbread cookie for a dessert that's never really sweet but will linger in your mind for days.
At every turn, there are surprises blended with familiar flavors, comfortable dishes enhanced by technique, but not overpowered by it. It's quite the kabuki played out in the kitchen in front of you as Habiger and crew perform in an open setting. As far as multi-course menus go, it was … light? Rarely have I walked away from this style of multi-course outing and not felt overstuffed, but Habiger seems to have calibrated the portion sizes so that the only thing bursting at the seams is your head. 
Of course, if that seems like too much decision-making, you and three to five friends can buy your tickets for the feast, a sit-back-and-relax, two-plus-hour trip through roughly half of the à la carte menu and some specially prepared large-format dishes. In addition to a couple of the dishes above, our group fought over a pear-and-fennel salad, made short work of a delicately prepared cobia crudo with sunflower seeds, and finished off a plate of venison sweetbreads and apple ahead of the star of the night: a flawlessly cooked rare duck breast over a bed of morel mushrooms and onion jus, all accompanied by butternut squash stuffed with lentils and duck confit and a bowl of some of the smoothest sweet potatoes anywhere. 
At a table full of wine novices, the sommelier talked us through some intriguing options on the "unconventional beauties" side of Bastion's list: grapes from Lebanon's Bekaa Valley lined up alongside Basque reds from both the French and Spanish sides of the border. We chose the Spanish varietal and loved it — and, at $55 a bottle, we found it eminently reasonable — but this is a fascinating collection, full of orange wines, gems by the glass (a sparkling red cava, for instance) and challenging locales to complement the traditional powers from France, Germany and California.
Bastion is a very low-key experience guided by a convivial staff and a mountain of vinyl parked on one side of the dining room. During our feast, Habiger made frequent trips to the turntable to control the mood. A little George Harrison, perhaps? Maybe some Son Volt? Some early Peter Gabriel solo work? Or some late-'70s Rolling Stones? Never underestimate the power of music to propel a restaurant; the chef's sourcing of albums — you're likely to find him in the "pre-loved" section at Grimey's on a Monday — is as good as the sourcing of ingredients. 
Maybe it's because he's a few years older now, but Bastion feels like Habiger's most self-assured work yet. There's the technique and ideas of his Catbird Seat years (he was one of that restaurant's two founding chefs) without the formality, and the comfortable vibe of Pinewood Social without the need to hew to Americana influences. He's free to change the menu often based on season, sourcing or whim, but the selections don't feel random. Habiger hands a measure of control to the diner. You only want three courses? Sure. You want all three to be that lamb tartare? They can do that, too. Habiger doesn't surrender that elusive creative element that chefs spend a lot of their careers chasing. 
Some diners may balk at Bastion's price tag, which can run from $50 to $200 a person, depending on selections, drinks and format. But even if critics want to quibble over the size of the check, they can't question the value of the meal. 
Habiger's original idea, post-Catbird, was to do something very old and French. His partners — Ben and Max Goldberg at Strategic Hospitality — talked him into exploring the industrial space in Wedgewood-Houston, and Bastion sprang out of that. What emerged was something arguably more interesting, a multifaceted place comfortable in either a T-shirt or a jacket. 
What emerged was a chef at the top of his powers and a restaurant as good as any in Nashville.
What emerged was essential.