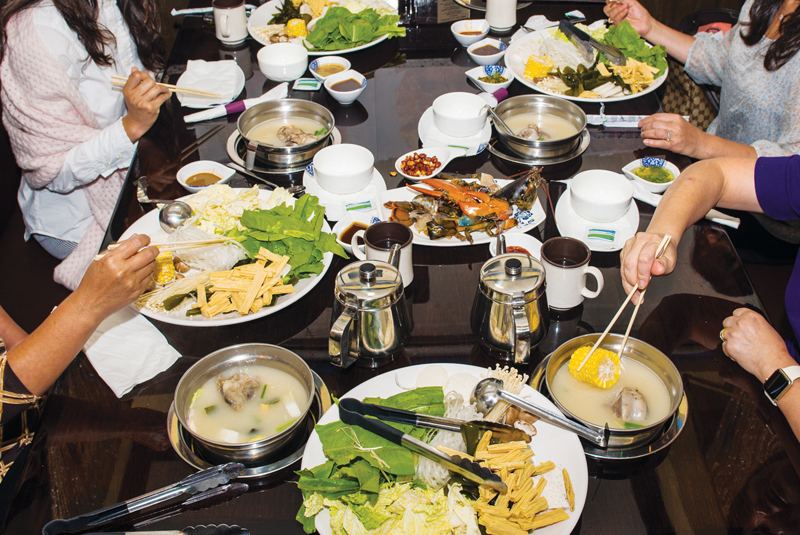 In last week's issue, my Scene colleague Elizabeth Jones wrote a love letter to the intersection of Old Hickory Boulevard and Nolensville Pike, whose four corners, she says, "hold basically anything and everything I could need in my everyday life."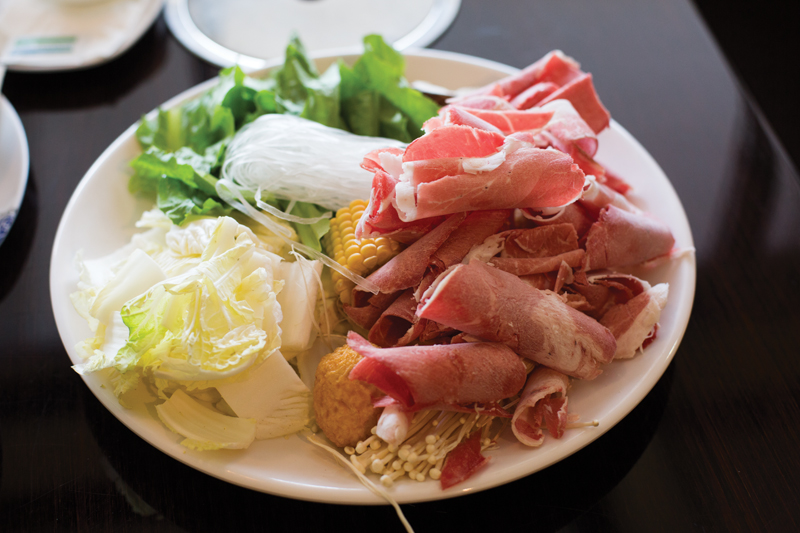 I completely agree about cherishing this little slice of the city. It's a stretch that includes big-box retailers like Lowe's and Office Max, and a Kroger store, which are all useful — but what gives this particular patch its vibrancy is the assortment of food businesses representing Nashville's multifarious immigrant communities. There's the Chilean-inspired cuisine of Subculture, the friendly Mexican diner experience at Fogatas, the bowls of bargain-priced pho at Sriracha, the fresh pita at Middle Eastern bakery Baraka, and bibimbap and bento boxes at Korean/Japanese restaurant Midori. It's amazing how a single bustling intersection can be such an endearing window on Nashville's increasing diversity.
But possibly the most adorably fun restaurant on the block is Sichuan Hot Pot & Asian Cuisine. It's been open for about a year, but it's taken me a while to discover it for myself, after hearing about it for months from enthusiastic customers. I have to admit I was somewhat skeptical at first. A glance into the interior reveals a sprawling space with flashy decor that includes glittering lights, a gigantic fountain and a fancy gazebo-looking structure where larger parties can enjoy group dining. All of that is fine, but in Nashville, that kind of visual pizzazz is often associated with the disappointing super-buffet version of Chinese cuisine (emphasizing quantity over quality) that dominated our dining scene for so many years.
Happily, it turns out Sichuan Hot Pot couldn't be further from that. Hot-pot cooking, as executed here, is all about fresh ingredients that you cook up yourself in a savory broth, resulting not only in a delicious bowl of goodness, but also a social occasion, with dining turned into a diverting activity.
So here's how it works. You pick a broth, noodles and the ingredients, both meat and veggie, that appeal to you. If you want to keep things simple, you can order a standard combination, but if you want more control, you can assemble your ingredients à la carte, choosing from a lengthy list. (Combinations are around $13.99, often a little cheaper than ordering each component separately. But either way, the tab is generally quite reasonable.)
I'd recommend ordering a combination on your first visit — it will give you a sense of what's available for your bowl, including ingredients you may not have tried before, like sliced taro root. Armed with that knowledge, you can pick your favorites next time.
On each of my visits, we were a party of four, seated at a booth with one burner for each person. (Larger parties can be seated at bigger tables with a communal burner in the center, for sharing broth.) The four-top tables are great for newbies, since you're responsible only for your own hot pot, and if you wind up accidentally forking bales of rice noodles all over the place (like I did), the mess is mostly confined to your own corner of the table.
Your ordering choices start with the broth. Meaty beef bones are the standard (the menu calls them "tube bones"); I also enjoyed a broth with a subtle hit of tangy tomato, and a green-clam broth that was fairly mild on one visit and a little stronger in ocean flavor on another. All were good. An herb-broth variation, however, was a little bland. (And note that it's not vegetarian; it also starts with bones.)
Do try to include a protein — there are plenty to choose from, including not only meat (beef, pork, chicken or lamb) or seafood (including a combo with a whole passel of shellfish), but also various forms of tofu.
It's a treat to pick out the vegetables from the menu's vast array. How often do you have so many different vegetables at your disposal for one meal? (Rarely, and if I did, I'd be much more likely to cram in all those recommended daily veggie servings.)
Chinese cabbage is a classic ingredient, as are various types of mushroom, along with the aforementioned taro and surprisingly, corn on the cob. Also available are spinach, bok choy, watercress, bean sprouts, tomato, white radish, peppers, cauliflower, seaweed tied in a pretty knot and more.
As for the noodles, rice "glass noodles" are the standard, but other choices include the thicker, wheat-based udon.
Once you've ordered, you head over to a wall displaying ingredients you can use to make your own dipping sauce. You can wing it (my hot tip: don't skip the sesame oil), or follow one of the sauce recipes provided. After a short wait, the server arrives to ladle broth into your individual hot pot, with the bones (or clams) resting at the bottom of your pot. A control knob allows you to turn up the heat until your pot reaches a merry boil, then you turn it down to a strong simmer.
That's when the fun begins, as you start placing all the goodies into the broth to cook. Various ingredients take different amounts of time (the meat, for example, is thinly sliced and cooks up swiftly), but you can't really go wrong.
Retrieve your ingredient, dip it in your sauce, and transfer it to a smaller bowl, where you attack it with a spoon and chopsticks. The server will likely come by at least once with fresh broth for your hot pot. At the end, you'll likely feel happily satisfied but not overstuffed. That's what's great about hot-pot cuisine — it's full of variety without being a gut bomb. Other than a slight excess of sodium, it's pretty healthy, too, especially if you don't skimp on the veggies.
If you desire something different, there's a section of lamb-broth bowls, which arrive already composed. We tried one with noodles and beef, and it was excellent. The broth was delicate, but the flavor paired well with the heartier beef. There's also a whole menu of familiar Chinese-American dishes. We tried pork dumplings and stir-fried green beans; both were above average for Nashville. I'd like to explore that menu further if I can ever pry my attention from the bubbling soup bowls.
On a recent Saturday night, the place was hopping. As one might hope, there were plenty of Asian folks (always a good sign for a Chinese restaurant), but the crowd was quite diverse, with folks of many ethnicities. There was a wonderful sense of party and relaxation, with groups of all ages dining and socializing. A dozen teenage girls were celebrating a birthday, laughing and breaking into their favorite pop tunes. Elsewhere in the room, a cute little boy was patrolling the perimeter in an inflatable dinosaur costume.
What Sichuan Hot Pot offers isn't revolutionary; hot-pot restaurants abound in cities around the world. But it's a concept that is marvelously convivial. And it fits in with — and enhances — the sense of community that hopefully is a big part of the New Nashville.