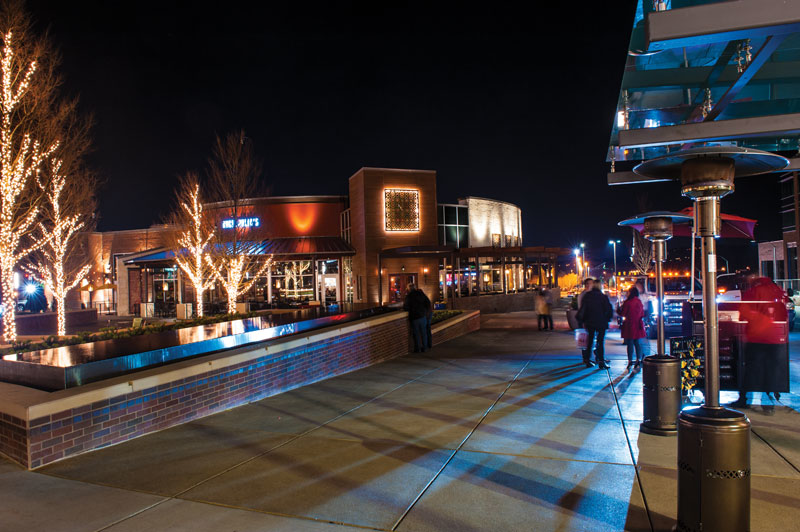 It all makes sense, really.
Brentwood, a place largely defined by the amount of money it takes to live there, has built a dining ecosystem out of franchises, concepts and chains. Oh, sure, there are the occasional gems like Peter's Sushi or even Judge Bean's, but by and large the way Nashville's closest suburb eats was realized in focus groups and boardrooms across the country.
Take the just-add-water streetscape of the CityPark development, launched in 2015 along the aptly named Executive Center Drive. It's a shooting gallery of the hottest concepts: Blaze Pizza (quick individual pizzas), BurgerFi (elevated burgers), Taziki's (Mediterranean) and Newk's (soups, salads, pizzas). And while there's nothing wrong with fast-casual places, the sheer concentration is something the producers of The Truman Show would have loved.
So you will be unsurprised to find the newest cluster bomb of dining across Franklin Road, rising from the rubble of the now-demolished Tennessee Baptist Convention building. This newest concentration, perched at the entrance to Maryland Farms in the Hill Center, gives us four national and regional concepts to choose from: Uncle Julio's, Del Frisco's Grille, Nama Sushi and Holler & Dash.
Let's start with best first.
Born in Dallas two decades ago, Uncle Julio's spread north to Chicago and east to the D.C. area, gobbling up a couple of other restaurants in the process. Their footprint now includes seven states and 27 locations.
The Tex-Mex concept is at its best when featuring dishes from its mesquite grill: Skirt-steak fajitas are tender and juicy; grilled fish tacos are flaky and light; combos like the Jalisco come with butterflied shrimp and drawn butter. Their salsa, built on tomatoes and onions charred on that grill, is addictive.
The service is hyper-attentive, frequently sweeping in to refill drinks and chip baskets. It should be noted that the relative bustle of the Brentwood location means large parties are essentially S.O.L. On a recent weekend, we called and tried to book a table for eight and were told that anything over six people was almost impossible. That's a shame, as a group we saw opening a chocolate piñata (filled with fruit and mini-churros) on a previous visit looked like they were having a hell of a time.
On the authentic vs. Americanized spectrum, Uncle Julio's leans squarely toward the latter. I wasn't sure that margaritas, already an imagined ideal of Mexican ingredients, could become more American, but here we are with a signature swirl of sangria through a frozen mash of lime and tequila. Is the food delicious? Sure. Just don't come in looking for a rich mole sauce — stick to the chips and guac. 
Del Frisco's Grille, just across the patio, is in many ways a mirror image of Uncle Julio's. Built on service and concept over individuality, Del Frisco's is a business-lunch kind of place. Need a kale salad or iceberg lettuce wedge? They've got it. Burgers and filets? Yup. In fact, it seems like the menu was constructed from a list of perceived mandatory items: Salmon fillet, brick chicken, meatloaf, steak sandwich, chicken wrap. 
The appetizers are awash in things that are now or recently have been "on trend": deep-fried egg rolls, flatbreads, ahi tacos and deviled eggs. Side items are the same, with "truffled" mac-and-cheese, Parmesan fries and bacon mashed potatoes. There's nothing that couldn't find a happy home on a Cheesecake Factory menu.
The food itself is fine, if forgettable. Maybe that's all those Maryland Farms health care executives are looking for as they plot their next acquisition. The prices are squarely in the expense-account range ($15-$24 entrées for lunch, $20-$45 entrées for dinner), and with the valet parking they share with Uncle Julio's, you can be back in the office in no time.
Across the way, a better option might be Nama Sushi. The first one opened in Knoxville in 2004, and success there led to an expansion to Elliston Place in 2014 and now this one a little more than two years later. It's a straight-up sushi bar with a few hot dishes tacked on at the end of the menu. (Full disclosure: I didn't try the hot items, because if I want a burger or a bowl, I'll go elsewhere.)
I've gotten good, fresh fish at the Elliston Place location, and the same was largely true at Nama in Brentwood (although there was one slightly off-tasting crunchy tuna roll that was fine on a repeat visit). The sushi is available in a wide range of rolls, hand rolls, sashimi and nigiri, and while some bordered on ridiculous (candied rock shrimp in a roll?), most of the roll creations were creative and satisfying. This is not a Jiro Dreams of Sushi kind of place, but it will do in a pinch.
The same can't be said for Holler & Dash, Cracker Barrel's new entry into the fast-casual market. 
Listen in on a recent earnings call with the Lebanon-based restaurant chain and you will hear two emerging themes: First, Cracker Barrel's model and store footprint mean they're still tied to the interstate, so a new concept helps them get into cities and smaller locations; and second, the average Cracker Barrel diner is old and getting older.
Enter Brandon Frohne, the Mason's-chef-turned-corporate-consultant for Holler & Dash. While a cynic might say Holler & Dash should be paying royalties to Nashville's Biscuit Love, my biggest complaint is that Frohne's flavors are consistently too strong. There's an extra piece of fried onion here or some unnecessary goat cheese there. A bowl of tots doesn't need to be drowned in special sauce AND bacon, unless it's supposed to be make you wince. Maybe that's what the kids want? I don't know.
And while the other three chains in this development may be the product of much corporate imagination and energy (Nama less so), Holler & Dash feels cloyingly focus-grouped in a way none of the rest do. From a name based on a colloquialism to a motto that practically begs millennials to please love them — "flavors of the modern South" — the whole exercise is the sort of cash grab based on Southern culture that we haven't seen since … well, since Cracker Barrel. I guess that means it will be in 50 cities by the end of the year.
At some point, some smart developer will decide that there's an opening in the market for a local, chef-driven restaurant that doesn't need to be scaled up to 30 locations around the region. But until that time, Brentwood residents are going spend their lives in chains.