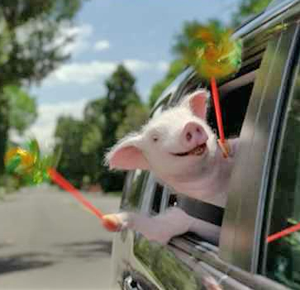 In the June issue of Southern Living (the food issue), the magazine offers an essential
"A to Z Guide to Southern Food"
: "some of the South's most exciting people, places, provisions, and trends," offered alphabetically. Nashville gets shouts for being home to
The Peach Truck
(P), the folks who bring fresh Georgia peaches to the area each year and for
Husk Nashville
's contribution to the elevation of the vegetable plate (V).
But it was the letter Q that stood out to me most. In light of the fracas over Travel + Leisure placing Nashville at the top of the list of Best Cities for Barbecue (with Memphis trailing at No. 2), it was curious to me that Southern Living chose to highlight Texas and Georgia in the piece, and in the print edition, touts North Carolina as having "The Best 65 Miles of Q," denoting a route in the eastern portion of the state vaguely between Raleigh and Greenville — with six highlighted restaurants featuring the state's whole-hog barbecue with vinegar-based sauce.
Obviously, there are many arguments to have over barbecue. But while I haven't been qualified as an expert on barbecue for nearly 15 years, I'll still insist that a better route would have been the 200 miles or so of Interstate 40 between Memphis and Nashville. It's currently known as Music Highway, but could that section could just as easily named Barbecue Highway.
I humbly submit a better version, "The Best 200 Miles of Q":
Interstate Barbecue, 2265 S. Third St., Memphis. Interstate is Jim Neely's restaurant, father uncle of Pat Neely of Food Network fame. The ribs are great, but start out slowly with an order of barbecue spaghetti.
Leonard's Pit Barbecue, 5465 Fox Plaza Drive, Memphis. Now on its third location and second owner, Leonard's has been around since 1922 and is said to be the originator of "the barbecue," which in the Memphis vernacular is not a party or a grill, but a pulled pork sandwich with sauce and slaw. Get a barbecue and do not skip the slaw, which has a mustard base.
Payne's Bar-B-Que, 1762 Lamar Ave., Memphis. The thing to like about Payne's is a good char; your sandwich and ribs (order either) will have some nice crunch. Skip the slaw (also mustard) if you get the sandwich (or just have it on the side).
Central Barbecue, 2249 Central Ave., Memphis. Central is a relative newcomer on the barbecue scene, but has quickly gained ground (and two more locations) with the popular barbecue nachos.
Cozy Corner, 745 North Parkway, Memphis. On your last stop in Memphis, you have the option to get the rib tips here or — if you're porked out — get the cornish hen. Note: the slaw is mayonnaise slaw.
Bozo's Hot Pit Bar-B-Q, 342 U.S. Highway 70, Mason. Mason is known as the original home of Gus's Fried Chicken, but it's also home to one of the area's oldest barbecue joints, Bozo's. It's not too far outside of Memphis, but it's worth the stop for the pulled pork platter and a piece of pie.
Helen's Bar B Q, 1016 North Washington Ave., Brownsville. The thing to get at Helen's is, once again, the pulled pork sandwich. But what's special here is that the eponymous Helen Turner is not just the owner, but the pit master, cooking pork shoulders over real wood coals.
Scott's-Parker's Bar-B-Que, 10880 Highway 412 West, Lexington. Scott's is genuine rural West Tennessee whole-hog pit barbecue. There's not a huge menu, but you may be able to specify what cut you'd like — if you're lucky enough to get there when it's not closed or sold out.
Peg Leg Porker, 903 Gleaves St., Nashville. I'm no expert on Nashville's barbecue joints, but those in the know suggest Peg Leg's ribs. They're made with a Memphis-style dry rub without the hassle of the tourist trap that is Rendezvous in Memphis.
Martin's Bar-B-Que, 3108 Belmont Blvd., Nashville. For simplicity, I'm listing the newest spinoff of Pat Martin's famous Nolensville shop, known for "redneck tacos": barbecue piled onto a cornbread hoe cake, topped with sauce and slaw.
Smoke Et Al, Nashville. Finally, the trip ends with a visit to Smoke Et Al, wherever the food truck is located for the day. Smoke Et Al serves a variety of styles of barbecue, including pork, beef, chicken, and even vegetables. I can vouch for the smoked veggie tacos myself. And the fried pickled okra with 'Bama white sauce is one of my favorite things to eat in all of Nashville.
Though there may be some hard feelings from West Tennessee over the Travel + Leisure list, I think we can all agree that Tennessee is clearly the No. 1 barbecue state.