Some of the best food in Nashville is currently being served out of a nondescript red trailer on Dickerson Pike. Since December, Joshua Walker and Duolan Li, the husband-and-wife team behind the popular Charleston, S.C., restaurant Xiao Bao Biscuit, have been earning a growing legion of fans with an intriguing roster of dishes inspired by both Li's Chinese roots and the cuisines of other Asian cultures. And sometime this summer, they plan to open Xiao Bao as a full-service restaurant in East Nashville's McFerrin Park neighborhood, on the same rapidly developing stretch of Meridian Street that's home to Folk, Redheaded Stranger and Audrey. 
Walker and Li, who still own the Charleston restaurant, moved to Nashville in December with their young daughter and two cats. They were seeking to open a new venture, but also looking for a change of pace that would include, among other things, a thriving art and music scene — Walker studied electronic music and is also a visual artist. They set up their trailer on the grounds of the renovated, retro-inspired Dive Motel and Swim Club, where you can eat your food in the vibey surroundings of the Dive Bar or grab it to go. Online takeout ordering is available, and they offer delivery via DoorDash.
For folks who decry Nashville's relative dearth of good Chinese food, Xiao Bao will be a welcome addition. But it's much more than just another Chinese restaurant, and not solely because it includes influences from other Asian cultures. In terms of both originality and execution, the food coming out of that trailer is some of the very best in town.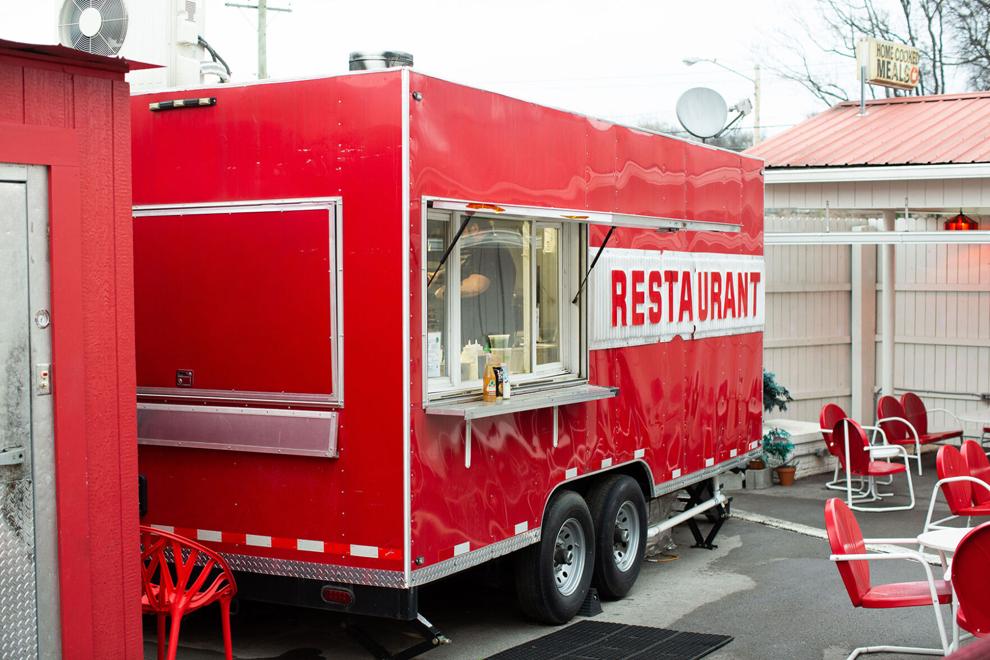 Though the Xiao Bao menu changes frequently, there's one signature dish that's always on offer: okonomiyaki. Known as oko for short, it's a savory Japanese pancake that typically includes a flour batter and a variety of vegetables, mayonnaise and other toppings. For the Xiao Bao version, Walker, who is the chef, opts for a lighter version that uses just a little batter and emphasizes the vegetables, typically cabbage, carrots, scallions and kale or some other green. Vegetarians can order it as it comes, or you can add an egg, bacon, pork candy (!) or katsuobushi (a smoky fermented fish condiment).
Xiao Bao's oko is based on a recipe the couple learned during their honeymoon, which included extensive travel throughout East Asia and a stint working on an organic farm in Japan through World Wide Opportunities on Organic Farms, a sort of organic-farming cultural exchange program.
"When we were farming there," Li says, "the host mom that we were staying with just picked stuff from her garden. She had this weird little flattop that she cooked it on."
"It ended up being more like a hash brown than a pancake," Walker adds. "That really appealed to us."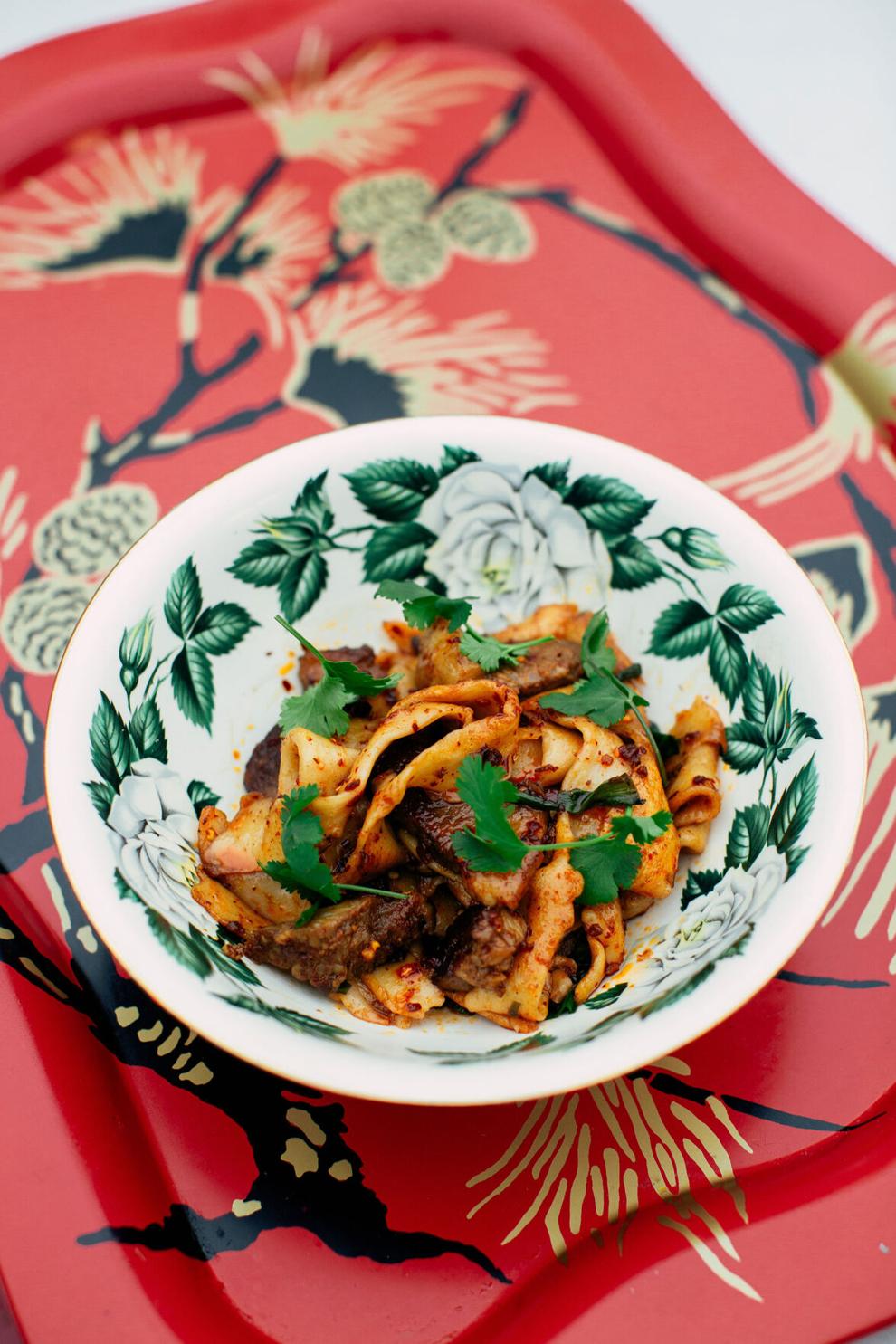 The Xiao Bao oko is delightful, and it's easy to see why it's always on the menu. But everything I have tried there is superb — nothing more so than the hand-pulled noodles with chili cumin brisket and sesame, which is hands-down the best noodle dish I've ever had. The noodles are thick, irregularly shaped, and have a wonderfully chewy texture that absorbs the flavor of the ingredients they've been cooked with. 
"I call it perfect imperfection," Walker says, "because it's not like a consistent perfect noodle. You get bits that are chewier, bits that are thinner." And — unlike the Americanized Chinese food many of us have become accustomed to — the dish is (thankfully) not swimming in sauce. Most of the flavor has been absorbed into the noodles and brisket. Li says it's more of a winter dish, common in Northwest China, so as warmer weather comes, another noodle dish may take its place. 
Another eye-opening bite is the fried mochi. Unlike the ice-cream-filled version often served as a dessert, this is a savory dish — balls of glutinous rice flour filled with caramelized pork and served with lettuce (for wrapping) and a sweet-and-sour nuoc cham dipping sauce, a staple of Vietnamese cuisine. The contrast between the sweet pork filling and the tart nuoc cham is sublime.
The mochi is a prime example of the Xiao Bao ethos — a fusion of sorts, but not in the kitschy sense embodied by so many suburban strip-mall restaurants. "For instance, our mochi dish, you're never going to really find that in Asia, but the flavor profiles are very much authentic to things you would have had in Asia," Li says. "For me, the outer shell reminds me of a Hong Kongese style dim sum, the sesame balls. So it's borrowing from that, but using a savory filling and combining with the nuoc cham. That dish itself is not authentic to any one region. Authenticity-wise, we try to stay true to our taste memory of what we've had, whether it's from my childhood or from our travels."
Other highlights from my Xiao Bao excursions: la zi ji — spicy chicken with green beans, chili peppers and Sichuan peppercorns, known for their mouth-numbing effect; som tum, a spicy green papaya salad with peanuts, herbs and fish sauce; and guo tie, delectable pan-seared pork dumplings that are all connected by a lacy crust. And notably, for an enterprise that's been operating out of a trailer for just a few months, the dishes were consistently good on multiple visits. 
The full-service restaurant, now in the works at 830 Meridian St., will be called simply Xiao Bao, skipping the "Biscuit" part of the Charleston restaurant's name that was a nod to the Southern locale. And though the name might have you expecting bao buns, it's a reference to Li's nickname as a child, which translates to "little bundle." The couple expects to have about 85 seats, a private dining room for large parties and several outdoor eating areas. Walker will run the kitchen, and Li will handle operations.
And Li has another crucial role. "I taste the food," she says. "Especially with Chinese dishes, I have a lot more say. But even me, I'm from northern China, so if he's doing more of a Southern-China-influenced dish, I will probably have less say in it. … When we travel to Southern China, he loves Sichuan cuisine. … He's really well-versed in Southeast Asian cuisine as well."
Walker and Li currently plan to be open five days a week, closing on Tuesday and Wednesday to give their staff a couple days off. Those are their current days of operation at the trailer, too. Weekend brunch plans are also in the works, and they intend to keep the trailer running until the restaurant opens.
As for the design, Li says not to expect "that new or ethereal California vibe." Instead, they plan to take design cues from Li's younger years in China. 
"It's not going to be what people think when they think of China," Li says. "I came from the Communist era growing up there. ... I think it's going to feel very comfortable, but also kind of different. It's rooted in a certain nostalgia for me."
"That's the fun part of the restaurant," Walker says. "You get to tell a story: the decor, the music and the food. When you're getting all those things right, that's what makes people happy."