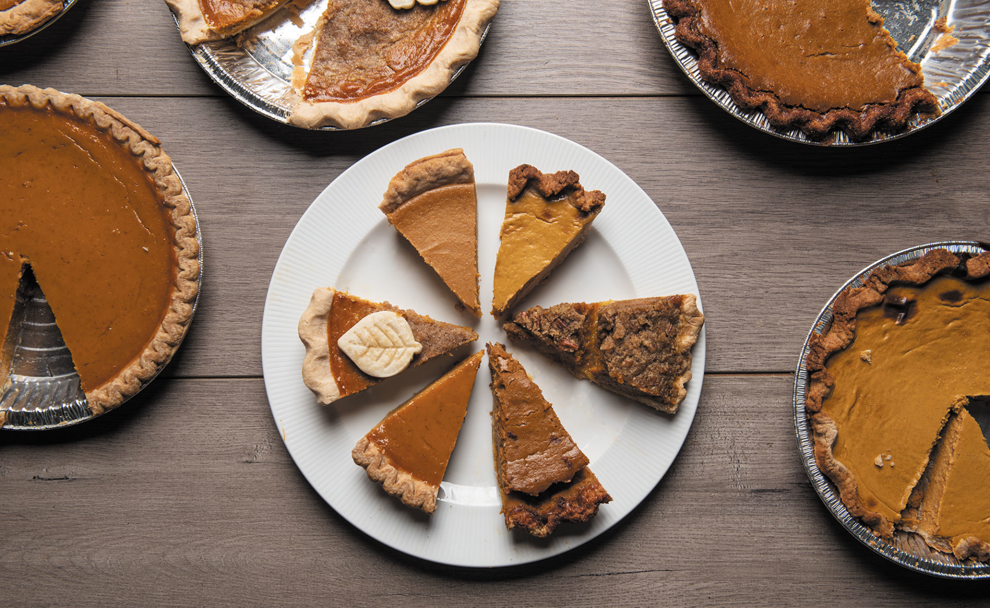 There's no such thing as a bad pumpkin pie.* Like pizza, even subpar pumpkin pie is better than no pumpkin pie at all. (Especially for breakfast the day after Thanksgiving with loads of whipped cream.)
But also like pizza, there are several factors to consider when looking for the ideal pumpkin pie. These include crust, filling, texture and flavor, and everyone has their own preferences. Does the perfect pumpkin pie exist? I had to know. One afternoon this month, I invited nearly 20 employees from the Scene and its sister publications into the conference room and asked them to taste six different pumpkin pies. The samples came from Dozen, Buttermilk Sky Pie, Papa C Pies, Sweet Creations, Baked on 8th and Publix. Our samplers rated each pie in four categories — texture, flavor, crust and overall pie experience — and also voted for the one they liked the best.
Halfway through the taste test, one participant exclaimed, "I'm shocked that these all taste so different!" 
She wasn't wrong.
There were clear winners, but when all was said and done, most tasters agreed that there wasn't a truly bad pie in the bunch. (Save for one particularly picky pumpkin pie fanatic — looking at you, J.R. Lind.) 
Which pie was best really came down to personal preference. Like it sweet? You'll love Buttermilk Sky Pie's cookie-like crust. Want something with a lot of cinnamon and a classic flaky crust? Try Dozen. Sweet Creations on Jefferson will give you a delicious pie that tastes homemade, and Baked on 8th will surprise you with a creation unlike any pumpkin pie you've had before.
It's worth noting that this taste test could only include bakeries with pies that were available at the end of October. Several other local bakeries expand their offerings for the holidays — Caity Pies, Loveless Cafe, Slowhand Coffee + Bakeshop, Dose, Dulce Desserts and Little Mosko's, among others — so if you have a favorite sweet spot, give 'em a call. Hell, you could host your very own taste test around the Thanksgiving table! 
*Unless you do not like any pumpkin pie, in which case, why are you reading this article about pumpkin pie? Move along. This isn't for you.
Dozen Bakery, $30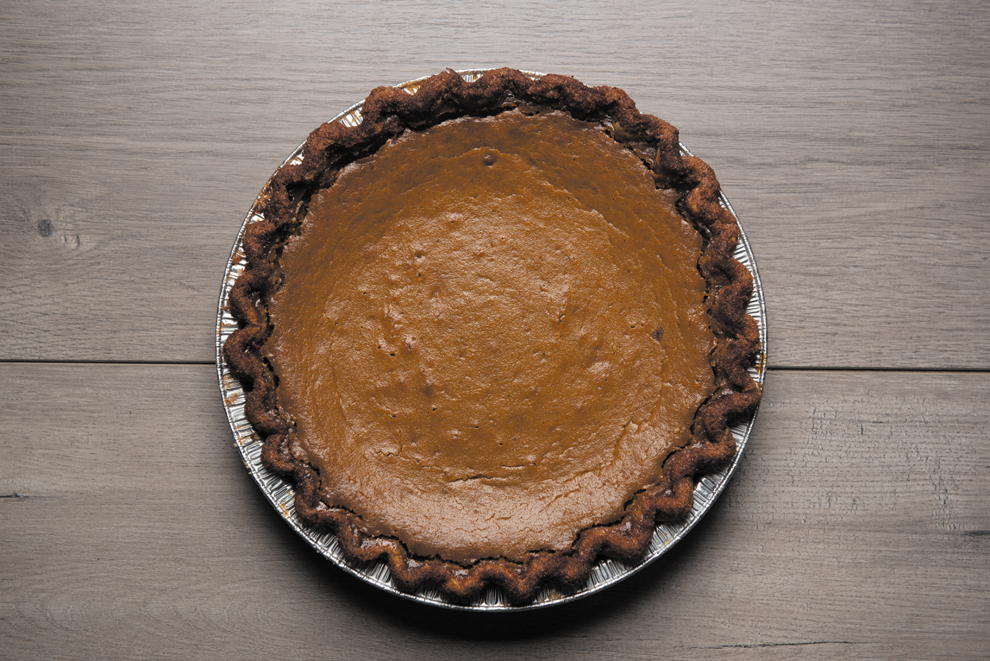 516 Hagan St., Suite 103
While Buttermilk Sky Pie technically won the scoring portion of the taste test with 28 of a possible 40 points, Dozen was the overall favorite. More than half of our tasters said it was the pie they would buy for their own holiday events. At $30, it's the most expensive pie on the table, but it's a bit larger than most, as it's baked in deep, 10-inch pie plates instead of the standard 9-inch pans.
Total score: 27 of a possible 40
"Well that was delightful. Love the cinnamon accent on the crust."

"This is an exceptional pie. Balanced flavors, filling is thick but not claggy, bottom is wonderfully browned and not at all soggy. In the words of Mary Berry, 'It's scrummy!' "

"Edge of crust was good, but too stiff on the bottom."
Buttermilk Sky Pie, $23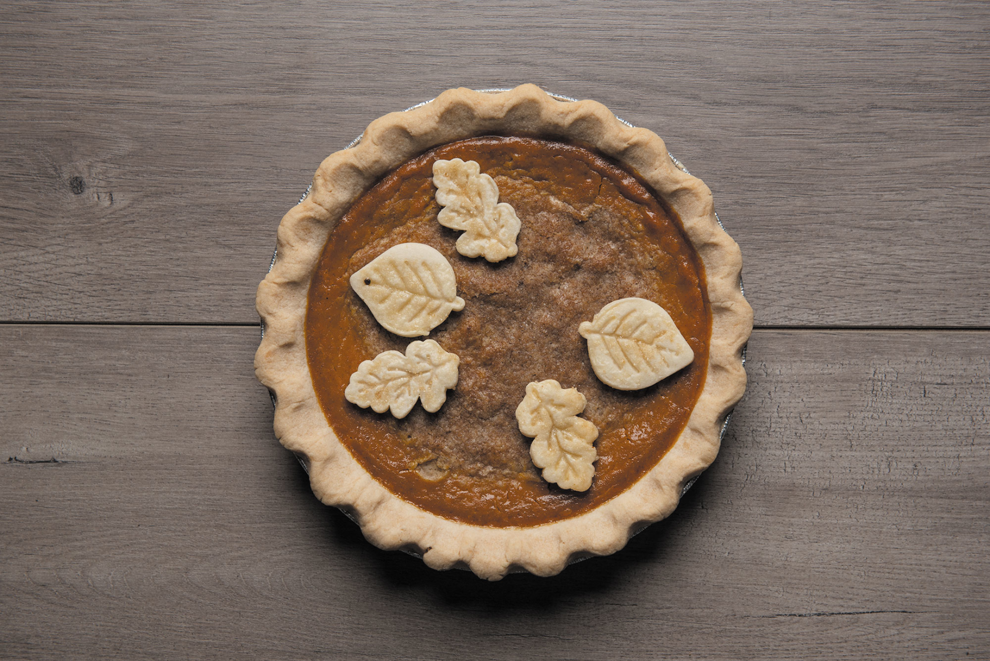 5050 Carothers Parkway, Suite 104, Franklin
Dozen may have snagged the highest number of overall votes, but Buttermilk Sky Pie took first place in both the crust and texture categories. Not only was it one of the prettiest pies on the table — decorated with cute leaf-shaped cutouts — but tasters loved the crust, which is sweet and tender like shortbread.
Total score: 28 of a possible 40
"Classic pumpkin pie — crust is perfect, not too sweet."

"The crust is a little too sweet, but it's good!"

"Rather gummy crust and claggy filling. Flavor is too straightforward — would like more spice."
Papa C Pies, $24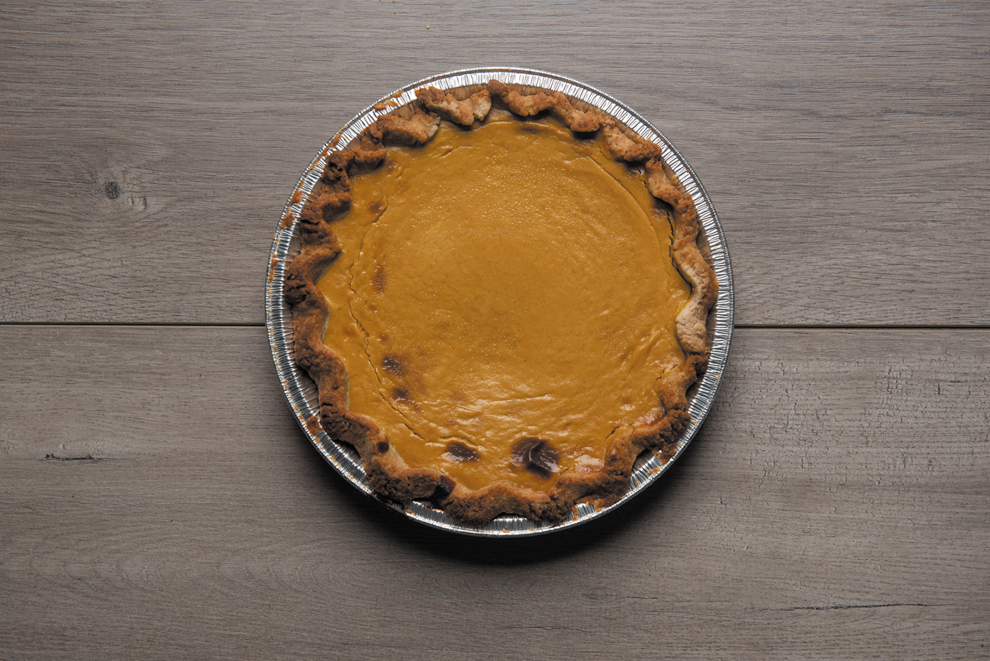 99 Seaboard Lane, Suite 100, Brentwood
Papa C's was perhaps the most polarizing pie of the group. One taster gave it a perfect score in every category, while another gave it a 10 out of possible 40 and called it "disappointing." It's a perfect example of how one person's perfect pie is another's disaster. That said, Papa C's tied with Sweet Creations for second-best crust. Folks also couldn't agree on the flavor — for some, the cinnamon had a kick that built up in the back of the throat with every bite, but not everyone noticed it.
Total score: 25 of a possible 40
"Great overall, could use a little more flavor."

"Not too sweet, but gritty texture!"

"Wonderful flavor, but a little soft and soupy."
Sweet Creations, $15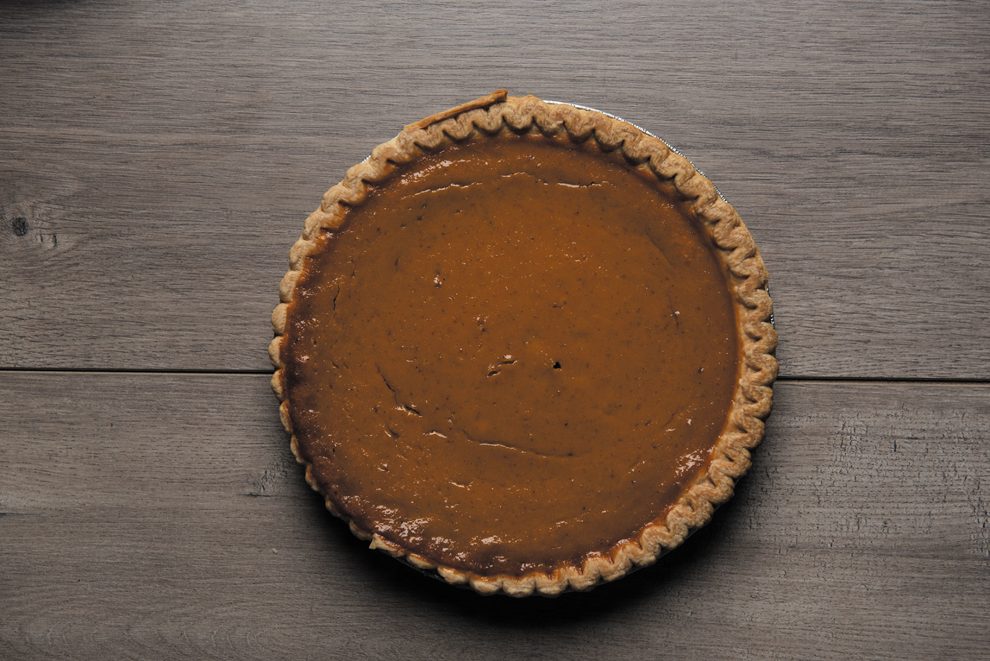 942 Jefferson St.
Many tasters loved Sweet Creations' crust. "Very homestyle crust," wrote one voter. "A very Mom's-homemade pie," said another. Folks also liked the smooth and creamy texture of the filling, as it came in a very close third in that category behind Buttermilk Sky and Dozen. The one area in which Sweet Creations fell behind was flavor — the filling tasted sweet and natural, but it would've been even better with a touch more cinnamon, clove and ginger. 
Total score: 24 of a possible 40
"Beautiful silky texture. The crust is deliciously flaky."

"Tastes like my mom's pie. Could use more spice."

"I would've liked more sweetness or cinnamon."
Baked on 8th, $26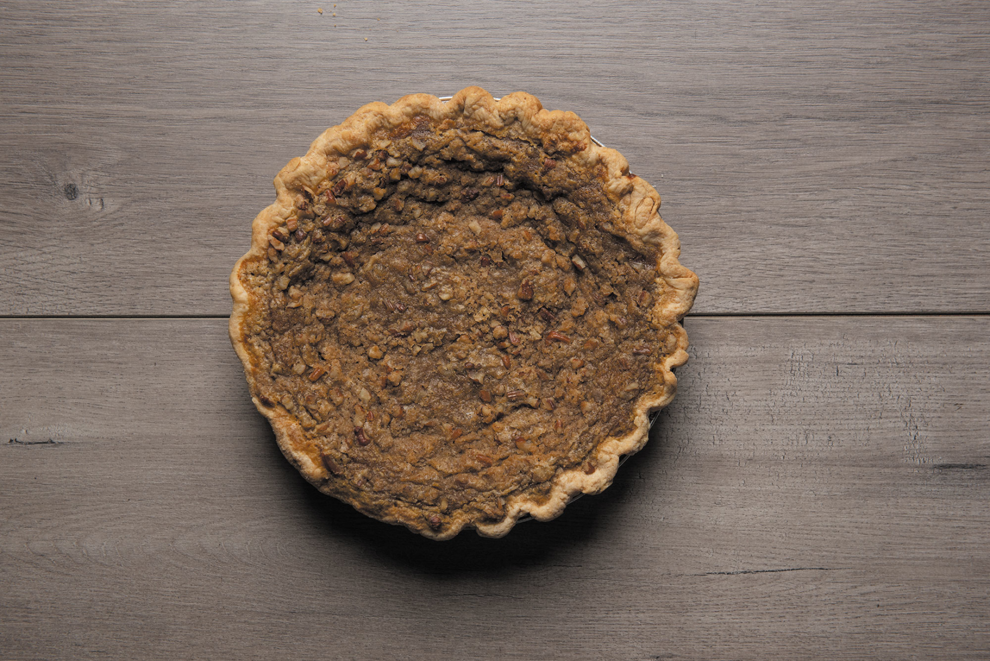 1512 Eighth Ave. S.
The majority of our tasters loved the flavor of Baked on 8th's pie — it came in a close third in that category, just a fraction of a point behind Dozen and Buttermilk Sky. But not everyone enjoyed the texture. Baked on 8th's filling was softer and looser than the usual custard-like pumpkin-pie filling. Multiple voters compared it to baby food. Wisely, each pie is finished off with a generous layer of streusel-like brown sugar and pecan topping, which adds a nice crunchy component. (It's probably even better warm with a scoop of vanilla ice cream.)
Total score: 24 of a possible 40
"Too soft. Why are there nuts?"

"Excellent flavor! Ginger is where it's at. However, I don't like the look of it. Tastes much better than it looks. Crust did not seem quite done on the bottom." 

"Mixed feelings about the strong spices. Generally a great pie."
Publix, $4.99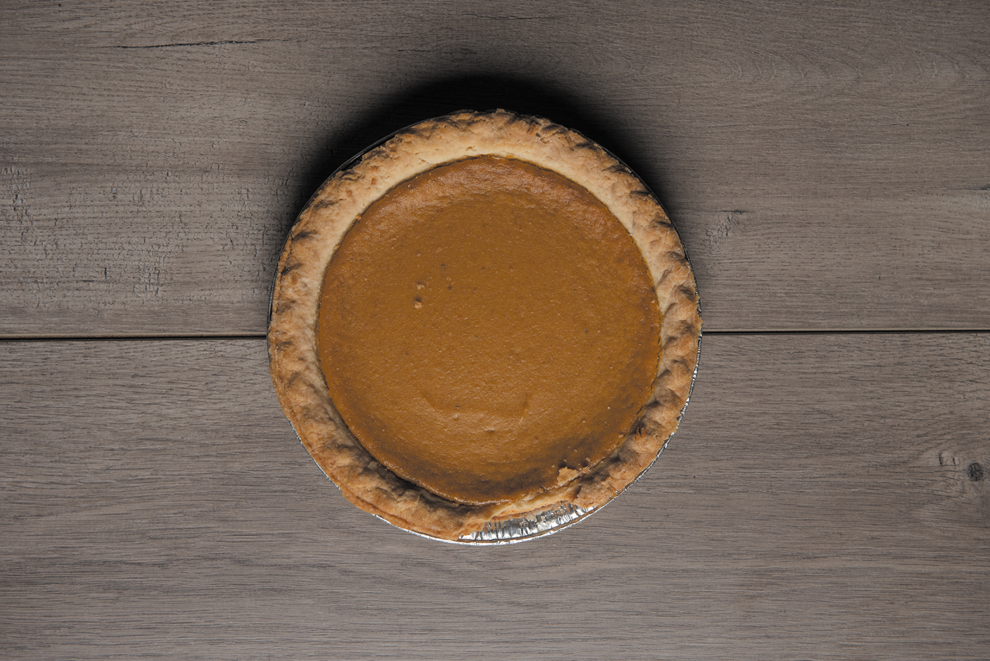 Various locations
It's not surprising that Publix came in last in pretty much every category — it's a $5 mass-produced grocery-store pie, and we used it as a sort of control in our experiment. That said, it wasn't a bad pie! Some tasters enjoyed the filling's smooth, thick texture. And while it wasn't as flavorful as the others (many noted a strong "squash" flavor), it would still be a fine pie to turn to in a pinch. (Especially if there's whipped cream or maybe some salted caramel sauce on hand to dress it up.)
Total score: 22 of a possible 40
"Perfectly normal."

"Tasted like squash. Not in a good way."

"Crust is OK, but could be flakier. Filling has a strong aftertaste. Texture feels a little artificial."