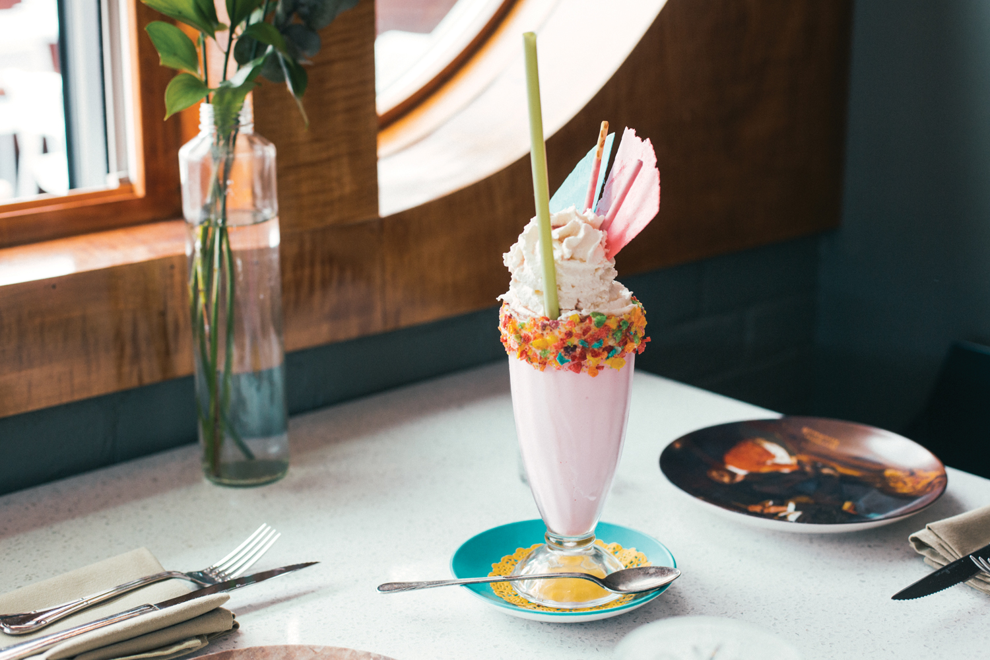 As delightful as they are, milkshakes are among America's more perplexing food inventions. They're not a true beverage — if anything, they make you thirstier — nor are they a traditional dessert, as they're often ordered to be consumed with a meal, as opposed to after. And does anything come with as much possibility for discomfort as a milkshake? Nothing makes you sicker quicker than sucking down a shake too fast, causing a slurry of liquified butterfat to churn in your stomach like a volatile tar pit threatening to boil over. And that's only if you managed to avoid brain freeze first.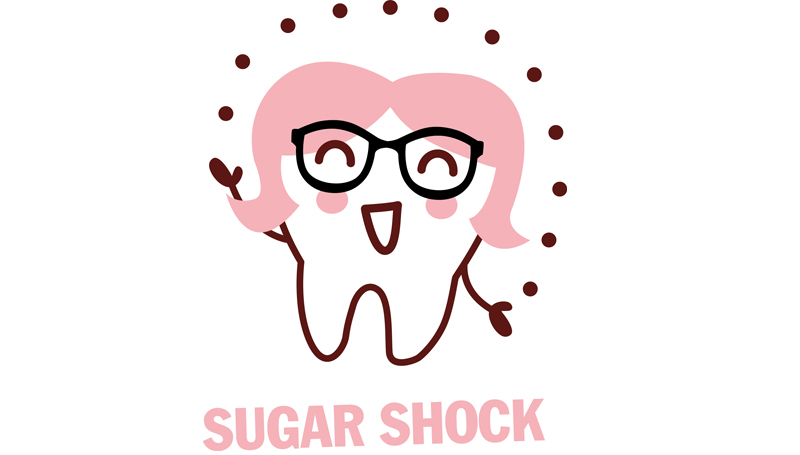 But we still love them, as complicated as they are. And today's milkshakes are more extravagant than ever. Just as bloody marys have started being garnished with an entire day's worth of food — the traditional celery stalk is now paired with a stack of sliders, giant strips of bacon, a whole roasted chicken, lobster claws and even brownies (gross) — milkshakes have also gotten a monstrous makeover.
New York's Black Tap Craft Burgers and Beer is blamed for starting the trend — the restaurant introduced its Crazy Shakes in 2015 and became an instant Instagram hit by transforming an average-size milkshake with a mountain of sugary toppings, including kebabs of gummy candy, ice-cream-cookie sandwiches, fat slices of cake, oversized lollipops, chocolate-covered bananas and caramel apples.
Now diners across the world — from Delaware to Mumbai — have their own versions, each trying to outdo the last with candy-covered mugs, chocolate orbs you have to break with a wooden mallet and, like the bloody marys before them, sliders and bacon. 
There's nothing like that in Nashville (yet), but local eateries have begun to kick things up a notch, ditching the whipped cream and cherry for more adventurous ingredients.
The Grilled Cheeserie in Hillsboro Village may be known for their buttery grilled-cheese sandwiches and fried-to-perfection tater tots, but their savory offerings have some real sweet competition in the ever-changing Milkshake of the Moment menu. In August they introduced the Corn in the U.S. Shake, which is made of corn custard blended into sweet cream ice cream and topped with Moosehead kettle corn and blackberries. July's Bang Bang Berries and Cream was finished off with whipped cream and chunks of Bang Candy's Sparkle Bark. The Grilled Cheeserie's current specialty shake is the Dutch Apple Pie, a perfect early-fall flavor that blends sweet-cream ice cream with baked local apple compote, house butterscotch and crumble topping.
My first sip of the Dutch Apple Pie fought its way up the straw, with the almost-too-thick ice cream base slugging along as my cheeks distorted in an effort to get maximum suction. When the ice cream finally broke through, the shake burst with flavor — tiny apple bits scattered across my tongue, and hints of butterscotch and cinnamon danced about. It really did taste like I was taking a bite of Dutch apple pie à la mode, and on a drizzly September night, just one sip shot me straight into autumnal mode. I wanted to go apple picking and pumpkin hunting. I wanted to wear sweaters and boots and scarves.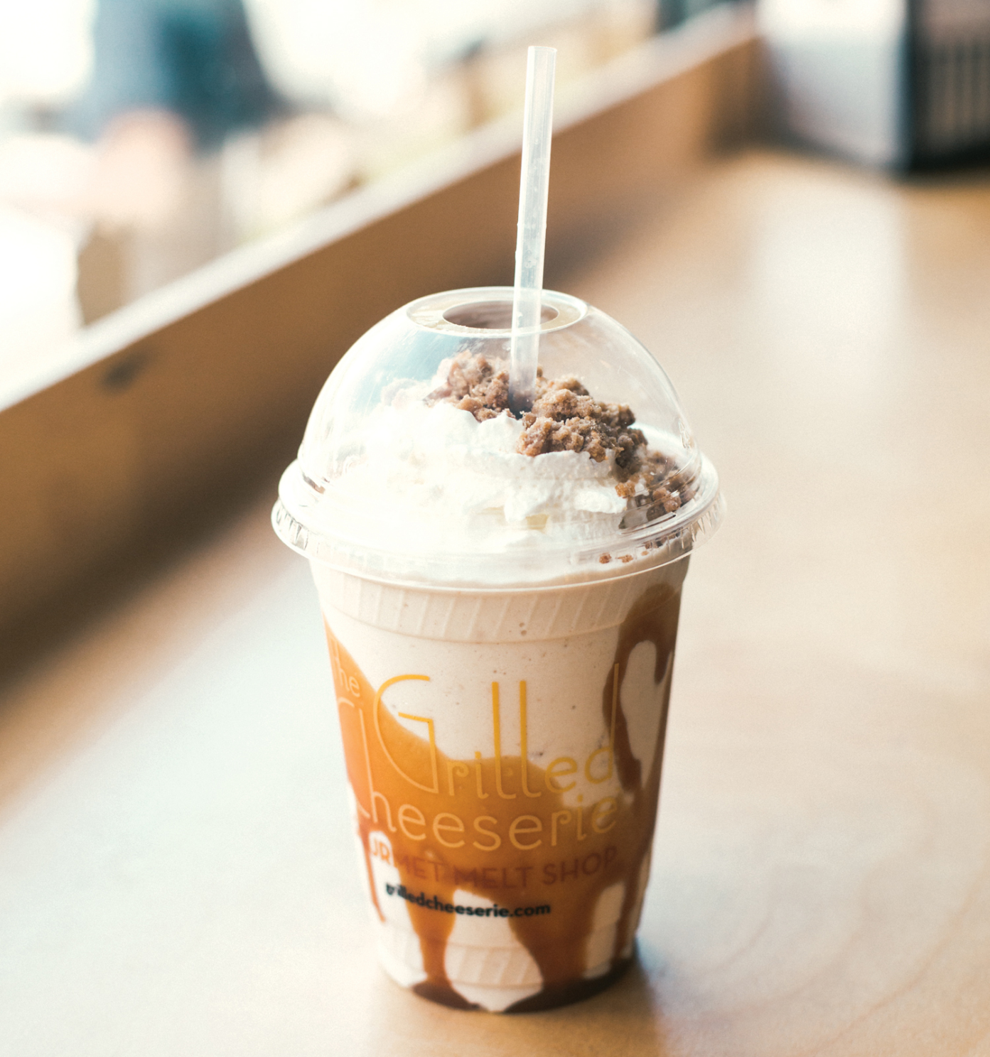 But after a few more sips, things started to go awry. The Grilled Cheeserie's standard straws are much too narrow to accommodate such a monster. At the halfway point, larger bits of the apple compote started to get stuck to the bottom of the straw, bringing each wonderful sip to a frustrating halt. I battled through — I used the straw to scoop out large chunks between sips, but the damage was done, the bubble was burst, and finishing it almost became a chore.
The Loving Pie Company did not have that problem. In fact, their Pie Shake! (exclamation point theirs) comes with an extra-wide bubble-tea straw so no chunk can escape. And yes, there will be the occasional chunk, because these shakes really do have a whole slice of pie — crust and all — blended in. The Loving Pie Company's flavor combinations are limitless. Your pie shake can be made with any pie slice from the day's menu — pecan, coconut custard, apple, coffee chess, chocolate peanut butter — and whatever flavor of Pied Piper Creamery ice cream they have on hand (chocolate, vanilla and, when I visited, coffee Oreo).
For my first pie shake, I went all-in, choosing one of Loving Pie's richest offerings — a slice of Cherry Trifecta pie — blended with vanilla ice cream. The Cherry Trifecta, which appears only occasionally as a daily special, has a dense, fudgy brownie base baked into a pie shell and topped with cherry pie filling. On its own, it's an almost perfect slice of pie — the crust is flaky and neutral, the chocolate filling is deep and not too sweet, and the bright-red cherries ooze down the sides. When blended into a shake, all the layers of flavor hit your tastebuds in quick succession — the cool, creamy ice cream comes first, then the cherries come through, followed by an intense blast of chocolate by way of little chocolate crumbs that remind you that, yes, you are drinking a slice of pie.
The newest and most colorful addition to the milkshake scene is The Mockingbird's Tutti Frutti, a Fruity Pebble ice cream shake topped with a mountain of whipped cream, two sticks of strawberry Pocky and a pretty wafer. The shake itself was, surprisingly, not too sweet despite the fact it was peppered with sugary breakfast cereal, and the glass it was served in — a classic tall fountain glass — was gorgeous, with the outer rim coated in a big stripe of Fruity Pebble cereal. But here's a tip: Don't eat that part. It's decoration, it turns out. When I licked it, it tasted like ice-cold, stale buttercream, and while OK, maybe I shouldn't have licked the glass like a child, I'm also not ashamed to admit that if you put breakfast cereal in front of me, in any form, I will attempt to eat it.
If all this sounds like kid's play, The Mockingbird will booze up your Tutti Frutti with a shot of SomruS cardamom-pistachio-saffron liqueur for an extra $5, but I don't drink alcohol nor do I have it in me to slap down $15 for a milkshake, unless the straw is a $5 bill — but you do you.
For now, Nashville's milkshakes are just right — there are still plenty of traditional options for the unadventurous, and many of the more experimental efforts are thoughtful. While Crazy Shakes may indeed be on their way to Music City, right now I wouldn't change a thing. Except maybe the straws.