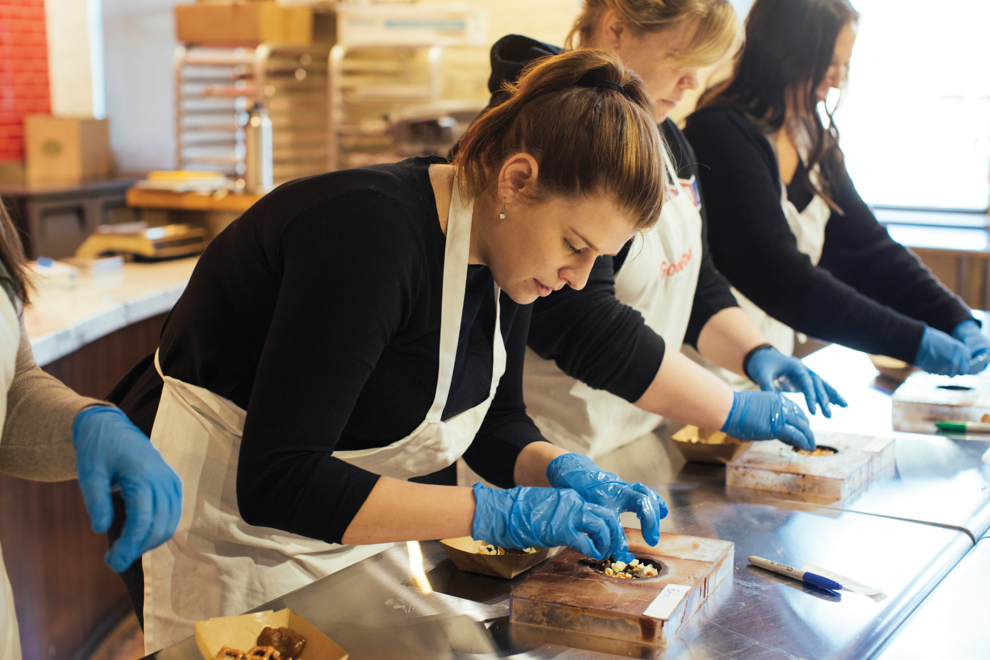 What would you put in your Goo Goo?
I've been imagining an answer to that question for years, ever since Goo Goo Cluster upped its game by introducing Premium Goo Goos in 2015. While the very tasty traditional Goo Goos, which have been made in Nashville since 1912, weigh in at 1.75 ounces, the Premium Goo Goo is bigger and better — it's a mountainous 4 ounces of chocolate, caramel, peanuts and nougat, and every single one is made by hand in the Goo Goo Shop & Dessert Bar downtown.
That was just the beginning of Goo Goo's fun. Now the big Goo is available in an array of seasonal flavors. December's White Christmas was a combination of dark-chocolate peppermint ganache, crushed Oreo and peppermint nougat. The current Valentine's Day flavor is inspired by red-velvet cake, and packed with red-velvet fudge, cream-cheese ganache and Oreo Crumbles. The kitchen has to churn out anywhere between 500 and 900 every week to keep up with demand.
Over the years, some of the city's best chefs and dessert makers have been invited to build their own Premium Goo Goos, filling a dark- or milk-chocolate shell with ingredients that represent their favorite flavors.
In 2017's Summer Chef's Series, Crystal De Luna-Bogan of The Grilled Cheeserie packed her O.G. Cookie Melt Goo Goo with a chocolate-chip-and-pretzel cookie, vanilla bean marshmallow cream, salted caramel and a pretzel crust. Trey Burnette and Jessica Benefield of Two Ten Jack made good use of fig jam, mochi marshmallow, rice-crispy crunch and miso caramel.
Last summer brought my favorite Premium Goo Goo to date: Vui's Kitchen owner Vui Hunt created The Saigon, with lime ganache, ginger caramel, candied ginger, sweet-potato chip crunch, honey nougat, and sesame-seed-and-sea-salt crust. It was a truly memorable piece of candy — sweet, crispy, fruity and salty bursts all hit the tongue in delightful, surprising layers.
It wasn't the first time the Goo Goo kitchen was surprised by suggested flavor combinations.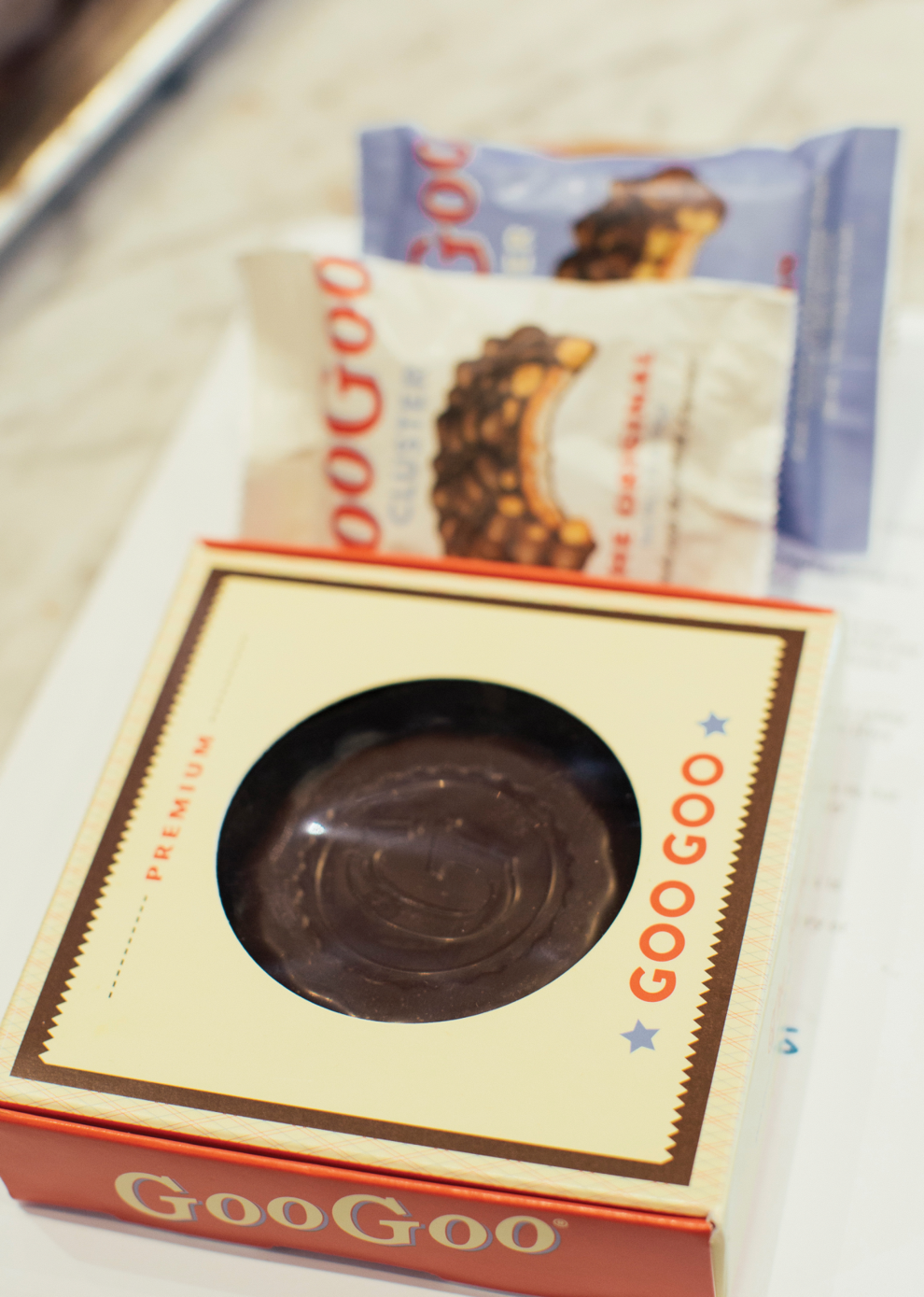 "When Pat Martin told us that he wanted to incorporate rendered pig fat, Martin's very spicy Devil's Nectar Bar-B-Que Sauce, smoked pecans, fruit and molasses, we all thought he was crazy," says Goo Goo's vice president of marketing and sales, Beth Sachan. But Goo Goo pastry chef Bethany Halliger "figured out a way to make it work ... and it was surprisingly good!" Sachan adds that Halliger "used the pig fat and the sauce to candy the smoked pecans he provided, and it all come together."
Now via Goo Goo's candy-making classes, you too can create a custom cluster. For $40 you get access to Goo Goo's kitchen, as well as some of the shop's candy-making secrets. Of course I had to sign up.
My heart pitter-pattered when I first arrived at Goo Goo's kitchen and saw the chocolate shells waiting to be filled. I wanted to run over to the table of toppings and grab fistfuls of peanuts, rainbow sprinkles, pretzel pieces, crushed Oreos, white chocolate chips, and mounds of caramel, peanut butter and the signature vanilla nougat — and stuff every single bit into an Ultimate Sugar Shock Goo Goo Cluster. But there were rules. Damn it.
Each person in the class got to choose up to three dry ingredients and two of the sticky ingredients to layer into our soon-to-be Goo Goo. Some of my classmates went really sweet, pairing the nougat with white chocolate chips and rainbow sprinkles. Others played it safe, sticking to the already-familiar combo of peanuts, caramel and nougat. I chose Oreos, peanuts and pretzel bits, paired with a layer of nougat and a layer of caramel. Delicious! (But if I'm honest, I wish I had sneaked some sprinkles in there too.)
After carefully filling our shells — the instructor gave us some tips to keep all our ingredients from spilling out — our Goo Goos got finished off with a run through the chocolate fountain, an industrial kitchen machine that keeps 30 pounds of melted chocolate at the perfect temperature. 
Just 15 minutes later, after the treat got a quick chill in the fridge (while I indulged in some brownie decorating and dessert sampling), I had my very own Premium Goo Goo, boxed up and ready to go. It was a dream come true. But later at home, as I enjoyed my hard work, I couldn't help but think of all the other things I could've stuffed into my Goo Goo. Cap'n Crunch! Cotton candy! Or … what if I put a whole traditional Goo Goo inside a Premium Goo Goo?
"We've actually never done that, but you might be onto something," says Sachan when I ask if an Inception Goo has ever been done. "If it were me, I'd probably put a milk-chocolate Peanut Butter Goo Goo inside the dark-chocolate Premium shell that is filled with more of our peanut-butter filling."
So can candy-making students bring their own ingredients to class if their imaginations reach beyond what Goo Goo makes available? 
"We've never actually had anyone ask that question," Sachan says. "But I don't think there would be any issue with it, since they'd be making the candy for themselves, and we're not selling it to the public." 
Lucky Charms-marshmallow-filled Goo Goo, here I come!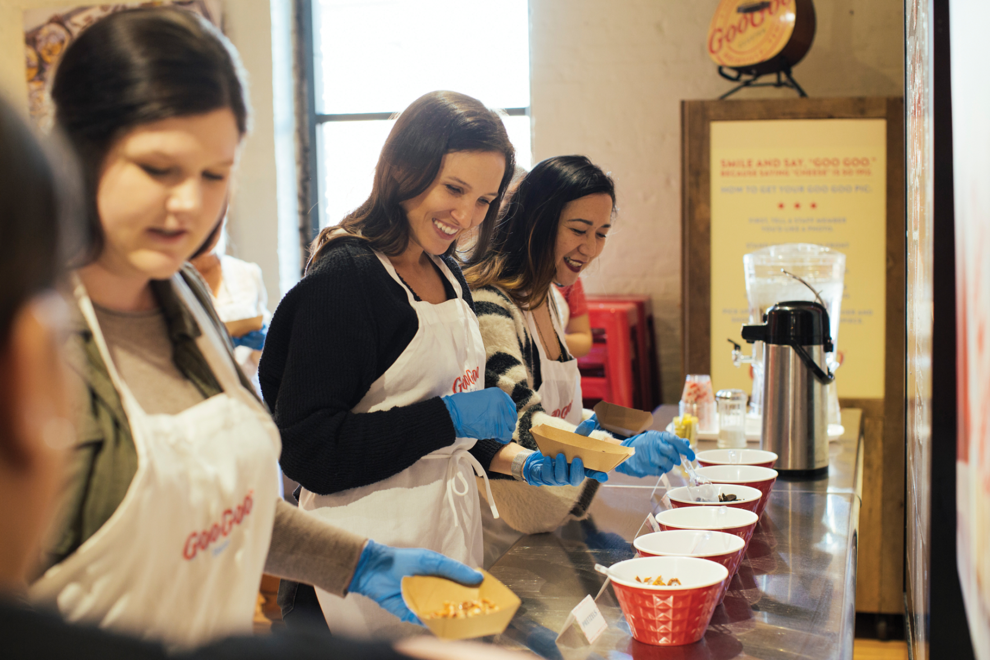 ---
Extra Credit
Goo Goo is just one of many dessert classes around town. Below are a few more places where you can learn how to make something sweet, and leave with your own customized treat to enjoy later.
The Feral Baker's Cake-Decorating Workshop
Beca Lewis Skeel became a bit of an Instagram star in 2017 after she posted images of gorgeously decorated vegan cakes topped with realistic-looking plants and flowers. She shares her "butter" cream secrets in decorating workshops, and you get to leave with a 6-inch cake of your own creation. There are two classes scheduled for Sunday, Feb. 24. Message her on Instagram — @rosegoldveganbakery — to learn more and claim your spot.
Tempered Cafe & Chocolate's Truffle Making Class
Tempered Cafe & Chocolate's chocolates look like edible gems — with a glossy coating and edible glittery dust. These chocolate classes will teach you how to make your own truffles — learn how to temper the chocolate to achieve that perfect shine and snap, and find out how Tempered gets all its decadent fillings in each bite. There weren't any classes scheduled at press time, as the cafe is busy prepping for the Valentine's Day rush. But keep an eye on the website, temperednashville.com, for upcoming announcements.
Donut + Dog's Brioche-Baking Class
Learn the secrets behind the oh-so-tender 12-hour brioche dough that makes Hillsboro Village's Donut + Dog's doughnuts so popular. The cafe will provide drinks and small snacks throughout the class, and you get to leave with half a dozen of your own tasty creations. The next class is Sunday, Feb. 24. Email info@thedonutanddog.com to learn more and reserve your spot.