You know what feels on-brand this year? Letting a rodent decide our fate. Last week, Punxsutawney Phil did his thing at Gobbler's Knob and declared six more weeks of winter. But here's the thing: Phil is only right about 39 percent of the time. Here's the other thing: Who cares? We've essentially lived through a year of winter, emotionally if not literally. Six more weeks won't wreck us.
That's especially thanks to Nashville's current drink roster. Our winter-beverage scene is stacked — and laced and infused and steeped and every other PR buzzword you can think of. Below are seven drinks that will give you the fortification you need to see you through the time change. As always, we recommend checking an establishment's website for hours, ordering information and more before heading their way.
Butterbeer Latte at Red Bicycle
I missed the train to Hogwarts. I was 26 before I picked up a Harry Potter book, and I just couldn't get there. Well, with one huge exception: butterbeer. Beer is good, butter is even better, and the idea of mixing the two is the most magical idea J.K. Rowling ever had. (That's not what it is in the novels, of course; that's described as "less-sickly butterscotch," but butterscotch: also good!)
At Red Bicycle, butterbeer is a latte laced with caramel, vanilla and white chocolate. The latter, of course, is not actual chocolate, but rather a mix of sugar, cocoa butter, milk products, vanilla and some fatty thing called lecithin. Purists love to rag on white chocolate, but I don't see why — all those creamy fillers make it hella drinkable! Here it's sweet, not saccharine, and rich but still frothy. The caramel is there, but it's subtle enough that you can taste the coffee. It's a drink your kids would hate, which is why you'll love it.
Carmella at City House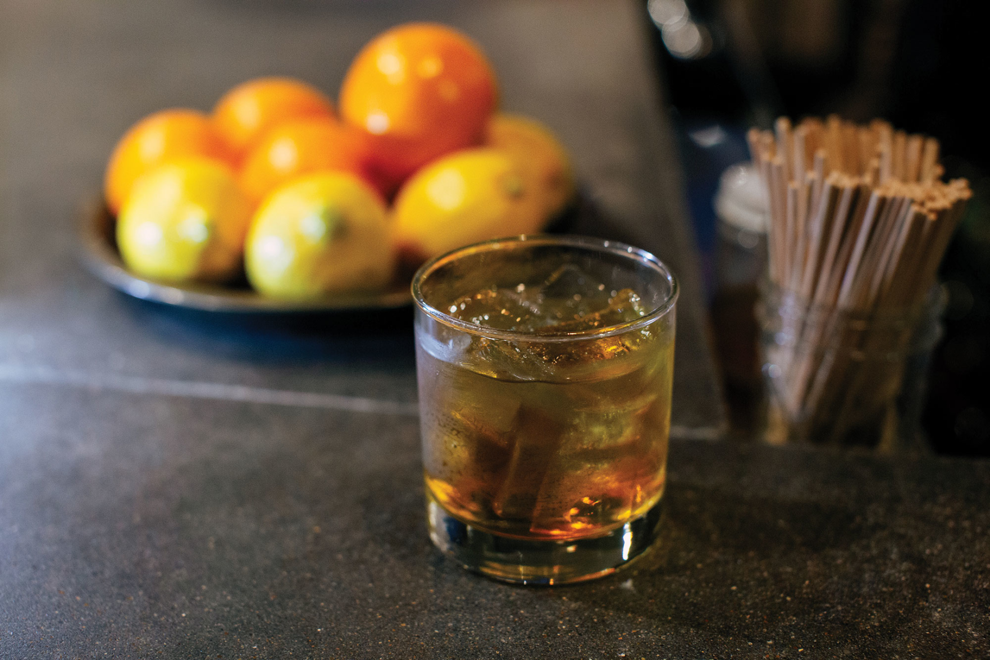 What kind of animal smokes marijuana at his own confirmation?! If you don't recognize that quote from queen/icon/legend Carmela Soprano, you've been quarantining wrong. Yes, City House spells the name of this drink with two L's, but it's got a low-key threatening vibe that is very Carmela, however you want to spell it.
The drink gets its big mob-wife energy from dry gin and Forthave Amaro, which is packed with bracing, wintry rhubarb and cinnamon. Orange bitters and crème de cacao make it all go down easy. All in all, it's a drink that's strong enough to dull the pain but bitter enough to ensure you're always alert — and keeping an eye on the door.
Hansel and Gretel at The Café at Thistle Farms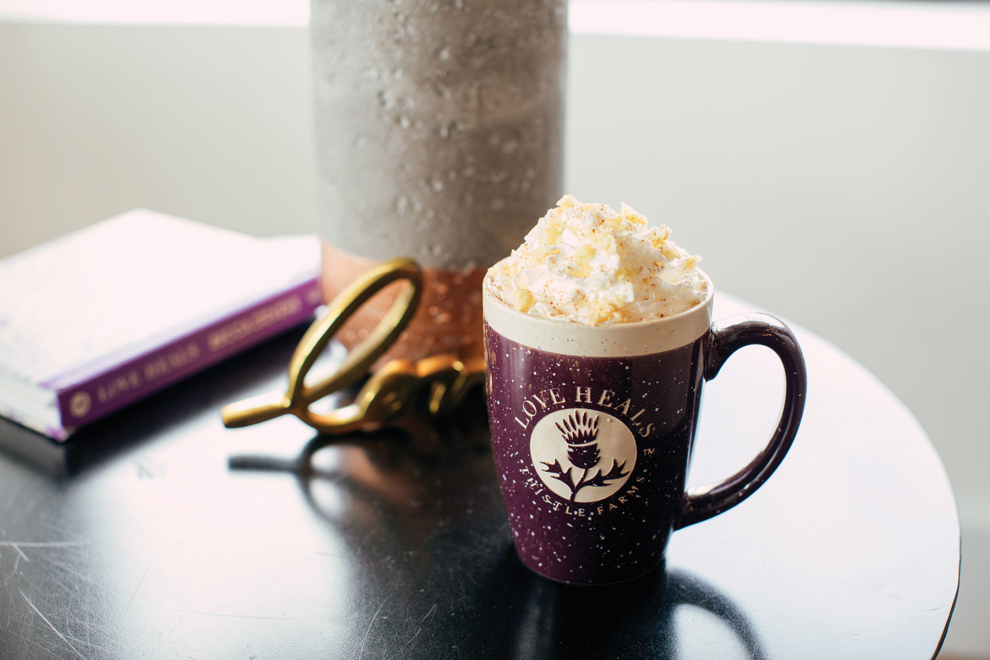 If you ever find yourself missing your extended family — you know, the ones who like to hug your neck and lie to you about how skinny you're looking — go to The Café at Thistle Farms, a nonprofit that employs women survivors of trafficking, prostitution and addiction. The place oozes warmth, rejuvenation and a general sense that everyone is welcome to come in out of the cold.
Max out on coziness with the Hansel and Gretel. The riff on a chai latte is made with local Firepot tea, espresso, gingerbread (actually buzzed up in the drink!), steamed milk, whipped cream and a sprinkle of cookie crumble. The description is enough to make you smile, and the drink will do you one better — especially once you know the recipe comes from one of Thistle Farms' women survivors.
Absinthe Tasting at Green Hour
Some days call for the big guns, and there's no larger artillery than chocolate and absinthe. At Germantown's Green Hour — the nighttime alter ego of Tempered Cafe — they'll tailor an absinthe tasting to your palate. I hate licorice, so that was no small task, but they were equal to it. (The chocolate-truffle pairings didn't hurt.)
I tasted vanilla and caramel in Letherbee Charred Oak Absinthe Brun while cracking into a cherry-cordial white-chocolate truffle. I tried the classic Vieux Pontarlier, made with Provençal fennel, green anise and aromatic herbs. With an elderflower-rosé dark-chocolate truffle, the French absinthe became easily sippable, like a smooth bourbon. I finished with Corsair Red, Nashville's only local absinthe, which has mild hibiscus, tarragon and citrus flavors. Matched by a blackberry-basil truffle, it was a combination unlike anything I've tasted before.
If you're worried about hallucinating, don't; the chemical (thujone) alleged to make you trip comes from wormwood, which is the same stuff they use to make vermouth and bitters. It's capped at low levels in the U.S., so if you drink enough to end up naked on the lawn, that's totally on you. Yes, absinthe is strong at 45 to 90 percent ABV (whiskey is typically around 45), but you dilute it with water and sugar, so you won't breathe fire unless you shoot it like a college kid in Prague.
Grapefruit Orange from Maypop Sparkling Water
There's no way to talk about "locally made, small-batch sparkling water" without sounding basic. It's kind of like posting a photo of your goldendoodle and a Jimmy John's sandwich in front of a Lululemon. But don't let that keep you from a jug!
Maypop — which we gave a Best of Nashville award to back in October — is simple and refreshing. It's made with real fruit and no sugar, and it's filtered six ways from Sunday, so it tastes clean and crisp. Plus, since it's local and seasonally made, you can find rotating citrusy mixes all winter. Maypop is available at various locations, including multiple farmers markets — visit their website for more info.
Abracadabra at Treehouse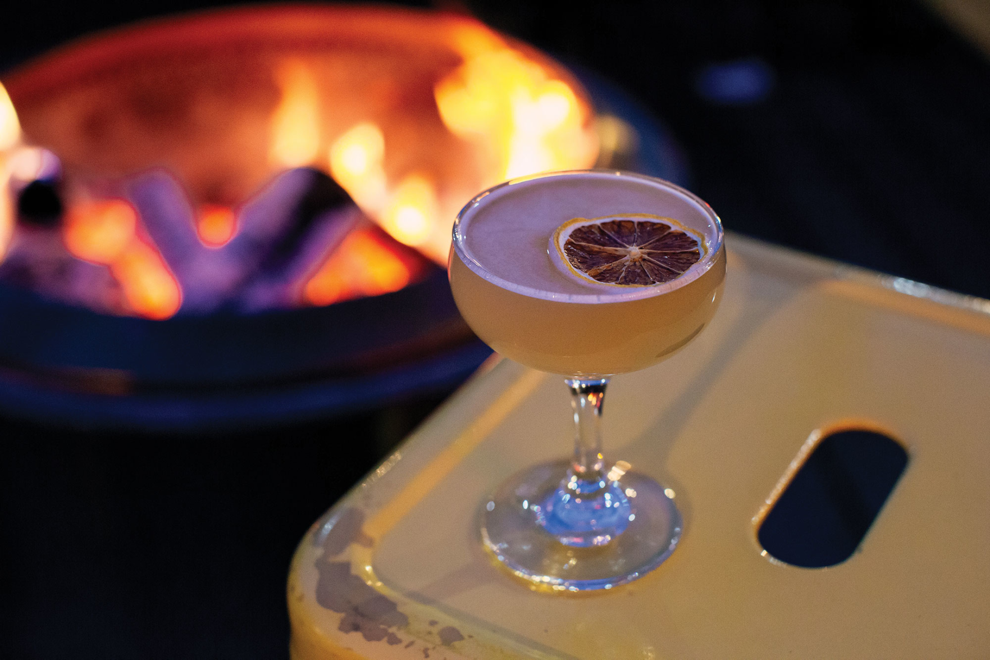 Most winter cocktails double down on dark liquor — bourbon, brandy, black rum. Treehouse spotlights the lighter side of cold-weather cocktails with the Abracadabra. Served straight-up, it's backed by vodka and sherry and set off by spiced pear, lemon and honey. Think hot toddy, but cold, with all its associated "healing" properties.
And "healing" is the operative word here. "Abracadabra" dates at least as far back as the second century, when the Roman emperor's physician directed people with malaria to wear amulets inscribed with the word. Its power, he claimed, could cure lethal diseases, which sounds ... useful right about now. If we rely on woodchucks for the weather forecast, why not rely on ancient Romans for health care?
Spiked Hot Chocolate at Midnight Oil
toasttab.com/midnight-oil-1310-51st-ave-north
Midnight Oil quickly became a leader in last summer's frozen-drink frenzy with its spicy peach margarita and lethal frosé. When the weather cooled, the Nations spot concocted an equally addictive winter warmer: spiked hot chocolate on tap.
Midnight Oil's decidedly non-artisan hot chocolate (cocoa mix, powdered sugar, milk powder) is spiked with a rotating selection of whiskey. Most often, it's Skrewball Peanut Butter Whiskey, which essentially makes this a boozy, drinkable Reese's Peanut Butter Cup. And if that's not enough to see you safely from Halloween to St. Patrick's Day, you need more help than a drink.