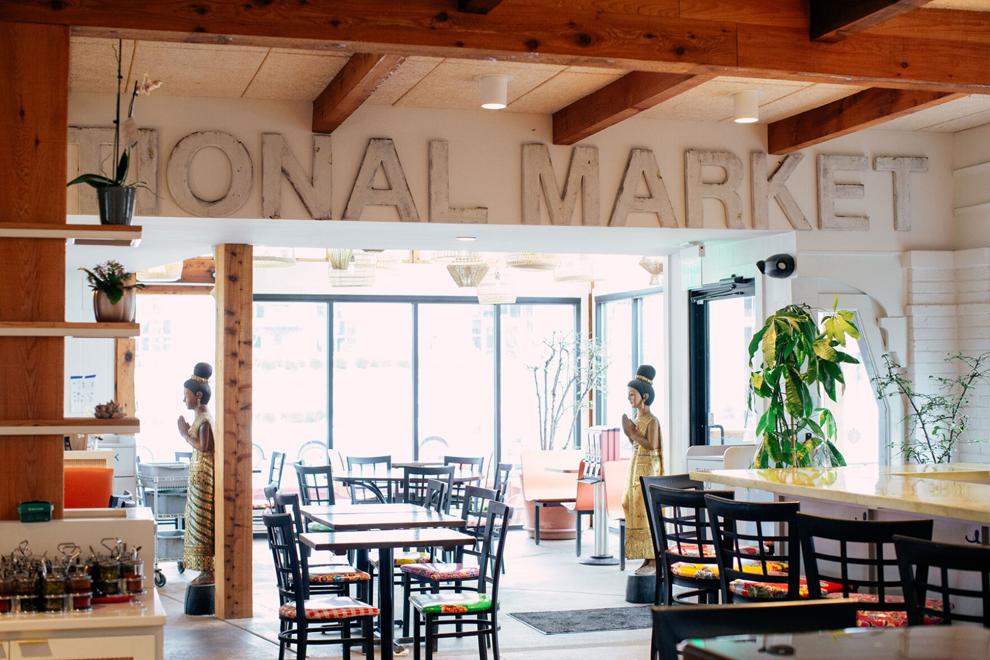 Every now and then, someone who visits the new location of International Market across the street from the original site will have a bone to pick with chef Arnold Myint over whether dishes on the steam table have changed since his mother ran the place. It's a natural reaction, considering that the beloved restaurant's legacy stretches back to 1975 — and maybe especially so in a town where many street corners are unrecognizable due to whiplash change. We're holding on to the familiar with all we've got. 
But when it comes to change, Myint has a little bit of insurance. He can refer diners to Kong Bounkoung Srisongkham or Tongdee Jackson, two of the ladies in the kitchen who cooked with his late legendary mother Patti Myint for 30 and 40-plus years respectively. If anyone knows how the chicken on a stick, the egg rolls, the curries have always been cooked, it's them.
And yet Arnold and his sister Anna, who carry on the family legacy by running the restaurant together, will be the first to acknowledge that while some things stay the same, others are bound to change — to freshen and elevate with the times and through the lens of their experience. They walk a fine line keeping loyal diners satisfied while pushing and educating both regulars and newcomers, just as their mother once did. It's a challenge that might be familiar at other multigenerational family-run establishments, such as one run by another Arnold — Arnold's Country Kitchen, where the steam table honors a family legacy but with the younger proprietor, Kahlil Arnold, adding his own spin to tradition. Restaurants can't be static, after all. They're an evolution.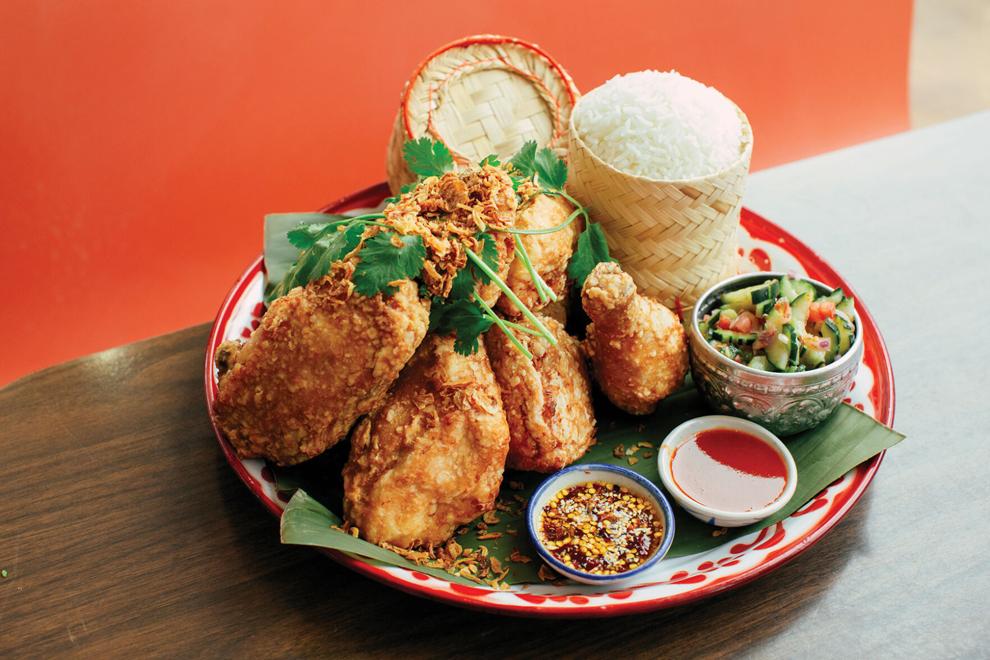 "We never said we're doing the exact same thing," Anna Myint says of what she calls International Market 2.  
"It's a tribute restaurant," Arnold adds. "But just like a tribute band, we're going to put in our own twist. We're gonna keep the words, but we gotta put our own funk in there too." 
The siblings have much to pay tribute to in their work. Their trailblazing mother Patti opened International Market on Belmont Boulevard with a small steam table next to a used appliance store that Arnold calls "very Sanford and Son" with its "refurbed washers and dryers and whatnot." When Patti couldn't find Asian goods in Nashville at the time, she bought in bulk on road trips to New York and Chicago and shared the bounty as business. Arnold and Anna's father Win Myint had arrived in Nashville to teach math at Tennessee State University. He also founded the Buddhist Temple of Nashville. 
"We can still see it to this day with the customers that come in — [my parents] really did build a community," Arnold says. "They really did build not only an Asian community but a cultural kind of melting pot of people. … They created this vibe and this sense of family for intellectuals and misfits and artists. Very much in how we were raised — all accepting."
Arnold says his father's involvement with religion and philosophy also helped in bringing immigrants to Nashville, offering a safe place and helping folks find work. "I think they did a lot outside of food," he says, "but the International Market was like the hub, the meeting place, the community center for everybody."
As Jackson reiterates (speaking partly through translation by Arnold), Patti had a place for everyone. Her willingness to offer work and influence helped spur on other Asian restaurants around town as her protégés started business of their own.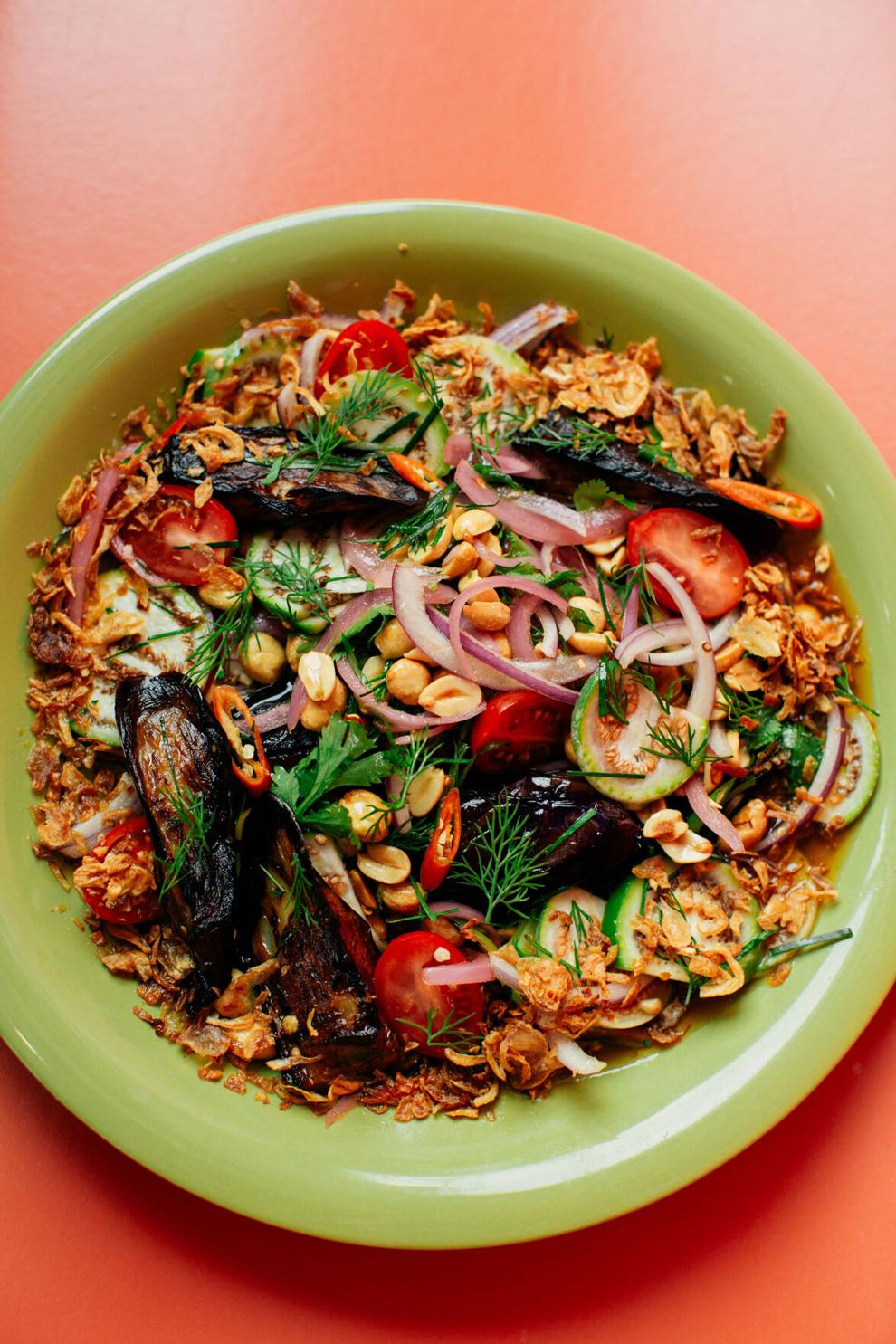 Patti grew up one of nine siblings in Thailand, where her parents ran a bodega. "They took groceries that were almost turned and made them into curries and stews for their storefront," says Arnold. "That was their livelihood." Anna and Arnold grew up in their mother's restaurant and market. "I didn't have any family dinners," Anna says. "After school my mom would pick me up, I'd go over to the International Market, sit in a booth, do my homework, take a nap, eat a snack, and wait for my dad to come back from work and take me home at 5 or 6. It was normal for me." 
Later Anna helped at the cash register. "[Arnold] was back in the kitchen, and I was always up front," she says.
"I always loved food," Arnold reiterates. "I would eat and cook all day. I'm doing exactly what I was doing when I was 5. Except now my name's on the menu."
The siblings' paths took winding turns to bring them back home. For Arnold (44), that meant competition ice skating, culinary school, competing on Top Chef, and running restaurants like Suzy Wong's House of Yum, PM and Blvd. Meanwhile, Anna (36) spent several years in New York City as a buyer for Macy's. Back home she worked as alumni director for University School of Nashville while earning an MBA — as her mother once did too — from Vanderbilt. Then discussion began with her mother about her pending retirement. Belmont University purchased the original International Market property, so they planned to move the business across the street to one of Arnold's restaurant spaces. But then Patti died unexpectedly in 2018. Win died the following year. Then COVID hit. And Arnold, who was building a life outside Nashville, needed a little convincing to come back.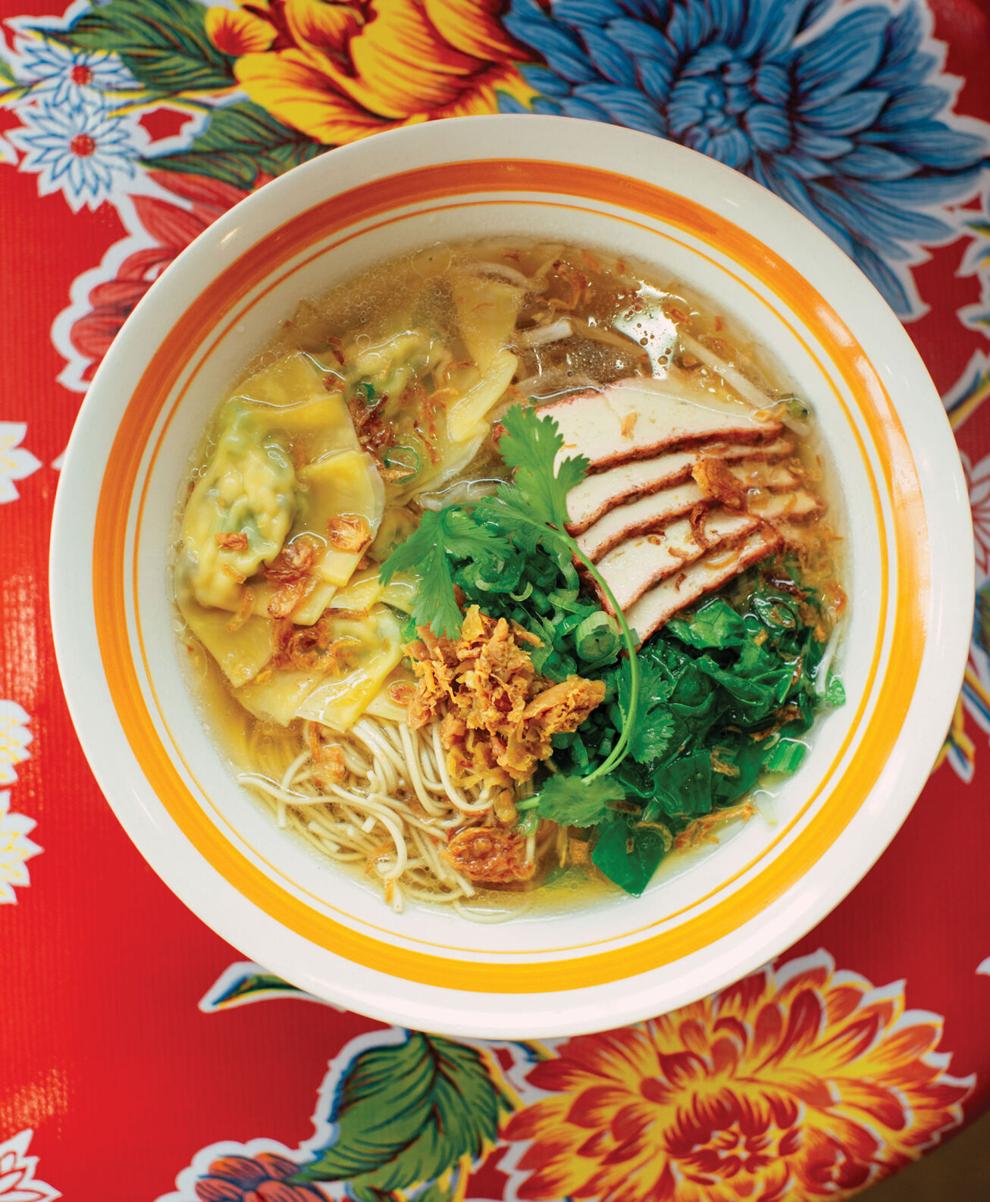 "Construction, all of the design, negotiations, financials — it's all her," Arnold says of his sister. "Which is very much how our mom was. I'm here to pull this off back [in the kitchen] for you." 
The younger Myints have given thought to every detail. 
"We had to have the steam table," says Anna — even though it adds 30 items to the menu, it also adds a helluva lot of work and prep.
"We had to have a sense of a market," Arnold adds, noting that the new space offers a version that's more curated. "All the stuff we have on the shelves is stuff I use in my pantry. It's a functional shelf. You're not getting the 1,000 things. … We have K&S for that, and Bangkok Market."
A few of the original orange booths made it to the new space, and they play well with the more modern banquette in its sunset shades. Some of the old building's original red bricks also found their way around the bar and the exterior. A customer offered to help take down the original sign from the old place, which now hangs indoors.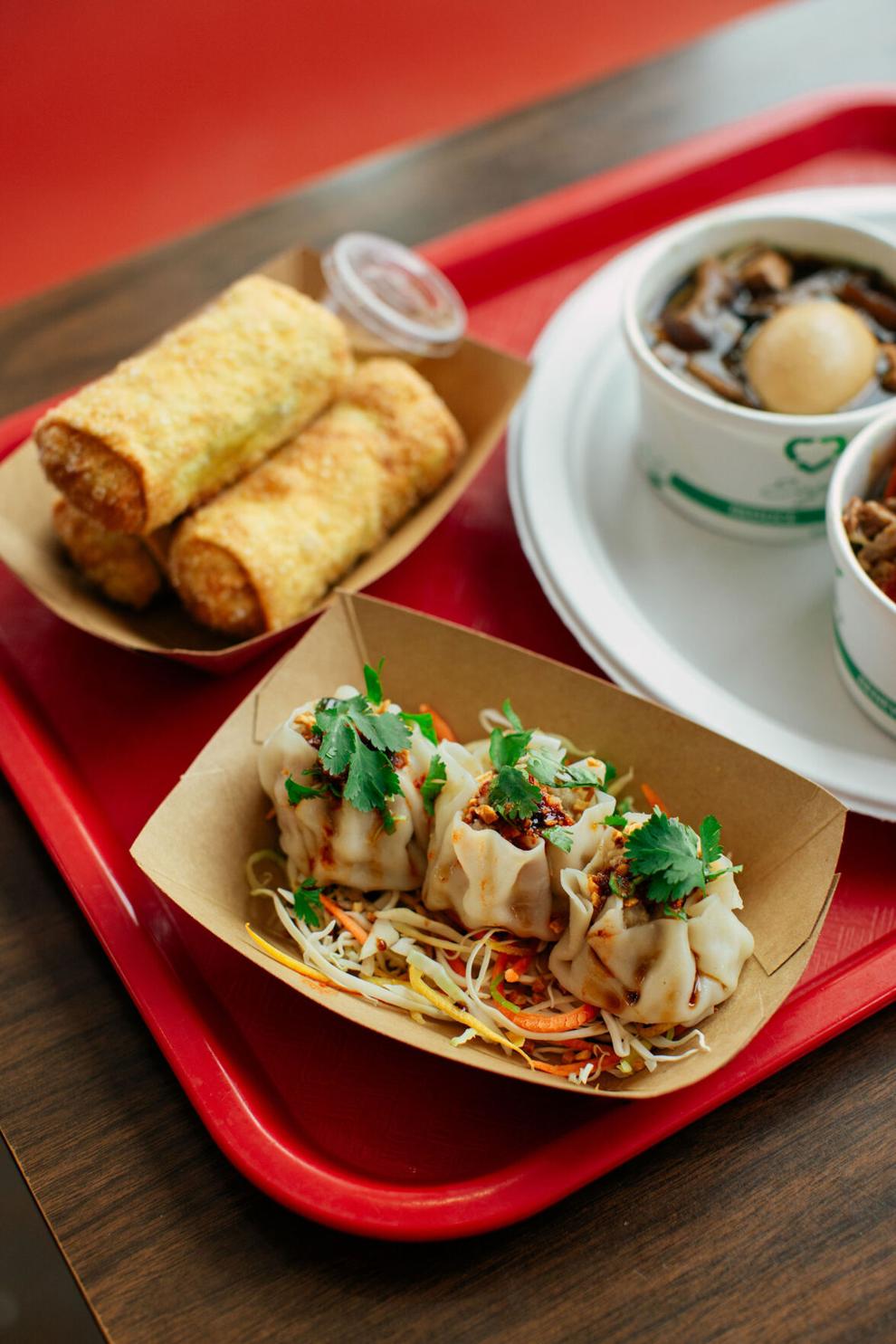 "It surrounds us," Arnold says. 
Anna recalls her mother's ability to make folks feel special, and says she hears about it from customers and vendors often. The thing that sticks with Arnold about his mom's impact is how visionary she was. "I only experience that as I'm making the food and cooking through her," he says. "I'm like, 'Oh my gosh, she really knew what she was doing. Her instincts. … What she did in the '70s in terms of food and making it approachable and relatable to the consumer here in Tennessee.'
"My struggle here, that's also the blessing, is listening to customers that were loyal from before and their expectations of what they want and also what I can deliver and how I want to deliver it," he says. While some of those familiar tastes might have come from canned items due to a need to work quickly, he says "I'm not doing that here." He likes to work with local purveyors and farmers and make stocks and sauces from scratch. "There's a lot of stuff on the steam table that I'm very proud of that we've kept … but I gotta do me too." 
In the five months since the Myints' soft opening, they've been finding the balance and taking time to get things right. While they remember their mom saying "We don't work banker's hours — we're open all the time for the people," they've also been focusing on keeping quality high without overexerting their staff during the challenges of COVID. They plan to expand their hours next month.
"Opening with everything that Mom did for 40 years is quite overwhelming," says Arnold. "Every sauce, every accommodation. She did something for everyone. But we will officially open the week of our mom's birthday, Feb. 15."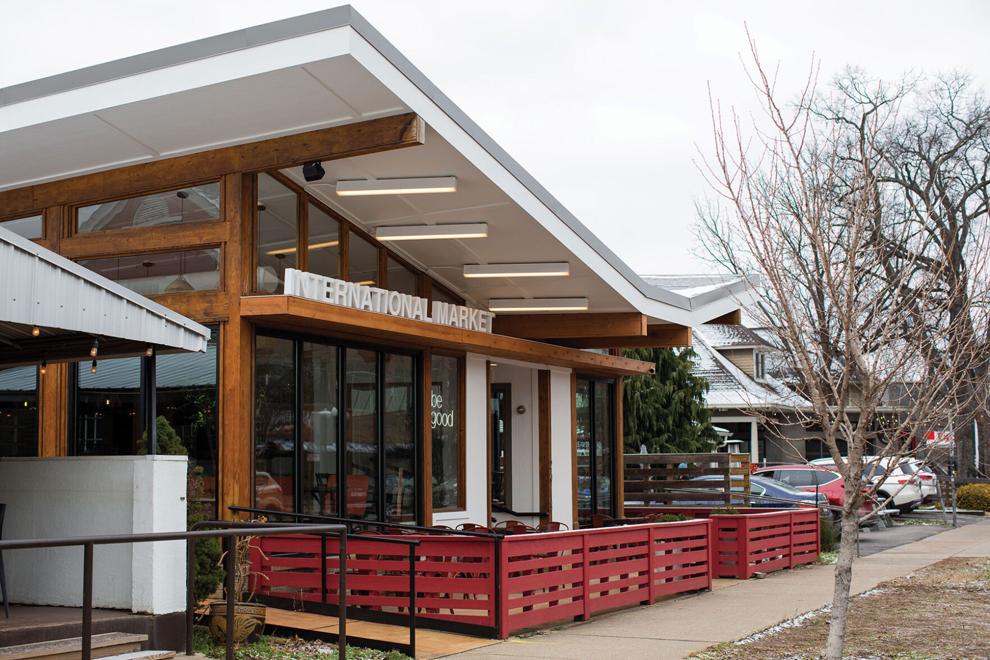 "And our dad's birthday is Feb. 21," Anna adds. 
The week will be a celebration of their parents, who surely would be proud.
"I kind of wanted to get to what our mom did," Arnold says, "where she was always there for you."