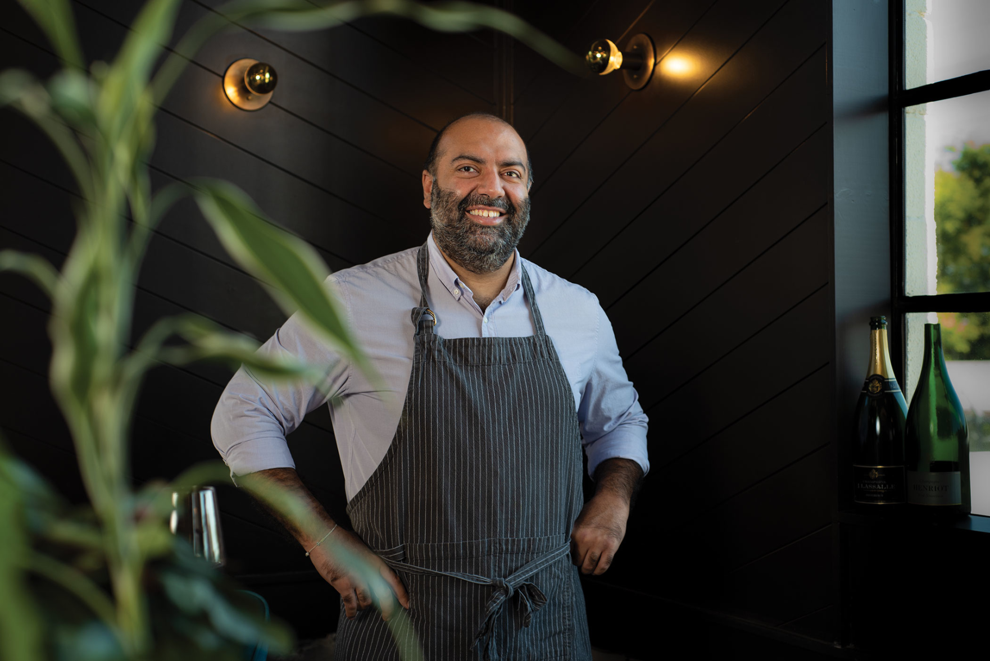 At a glance, chef Vivek Surti seems to have had a meteoric climb at his Germantown restaurant Tailor, where he shares his first-generation American's version of his ancestral Gujarati cuisine in a jovial dinner-party atmosphere. But his path to becoming an award-winning restaurateur and chef has been far from direct or sudden.
Ten years ago, Surti was still living at home with his parents and sister, using the money he was saving on rent to buy all sorts of fun exotic ingredients while learning to cook for himself. "I started cooking by watching TV shows like Emeril and Bobby Flay," Surti recalls. "Mom would help me with some ingredients, but I wasn't cooking Indian food." He wrote about his experiments on his blog, Vivek's Epicurean Adventures, and joined a cadre of local food bloggers who would become fast friends. Unlike many aspiring food writers populating the Blogger and WordPress platforms, Surti didn't really like sharing his recipes.
"I stopped writing about recipes," he explains. "I was more into playing with new ingredients and techniques. Indians don't really cook with recipes. With my mom, it's all just a handful of this and a pinch of that, so it's hard to communicate that. Americans like to follow recipes!"
Surti grew close with his food-blogger friends and became more interested in the people behind the food. "I'm not really a writer," he says. "I was more interested in creating an experience and exploring the community and local farmers. I was intrigued by the idea of cooking for small groups, and there were only a few supper clubs in town. I'd been reading about Brooklyn house parties where people paid what they could, and I figured I could make that work."
With an email list of 30 friends, Surti launched his first VEA Supper Club series. "I planned nine [dinners] and executed four because nobody bought tickets to the other five," he says. Hosting out of his home kitchen, Surti executed his first four-course dinner for six friends in May 2011. While it was convenient to work from home and lean on his talented mother for assistance, Surti knew he couldn't grow from there.
Fortune shined on him with Laura Wilson, a talented chef with experience working at local standouts like Ombi and Holland House who had recently started up a new demo kitchen called Grow Local Kitchen in the Nashville Farmers' Market. Surti explains his luck: "I ran into Laura, and she offered to let me use the space. Then she offered to help out in the kitchen because she didn't want to go back to cooking full time. She has been a great teacher and friend through the years."
Even at the bargain price of $55 for five courses and cocktails, Surti still had trouble selling all 25 seats to most of his dinners, but he persisted at the market until 2015. Then another stroke of luck changed his entire model. "All my friends I loved cooking with started opening their own restaurants," he says with a laugh. "Karl Worley opened Biscuit Love and [Matt] Bolus started 404 Kitchen, so I got to actually learn from them. I had always wanted to cook in a professional kitchen."
Access to more than a few induction burners and a hot box really upped Surti's cooking game as he started to put on larger events. He popped up at POP, Sarah Gavigan's East Nashville restaurant space, where he could finally host two seatings in a night serving themed menus. He partnered with Hattie B's to serve an Indian fried chicken dish that attracted more than 250 diners in a single evening, and offered up a "Biryani and Beer" night at The Family Wash and other special menus at his friends' restaurants.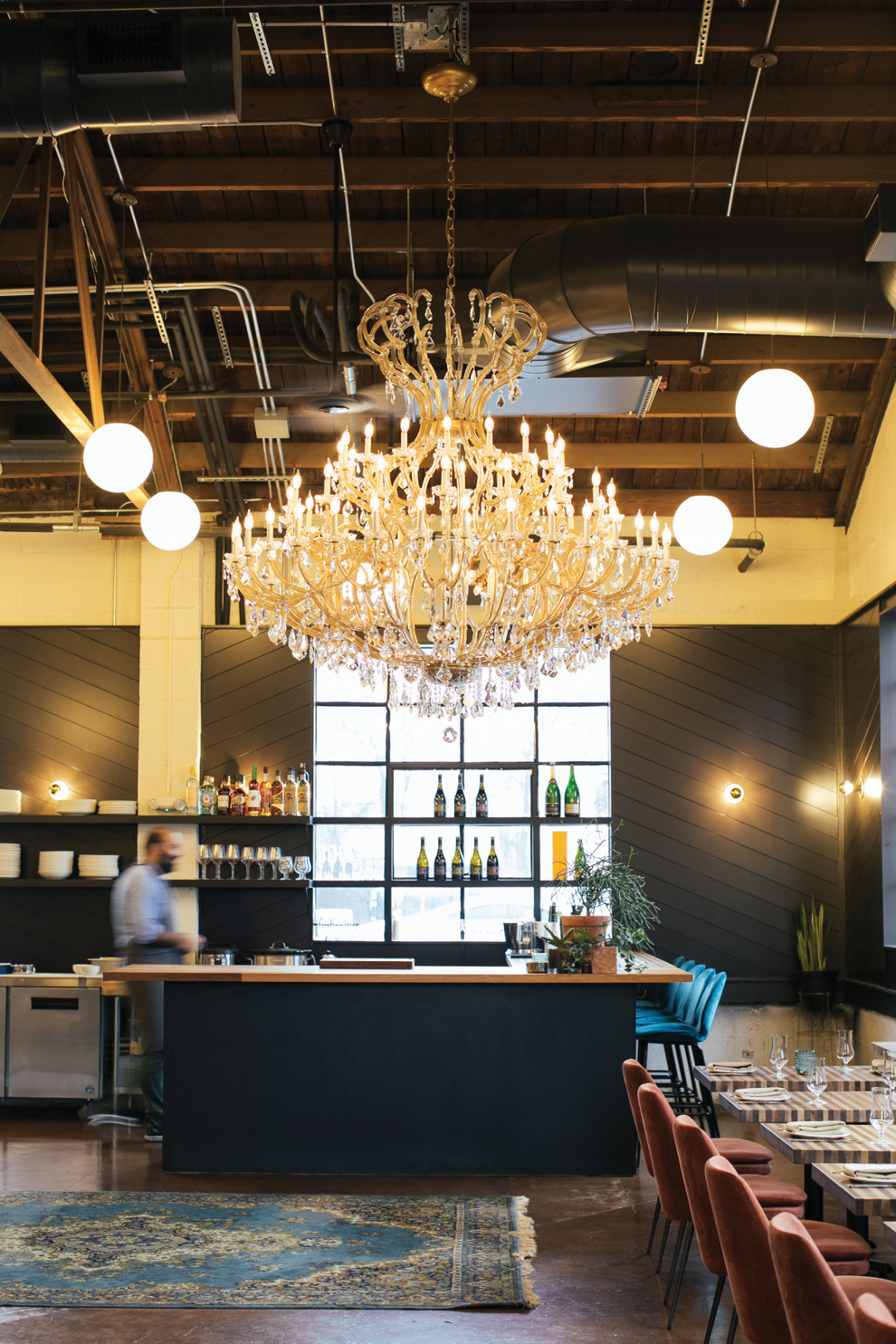 His first full restaurant takeover was a night at City House where he combined Tandy Wilson's Sunday Supper menu with Indian elements like lamb meatballs, chicken with Indian spice gravy and a masala chai cake. Stints at Butcher & Bee and Le Sel bolstered Surti's confidence that he could actually run a restaurant kitchen.
Surti began a semipermanent residency cooking brunches at East Nashville's The Treehouse in the mornings before the regular kitchen crew came in for the evening meal. He hired Heather Southerland to run the front of the house while he managed the kitchen, and the two remain a strong team at Tailor.
"It was my first time running a full kitchen by myself," Surti recalls. "I loved it, but I didn't love the experience of cooking for à la carte service. I lost the connection between cooking and serving that I enjoyed at my supper clubs." Caroline Galzin of Nicky's Coal Fired suggested that he start looking for a dedicated restaurant space in the Nations. "It would have been a full-service lunch and dinner restaurant, and we ran the numbers, but it just didn't feel like the right thing for me. The debt scenarios were imposing, and what I really wanted was to find a permanent home for my supper club.
"Obviously the supper club put a ceiling on what we could do because of capacity constraints," he continues, "but it was a model I knew how to run and make money doing. When I started asking for just a 1,000-square-foot space, real estate brokers stopped calling me back."
Again, good luck shined on Surti when he heard that Tandy Wilson was planning to take over the former Kuchnia & Keller restaurant space for his project Mop & Broom. "Tandy wanted to rent out a third of the space, and we could share the main kitchen," Surti says. "It was a way to get in without spending a bunch of money, and I knew I'd be comfortable working with him and his staff." He hashed out the details with Wilson, and Tailor opened in December 2018.
The restaurant was an immediate hit. "All my experiences led to what I really loved doing — throwing a dinner party. The format lets me cook and share the context of the food, the story of its creation." Surti named the restaurant Tailor after his grandfather, and that really affected the direction of his cooking. "Once I saw our family name on the door, I knew I wanted to showcase my version of first-generation American food. I wanted to show people what the food of India is at home and create a unique experience for our guests."
Tailor drew plaudits, including being named the No. 7 Best New Restaurant by Bon Appétit magazine. Surti's first year culminated in a James Beard semifinalist nod for Best Chef: Southeast. Then … 2020 hit. The March tornado barely missed his building, but the pandemic made a direct hit on his business. "We had no power for a week after the storm, and then reopened for four days before the mayor's press conference shut us down again," he says. "We crunched the numbers, but the best decision was to shut down. It was better to lose money rather than expose our staff to risk."
Surti managed to keep everyone on the payroll until Tailor reopened with limited seating in July. "We felt it was important to provide a safe dining experience and some escapism," recalls Surti. His business had doubled after all the awards were announced, but it's been a bit of a struggle since reopening. "We're not back to where we were when we first opened," he says. "But it's improving month over month. The pandemic forced us to slow down and think about our systems a little more. We've switched to individual plating instead of family-style and concentrated on focusing even more on our guests to offer a comfortable and homey experience."
Through June, Tailor is offering an elevated reimagining of Surti's menu from his first supper-club party in 2011. A simple chilled pea soup has morphed into an elegant first course of Ōra King salmon with a pea-shoot chutney. The shrimp and grits now showcases Mama Surti's favorite "green-garlic-marinated shrimp" over fluffy semolina upma. Surti's admirable early experiments in a "charcutapalooza" course can't measure up to his 2021 offering of aged Bear Creek pork loin spiced with fennel, Thai bird chili and fenugreek honey. His original dessert of lemon pudding now presents as a technically challenging lemon pudding cake separated into two layers: a tier of cake and a lemon curd garnished with marigolds, an Indian symbol of the guest of honor.
"We want to leave people knowing that they're now part of the Tailor family," says Surti. "After we lost all our momentum, we asked how we could rebuild it. We decided that the most important thing is making sure that every person who walks through the door leaves happier than when they came in!"