During her 21-plus years of running the kitchen at her influential restaurant Margot Café & Bar, chef Margot McCormack has set the bar for East Nashville dining, and really for the whole city. She's been recognized nationally with James Beard nominations for Best Chef: Southeast, and locally in the Scene's pages many times.
She's also worked alongside some exceptional culinary talents. Among the Margot alumni who have gone on to helm other local kitchens are Tandy Wilson, Matt Davidson and Ryan Bernhardt. But none of them were ever in the right place at the right time to take over at Margot — until now.
Chef Hadley Long has been a hardworking right hand for Chef Margot for more than a decade, manning every station in the kitchen from pantry to grill to sauté. Recently he has been elevated from chef de cuisine to executive chef as McCormack transitions to a more hands-off role in the kitchen.
Like Charlie Bucket demonstrating that he's the one to take over Willy Wonka's chocolate factory, Long has proved his worth over the course of time. A native Middle Tennessean, Long attended Belmont, and his first food-service experience was working at a Starbucks. After catching the culinary bug, he attended school at L'Academie de Cuisine near Washington, D.C.
When the time came for a kitchen externship as part of his studies, Long looked toward home. "He found me, thank God," recalls McCormack. It was a serendipitous development for both chefs.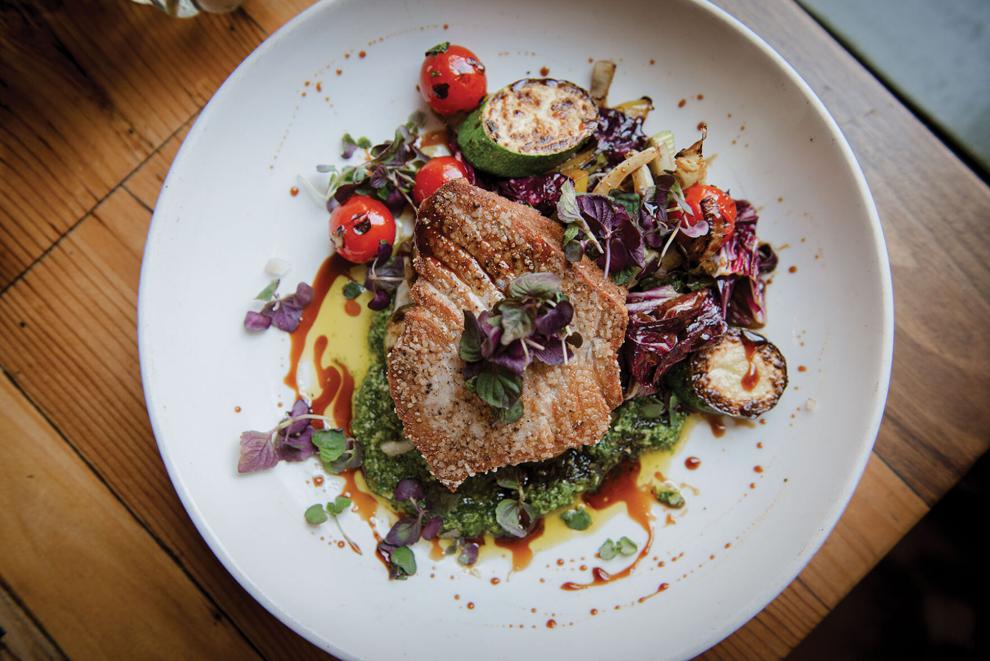 "I started researching the best restaurants in Nashville on the internet, but I'd never even been to East Nashville — I had to look up where it was," Long admits sheepishly. "I'd never worked a line, but I knew I was a quick learner."
Their first contact is still a funny memory for McCormack and Long.
"He wrote me this beautiful email asking about the externship," says McCormack. "I thought he was a girl named Hadley. I said to myself, 'I like this already.' Once I finally met him, he was so well-mannered and well-spoken and engaging with a great work ethic, we put him to work at Marché with Matt Davidson and Kat Britt."
Marché was of course McCormack's other longtime restaurant in East Nashville's Five Points neighborhood. It closed its doors in 2020.
"He had a great foundation," recalls McCormack, "and he was really proficient. I decided, 'I'm taking him!' and brought him up to Margot." Their decade working together has convinced the chef that she can finally take a little step back in the kitchen.
"I'm not leaving," says McCormack. "I still want to work, but Hadley offers me the freedom to come and go. I still cook lunch for the staff every day at 11, and I like to hang around a little later if there are people I want to visit with in the dining room, but Hadley deserves the attention and the chance to continue to grow."
I ask McCormack about a comment she made to me during an interview a few years back when she said that maybe restaurants should have a lifespan. Is Margot anywhere close to that?
"Oh, I don't think so," she says. "If that were true, it would have already happened over the past two years. We put a lot of effort into not quitting! Closing Marché was quitting enough. We saw a real rebirth last spring. We've stayed ridiculously busy, and it doesn't seem to be slowing down."
Given the industry's staffing issues, McCormack still had to make adjustments, even with the tailwind of increased business.
"I couldn't take a vacation," she says. "Really, no one could. We would have had to shut down the restaurant, and I couldn't do that to my employees who wanted the work. We had to stop serving breakfast and lunch because we were taxing an already delicate infrastructure. I couldn't do it without Hadley. I don't want to do it without him."
McCormack and Long have been building Margot's nightly menu collaboratively for a long time. "We choose dishes by what's here, what do we have a lot of, or sometimes by the weather," she says. "Like, 'It's too damned hot. Everything's a salad tonight!' But Hadley does almost all the buying, talking with the farmers and visiting the market a couple times a week."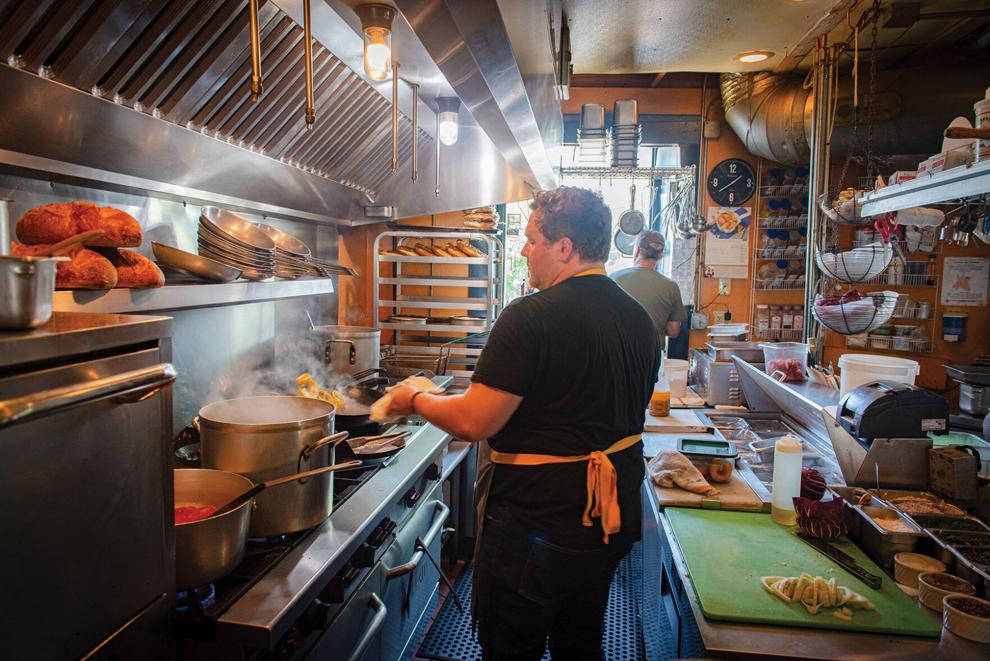 Long is excited about the new opportunity, but he promises regular customers won't experience any menu whiplash. "We'll always stick with the standards — things people want to see," he says. "It'll always be Margot Café & Bar, so you can expect to see flounder meunière, interesting vegetables from new farmers, our tri-tip set, the seafood steam pot, green tomato curry. Oh, and beets. If Margot was a vegetable, she'd be a beet.
"Most importantly, we'll keep catering to the clientele experience that is Margot," Long continues. "Margot is the standard. Margot as a person and as the identity of the restaurant." 
Will diners be able to tell the difference between a Margot dish and a Hadley dish? "Presentation-wise, Hadley is prettier than I am," Margot admits with a chuckle. "He likes to use a lot more flowers, but we don't want to get precious with it."
As for her legacy, McCormack is proud of what she's accomplished and optimistic about the future. "With every person that has been at the helm of the kitchen, it's always gotten better," she says. "I'm so proud of everyone in the building, and it's absolutely about the people. Hadley deserves the lion's share of the credit."
You'll still see Margot in the dining room and kitchen. She's happy to be able to concentrate on the food while Long takes on more management responsibilities and her spouse Heather McCormack takes on more of a role. "She's more project-oriented," says McCormack. "She'll tackle things that need long-term attention and anything to do with money."
McCormack is still all-in on the future. "We're definitely betting on ourselves!"