Perhaps the kids are going back to school (in person) soon, and you missed your window for a vacation. Perhaps rental cars and hotels were booked when you wanted to do some traveling, so you're staying close to home. Perhaps you already did go on vacation, but you want to get out of the house again. Whatever the reason, a day trip full of eating and drinking is easy when you live in Middle Tennessee.
No matter in what direction you set out, there's a destination-worthy food or drink stop within a few hours of Nashville. Here are a dozen options for an eating adventure, whether you have all day or just an afternoon. These options are organized in a clockwise circle(ish) around the perimeter of the city. All distances and travel times are measured from downtown Nashville. Pick one, download your podcasts or queue up a playlist, and be home before bedtime.
Thomas Drugs in Cross Plains
Distance: 36 miles; 40 minutes
From my house in Inglewood it takes me less time to get to Cross Plains in Robertson County than it does to get to downtown Franklin, so sometimes I'm tempted to get in the car and head to Thomas Drugs. This old-fashioned soda fountain serves phosphates and ice cream treats from a 1915 building on Main Street that is now listed on the National Register of Historic Places. I'm a fan of the salty lemonade, but I'm an even bigger fan of sitting at the counter, looking at the woodwork of the fountain, and strolling through downtown Cross Plains. Thomas Drugs is only open until noon on Saturdays and closed Sundays, so it's best as a weekday adventure.
Cherokee Steakhouse in Lebanon
Distance: 38 miles; 45 minutes
If to you a steakhouse means putting on a coat and tie and remembering which fork to use first, Cherokee Steakhouse will adjust your mindset. Since 1958, this no-frills old-school steakhouse has served chops and seafood to folks who either arrive by boat or drive up. It may be the least fancy steakhouse you'll ever visit. The decor isn't much to look at, but the views of the Cumberland River are. Make a reservation or be prepared for a long wait. And if drinking a beer with your ribeye is important to you, stop and fill up your cooler — Cherokee is BYOB.
Foglight Foodhouse in Walling
Distance: 90 miles; 1 hour, 43 minutes
A favorite of paddlers and hikers who go to Rock Island State Park, Foglight Foodhouse serves Cajun dishes, including red beans and rice, a kitchen-soup take on jambalaya, and a blackened-chicken crawfish Alfredo. Foglight is famous for being a leisurely meal, but that's sort of the point of a day-trip excursion, and the views of the Caney Fork River are worth meditating over.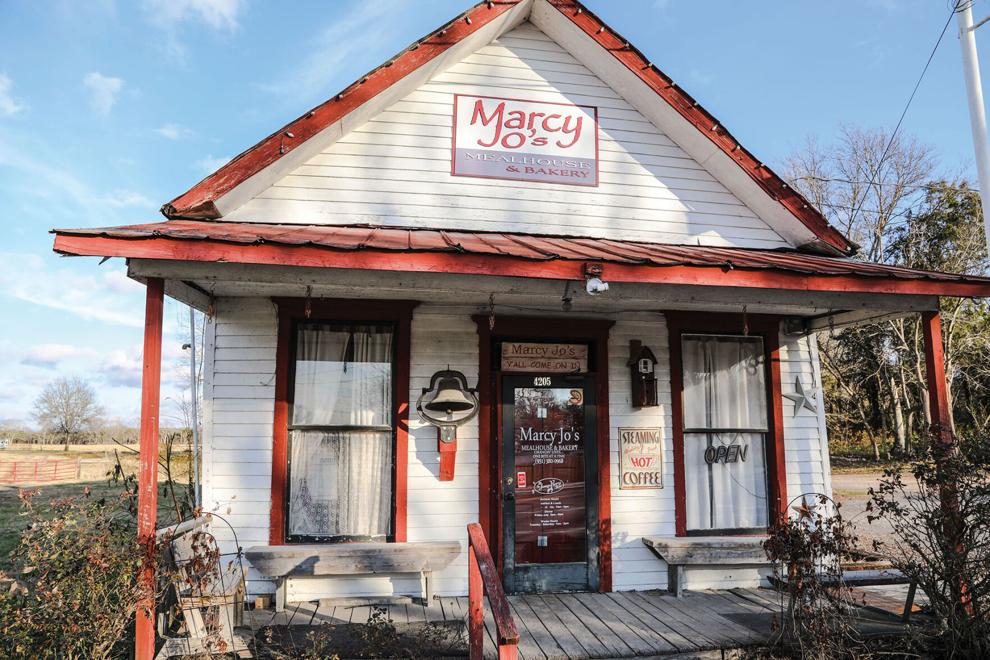 Marcy Jo's Mealhouse and Bakery in Pottsville
Distance: 47 miles; 50 minutes
Housed in a former rural general store in the unincorporated community of Pottsville, Marcy Jo's Mealhouse and Bakery was founded by the late singer-songwriter Joey Feek and her sister Marcy. After Joey passed away in 2016, Marcy kept the kitchen running — and now the brand has expanded. Joey's widower, overall-wearing singer-songwriter Rory Feek, teamed up with Joey's other sister Candy to open Marcy Jo's Muletown in nearby downtown Columbia. The Mealhouse focuses on quiche, cinnamon rolls and other baked goods, while the Muletown location has a full menu of biscuits and gravy, stuffed French toast and omelets.
Common John Brewing Co. in Manchester
Distance: 65 miles; 1 hour
This taproom is the most fun to happen in Manchester outside of Bonnaroo. Common John Brewing Co. is a casual, friendly taproom with local beers and ciders, a full food menu and an environment where you just want to sit and hang out all day. Build your own flatbread or choose from six kinds of oven-baked wings, including a "Nashville hot" option. The lovely patio includes a stage for live music, and the indoor area features tables made from antique tractor engines. They're head-turners, for sure, and are also the subjects of about 10 percent of the photos on my phone. You can play board games on those while you sip and eat.
The Southern Oven in Palmer
Distance: 105 miles; 2 hours
Owned by sisters who wanted Palmer locals to have an option for a sit-down restaurant, The Southern Oven serves a rotating menu of stick-to-your-ribs classics like meatloaf with peppers and onions and spaghetti with red sauce. It's a good choice for carb-loading before a Savage Gulf hike.
Mountain Goat Market in Monteagle
Distance: 88 miles; 90 minutes
Mountain Goat Market is Monteagle's go-to picnic supplier. Grab a specialty sandwich (there are lots of vegetarian options, like the Treehugger with its piles of peppers on top of mushrooms on top of sprouts) and go explore Monteagle and Sewanee. Go for a hike, or take a cave tour and see a concert at The Caverns. For more area options for where to go with your Mountain Goat sandwich in tow, check out the Scene's recent Road Trip Issue (June 24, 2021).
Pinewood Kitchen Mercantile in Nunnelly
Distance: 54 miles; 1 hour
At the helm of Hickman County's organic Pinewood Kitchen Mercantile is Mee McCormick, author of several cookbooks on using food to fight diseases. McCormick cooks with ingredients from her biodynamic farm. The menu, which changes daily, is packed with Southern dishes like a seasonal blueberry salad or hush puppies served with jalapeño jelly, with options for making everything gluten-free, nut-free or keto-friendly.
Beacon Light Tea Room in Bon Aqua
Distance: 45 miles; 45 minutes
Since 1936, the biscuits from Bon Aqua's Beacon Light Tea Room have been a must-drive-to dish. These famous biscuits, cooked with lard, will be delivered to your table with preserves before your food arrives. Don't get confused by the "tea room" name. This is a sweet-tea-and-fried-chicken type of place, not an afternoon-tea-and-scones-with-pinkies-in-the-air type of place.
Rochelle's Bar None BBQ in Hurricane Mills
Distance: 66 miles; 1 hour
Roadside barbecue shacks aren't exactly hard to find on a Tennessee drive, but Rochelle's Bar None BBQ is worth noting nonetheless. Its location right off of I-40 makes it convenient if you're hitting Walls Art Park (one of my favorite day-trip getaways), Loretta Lynn's Ranch in Hurricane Mills (which also has several restaurants on site) or heading out on the Duck River. The menu includes pork, brisket, chicken and catfish, plus ribs and wings.
freight house in Paducah, Ky.
Distance: 137 miles; 2 hours
Of course, Nashville has plenty of chefs who have shown off their skills on Top Chef. But it's worth the drive over the Kentucky border to Paducah to try Sara Bradley's cooking at freight house, the restaurant she opened in 2015. Bring a designated driver along for this particular outing, as Bradley pairs her locally sourced dishes with an impressive bourbon list.
Strawberry Alley Ale Works in Clarksville
Distance: 50 miles; 1 hour
Strawberry Alley is a fun street behind downtown Clarksville's main shops and just a block from Downtown Commons, the city's open-air plaza that hosts movie nights and live music. Whether you opt for the downtown exploration or head to nearby Dunbar Cave State Park, end the lounging at Strawberry Alley Ale Works. They'll have 10 beers on tap, including six seasonal options. The food menu is ample, with quirky takes on bar food like potato chip nachos and a burger topped with bourbon-mushroom sauce.