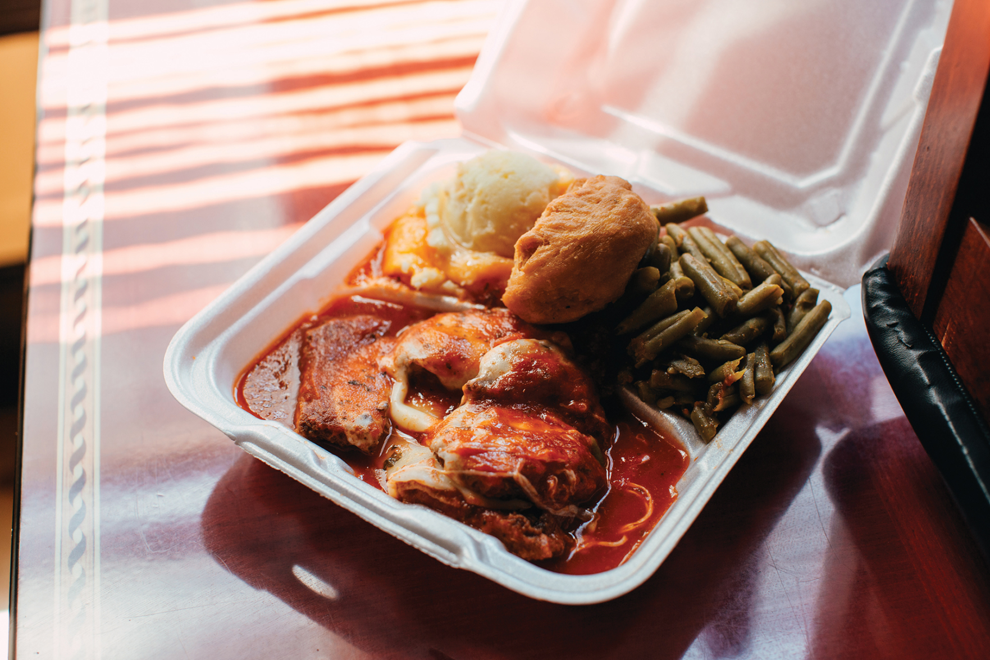 Jamaicaway Midtown
615-678-4031
What's the first thing you think of when you think Jamaicaway? Jerk chicken? Rice and peas? Johnny cakes? All are good thoughts, but if every dish you love there has "curry" or "chicken" in the name, you've got more to explore. Start with eggplant Parmesan, which is not a typo. Jerk-grilled eggplant is a Jamaican staple, but old-fashioned eggplant Parm with a side of fried plantains? Harder to find. Jamaicaway's hits all the high points. Fresh eggplant is seasoned, battered and deep-fried, topped with their zingy tomato sauce and draped with Parmesan cheese that's broiled to pull-apart perfection. The box is huge, costs less than $10 and comes with two sides. I go with their not-too-stewed green beans and cheesy mashed potatoes, which are quite simply some of the best potatoes I've had.
It's not surprising that owners Ouida and David Bradshaw have mastered all things Southern in addition to all things Jamaican (and at least one thing Italian). It's been 20 years since they moved to Nashville from Boston, and 17 since they started a business around their piquant, succulent jerk chicken, which is smoked and slathered in sauce that's the perfect mix of peppery heat and brown-sugar sweetness. There's a reason it's most people's go-to — as is the curried goat, which is locally farmed, marinated and stewed until it falls off the bone. Their curries are mild enough for kids, though the goat itself might be a harder sell. It shouldn't be — it's meaty without being gamy, and its rich brown sauce has serious mashed-potatoes-and-gravy vibes. I'm not going to tell you how to raise your children, but if you tell them this is meat, gravy and rice (which it is), 90 percent of 'em won't know the difference.
Another great call is the roti, a dahl-infused wrap filled with curried chicken, goat or vegetables. I'd go with the latter for the big chunks of sweet, savory carrots alone. The brown stew chicken is also excellent, particularly bone-in and ordered spicy. To finish, it's got to be the earthy, nutty carrot cake with cream-cheese frosting. Next on my roster: ackee and saltfish, made from salted cod and the tropical West African ackee fruit. If the Bradshaws can execute eggplant Parm as flawlessly as they do, I can't wait to see what they do with Jamaica's national dish. Order takeout from their Midtown location, or get it delivered. ASHLEY BRANTLEY
---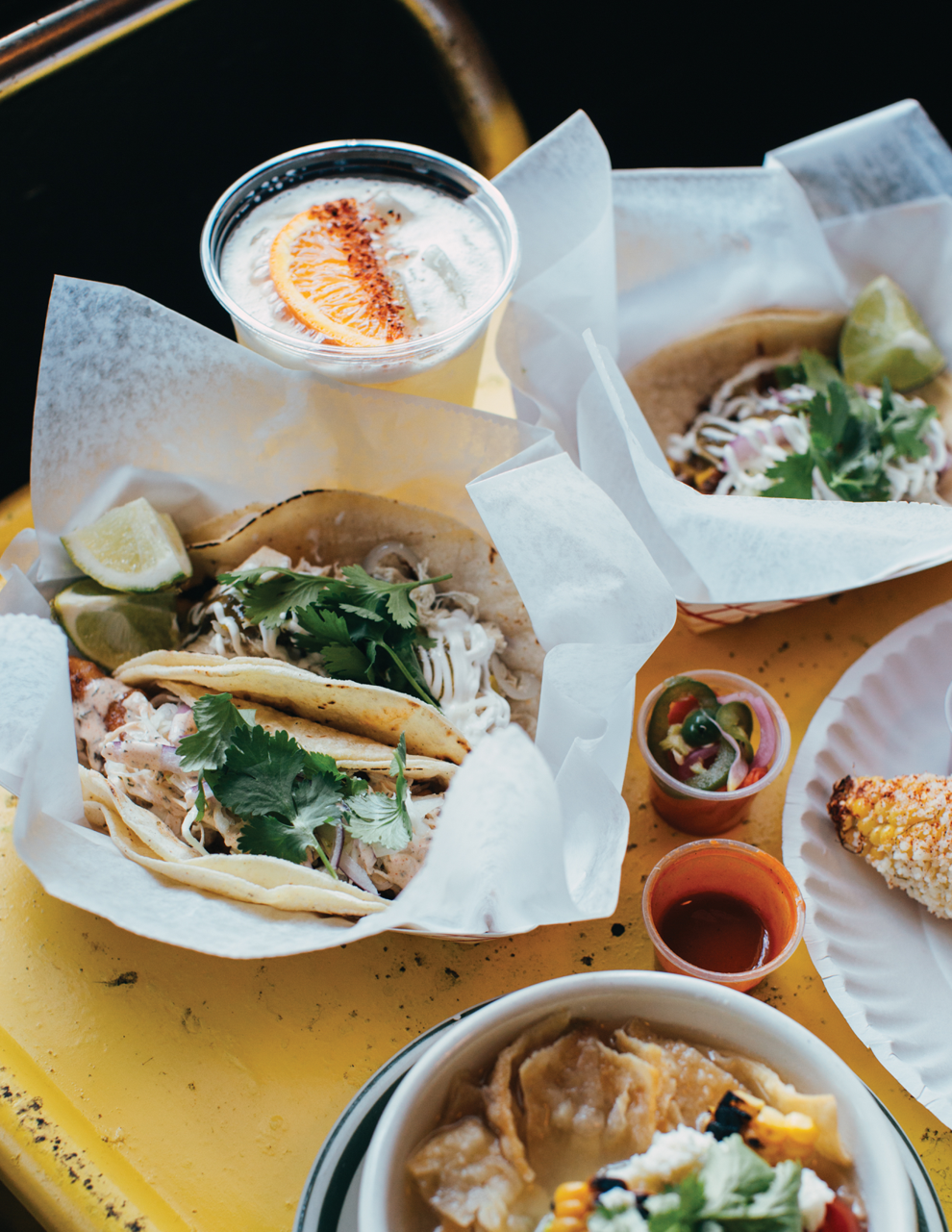 Mas Tacos Por Favor
615-543-6271
Some restaurants are such heavyweights we forget to call them out. We wonder, "How could anyone forget Mas Tacos?" The fact is they couldn't, of course, and they still kick ass! Honestly? They might kick even more ass now because: 1) to-go margaritas, and 2) Venmo. That's right — all it took was a minor worldwide pandemic for your cashless Mas Tacos dreams to come true.
When ordering, you know what to do. Mas Tacos Por Favor (that's the full name) is a Mexican joint, and the Scene has written about them no less than 241 times in their decade-plus East Nashville tenure. It can be tricky to find the full menu online, but owner Teresa Mason regularly updates the Mas Tacos Instagram page (@mastacos), so keep an eye on that.
I'm a carnivore, and until recently, I had no clue I was missing out on one of the most satisfying, umami-packed items on the menu: quinoa-and-sweet potato tacos. Quinoa and sweet potato are folded into fresh, warm tortillas and topped with sour cream, shaved cabbage and tomatillo salsa. The tacos are earthy, crunchy and rich, with a refreshing zing from the salsa. They make a perfect balance for the pulled-pork tacos, which you really should revisit if you haven't in a while. Succulent braised pork, piquant tomatillo, crisp cabbage and onion, spicy yogurt — tantalizing and timeless.
To wash it all down, you have options. Check their Instagram to find out about the agua fresca, margarita and sangria of the day. One day it might be pineapple agua fresca and a piña margarita; the next it could be hibiscus sangria and watermelon agua fresca. What's guaranteed is that it's all good. Mas Tacos is also good for your iced coffee fix, and they can whip up virgin margaritas. Tip: Ask them to pack your drinks without ice so you can stash a couple in your fridge for later. 
Finally, specials. Mas is still turning out hand-rolled tamales on Wednesday and pickled-cactus-and-chorizo tacos on Thursdays, so don't sleep on the dailies. They're also throwing in some new, truly obscene things like Sonoran dogs, typically a go-to at Mason's other spot, Wilburn Street Tavern: all-beef, bacon-wrapped, bean-smothered hot dogs topped with pico de gallo. If you're looking to shuffle off this mortal coil fast, that's the meal you want to do it with. And I know it's been said 30,000 times, but get the tortilla soup. Yes, the pozole is amazing, and I dig it deeply, but we are in peak Chicken Soup End Times right now. You need this. And if you can get home without taking a swig of the perfect chicken broth out of the styrofoam cup, you are a better man than I. ASHLEY BRANTLEY
---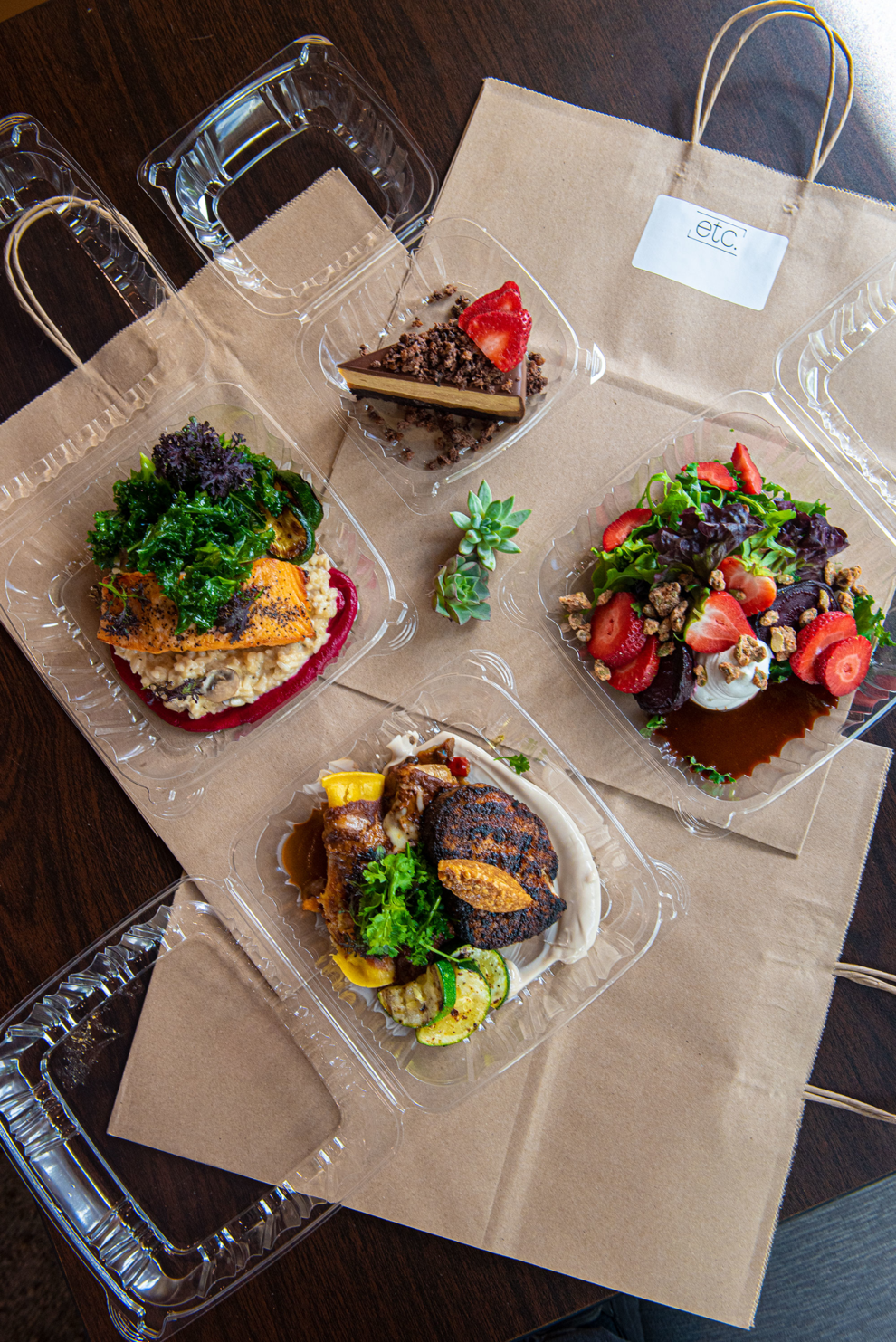 etc.
615-988-0332
Imagine if you could get beloved Nashville chef Deb Paquette to cook dinner for you and your family. Well, you don't have to imagine it, because she's been working out of the kitchen at her Green Hills restaurant etc. to help develop and cook special prix-fixe dinner menus for either two or four people. Plus, beer and wine options can be added to your order for a complete dining experience.
Just ahead of press time, etc. announced that it will be opening its dining room at half-capacity on Thursday, May 14. But the great to-go options remain. The menu items you can choose from are a "greatest hits" from both etc. and Paquette's other spot Etch, so really it's like getting to enjoy two restaurants at the same time! Pick one appetizer or salad per person, (and yes, that cauliflower is on the menu!) plus an entrée from a list of four choices with the options of add-ons like a comforting broccoli with bacon-and-cheese sauce, chicken tortilla soup or desserts from the talented pastry staff. Check out the full menu online via etc.restaurant, call in your order in advance and let them know when you'll arrive so that they will have your meal bagged and ready to be deposited in your front seat. Patrons must be 21 or older to pick up if there's wine or beer in the order, so don't send your newly licensed teen out on this particular errand.
Never has such at-home elegance been this simple! If you're lucky, maybe Deb will even make an appearance for your carside delivery. CHRIS CHAMBERLAIN
---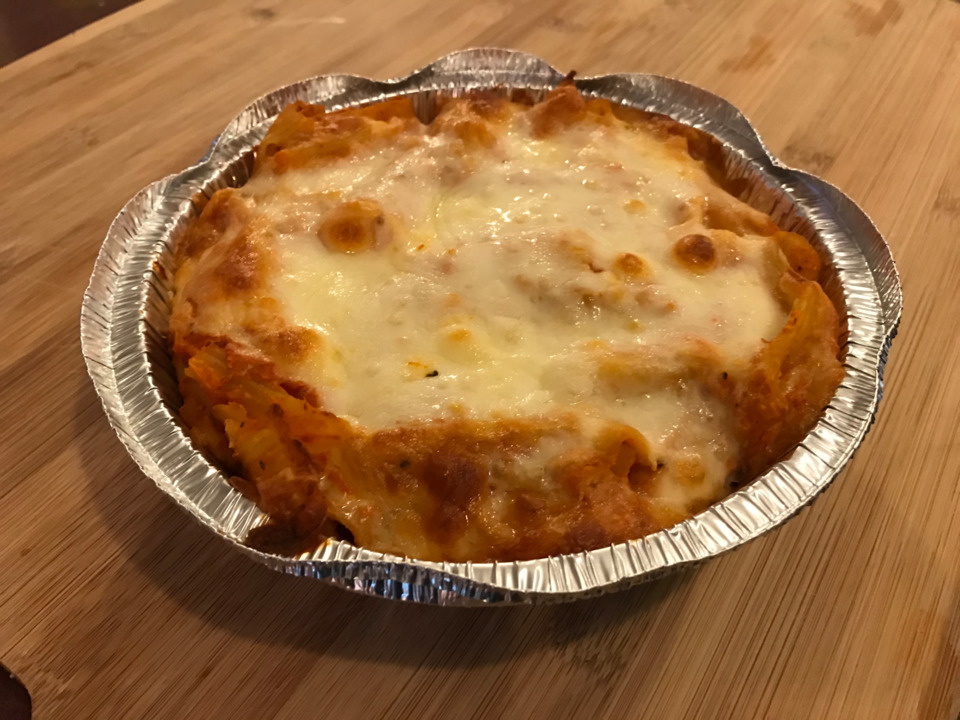 Rosie's Twin Kegs
615-832-3167
Part of the joy of a good local joint is how it connects with the neighborhood around it. Twin Kegs has always been a quality dive bar with an excellent burger, but when Tia Mirenda bought it in 2017 and made it Rosie's Twin Kegs, the place went from good to great.
Mirenda is a former bartender at the place and owner of a food truck, and she's succeeded in turning out legitimately great bar food. The burgers are still the star of the menu — the best, in my opinion, is the mushroom-and-Swiss, but there's bound to be something you love from the 10 or so offerings. But the specials really stand out: fish-and-chips on Fridays or meatball subs on Mondays, for example. Check with their Facebook page (facebook.com/Twin.Kegs) to find gems like brownie kits with ice cream and house-made chocolate sauce or, my favorite, pans of take-and-bake ziti (beef or cheese) that are perfect for our current situation. STEVE CAVENDISH
---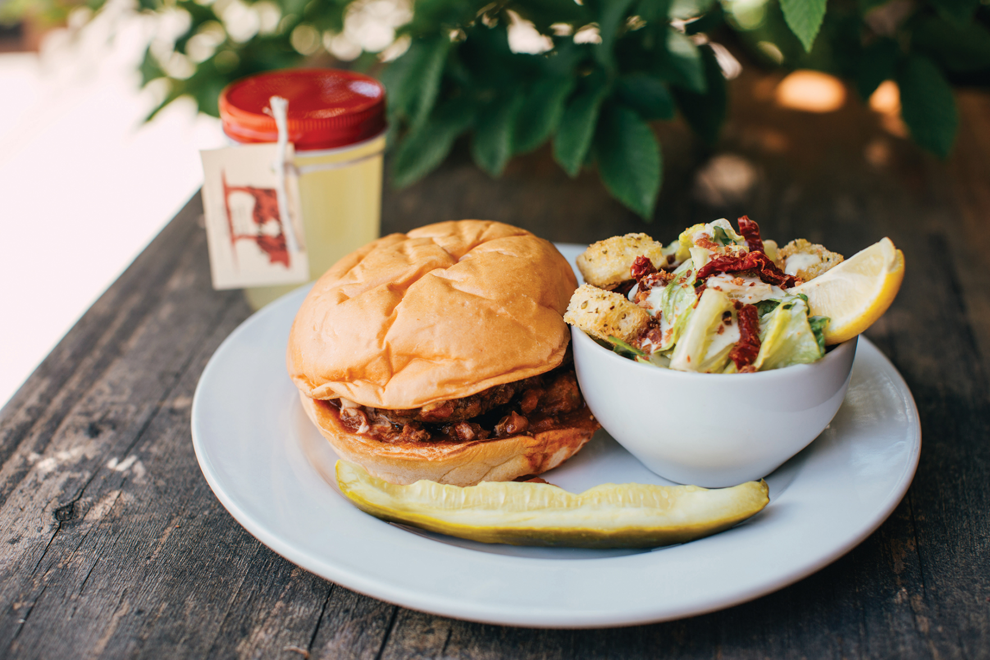 Burger Up 12South
615-279-3767
The East Side location of Burger Up sustained a great deal of damage in the March 3 tornado — but that's also where we find this pick's silver lining. Burger Up's 12South outpost is up and running, and there's never been a better time to support them. Eight hours a day, seven days a week, you can order delivery through multiple services, or carryout at burger-up.com or by calling. I'd recommend the latter so you can take advantage of the restaurant's current on-point growler game.
Grab a 32-ouncer of beer or wine (if you've never had "growled" wine, it is the way to go because you get more and it keeps well) or batched 12South lemonade (basil simple syrup, lemon vodka and white wine — best of all worlds). For food, it's all about balance, so grab a Caesar salad and then destroy all your nutritious karma with a chili-cheese burger. Between the spicy queso, fried jalapeño and sambal sour cream, it's a great way to get your roommate to stay socially distant from you in your own house for a few hours. ASHLEY BRANTLEY
---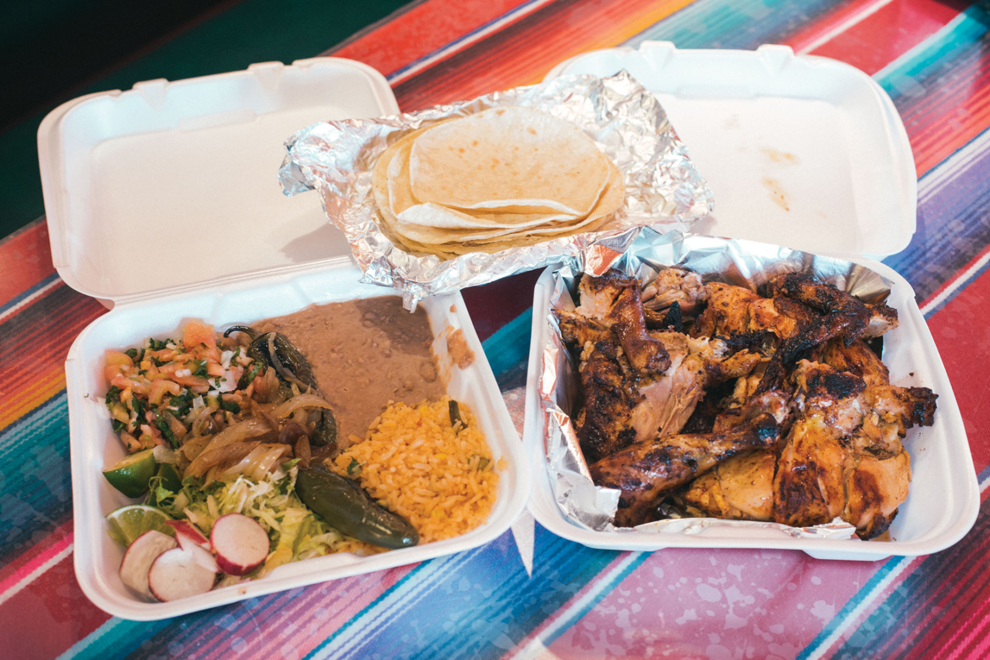 Tacos y Mariscos Lindo Mexico
615-865-2646
We've written on more than one occasion about Tacos y Mariscos Lindo Mexico, but guess what. I'm here to write about the glorious Madison taqueria once again, because it is still the purveyor of one of my favorite meals in the city — its magnificent pollo asado al carbon.
Lindo is situated on Gallatin Pike just a little north of McGaugh's Donuts and Dee's Country Cocktail Lounge (two other essential Madison spots). Just before press time, the Lindo folks confirmed that they're reopening for dine-in this week, though the carryout option remains. The menu features all the usual taqueria suspects: tortas, tacos, quesadillas. But the pollo entero — a whole grilled chicken served with tortillas, rice, beans, fried onions, grilled peppers, lettuce and pico de gallo — is the reigning champ of the Lindo menu. Even if you have a partner to take on the whole shebang with you, you'll likely still have leftovers. Feel free to wimp out and go with the half-order, medio pollo. The whole bird is $13.25, and the half is $8. As I've noted in the past, it's some of the most flavorful, moist, well-prepared chicken I've ever tasted, imbued with smoky flavor thanks to being cooked in Lindo's outdoor barrel grill.
The staff is always sweet and accommodating, so I have to insist that if you hit up Lindo with a call-ahead order, you plunk down a hefty tip once you show up to collect your meal. (All of us who are able to do so are overtipping our friends and neighbors in the service industry throughout this crisis, yes?) Long live Lindo. D. PATRICK RODGERS
---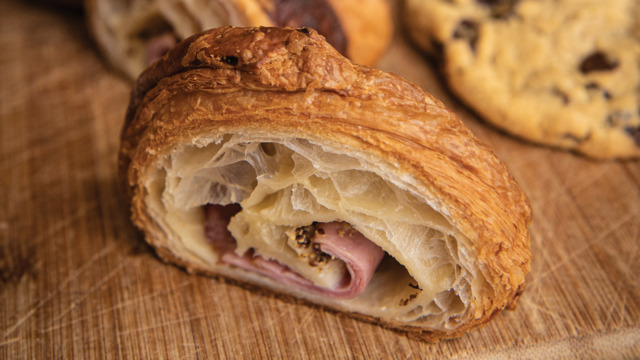 Dozen Bakery
615-712-8150
Food writers can be so superficial. We write about the way things look on the outside — e.g., golden french fries — when the important thing is underneath the surface. Take the croissants at Dozen, for example. Yes, the outside of it is a deep brown, indicating the caramelization on the surface giving it a deep flavor, but inside, check out all of that nothingness. Break open a perfect croissant and you'll find giant holes. That means it was made right — it was proofed correctly, and all of those layers of buttery goodness rose correctly. Those holes mean flavor. Cut open a croissant from a certain national bakery chain — we'll call it Schmanera to protect the guilty — and you'll find a perfectly uniform inside … and a complete lack of flavor. The same thing is true with baguettes. Cut a cross-section and you'll find gaping spaces where the proper alchemy of yeast, water and a little bit of salt have combined to create flavor. If you find a perfectly uniform interior that looks like white bread, I'm willing to bet it sucks. You're better off eating nothing.
Fortunately, some of the best bread in the city is back as Dozen has set up an online ordering (dozen-bakery.com) and curbside delivery system for all of your carbohydrate needs. Once home, I like the baguettes sliced longwise, buttered and toasted and then piled high with prosciutto, but they're perfect in almost any application. Though their prepared sandwiches are absent, Dozen has most of the rest of their baked goods available again, including take-and-bake pot pies, cookies, sweet pies and croissants. If you enjoy toast for breakfast, make sure to pick up a loaf of the oatmeal sandwich bread, which is just about perfect broiled to a crisp and slathered with jam (blackberry if you've got it). Or just buy a loaf just to stick your nose in it — I can't imagine anything smelling more like heaven. STEVE CAVENDISH
---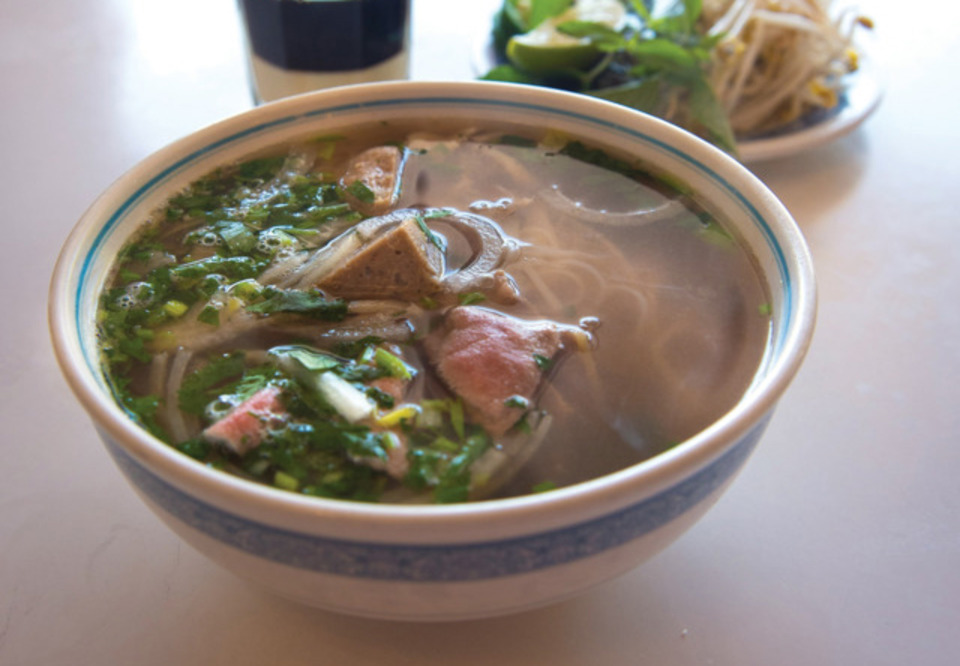 Kien Giang
615-353-1250
People don't often think of pho as takeout food. The big bowl, the chopsticks, the soup spoon — you need these things to make the experience come to life. But guess what: You can get all those things for less than $20 at K&S World Market, which is conveniently located 100 yards from Kien Giang. (When you walk into K&S, go left to the very last aisle and you'll hit the Asian kitchen-utensil motherlode.)
Now that you've got your tools, you're ready to pho, and you're in the best place in town to do it. Next door to K&S there's Miss Saigon, which delivers, and across Charlotte Pike, there's the excellent VN Pho & Deli, where you can also score a delicious barbecue pork banh mi. But my true north for Nashville pho has always been Kien Giang. I've been getting it to go for years, so I know they do it all right. The box of ingredients is perfect, packed with chewy rice noodles, juicy chicken or rare beef, fragrant Thai basil, crunchy bean sprouts, thinly sliced white onion, scallions, lime and the all-important hoisin sauce that gives the broth a killer umami boost. And speaking of broth and perfection, Kien Giang's truly is — clean, aromatic, savory and just a touch sweet. It's always piping hot, too, which makes putting together the picture-perfect bowl a snap at home.
If you're in the mood for something spicy, try the Bún bò Huế. The Vietnamese beef noodle soup is salty, laced with lemongrass, and seriously hot, so it's not for the faint of heart. The chả giò, or summer rolls, are also a must. The golden deep-fried Vietnamese egg rolls are stuffed with ground pork, shrimp, shredded carrots and bean thread noodles. They're served with a sweet fish-sauce based dip that's even more delicious with a squirt of Sriracha. Kien Giang is old-school — it's cash-only and requires some Yelp sleuthing to see the full menu — but these small inconveniences will quickly fade away when you're sipping on that body-and-soul warming broth in your PJs. Kien Giang is open daily except Mondays from 11 a.m. to 9 p.m. Call to order. ASHLEY BRANTLEY
---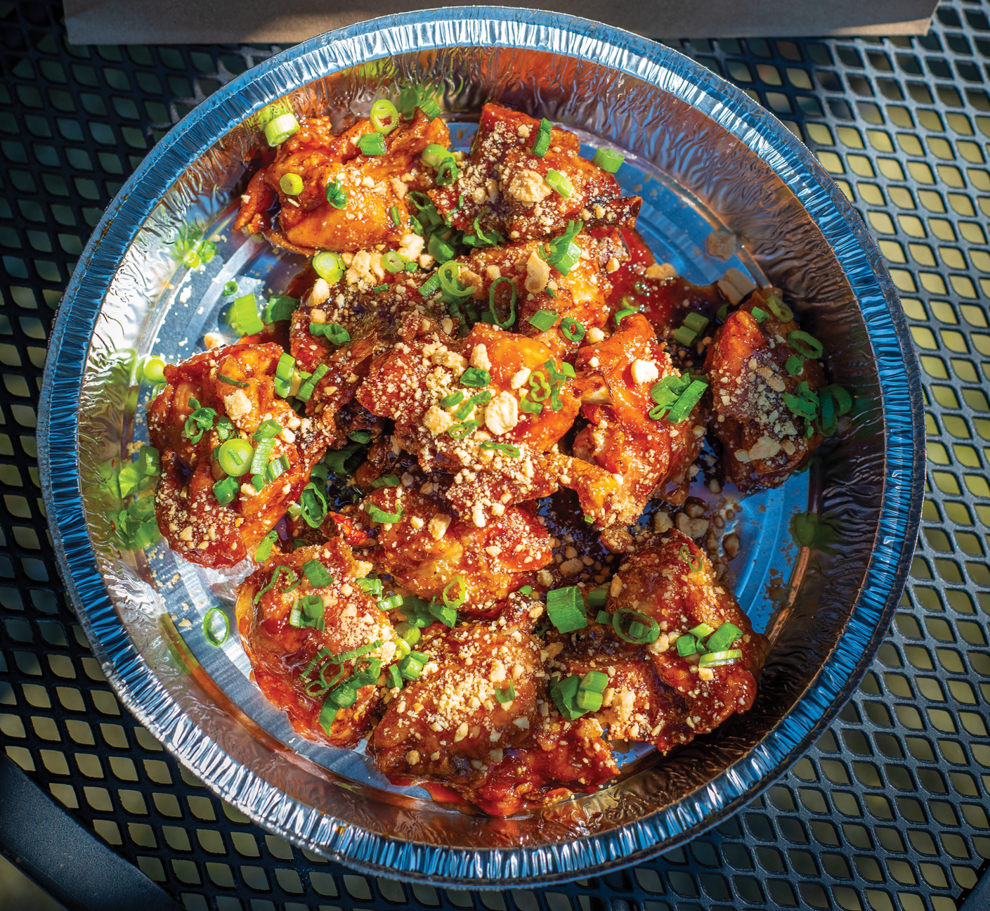 Lockeland Table
615-228-4864
Ever since the duo of Hal Holden-Bache and Cara Graham opened Lockeland Table a little more than seven years ago, it's been a neighborhood favorite and one of the best restaurants in the city. I've been a big fan of their Community Hour menu for years, and "General Hal's Wings" are a star.
More Southeast Asia than Western New York, these wings have a sweet side with a pleasant heat to them. The peanuts on top are a nice bit of crunch, and the dish is a good value at a dozen wings for $12. Lockeland has a number of family meals available as well, including braised short-rib beef stroganoff and grilled pork loins, both with sides. They'll even sell you whole bottles of wine. STEVE CAVENDISH
---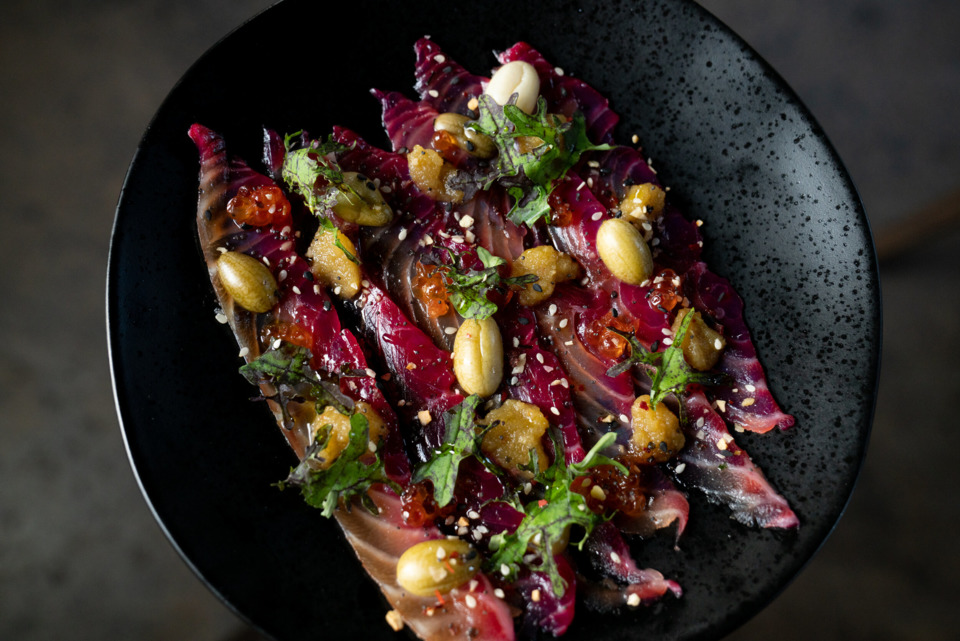 Miel
615-298-3663
Real-life happy hour seems so decadent right now. Sitting at a candlelit bar, snacking on olives, sipping a proper Manhattan and talking to someone you don't share a bathroom with? It sounds obscene. Thanks to Miel's refined takeout menu, we can do the next-best thing at home. So throw on some jazz and some pants that zip, because we're classing up the joint!
Start by ordering a quart of Miel's smoked short-rib-onion soup — a beef bomb in the best way. Fire up some votives, and unscrew your teeny Mason-jar cocktail. The aforementioned Manhattan is perfect and comes with tart brandied cherries to help you play the part. Dip into the roasted chickpea hummus with fresh-baked bread before soaking in the luxury that is Miel's cured fatty salmon. Served with preserved green tomato, peppery greens and briny salmon roe, every bite features a little pop of the ocean.
For the main event, I will never not recommend the pork shoulder with Parisienne gnocchi, mozzarella and jus. It's fancy, rich and comforting — so basically the Jane Fonda of dinner. Dessert has to be honey cake with apple butter, which, just this once, you must plate in your classiest crock. You know the one: the off-registry, hand-wash-only, begonia-patterned thing your hateful cousin Beth gave you for your wedding. Using extravagant things for no reason will do wonders for your dignity. And if it doesn't, throwing that shit in the dishwasher definitely will. ASHLEY BRANTLEY
---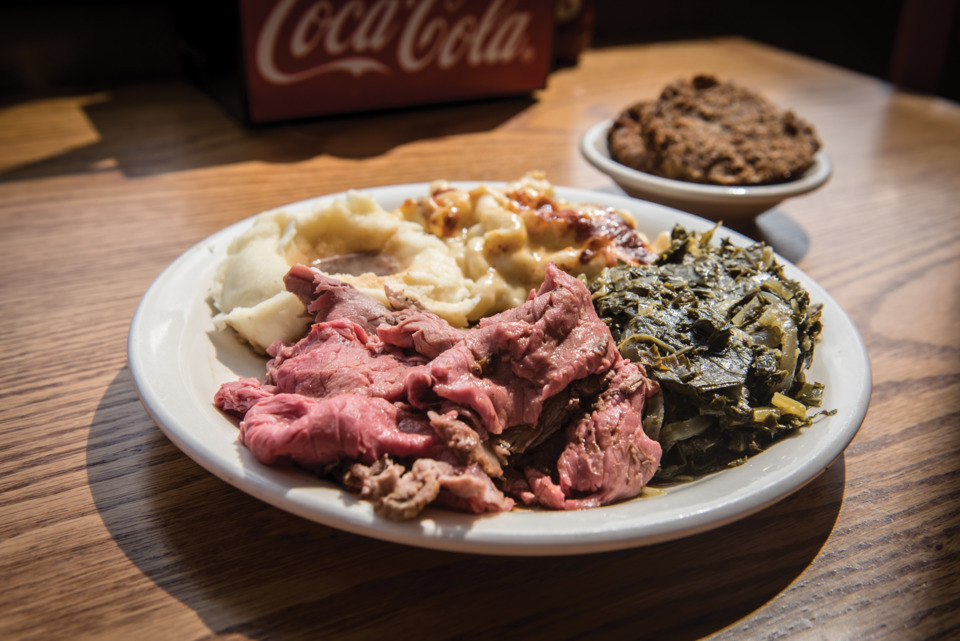 Arnold's Country Kitchen
615-256-4455
Arnold's is all-time. Everyone knows it. It's such a universal truth that we started this year's Chefs Survey by asking local pros what their favorite lunch is excluding Arnold's, because we feared we'd get 15 of the same answers otherwise. So why, you ask, are we profiling them as a carryout pick? Simple: COVID-19 doesn't discriminate. It doesn't give a shit whether you're a fledgling food truck, a neighborhood mainstay or a 10-seat bar with the fanciest tasting menu in town. In fact, many of Nashville's most successful restaurants are struggling too, because they pay high rents, employ dozens of people and are doing everything humanly possible not to leave those people high and dry. Arnold's is just such a place. The fact that it's helmed by Kahlil Arnold — a gregarious dude who's the closest Nashville gets to having our own Bill Murray — is just whipped cream on the banana pudding.
Arnold's has made the decision to reopen for dine-in, but they'll still be offering carryout options as well. Start your order with a family meal. For $54, pick two sides and a meat. I go with brisket, simmered low and slow, in a salty, luscious gravy. Once refrigerated, the liquid becomes solid, which is a key indicator it's been made with the most important ingredient: love. (I'm kidding; the ingredient is fat.) Add smoky green beans, creamy mac-and-cheese and cornbread or rolls, and you've got a meal that will easily feed four. If you're a pro, tack on a pie for $21 and a serving of something fried that you can tear into in the car. (The fried pork chop will light up every pleasure center in your brain.) Whatever you choose, rest assured you won't be hungry for 48 hours. You can order Arnold's delivery online, but I'd call in carryout orders so you can ask after the sides 'n' "frieds" of the day. ASHLEY BRANTLEY
---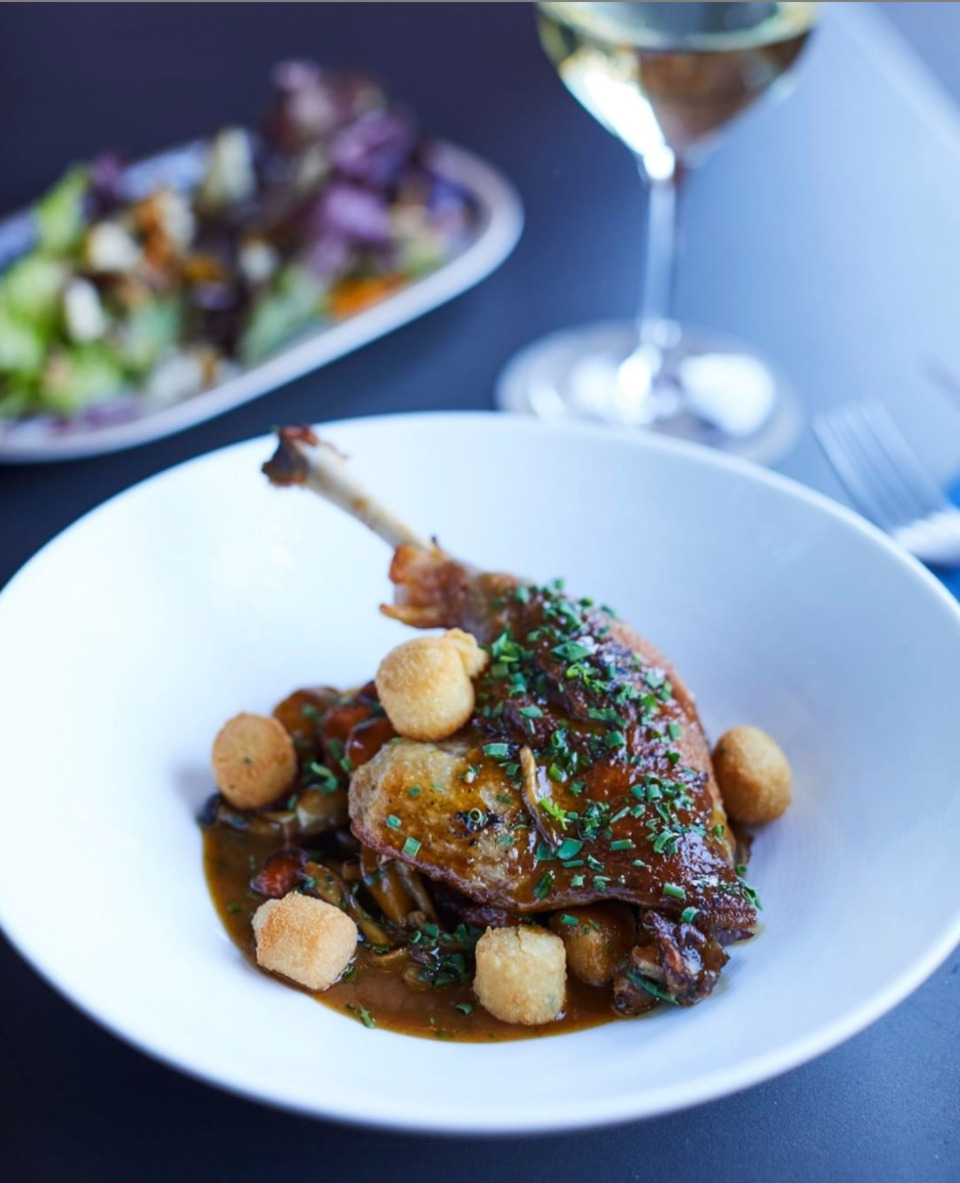 Henley
615-340-6378
Until recently, the only bad thing I could say about Henley was that I had to put on pants to eat their food. No more. Now that they're in the takeout/delivery game, you can enjoy chef Daniel Scott Gorman's food while wearing whatever you want. (Or nothing at all; I don't know how you quarantine.)
Start with the ham and Southern green spring rolls made with Bear Creek Farm tasso, which earn you a bonus Local Love Point for Middle Tennessee businesses. Served with hot vinegar aioli, the crunchy, porky rolls are balanced by tart, bright greens to create supreme comfort food. For the main event, blow it out with duck and dumplings: duck confit and Parisian gnocchi served with roasted carrots, parsnips and beech mushrooms. They're rich, savory and satisfying — it's worth walking an extra lap around the neighborhood to burn it off. With all the things COVID-19 has taken away, Henley-at-home is one small but significant thing we've been given. Check out their menu at henleynashville.com. ASHLEY BRANTLEY
---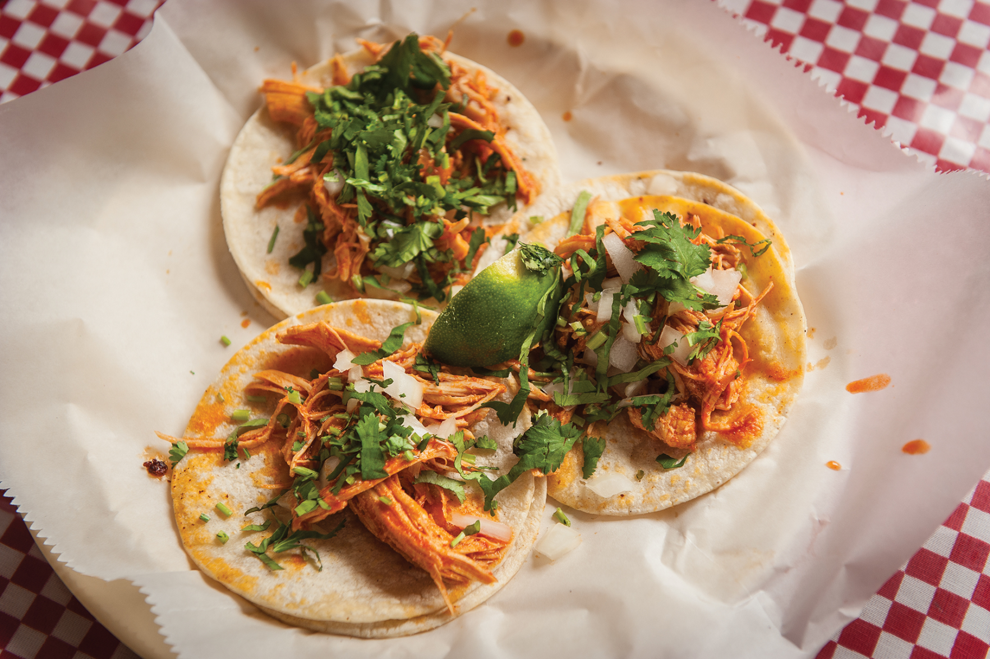 Carniceria y Taqueria Don Juan
615-833-1690
You have to find happiness wherever you can in this world, particularly now. Me? I find it in tacos, and there are none better in the city than those at Don Juan on Nolensville Road. It's been a favorite for years, in no small part because of the tacos' simplicity: tortilla, onion, protein, cheese if you want it.
They come with a jalapeño crema that will light you up if you're not careful. I usually get chicken, but they've got everything from standards like barbacoa (beef) and pastor (spicy pork) to tongue and stomach. The chicharron versions are outstanding. If you're in need of something else — gorditas, burritos, quesadillas — they've got those too, but at $1.50 per taco, you will never find a better value. Unlike other Nolensville Road places that recently had to adapt to a takeout-only world, Don Juan has always been a walk-up/drive-thru place, so it's perfect for right now. STEVE CAVENDISH
---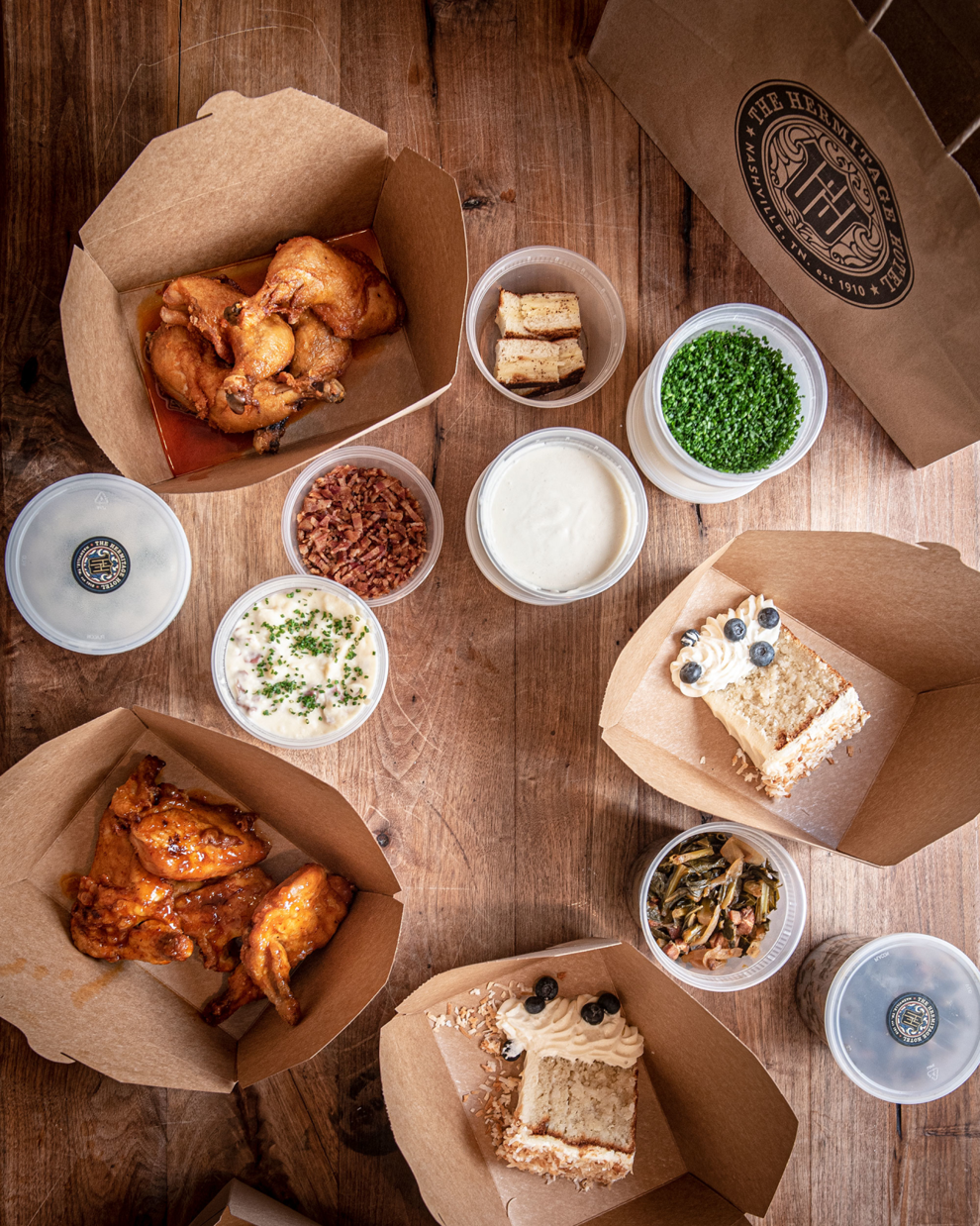 Capitol Grille
615-244-3121
One restaurant-defining soup in town is what attracted me to the carryout menu from the Capitol Grille at the Hermitage Hotel. Even as the restaurant has opted to resume dine-in services, they're offering a full complement of à la carte items off their regular menu for takeout, including their sweet onion bisque with an adorable miniature grilled brie sandwich plus bacon and chives, an item that never falls off their seasonal food offering. As with Midtown's lemon-artichoke soup, I can't visit without ordering that item!
In addition to the regular menu offerings, the Capitol Grille is whipping up daily thematic family-style meals to go on a rotating basis. Monday is vegan-centric, filled with expertly prepared veggie dishes like citrus-roasted beets and lemon thyme tofu "scallops." Tuesday is a high-class taco night, Wednesday features pasta dishes, Thursday is for barbecue, and Saturday is a classic surf-and-turf meal with tenderloin and shrimp-and-grits. But Friday night is the real highlight for me, an evening of "Capitol Grille Favorites" featuring the sweet onion bisque, their version of Nashville hot chicken, red-skin mashed potatoes, collard greens and coconut cake. Priced between $85-$90 and sized to feed a family of four, this is some high-tone dining at a reasonable price, plus they're offering 15 percent off many of their bottles of wine with the order of a family meal. CHRIS CHAMBERLAIN
---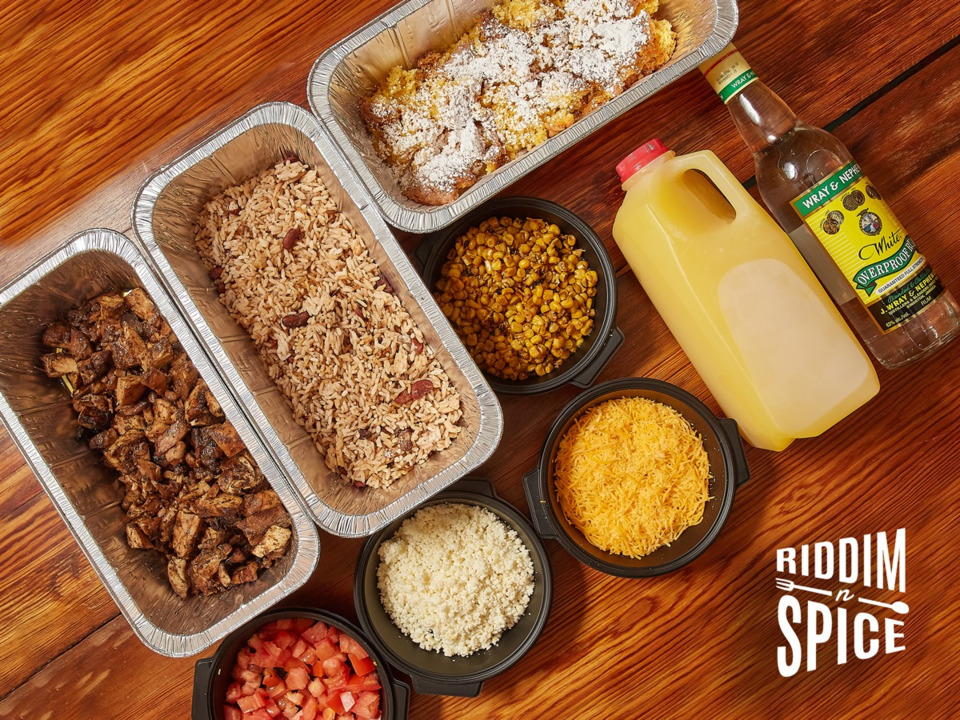 Riddim N Spice
615-953-7121
I've been meaning to write about Riddim N Spice for a while now, because as soon as I heard that Kamal Kalokoh along with his brother Rashean Conaway were opening their own Caribbean restaurant at 2116 Meharry Blvd., I knew it had to be good. I was confident because the brothers come from the family tree of the above-mentioned Jamaicaway — where Ouida Bradshaw has been delighting Nashville diners with her take on the cuisine for years, and the Riddim N Spice food truck has already earned a vaunted reputation for cooking some darned fine food.
Then when I went for my first visit, I was surprised how convenient the restaurant is, located just a minute off the Jefferson Street exit of I-40 and blessed with a huge parking lot behind the building. Ordering and eating there is really convenient as well, with a tight menu of proteins and bowls cooked with Caribbean spices. There's also an admirable amount of vegetarian and vegan dishes available, ranging from BBQ jerk jackfruit to several traditional rice and bean dishes. Diners have their choice of spice levels with most main dishes, which I can tell you from personal experience ratchet up pretty quickly once you go past level 2 on their four-alarm scale.
During the COVID-19 crisis, they switched to a carryout model, which fits their menu quite well. You can choose from build-your-own bowl options with choices of proteins like honey jerk chicken (which just so happens to be one of my girlfriend's pet names for me), smoked lamb, curry shrimp or vegan proteins. Available toppings include black beans, sweet 'n' tangy peppers, charred corn, queso and a few other options, and you can add up to four of them on top of your bowl for no additional charge.
The chicken plates are also a great deal, with a half-bird going for just $12 including two sides. For even more convenience, pick between their Quarantine Meal Deals, including a "Quarantine N Chill," which feeds two people, or a family pack to take care of up to five hungry diners. Add on some of the delicious rum punch or cucumber-lime gin made with house-squeezed juices, and you'll feel like you're on a vacation in Trinidad! CHRIS CHAMBERLAIN
---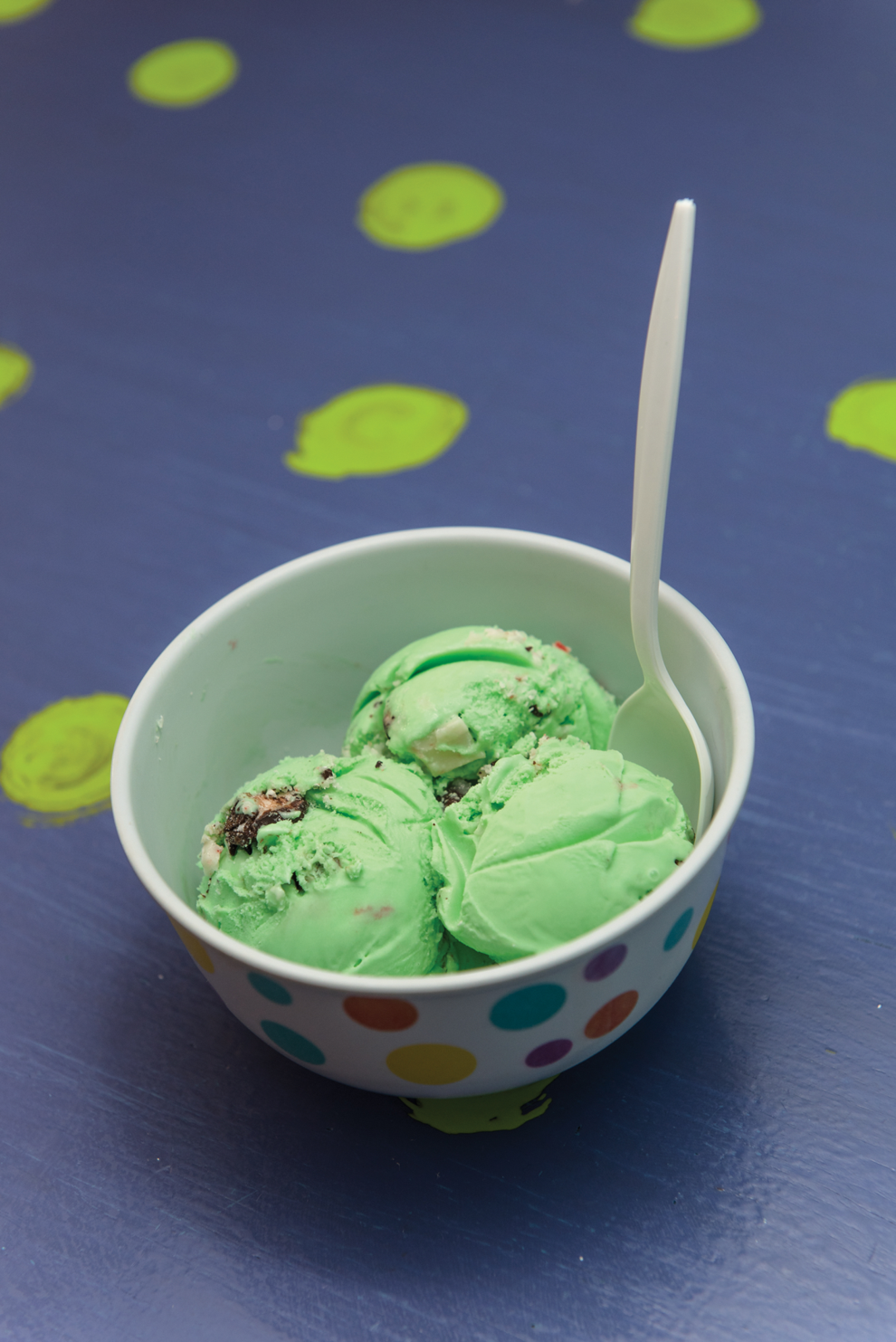 Pied Piper Creamery
615-227-4114
Luckily for us, Jenny Piper — Ice Cream Mogul at Pied Piper Creamery — recently started an ice cream social of sorts, offering pickup and delivery. Pied Piper was shuttered for a long stretch after the March 3 tornado. While the beloved East Nashville creamery on 11th Street had relatively minor structural damage, it had major electrical damage, and Piper is waiting to hear when that will be repaired. She hadn't yet hired her summer scoop crew when the tornado and COVID-19 hit, but she had two year-round staffers who missed making ice cream. (As is the case with many area businesses, Pied Piper's wholesale orders disappeared as restaurants temporarily shuttered.) She and her crew had previously been cooking out of Citizen Kitchens in East Nashville, so they decided to fire up the freezer and start making treats available to us in our homes.
Pied Piper posts the daily flavors (usually around eight) on their Facebook page. Just as in the shop, they'll rotate, with classics and some well-loved favorites, such as Trailer Trash and Toffee Loaded Coffee. Dairy-free options are coming this week. Pick either three quarts ($32) or six pints ($36) and have them delivered or pick them up yourself at Citizen Market (don't forget to tip). In theory, the delivery radius is 10 miles, but Piper has taken a few larger orders to home-owner associations further afield. "Sort of like an ice cream CSA," she says. Such group orders are welcome.
Deliveries take place noon-7 p.m. daily. Flavors are limited, so if you see what you want posted, text (615-618-1552) or email (piedpipercreamery@gmail.com) Piper and ask her to put aside your order for later in the day (not that there's anything wrong with ice cream in the middle of the day). Orders come with sugar cones, bowls, spoons, and sprinkles, all packed in a decorated party bag that Piper draws herself. Pay via Venmo (@Jenny-Piper) and the ice cream is on your porch, contactless and ready to eat.
On a recent order, I went with basics — chocolate, vanilla and peanut butter chocolate — thinking I would use these essentials as ingredients. I used end-of-their-useful-life strawberries to make a strawberry milkshake and then I re-created a family-favorite date shake using crystals from Shields Date Garden. Finally, I just ate peanut butter chocolate ice cream on a cone, chocolate sprinkles optional ... you don't really need me to give you serving suggestions for ice cream, do you?
At first Piper was calling the to-go packages "Birthday in a Bag," but she switched to "Survival Kit" realizing people wanted a quarantine pick-me-up even if they didn't have a birthday to celebrate. Call it "Tuesday," just order some ice cream. MARGARET LITTMAN