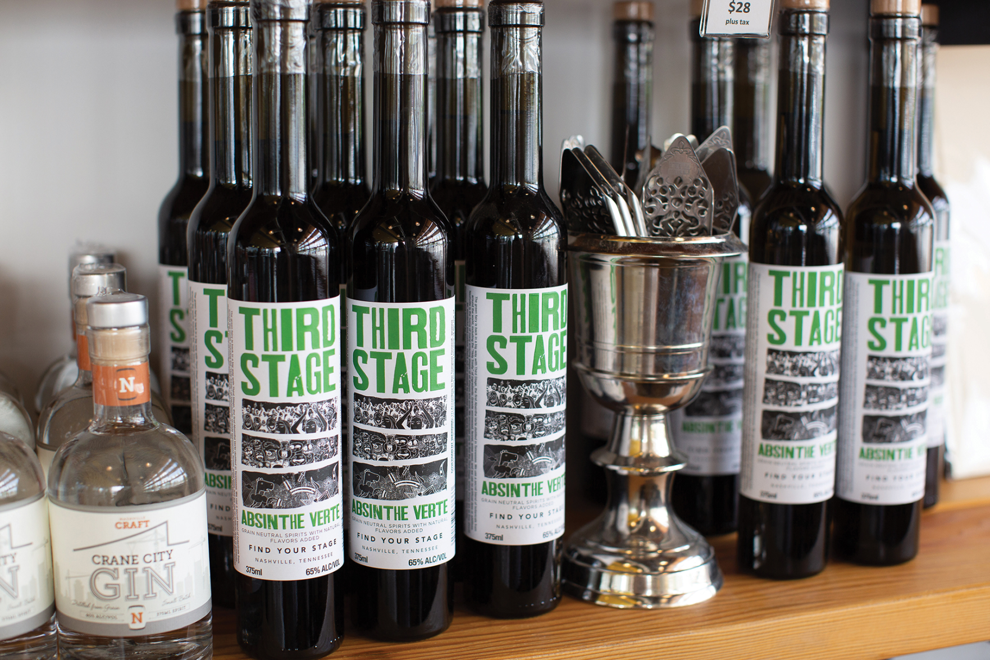 Bourbon snobs love to prattle on about how historic their spirit of choice is, but bourbon as a subgenre of whiskey didn't become popular until after the Civil War. If you want to take a real sip of history, two new Nashville companies are dipping deep into the past for inspiration with their new spirits. Third Stage Absinthe and Honeytree Meadery are creating modern products with a real reverence for yesteryear.
Third Stage Absinthe is the brainchild of Chase Wilson, a young entrepreneur who named his product after an Oscar Wilde quotation describing the three stages of drinking absinthe: "The first stage is like ordinary drinking, the second when you begin to see monstrous and cruel things, but if you can persevere you will enter in upon the third stage where you see things that you want to see, wonderful and curious things." 
The licorice-flavored spirit has been around since the late 1700s and has a notorious history. Originally crafted as an all-purpose remedy, absinthe relied on the plant wormwood for its purported medicinal effect and anise and fennel as flavor agents. The spirit became especially popular across Europe in the 19th century until it became associated with "social disorder," thanks to the legend that wormwood was supposedly poisonous. This led to bans for most of a century in France and the U.S., though some claim absinthe was the victim of smear campaigns from the established wine industry.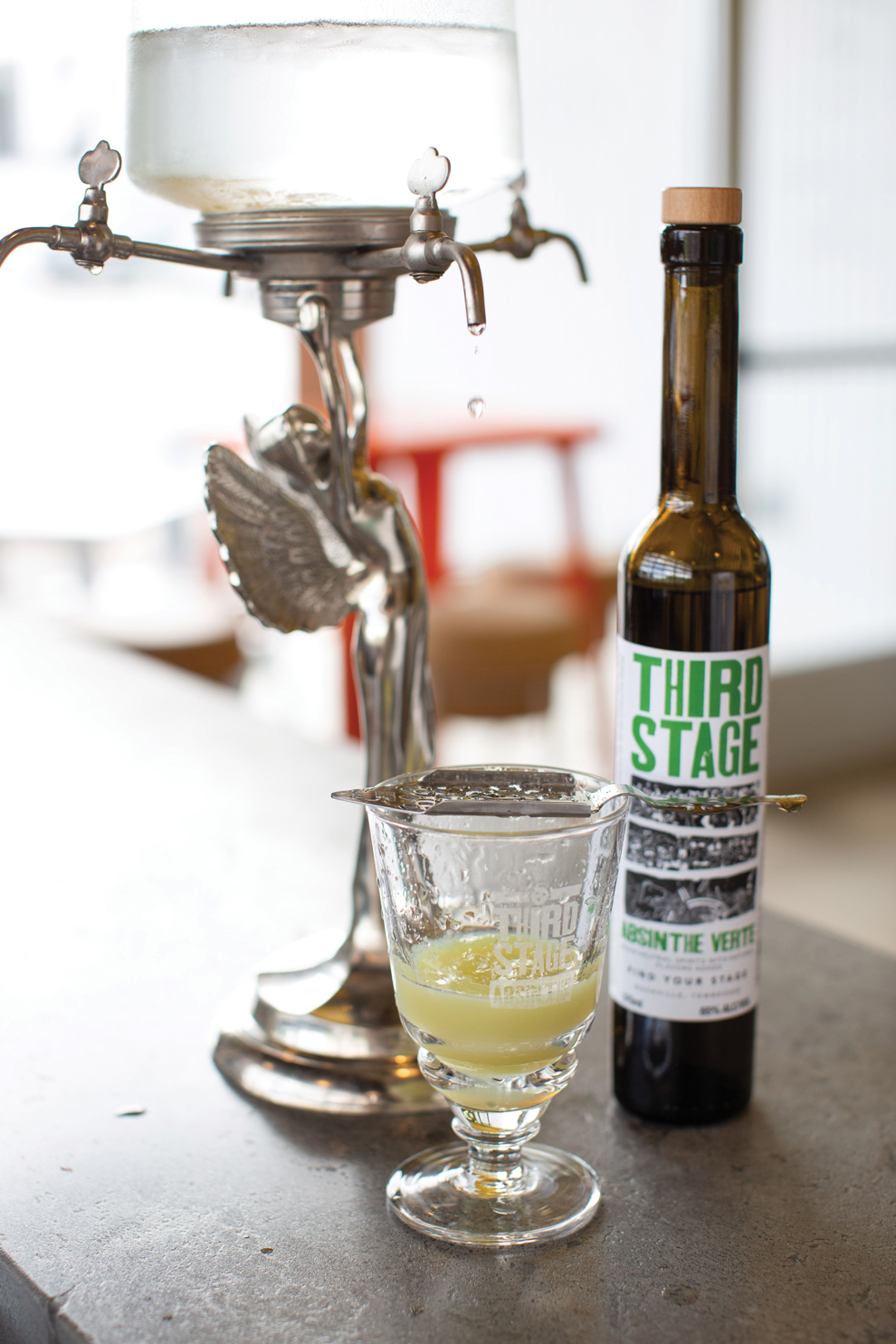 Wilson's path to the spirit sometimes known as "The Green Fairy" was not exactly direct. He discovered homebrewing while still in high school at Father Ryan and won some beer-making competitions with his creations. He thought he wanted to start a brewery, but decided that there was already too much competition in the capital-intensive beer biz. Then The Green Fairy struck.
"I tried absinthe in college at U.T.," Wilson recalls, "but I thought it was still illegal and caused hallucinations. So of course I set my sights on making my own." While distilling at home is strictly illegal under federal regulations, that didn't stop Wilson from experimenting with infusions of herbs into grain alcohol to develop his own preferred flavor profile.
"Absinthe had been illegal for 95 years," he explains. "I tried to read up on it, but there wasn't nearly as much info as there was for homebrewing. I ended up buying books from the 19th century to learn what ingredients to source." Wilson settled on a recipe that uses 10 herbs — five for flavor, including wormwood, anise and fennel, plus five others for coloring to give Third Stage the traditional pale-chartreuse hue of ancient absinthe.
When Wilson was confident about his recipe, he sought to ramp up production. He spoke with a local liquor distributor who connected him with Bruce Boeko of Nashville Craft Distillery in Wedgewood-Houston. "Bruce was super excited, because I represented a new craft product that wouldn't be competition with what he was already doing there," says Wilson. Boeko had already contract-distilled other products for other individuals to complement his own offering of Crane City Gin, Naked Biscuit Sorghum Spirit and others, so he was happy to cooperate with Wilson.
The result of their collaboration is a delightful example of traditional absinthe, full of delicate flavors that complement the expected anise. Delicious as part of the traditional absinthe ritual wherein cold water is dripped through a slotted spoon with a sugar cube into a glass of absinthe, Third Stage can also be an ingredient in all sorts of cocktails.
"Just take your favorite cocktail recipe and replace the base spirit with absinthe," Wilson advises. "I made a mojito with absinthe for Steeplechase, and it was really popular." Third Stage retails for around $28 for a 375-milliliter bottle and is available for purchase at Nashville Craft and liquor stores like Craft Brewed and Village Wine & Spirits. You can also find it at finer cocktail emporiums such as The Green Hour, Attaboy and Little Fib.
---
On the East Side of town, Matt Loch, Ross Welbon and Dru Sousan opened Honeytree Meadery in a humble cinder-block building. The trio spent the past year rehabbing the building at 918 Woodland St. — the former home of Hosse & Hosse Keys — in time for their grand opening in May. They've created an attractive neighborhood hang with a tasting room featuring platforms on wheels (so that the space can be flexible for renting out for events), a bar decorated with ink-on-beeswax art from local artist Randy Purcell, a production space for creating and aging the meads, and an unexpected treat of a large back patio with strings of lights, firepits and a cute little fairy tree to delight the kids — it's a family- and dog-friendly establishment.
Loch, the leader of this band of merry pranksters, is an avowed bookworm and lab rat with a day gig as a lab manager at Vanderbilt. He's also the lead mead-maker at Honeytree despite the fact that, unlike the normal career path of other spirits professionals, he's never brewed a batch of beer on his own.
"I knew if I was going to be a brewer, I was going to do it the right way with whole grains," Loch says. "I was a poor college student and couldn't afford the equipment. Then I read about mead in Beowulf in a lit class and wanted to try it. I couldn't find it anywhere, so I discovered the recipe was to mix water, yeast and honey, shake it up and wait. I figured I could do that."
Loch learned more about the brewing process while cleaning kegs at Little Harpeth Brewing and asked the head brewer where he could source some honey for mead. "He pointed me to Ross, who was also working there and who raised bees," says Loch. "I asked him if I could buy some of his honey, but he wouldn't sell it. He did tell me he'd give it to me if we could brew together." The pair brewed out of a basement for three or four years before they decided to make the leap and open their own commercial meadery. They added Sousan as a third partner, and his experience as a popular bartender at The Pharmacy Burger Parlor & Beer Garden rounded out the sales and hospitality aspects of the business.
All three of them have to be jacks-of-all-trades in the small operation, with Welbon as the only full-time employee, brewing, selling and tending to 14 colonies of bees spread around East Nashville, plus six more off Clarksville Pike.
"We have two apiaries now," he explains, "because there's not enough food in the city for just urban bees. We only harvest honey once a year and supplement their feeding throughout the year, but we really want to play up the terroir of East Nashville." The honey they harvest appears in Honeytree's "Signature Series" meads, while the rest of their products depend on purchased product from Johnson's Honey Farm in Goodlettsville.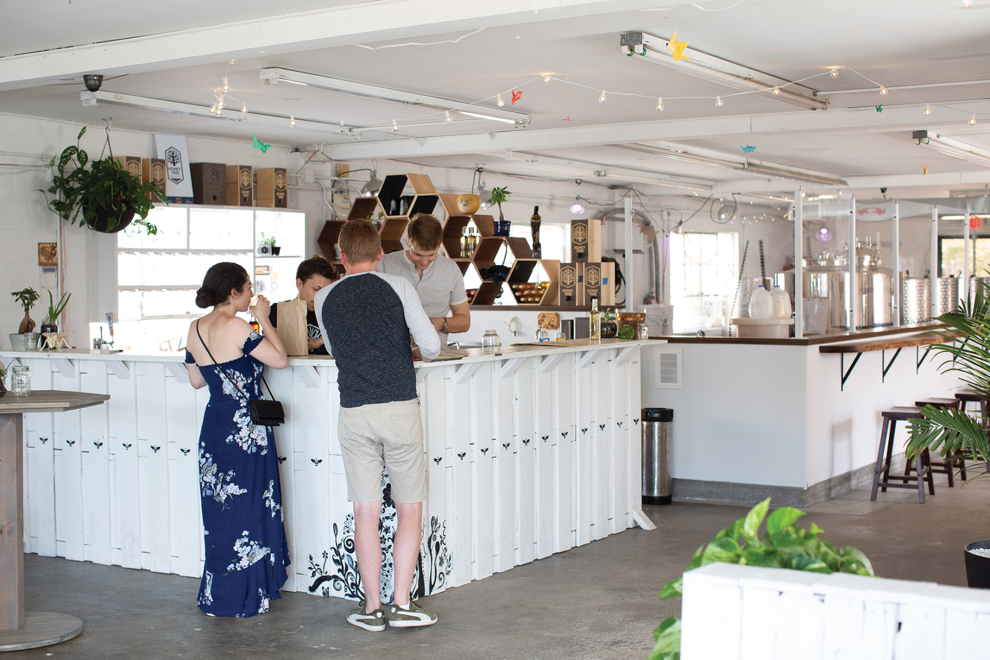 The response has already been tremendous to Honeytree's offering of meads, which range from the flagship Basic Batch to a spicy Sweet Baby Ginger and a lower-ABV mead named Lil' Batch — that one tastes almost exactly like corn flakes. In addition to bottles, 5-ounce pours and flights in the tasting room, Honeytree products are available in many bars around town, packed in bags inside attractive wooden boxes that were crafted by Ben Cartwright, who works out of the maker space Fort Houston. The custom packaging showcases the Honeytree logo and allows mixologists to add mead to their cocktail recipes without having to open a bottle. Sousan notes, "The discount for bags helps restaurants sell it for a lower price, plus we don't have to fight for tap space."
While Loch admits there was a big learning curve when it came to increasing from 5-gallon to 125-gallon batches, the product is definitely gaining fans. "The slowest part was educating the public," he says. "Is mead beer or wine? It's neither. We thought we'd have to be small for longer to prove what we were doing, but after our first week of being open, we already had a second fermenter and more tanks on order."
Mead can actually mature in a bottle for three to five years and gain great complexity over time. But if you don't want to wait that long, Honeytree's tasting room is open Thursday through Sunday from 5 to 11 p.m., and they are serving some delightfully refreshing carbonated meads. Most meads are served at room temperature, but Loch made an exception for these sparklers. "We serve it chilled because it's summer, and we're not monsters!"