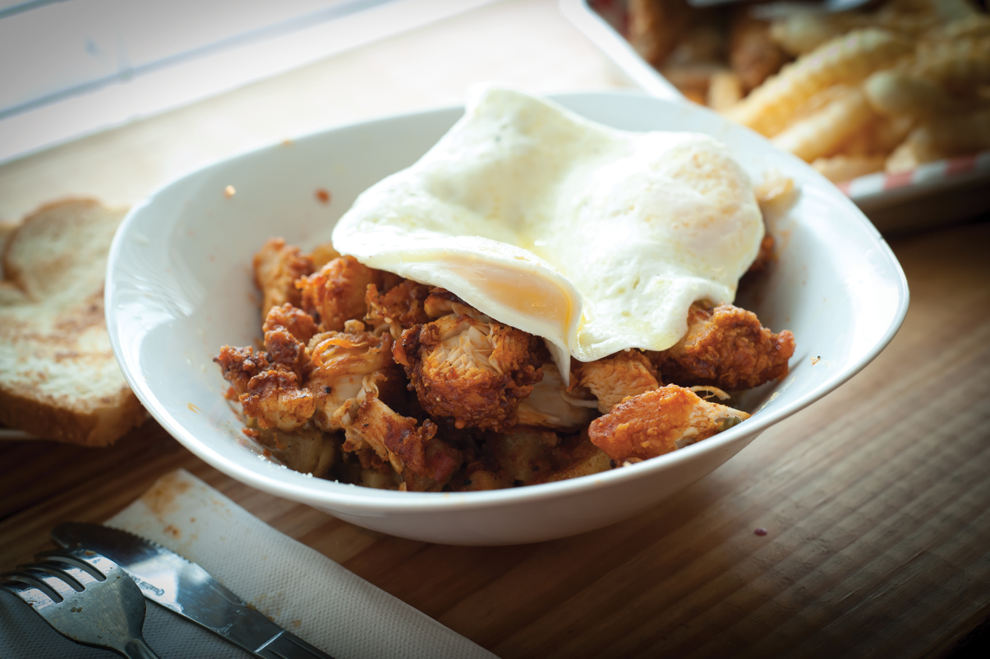 Nothing kills brunch plans like an overcrowded restaurant. That's why I'm hesitant to hype the typically uncrowded Slow Burn Hot Chicken as an excellent affordable option for lazy weekend dining. But the genuine kindness of the staff — their eagerness to please and make sure every meal is enjoyed, every coffee slurped — has converted me to a full-blown Slow Burn evangelical. This is going to be your new favorite brunch spot.
Let's start with the obvious: Slow Burn's hot chicken is extraordinary. Not only do they have more than 10 spice levels, ranging from "Flare" (baby hot) to "The End" (extra-extra-extra hot), the spiciness is a good full-bodied heat. I ordered the "Singe" (medium hot), and it snuck up on me, so before I knew it I was wiping the sweat from my forehead without ever experiencing that YOWZA! moment that generally accompanies the hot-chicken experience. I ordered the hot chicken bowl, which is a smorgasbord of eggs, buttery home fries and fried hot chicken breast. It's a great example of how Slow Burn goes the extra mile to make sure your taste buds are satiated: The chicken is spiced and fried, then sliced and mixed with the eggs and potatoes. It's as if your mom has come along with you to cut up your food, and it's delightful.
Other highlights from recent trips to Slow Burn's spot inside an unassuming Madison strip mall include the banana-walnut waffles, which are delectable and indulgent, and the mini breakfast, which I mistakenly thought would be a good portion for my 2-year-old daughter. Don't get me wrong — we enjoyed every bite. But the extra-thick slice of fried bologna, home fries, English muffin, scrambled eggs and two "silver-dollar" pancakes that were as big as dinner plates hardly constitute a "mini" meal. Still, when the chef came out to say hello and make sure the baby had enjoyed her pancakes, I had an easy way to deflect attention away from the fact that I'd just eaten most of what was on her plate as my second course.